Tender marinated beef strips with stir-fried vegetables and spaghetti pasta tossed with a savory sauce. This semi-homemade beef and vegetable stir fry is the easiest weeknight dinner!
When school days start, and the family is runnin' around busy as heck, you know what that means. It means Monday through Friday, I make quick and easy meals – usually one of my many slow cooker dinners or one-pot or skillet meal that takes under an hour. An easy stir fry is one of my favorite things to make during a busy week.
Sometimes, I get bored of the same old stir fries with white rice or brown rice. I want that spice of life – variety! So lately, I've been making a beef and vegetable spaghetti stir fry.
The Easiest Beef Stir Fry Recipe You'll Ever Use
First things first, this recipe needs to be easy. The hardest (and most time-consuming) part is marinating the steak before cooking! If you don't eat beef, you can use just about any protein in this stir fry recipe – make it a chicken stir fry or shrimp stir fry. You could even use tofu or just keep it meatless with your favorite vegetables!
In this recipe, I use simple ingredients. I use frozen vegetables for most of my stir fry recipes because they're easy and cut down on prep time. I keep my beef and vegetable stir fry recipe super simple, but it always comes out fabulous – even my son likes it! So, let's jump on into it, Cousins!
Ingredients for Easy Beef and Vegetable Spaghetti Stir Fry
Now, this is a semi-homemade stir fry recipe. I make a simple homemade stir fry sauce but use a frozen vegetable mix, so I don't have to stand around chopping veggies for an hour. This way, the whole family gets a delicious, fast, yet still healthy dinner they all love. That's a win in my book! Here are the main ingredients I use in my beef and vegetable stir fry. The complete ingredient list and measurements are in the recipe card below!
Flank Steak: I know, it's not the cheap cut. However, I make sure to stock up when it's on sale. Flank steak is always tender beef, which is a plus for me because I cannot stand tough meat!
Soy Sauce: you can use low-sodium soy sauce if you're watching your salt.
Sesame Oil: this is where that iconic umami str fried flavor comes in.
Ginger: I use minced ginger from a jar, but if you have fresh ginger on hand, use that! It adds that zingy flavor we love in stir fries.
Sugar: sweetens and thickens the homemade sauce. I use white sugar, but brown sugar works too.
Stir Fry Vegetable Mix: I love the Oriental blend that has baby corn, water chestnuts, broccoli, carrots, and bell peppers in it. You can find these in the frozen section at just about any grocery store. I bulk up this vegetable mix by adding red onion.
Spaghetti Noodles: this might sound weird, but trust me! You don't need fancy Asian noodles; regular ol' spaghetti or angel hair pasta works just fine.
Red Pepper Flakes: I like my stir fry with a little kick. If you don't, then leave this out!
What other vegetables can I add to beef and vegetable stir fry?
Darlin', the sky's the limit! Obviously, you want to stick with vegetables that make sense in an Asian-inspired stir fry, but for the most part, you can toss in your favorites. If you're grabbing a frozen blend, look for options with things you like (it's hard to pick veggies out of a frozen blend). If you're using fresh veggies – which is great if you have the time – you can make your very own stir fry combo!
The expected vegetables for stir fry: green, yellow, or red bell pepper, mushrooms, onions, broccoli florets, baby corn, water chestnuts, carrots, green onions, sugar snap peas, or snow peas.
Some unexpected, but still tasty options: bok choy, bean sprouts, edamame, cauliflower, cabbage, or green beans.
If you want to mix frozen and fresh vegetables in your beef stir fry recipe, that's fine too! Add the frozen vegetables a few minutes before the fresh ones so they get a little more cook time.
What is the best cut of steak for stir fry?
The key is using a tender cut of meat for your stir fry. You're going to cut the meat into thin strips that cook fast, so you don't want a crappy cut of meat that's tough and full of those hard-to-chew muscle fibers. Flank steak is easy to find at the store and affordable when it goes on sale. You could also use skirt steak or sirloin steak. Chuck steak is probably the cheapest option, but you'll have to do a lot more trimming to get tender slices.
How to Make Beef and Vegetable Spaghetti Stir Fry
Now we come to the good part – how to make this delicious and easy beef stir fry recipe! There are a few steps, but they're all simple, and you'll have dinner ready in no time. You'll need a large skillet for this recipe–if you have a wok, even better!
First, marinate the sliced steak in a large bowl with vegetable oil, minced ginger, and sugar. Make sure each piece of steak is covered with a bit of the marinade. Let the steak sit for about 30 minutes.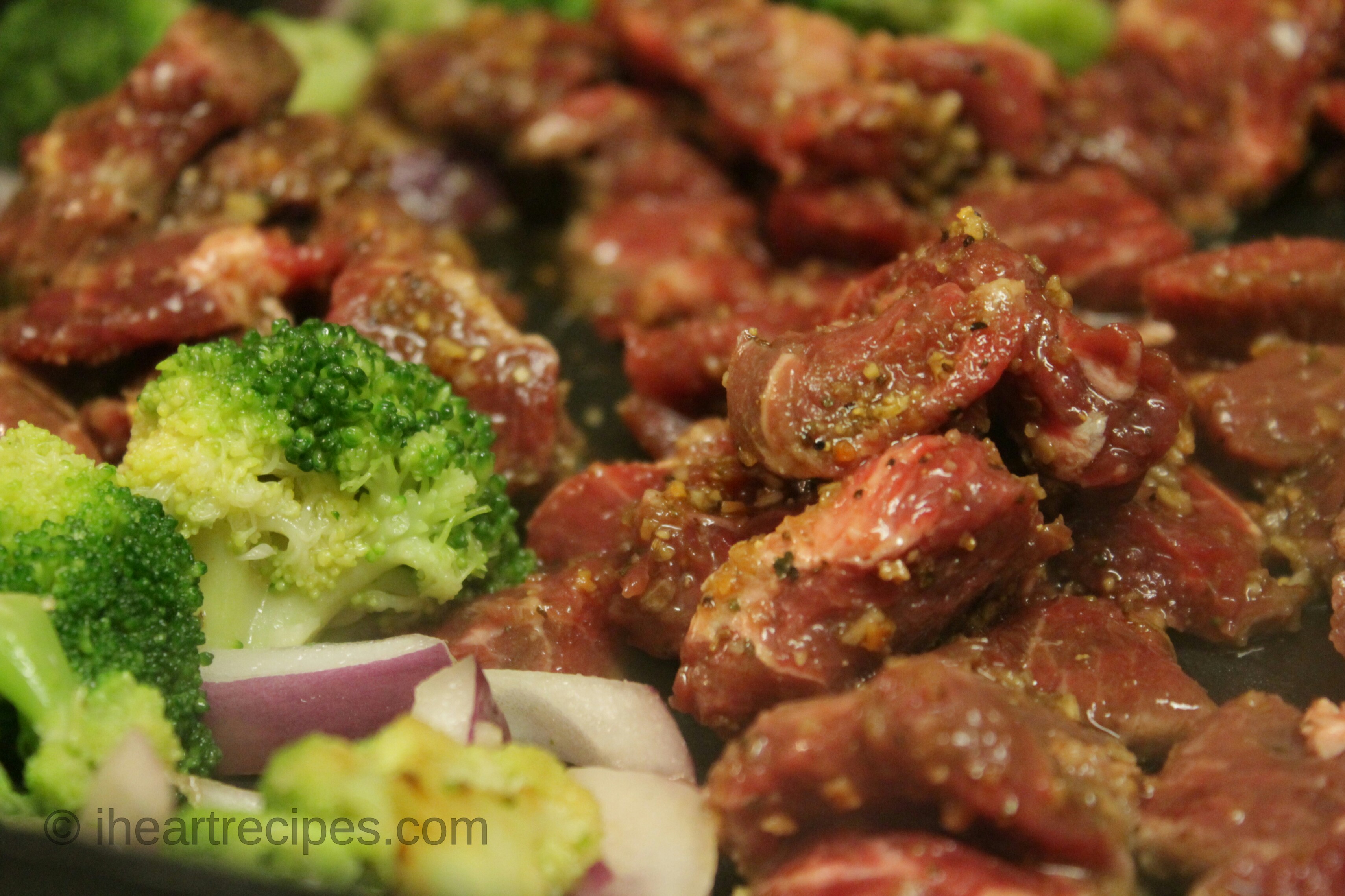 Next, cook the pasta according to package directions. Drain and rinse the pasta, then set it aside. It's okay to rinse the spaghetti because we don't want it sticking together in the stir fry.
Next, you're going to get the vegetables going. Heat some vegetable oil in the skillet, then toss in the vegetables. If you're doing a combination of frozen and fresh vegetables, give the frozen veggies a few extra minutes to cook before adding in the fresh. Saute the veggies for about five minutes.
Toss the seasoned steak into the hot skillet along with the vegetables. Give it a few minutes to get a good sear on the meat before adding in the spaghetti and stir fry sauce.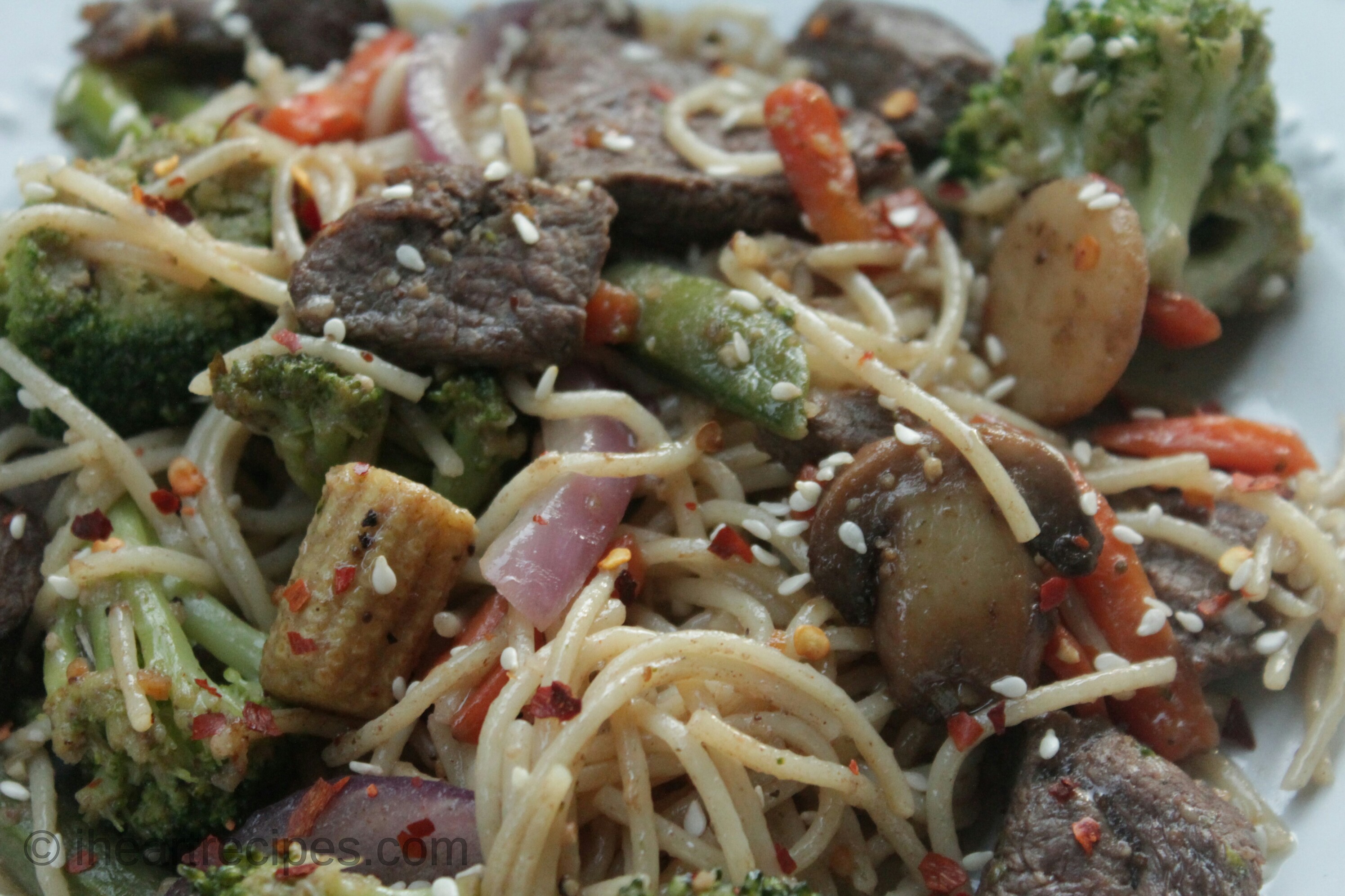 Once the veggies, steak, and spaghetti are combined, drizzle in the soy sauce and sesame oil. You can also add the red pepper flakes at this time (or wait until serving). Now, I'll tell y'all that this steak stir fry is light on the sauce. If you want a more saucy stir fry, keep reading for some tips!
Let the steak cook until it reaches your desired doneness – this won't take more than 10 minutes – and then dish it up. Garnish with sesame seeds, diced green onion, or whatever other toppings your heart desires.
Recipe Variations and Tips for the Best Beef Stir Fry
Spice up the recipe with some of these tasty tips and variations! Beef stir fry is a great recipe to tweak with your own preferred flavors.
I didn't use any minced garlic in this recipe, but you certainly can add some minced jarred or fresh garlic for more flavor.
If you don't want to use spaghetti noodles, try another Asian variety, like chow mein noodles, udon noodles, or even pre-packaged ramen noodles.
Want more sauce? Use a bottled teriyaki sauce or make your own with soy sauce, brown sugar, sesame oil, ginger and garlic, and a little bit of cornstarch to thicken it up.
Top your own serving of beef stir fry with your favorite hot sauce for a spicy kick.
You can add beef or chicken broth to the stir fry while cooking for a deeper, savory flavor. The broth will cook down, creating a bit of a sauce adding so much flavor. Start with about 1/4th cup of broth and add more as needed.
How do you keep beef tender when stir-frying?
If you want to keep the thinly sliced beef extra tender when stir frying, toss some cornstarch with the marinade mixture to coat the beef. The cornstarch will lock those yummy juices into the beef strips when seared.
How to Store Leftover Beef and Noodle Stir Fry
If you have any leftovers (that's a big if – this meal always disappears in my house!), they should be stored in an airtight container in the fridge for up to 4 days. You can reheat leftovers in the microwave for a few minutes, but they'll taste much better reheated on the stovetop. Toss in a little bit of extra sauce to loosen it up.
What to Serve with Beef and Vegetable Stir Fry
Because of the noodles, this beef and spaghetti stir fry is filling enough for a whole delicious meal! Serve up some egg rolls or pot stickers from the frozen foods section for easy sides. You could also serve it with a quick fried rice if you don't mind doubling up on the carbs… I swear, we ain't counting over here, honey 😉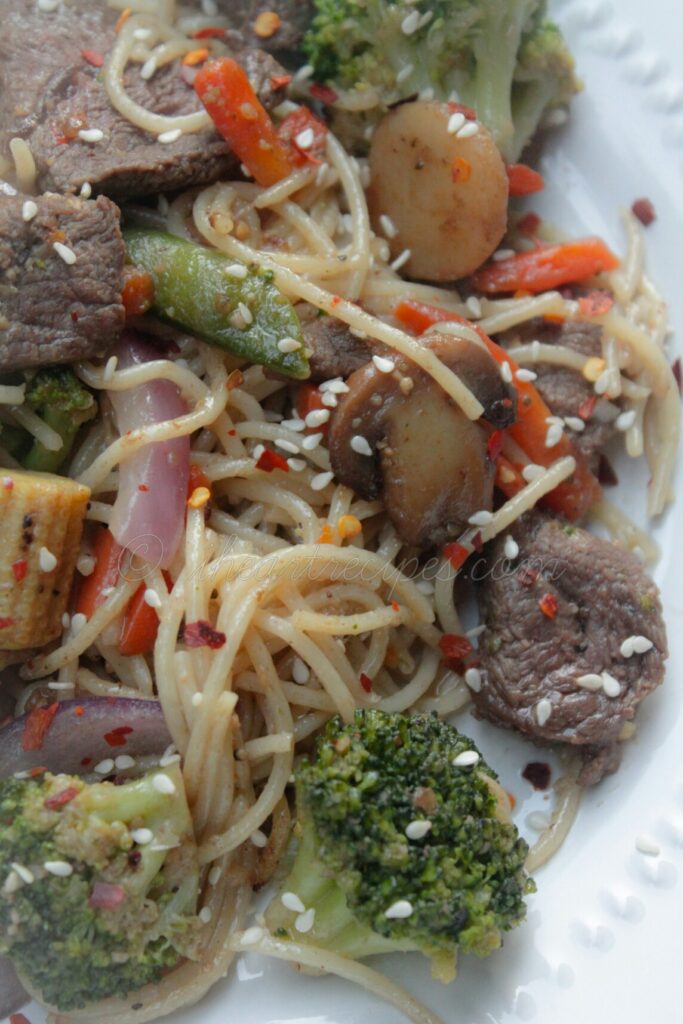 More Quick and Easy One-Skillet Recipes to Try
Loved this easy beef and vegetable stir fry recipe? Be sure to share + save on Pinterest! Don't forget to tag and follow me on Facebook, Instagram, and subscribe to I Heart Recipes on YouTube, and check out all my cookbooks!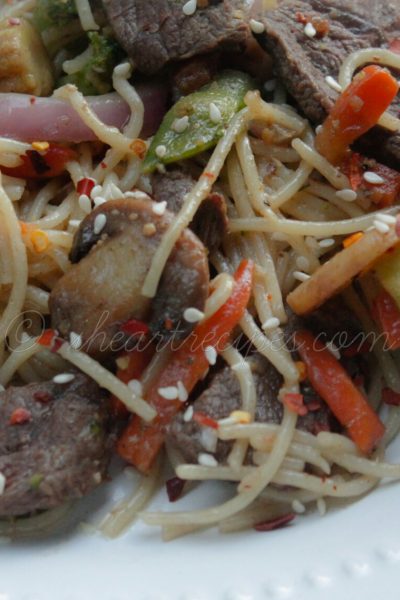 Beef and Vegetable Stir Fry Recipe
This delicious one-pot beef and veggie stir fry is a perfect weeknight meal! You can customize it with chicken, shrimp, or any of your favorite veggies for a meal the whole family will love.
Print Recipe
Pin Recipe
Instructions
Place the flank steak in a medium sized bowl, and add in 1 tbsp vegetable oil, the minced ginger, and sugar.

1 lb beef flank steak,

1 tsp minced ginger,

2 tbsp vegetable oil,

1 tbsp granulated sugar

Combine the ingredients, and let sit for 30 minutes.

Boil the pasta, until done, then drain and set to the side.

Drizzle in 1 tbsp of vegetable oil into a large skillet, and heat it up over medium heat.

Once hot, add in the stir fry vegetables, and cook for for about 5 minutes.

16 oz frozen stir fry vegetable mix,

1 small red onion

Toss in the steak, and cook for about 2 minutes.

Next add in the spaghetti, drizzle in the sesame oil, and combine all of the ingredients.

1 tbsp soy sauce,

1 – 2 tsp sesame oil

Cook until the steak reaches your preference, then remove from the heat.

Plate the spaghetti stir fry, then sprinkle desired amount of red pepper flakes & sesame seeds.

sesame seeds,

red pepper flakes

Serve & enjoy!
If you loved this recipe,
leave me a review below
. This helps future recipe makers and ensures continued high-quality recipes for years to come!
© 2023 I Heart Recipes