Tender marinated beef steak strips with mixed stir fry vegetables, and spaghetti pasta!
School has officially started! What does that mean? It means that Monday through Friday, I make quick & easy meals, if not one of my many Crock-Pot freezer meals! Whenever I make a quick & easy meal it's usually a one pot or skillet meal, that takes under 45 minutes.  One of my favorite things to make during the week is stir fry. Sometimes I get bored with the same old stir fry over rice, so lately I've been making spaghetti stir fry!
In this post I'm going to show you how I make my Beef & Vegetable Spaghetti Stir fry!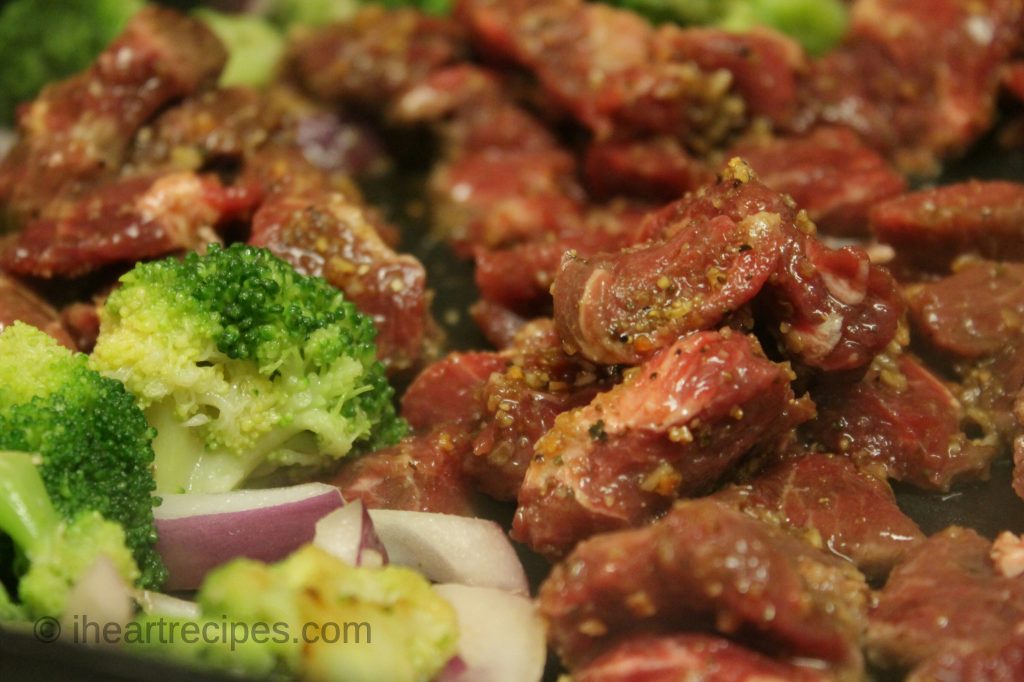 First things first.. If you don't eat beef, you can use chicken, or shrimp, or etc. I actually have different spaghetti stir fry recipes that I'll share in the future, but for now I'll show you how I make my beef version.
So for the beef, I use flank steak.  Yes, I know that it's not a cheap cut, however I make sure to buy it whenever it's on sale, and I stock up on it. I find that flank steak is always tender, which is a plus for me, because I can not stand tough meat!
I use frozen vegetables for most of my stir frys. My favorite one is the Oriental blend that has baby corn, water chestnuts, broccoli, carrots, and etc.
I keep my beef & vegetable spaghetti super simple, but it always comes out fabulous. My son even likes it. Check out the finished product.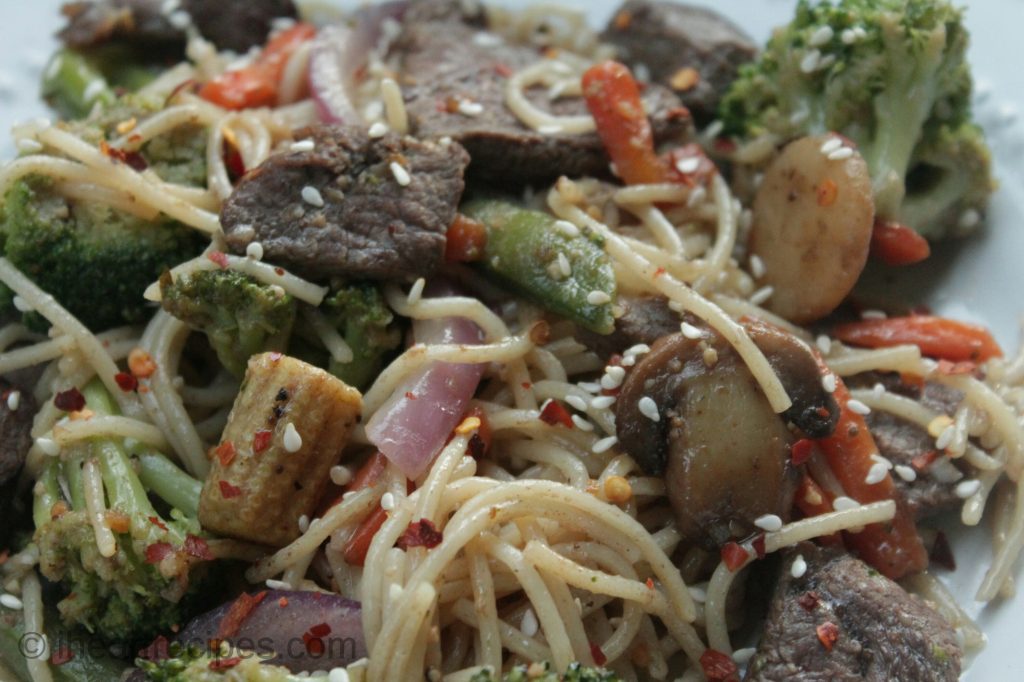 Ready to try the recipe? Here ya go…
Beef & Vegetable Spaghetti Stir Fry
This delicious one-pot beef and veggie stir fry is a perfect weeknight meal! Customize with chicken, shrimp, or any of your favorite veggies for a meal the whole family will love.
Ingredients
1

lb

beef flank steak

cut into strips

1

tbsp

soy sauce

1

tsp

minced ginger

1

tbsp

granulated sugar

2

tbsp

vegetable oil

16

oz

spaghetti pasta

16

oz

frozen stir fry vegetable mix

1

small red onion

sliced

1 - 2

tsp

sesame oil

sesame seeds

desired amount

red pepper flakes

desired amount
Instructions
Place the flank steak in a medium sized bowl, and add in 1 tbsp vegetable oil, the minced ginger, and sugar.

Combine the ingredients, and let sit for 30 minutes.

Boil the pasta, until done, then drain and set to the side.

Drizzle in 1 tbsp of vegetable oil into a large skillet, and heat it up over medium heat.

Once hot, add in the stir fry vegetables, and cook for for about 5 minutes.

Toss in the steak, and cook for about 2 minutes.

Next add in the spaghetti, drizzle in the sesame oil, and combine all of the ingredients.

Cook until the steak reaches your preference, then remove from the heat.

Plate the spaghetti stir fry, then sprinkle desired amount of red pepper flakes & sesame seeds.

Serve & enjoy!