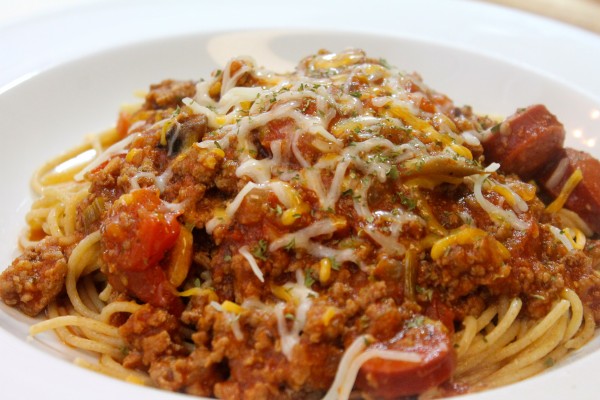 Spaghetti with hot links, sweet Italian sausage beef, and more!
Usually when people think of spaghetti, they think of a simple pasta dish with a nice marinara sauce. Well, that is NOT the spaghetti that I am making in this post! This spaghetti is simple to make, but there is nothing simple about the taste. The homemade meat sauce is packed with three different meats, and a hearty blend of flavorful fresh vegetables.  Just say NO to the same old spaghetti recipes, and step your game up to some delicious Spaghetti Recipe with Chunky Vegetable and Meat Sauce .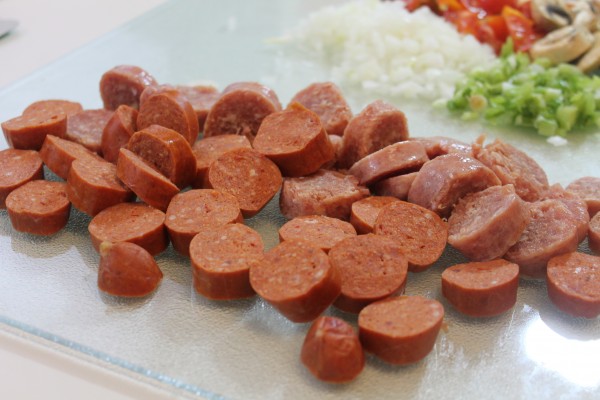 Rather than using just ground beef, I spiced things up by using hot links and sweet Italian sausage. I used sweet Italian sausage for two reason:
It was on sale!!
I didn't want to use another spicy sausage.
If you want to use  mild or hot Italian sausage you definitely can.  As far as the hot links, I used "Louisiana Hot Links". I don't remember the particular brand unfortunately, but use whatever hot link brand that works for you. You can use pork, beef, turkey, and etc sausage.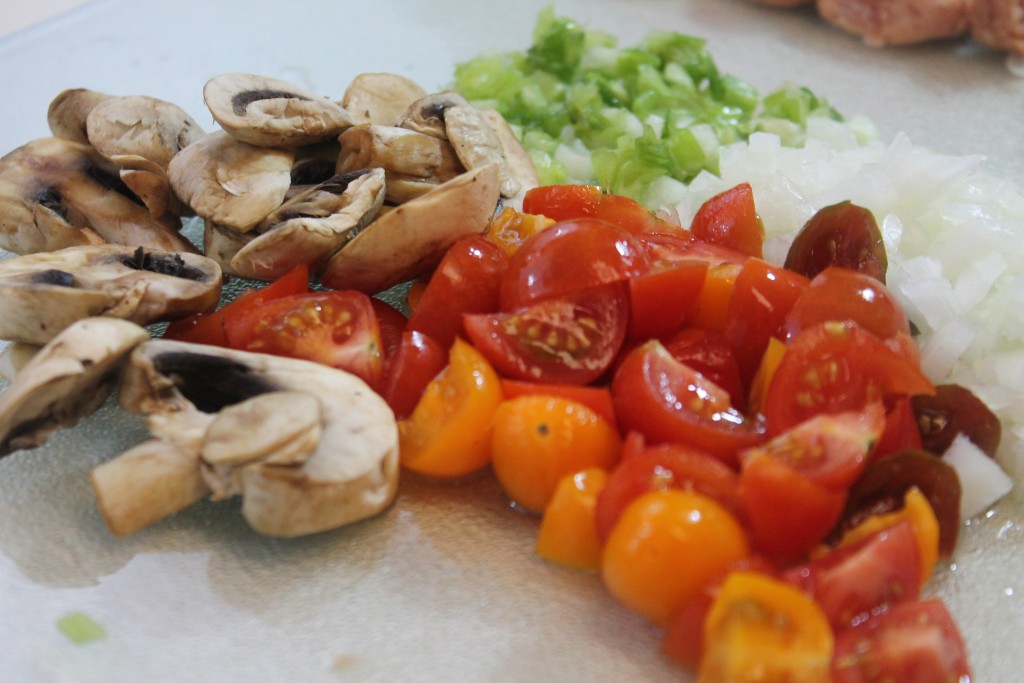 When if came to my vegetable combination, I have to be honest with you. I grabbed what I had in my refrigerator. I didn't use anything special. My vegetable combo consist of
Sweet Gem Tomatoes
Green Bell Peppers
Yellow Onions
Green Onions
& Mushrooms!
Don't feel that you have to follow this list to the "T" . If you have some veggies in the refrigerator, that need to be used asap, feel free to dice those suckers, and throw them in! Here is a list of other vegetables that I have tried with this spaghetti and I LOVED
carrots (peeled & diced)
red onion
sweet peppers
eggplant (peeled & diced )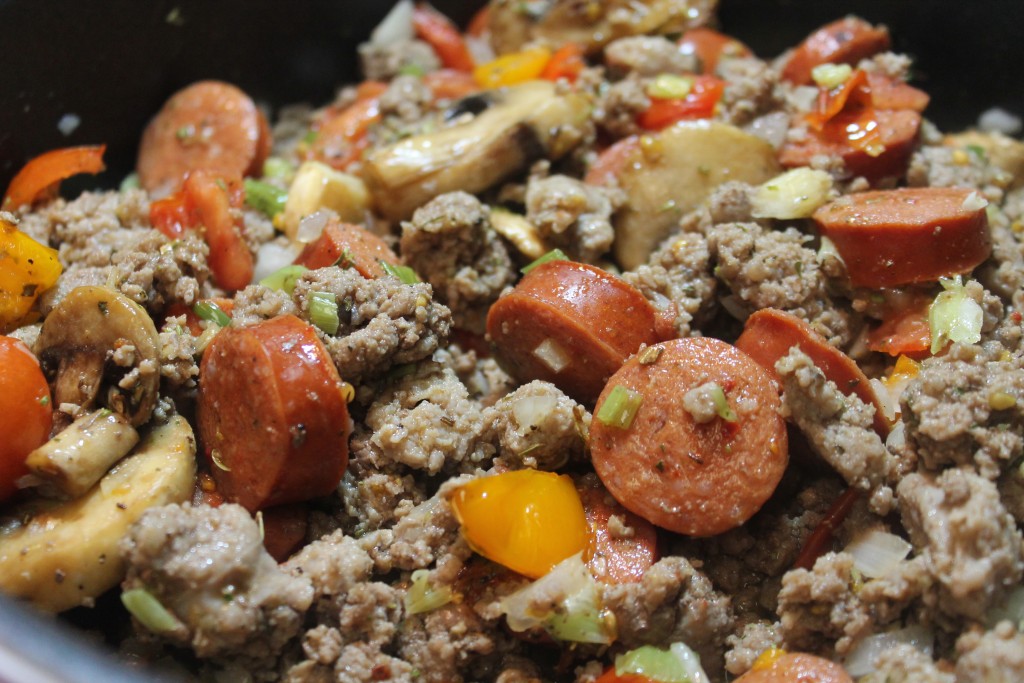 Along with the meat and vegetables, you're also going to need tomato paste to create your meat sauce ( but I'm sure you probably already knew that!). As far as seasonings, like always, I kept is simple. I used
Garlic Powder
Onion Powder
Ground Black Pepper
& Salt Free Seasoning – YES, you can use salt or seasoning salt if you choose.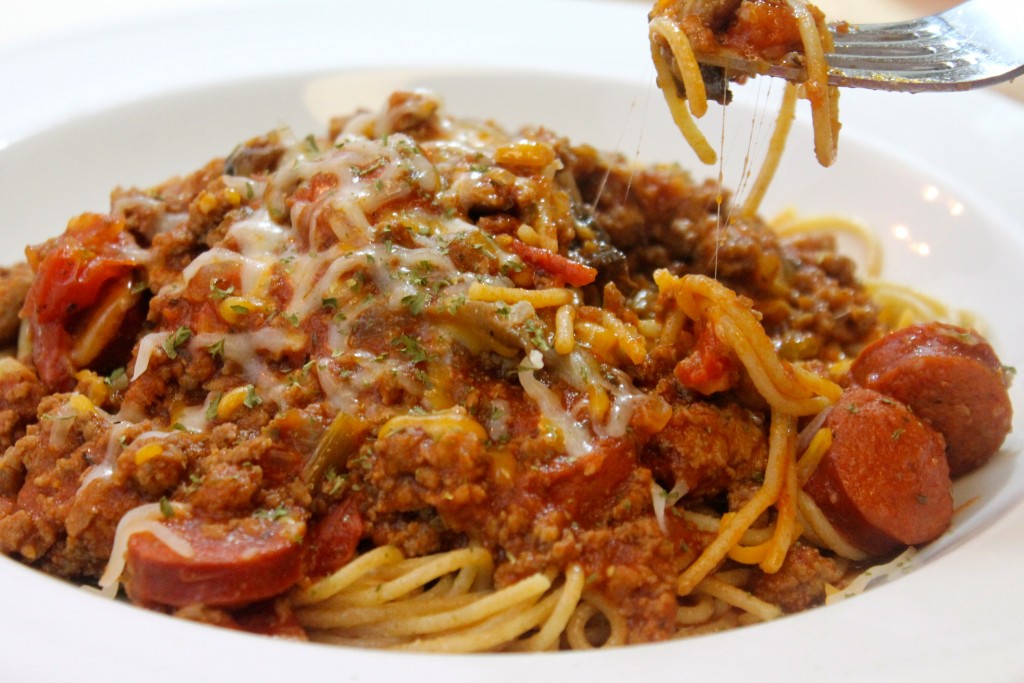 This spaghetti is a favorite is my household. It's easy on my budget, and time ( because it doesn't take a a lot of time to make).
For side dishes, I'd recommend serving this along with a tossed green salad, and maybe french bread.
Need a visual?! Watch me make it!
[amd-zlrecipe-recipe:245]