A Tex-Mex favorite that everyone will enjoy! Sheet Pan Chicken Fajitas are a fun and filling dish that will add a little spice to your week, with little additional work! 
This post may include affiliate links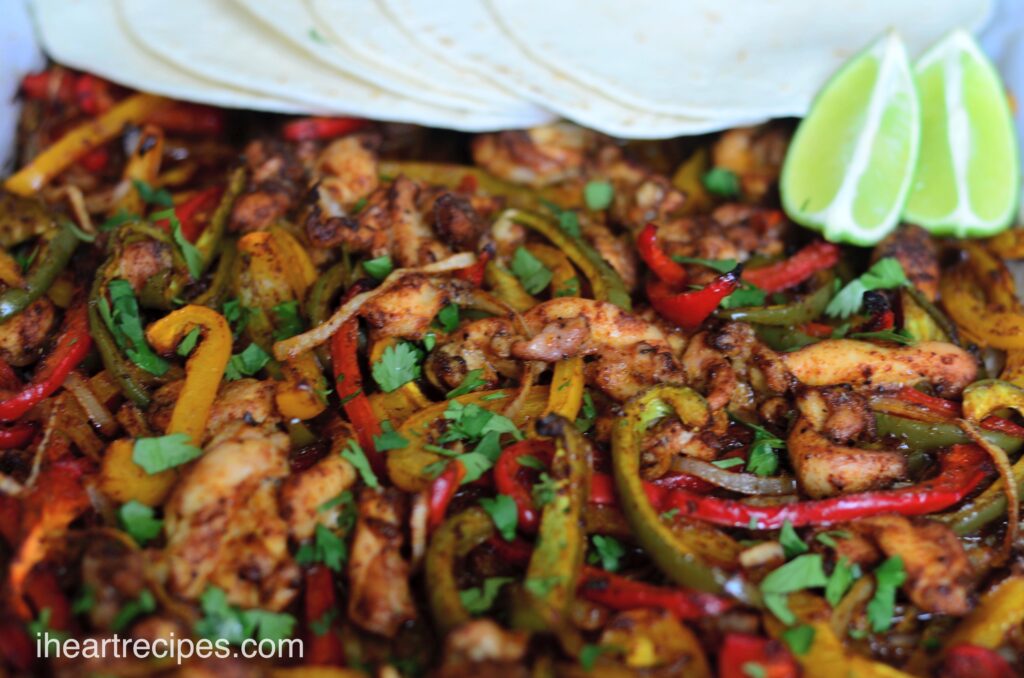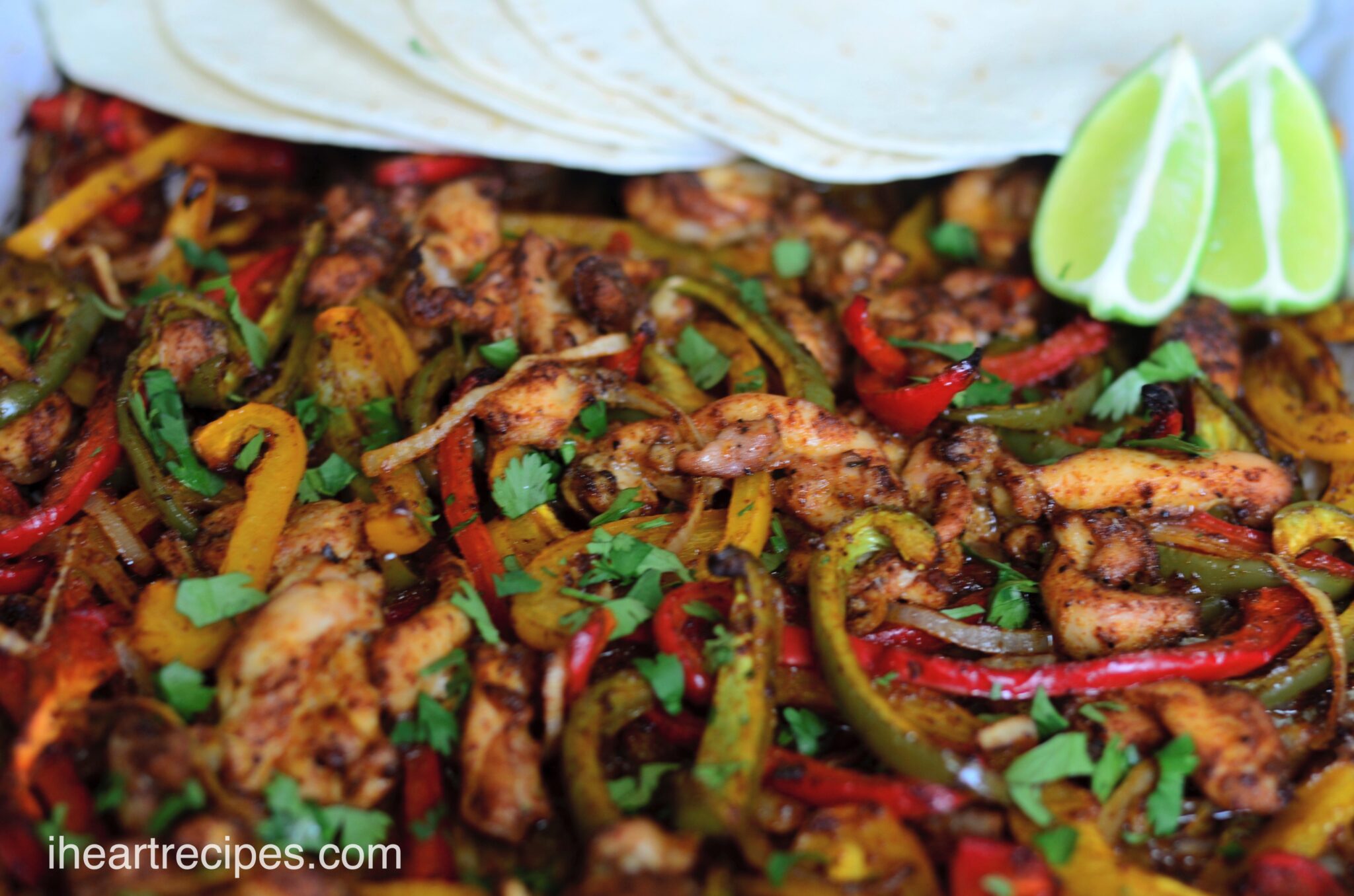 Olé mi amigos! You can't go wrong with fajitas. And with this recipe, you eliminate grilling by baking it on a sheet pan.
If you'll be feeding a crowd, you can double or triple this recipe to prep multiple sheet pans at the same time.
Sheet Pan Chicken Fajitas: A Tex-Mex Must-Have
One of the fun things about cuisine is that it's so regional! Tex-Mex foods are popular along the states that border our neighboring country Mexico. It refers to the fusion of Mexican and American cuisine, made by the Tejano people who lived in Texas before it became part of the United States.
You can't go to Texas or anywhere in the Southwest United States without finding this fantastic fusion. With this recipe, you don't have to travel or go out to eat to enjoy Tex-Mex cuisine.
Chicken Fajitas Ingredients and Shopping List 
2 lb. of boneless, skinless chicken thighs—save on prep time by buying boneless and skinless chicken. Thighs are ideal because they won't dry out.
2 tbsp vegetable oil—olive oil or your vegetable oil of choice.
3 bell peppers (1 green, 1 red, 1 yellow)—a beautiful mix of colors and flavors.
1 large yellow onion—yellow onions are sweet and roast well in the oven.
1 pkg of 8 small flour tortillas—flour tortillas have a longer shelf life, but you can buy corn tortillas if you need a gluten-free option.
Optional 1 lime—squeeze a bit of lime juice on top to enhance the flavors.
Optional Fresh cilantro—a Mexican staple that you can sprinkle on top of the finished dish, or on individual fajitas.
Homemade Fajita Seasoning Ingredients
I'm all about convenience in the kitchen, but instead of buying a fajita seasoning for this recipe—I make my own. It only takes about 2 minutes to mix this DIY seasoning and I promise it's worth every second!
2 tsp of chili powder
2 tsp of cumin
1 Tbsp of paprika
1/2 tsp of oregano
2 tsp onion powder
2 tsp garlic powder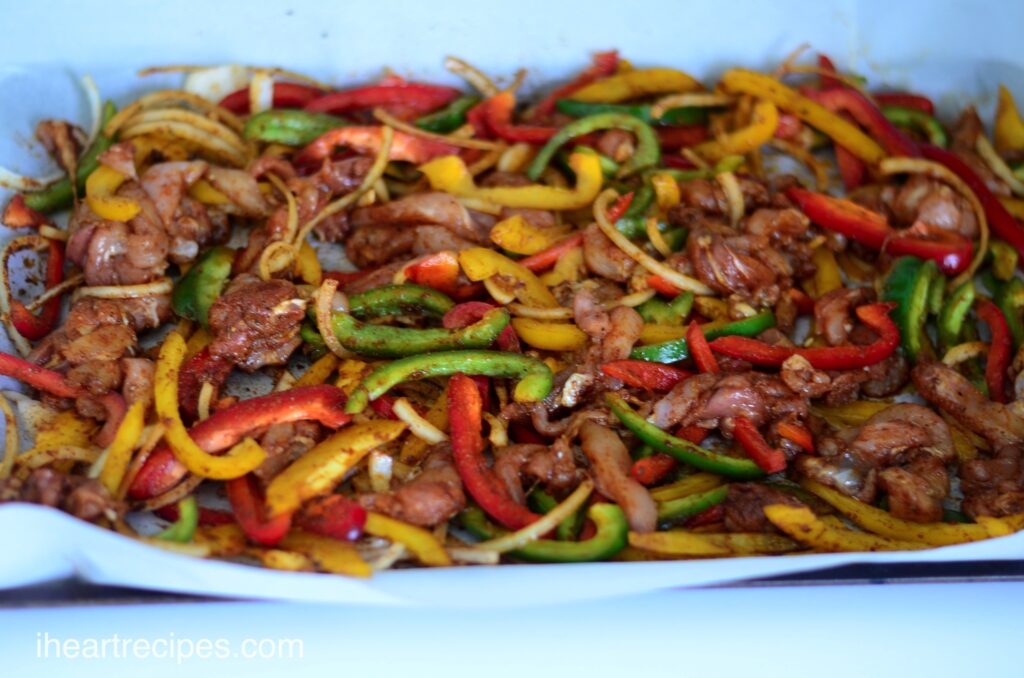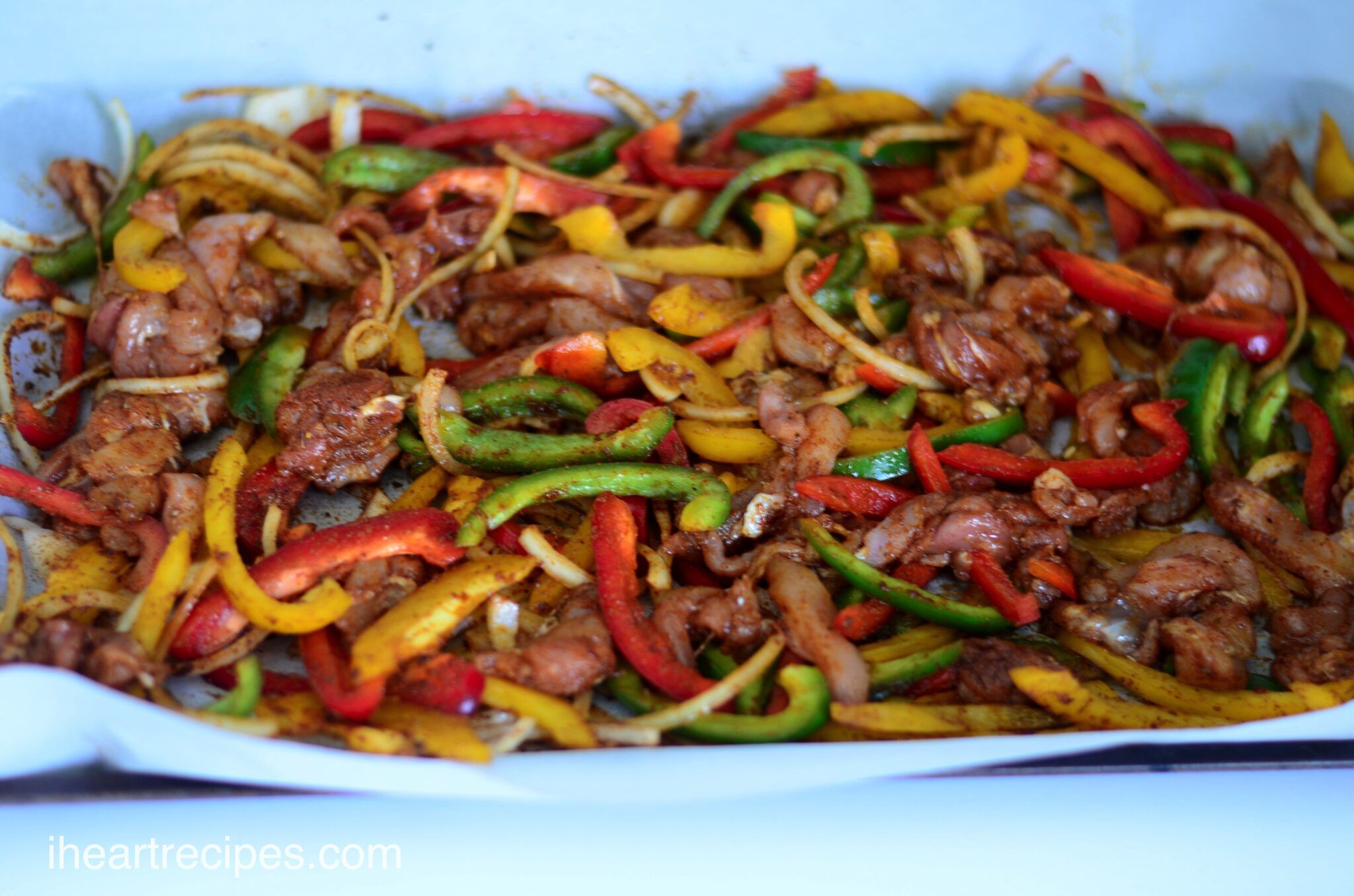 Additional Chicken Fajita Toppings
In addition to the lime and cilantro, you can top your fajitas with:
Hot sauce
Salsa
Chopped jalapeno
Shredded cheese
Sour cream
Guacamole
Supplies Needed to Make Sheet Pan Chicken Fajitas
2 or 3 cutting boards
3 knives for chopping
Small bowl to mix fajita seasoning
Sheet pan
Optional: aluminum foil
Pro Tip—lining your sheet pan with aluminum foil speeds up the clean-up!
Sheet Pan Chicken Fajitas Tips and FAQs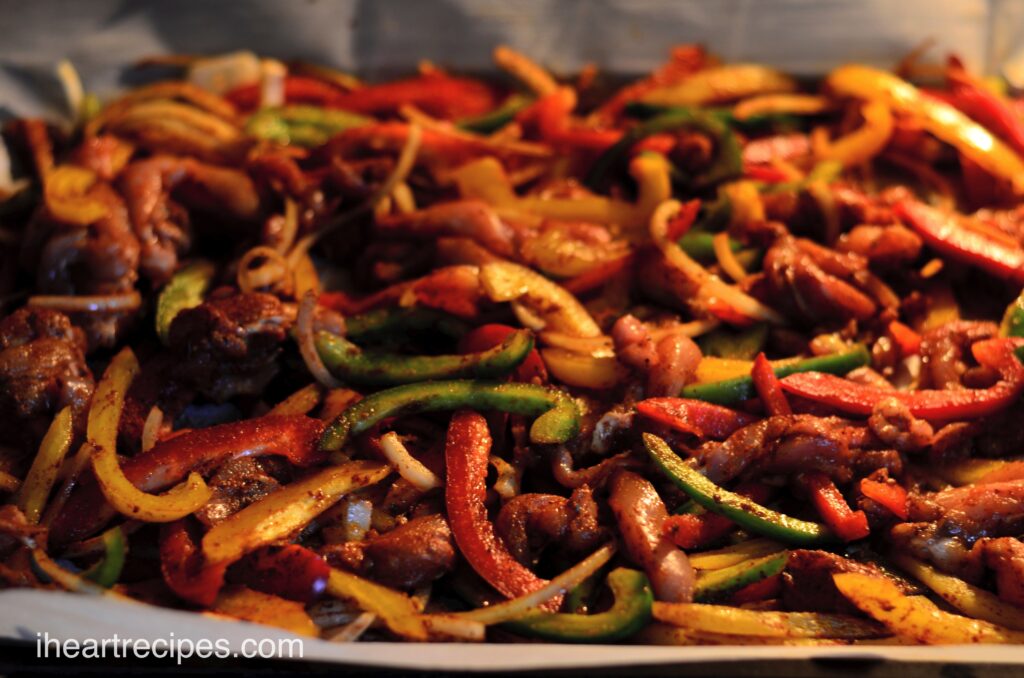 Does Cilantro Taste Like Soap?
Cilantro is a Mexican herb that has a bright citrusy flavor. However, some people think that cilantro tastes like soap! If cilantro isn't for you, it's genetic. Your sense of smell processes cilantro's aroma as soapy smelling. Since it smells unappealing to you, it tastes unappealing too. So, if you aren't sure where everyone coming to dinner stands on cilantro—serve it on the side.
How to Chop Cilantro
If you purchase your cilantro more than a day in advance, place it in a glass of water in the fridge to keep it fresh. Change the water every other day, removing any brown or unhealthy stems. This will ensure fresh cilantro lasts for up to 7 days.
Here's how to chop your cilantro like a pro:
Rinse your cilantro and shake it dry.
Place the bunch on the cutting board.
Use a sharp knife to cut off all stems at once.
Chop diagonally in a rocking motion.
Chop once or twice more from different angles.
Pro Tip—if you don't use all of your cilantro, add it to a freezer-safe baggie. Then defrost and use it the next time you need more. Use cilantro to season fish, eggs, smoothies, salads, tacos, rice, dips, sauces, soups, and more!
Serve Your Tortillas Warm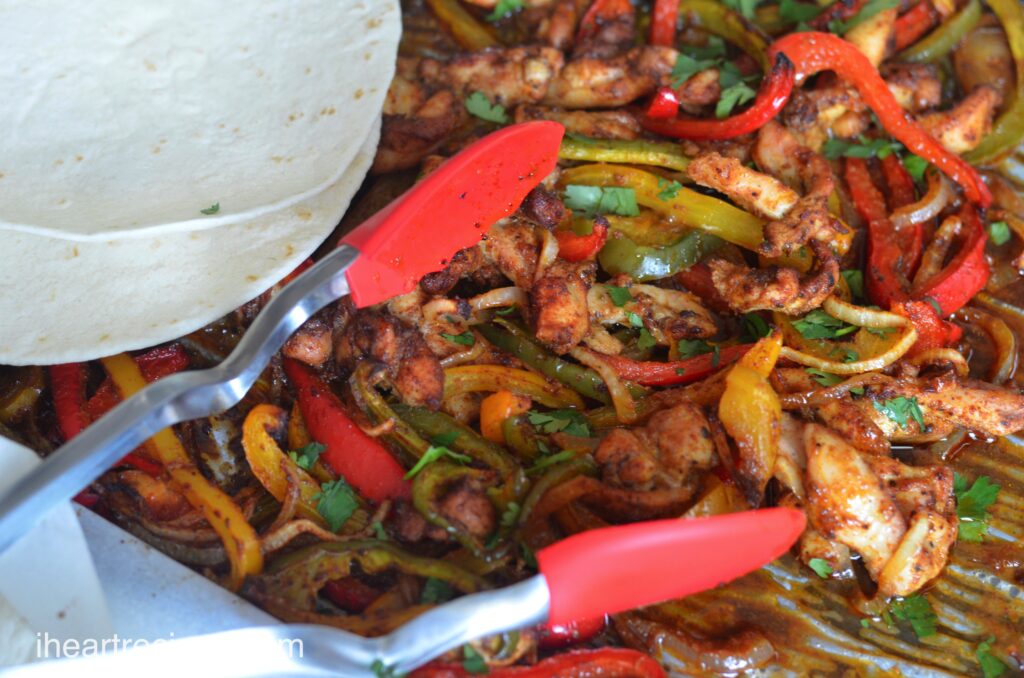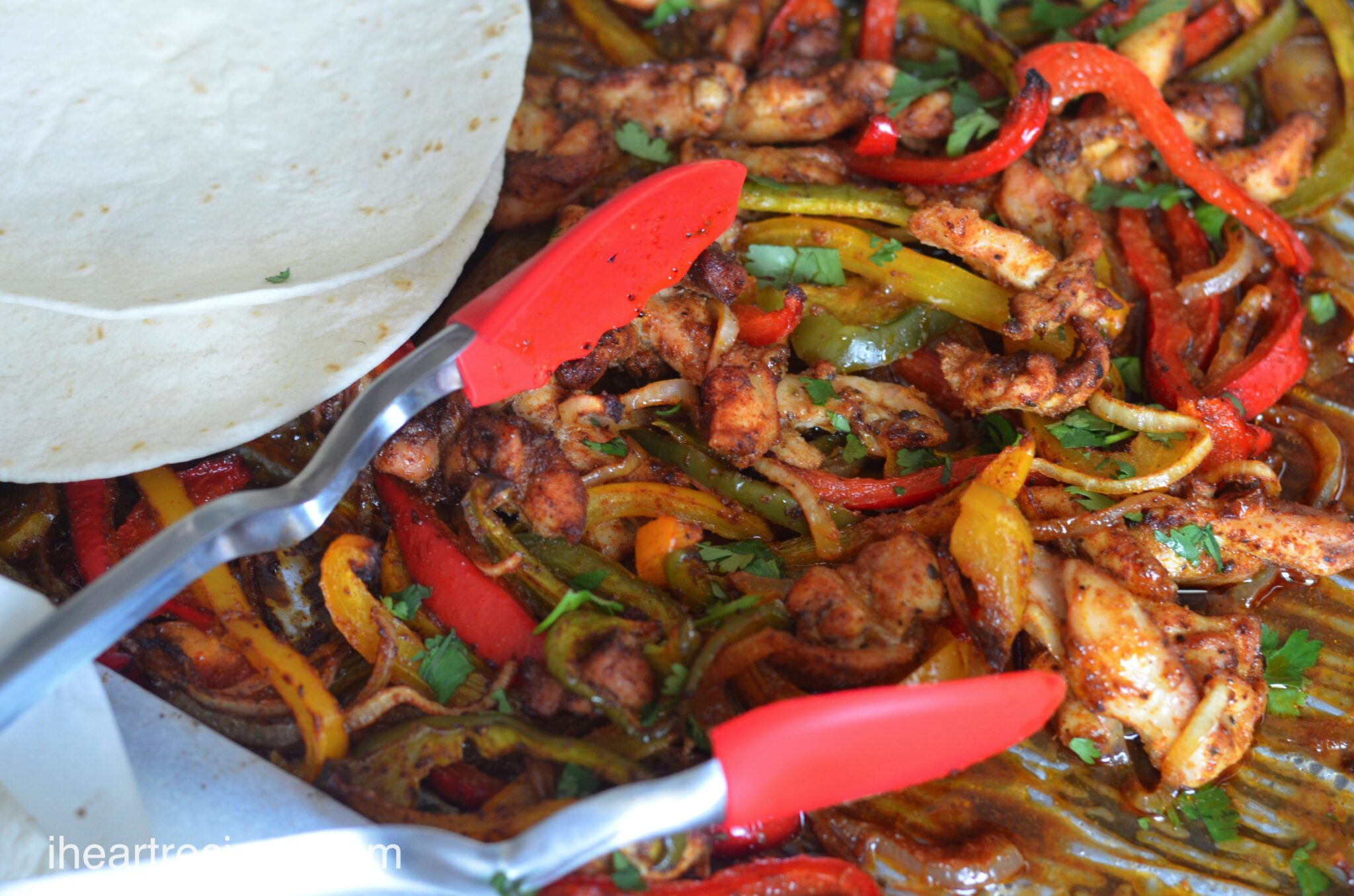 You can serve your tortillas at room temperature, or you can warm them up!
Tortilla warmer—The fastest and easiest way to warm up your tortillas is with a microwave tortilla warmer. You just take them out of the package, heat as directed, and the warmer will keep them warm.
Warm in the oven—stack 6 to 8 tortillas and wrap them in aluminum foil. Pop them in the oven the last 10 minutes your fajitas are cooking. Keep them wrapped in the foil on the table so they stay warm.
Warm in the microwave—stack 5 tortillas on a microwave-safe plate. Every microwave heats differently, so warm your tortillas in 15 to 20 second intervals until heated through. Wrap in aluminum foil and place on the table.
Warm as directed—if you are using keto or gluten-free tortillas warm them as directed on the package.
Are Chicken Fajitas Keto-Friendly?
It can be; just skip the tortillas! You can also buy keto tortillas or use lettuce or steamed cabbage leaves as a wrap. The key to keto longevity is flavor. Those who've gone keto love this recipe because it's easy to prep and it spices things up.   
Are Chicken Fajitas Gluten-Free?
It can be, just use corn tortillas or any gluten-free tortillas or wraps.
What to Serve With Sheet Pan Chicken Fajitas
This recipe is filling and flavorful enough to serve solo, but feel free to serve it with:
Can You Make Sheet Pan Chicken Fajitas Ahead of Time?
This recipe is best served fresh. The leftovers will still be delicious, but the veggies will be a bit soggy the next day. Leftovers are good for 3 to 5 days.
That being said, feel free to chop your chicken and veggies ahead of time. Then store them in separate airtight containers in the fridge. The cilantro will dry out if you chop it too far in advance, so chop while your fajitas are baking.
Loved this recipe? Be sure to share + save it on Pinterest! Don't forget to tag and follow me on Facebook, Instagram, and Pinterest, subscribe to I Heart Recipes on YouTube, and check out all my cookbooks!