This Mexican-inspired appetizer minimizes the mess when snacking on the couch, it travels well, and eliminates the double dip!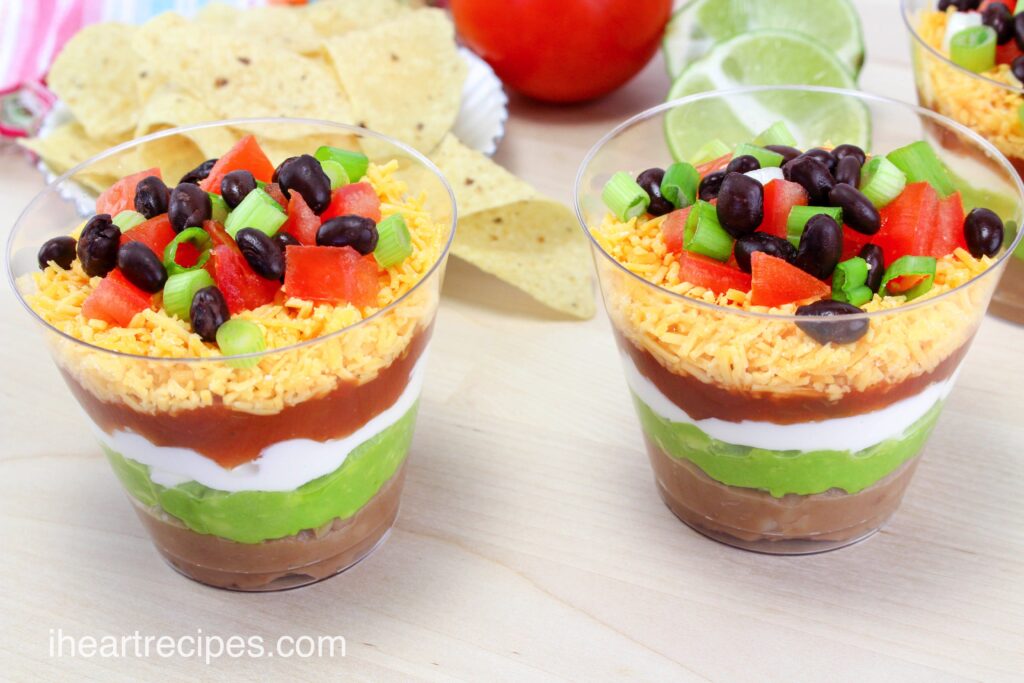 Hey Cousins! These 8-Layer Nacho Dip Cups are fast and fun to make. The kids can even help!
With guacamole, refried beans, and black beans—they are a protein-rich appetizer that is ideal for after-school snacks, game night, parties, barbecues, and more.
Are Nachos an Authentic Mexican Dish?
Nachos aren't a traditional Mexican dish, but they were invented in Mexico by chef Ignacio Anaya. Nacho is the common nickname for the name Ignacio, just like Joe or Joey is a common nickname for Joseph.
In 1943, a regular customer from Texas was visiting chef Nacho's restaurant in the border city of Piedras Negras after shopping with some friends. She asked chef Nacho to whip up a quick snack that was different from her usual order.
Like all great chefs, Nacho improvised. He fried some tortillas and served them warm with grated cheese and jalapeño peppers. Since then, nachos have evolved to include a variety of toppings and dippable sides.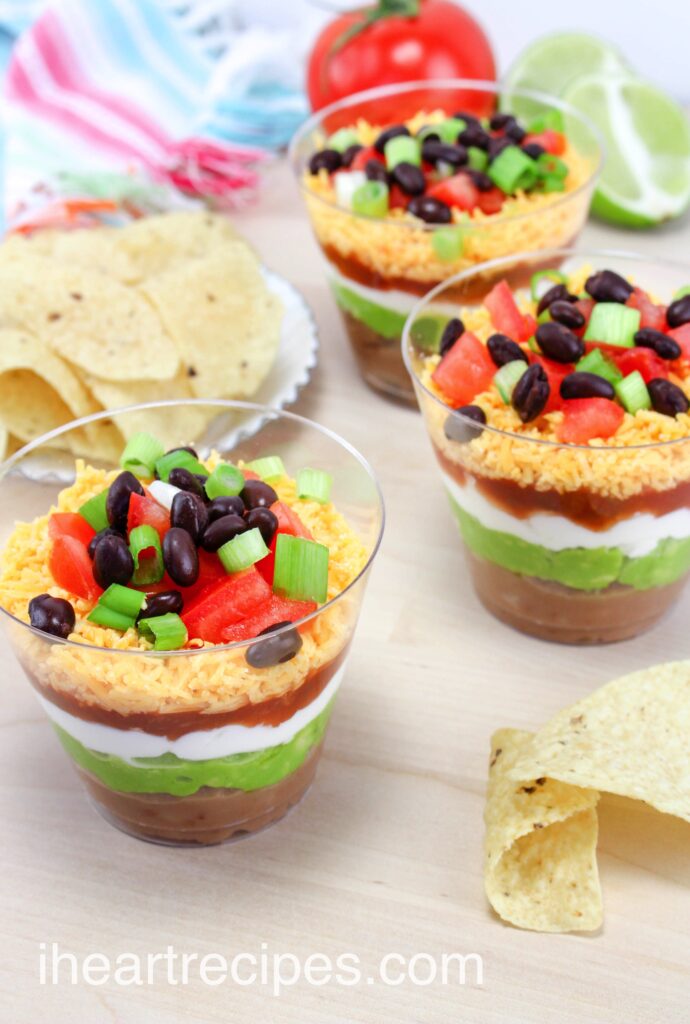 Why Not Just Make Nachos?
You certainly can, but this recipe mixes things up. It includes your favorite nacho ingredients, in a single-serving dip.
These nacho dip cups are bake-free and requires minimal prep. While you can make guacamole, salsa, black beans, and refried beans from scratch, it's just as delicious if you buy ready-made guacamole, salsa, and canned beans. You can even purchase shredded cheese to save more time.
All you need to do is chop 1/3 cup each of tomatoes and green onions, and layer to perfection.
If you have the time, here is an easy recipe to make fresh guacamole. Personally, I find store-bought guacamole to be a bit bitter, but sometimes the time saved with premade is worth it.
Why a Dip?
Whether you are looking to mix up your snack options or find a crowd-pleasing appetizer, this dip covers all the bases. Unlike most dips, this one is hearty and filling. The only challenge you may have is that you and your guests may want more than one cup!
When to Serve This Zesty Nacho Layer Dip?
You will find countless occasions to serve this dip as a snack or appetizer. While it's not fancy, the layers are stunning. It can be served as part of a Mexican-inspired multi-course meal or any time you have a barbeque, potluck, or party.
You and your guests can eat it while sitting at the table, sitting around the couch while watching a game, or mingling during your group event.
The key to serving a crowd is to offer a versatile mix of cold and hot options, most of which can be prepared in advance. Here are a few other appetizer recipes for inspiration.
How to Serve Nacho Layer Dip Cups
This recipe makes six nacho layer dip cups, but it can be doubled, tripled, or quadrupled to make more. The more you make, the more room they will take on your snack table. To save space, consider stacking them on a tiered tray. Then, surround the tray with your selection of chips.
Unlike standard dips, the individual servings eliminate the worry of double dipping!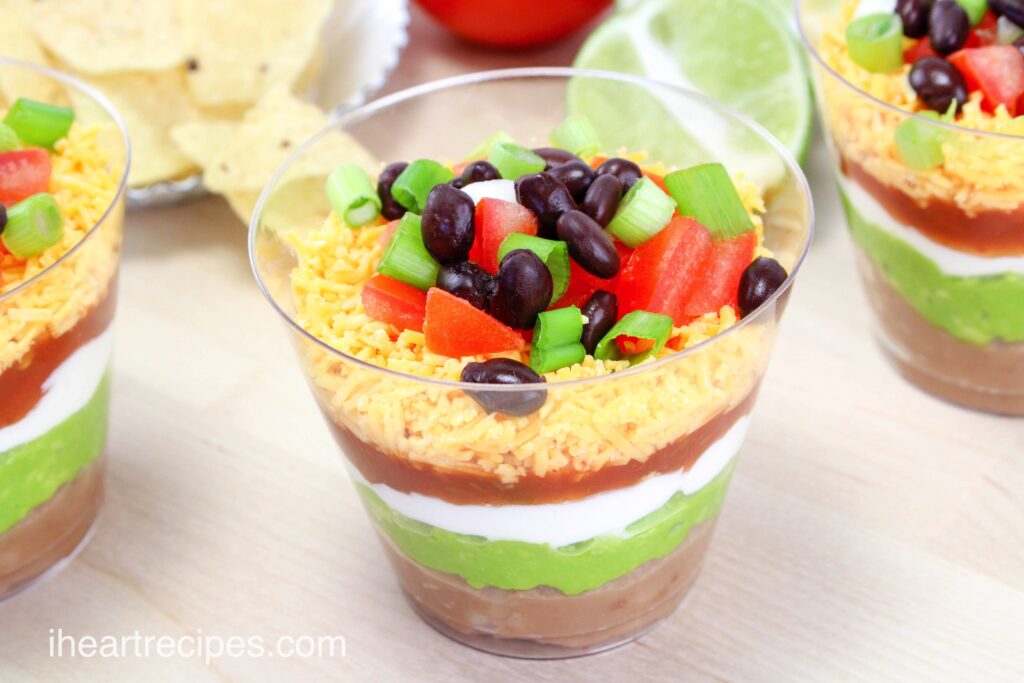 How to Make Your Layers Lay Flat?
The visual aesthetics of this dish are part of its charm. They are layered in a clear plastic cup to ensure your guests can see the deliciousness they scoop up—but also because it makes a stunning presentation.
Even if your layers aren't perfectly flat, your dip will taste amazing! To ensure a picture-perfect layer of thicker layers like guacamole and sour cream, put them in piping bags for easy layering. Not to worry if you don't have a piping bag, just put them in individual Ziplock baggies. Then snip the corner off of the baggie so that you can pipe the perfect layer.
What Type of Salsa Should I Use?
If you are making this for a crowd, stick with a mild but flavorful salsa. If you are certain that your guests enjoy a bit of spice, feel free to choose a hotter salsa. Then, allow your guests to personalize their dip by adding additional hot sauce or jalapeño slices.
You can even whip up a fresh pico de gallo as an accompanying side, or as a salsa alternative.
How to Keep Your Guacamole From Turning Brown?
While prepackaged guacamole is good for 1 to 2 days after it's opened, it can turn brown before it goes bad. Once you open up the airtight container, the exposure to oxygen leads to browning. It still tastes great, but the visual is unappealing.
So, if you are going to make your own guacamole, or you are going to make this recipe more than a few hours before serving, these tips will keep it from browning:
Once piped into your cup, gently use a spoon to flatten out the guacamole. This will eliminate air bubbles.
Lime juice is optional in this recipe, but if you add a light layer of lime juice over the guacamole it will minimize browning.
Seal the cup in the fridge with plastic wrap to minimize oxidation. If the plastic wrap won't stay put, hold it in place with a rubber band.
If you are making fresh guacamole the night before, follow the tips above, but also leave the avocado pits in the guacamole until you are ready to portion it into your cups. This will minimize oxidation.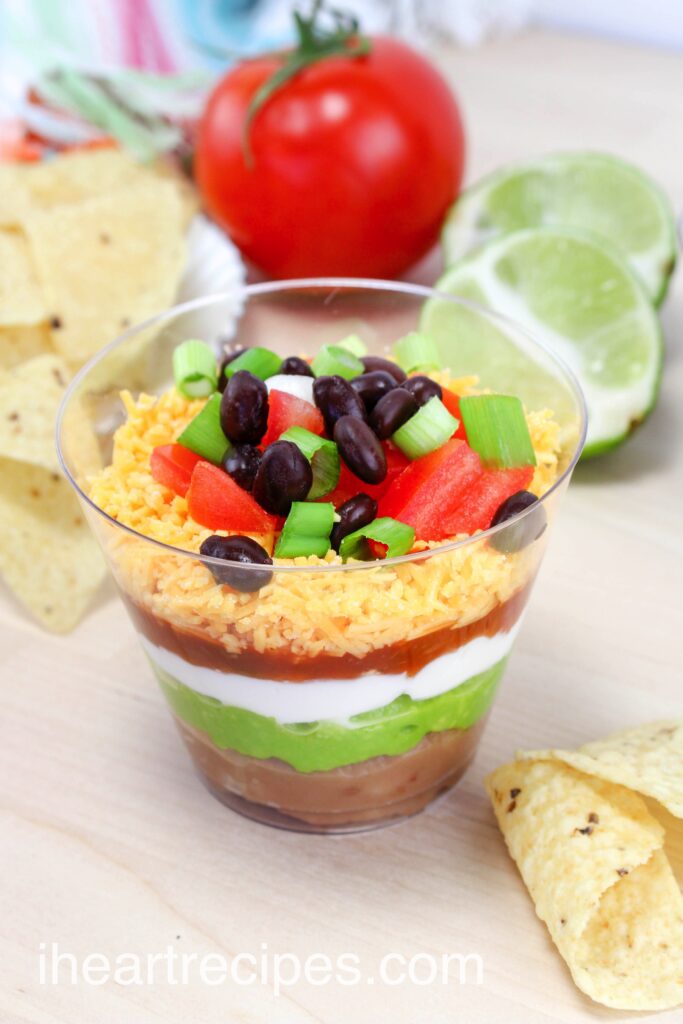 What Type of Tortilla Chips Should I Use?
This is entirely up to you! This dip is heavy, so tortilla chips will hold its weight better than a standard chip. Since it's in a cup, you may prefer to use tortilla rounds or tortilla scoops.
Feel free to use:
Potato crisps
Standard corn tortilla chips
Black or blue tortilla chips
Flavored tortilla chips
Pita chips
Veggie chips
Crackers
If you choose a flavored chip, stick with Mexican-inspired flavors like lime and salt, so that the chip doesn't overpower the dip.
Print this nacho layer dip recipe below, and be sure to save on Pinterest!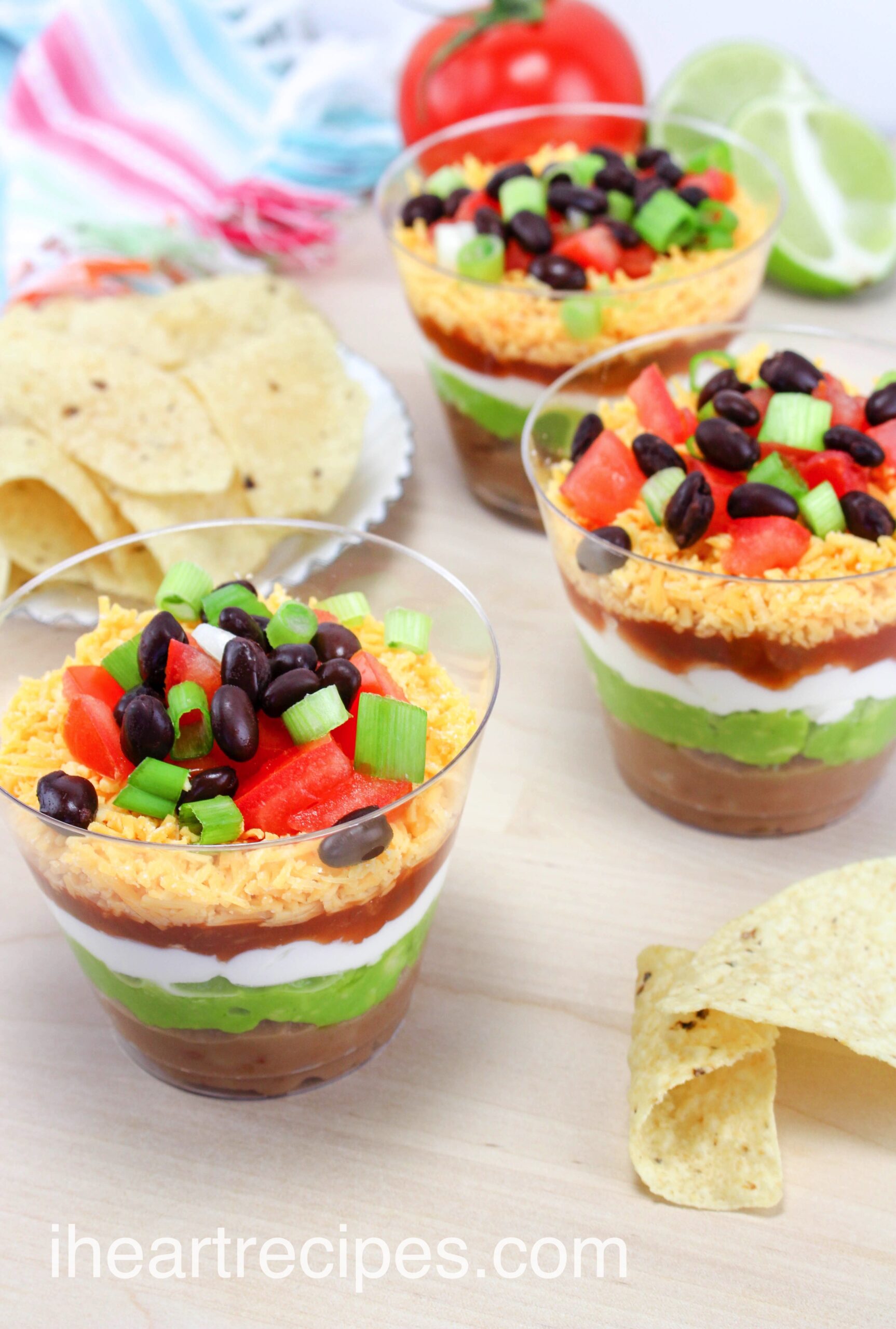 Nacho Layer Dip Cups
This easy individual nacho layer dip cups are perfect party appetizers! All the best parts of nachos in one cup.
Print Recipe
Pin Recipe
Instructions
Start with putting a layer of refried beans in the bottom of each cup.

Add a layer of guacamole, then a layer of sour cream, and finally a layer of salsa to each cup.

Next, sprinkle a layer of shredded cheese into each of the cups.

Garnish with the black beans, green onion, and tomatoes by putting a few of each on top of each cup. Squeeze a bit of lime juice over each cup if desired.

Serve with tortilla chips.

Great single serve appetizers for any party!
If you loved this recipe,
leave me a review below
. This helps future recipe makers and ensures continued high-quality recipes for years to come!
© 2023 I Heart Recipes