If you're looking for a quick, easy, and budget friendly dinner idea this recipe is for you. This delicious sheet pan dinner is made with smoked beef sausage, carrots, and potatoes. It's a family meal that's under $10!
This post may include affiliate links
Hey cousins! I'm back with another recipe, and I know that this recipe is one that you will certainly love for several reason. Reason number one- This smoked sausage, carrots, and potato sheet pan dinner is extremely easy to make. This dinner idea only calls for a few ingredients, and more than likely you already have everything on hand. Reason number 2 – This sheet pan dinner recipe is so delicious, even the most picky eaters will love this dinner recipe, even the kids. Reason number 3- this meal cost under $10 to make. Who doesn't love a budget meal?
For this sheet pan recipe I used smoked beef sausage, but you can use another smoked sausage if you choose such as polish sausage, or kielbasa. Also, I used russet potatoes, but you can certainly use baby reds, or golden potatoes. If you'd like to keep this recipe as low cost as possible I suggest sticking to the ingredients that I used!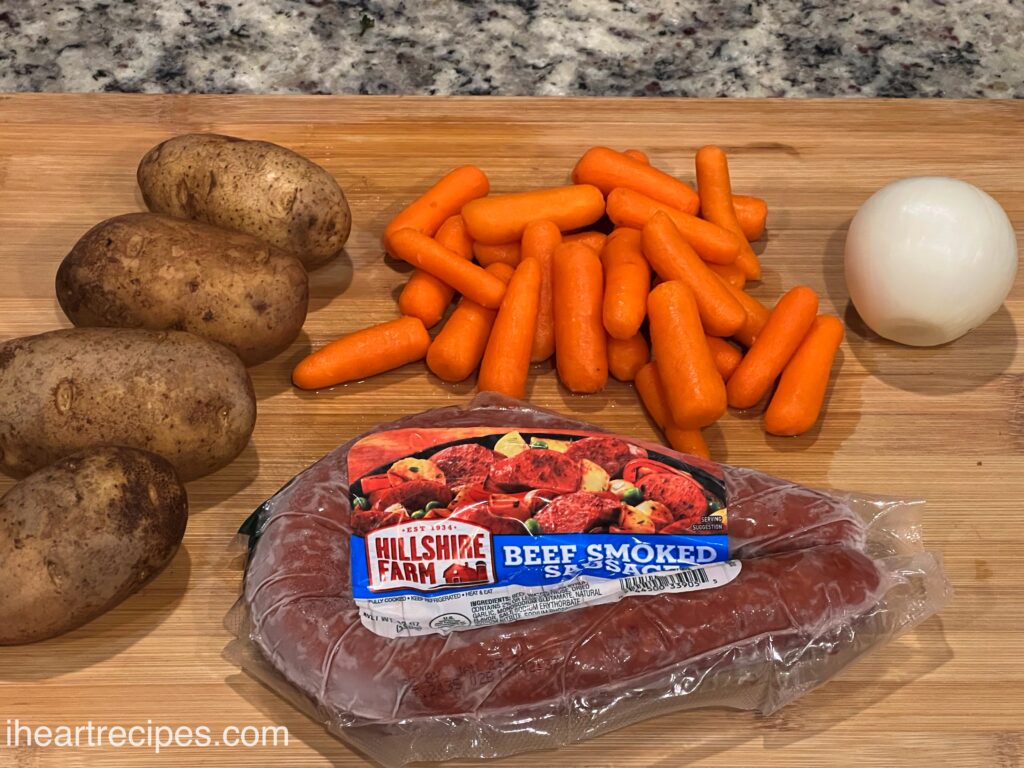 What else can you cook on a sheet pan?
Believe it, or not you can cook almost anything on a sheet pan. That's why sheet pan dinner are so popular. You just add your ingredients on the sheet pan, cook in the oven, and dinner will be done in less than an hour. Some of my favorite ingredients to use when making sheet pan dinners are:
chicken ( especially boneless)
shrimp
cubed pork
thinly sliced beef
smoked sausage
and fish
I love using those proteins when making sheet pan dinners, because they're really easy to deal with, and they don't take long to cook. When it comes to vegetables, I like to use:
potatoes
peppers
onions
corn
carrots
broccoli
cauliflower
squash
and etc
I also like to incorporate pasta & rice into my sheet pan dinners. However, I have to cook those ingredients prior to adding to the sheet pan of course.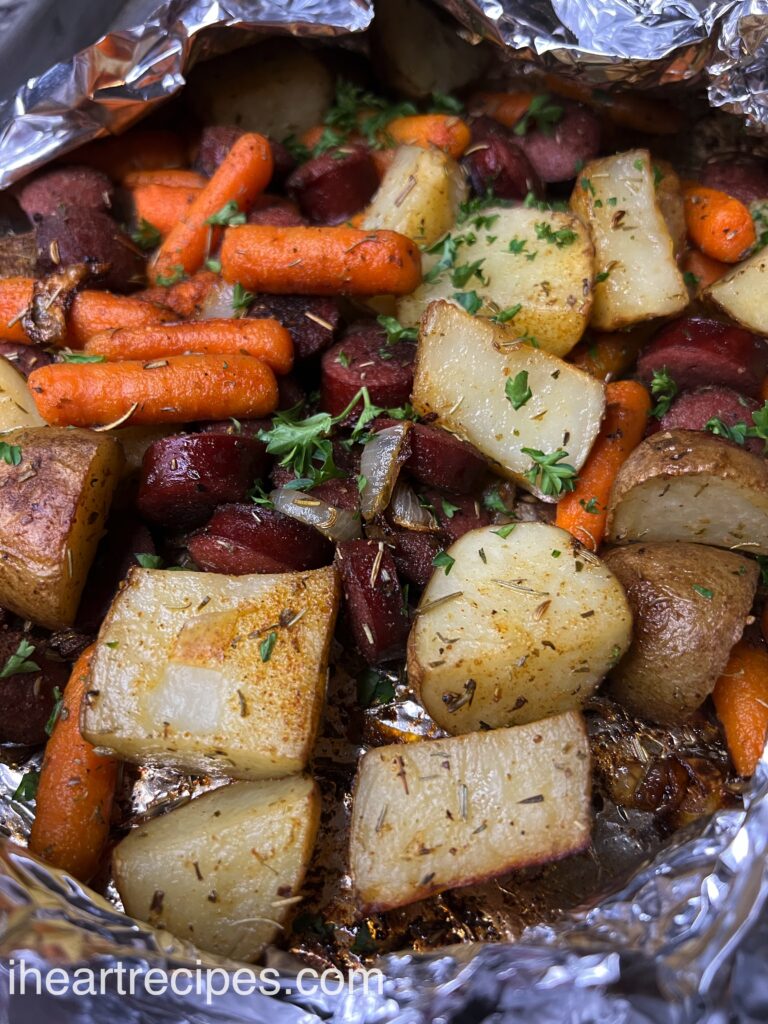 Do you have to cover sheet pan dinners?
It really depends on what you're making! I rarely cover my sheet pan meals while cooking them. However, If I make my sheet pan teriyaki chicken wings, or pork chops I make an exception for those. I like my chicken wings, and pork chops to be extremely moist. Therefore I cover the sheet pan with foil, while cooking them, to keep the from drying out.
Should I line my sheet pan with foil?
Lining your sheet pan with foil helps prevent food from sticking to the pan. Therefore I highly suggest that you line your sheet pan with aluminum foil when you make sheet pan meals. The foil helps make an easy clean up!
Want more sheet pan recipes? Check out my Easy Sheet Pan Pork & Vegetable Teriyaki , as well as my Sheet Pan Low Country "Broil" .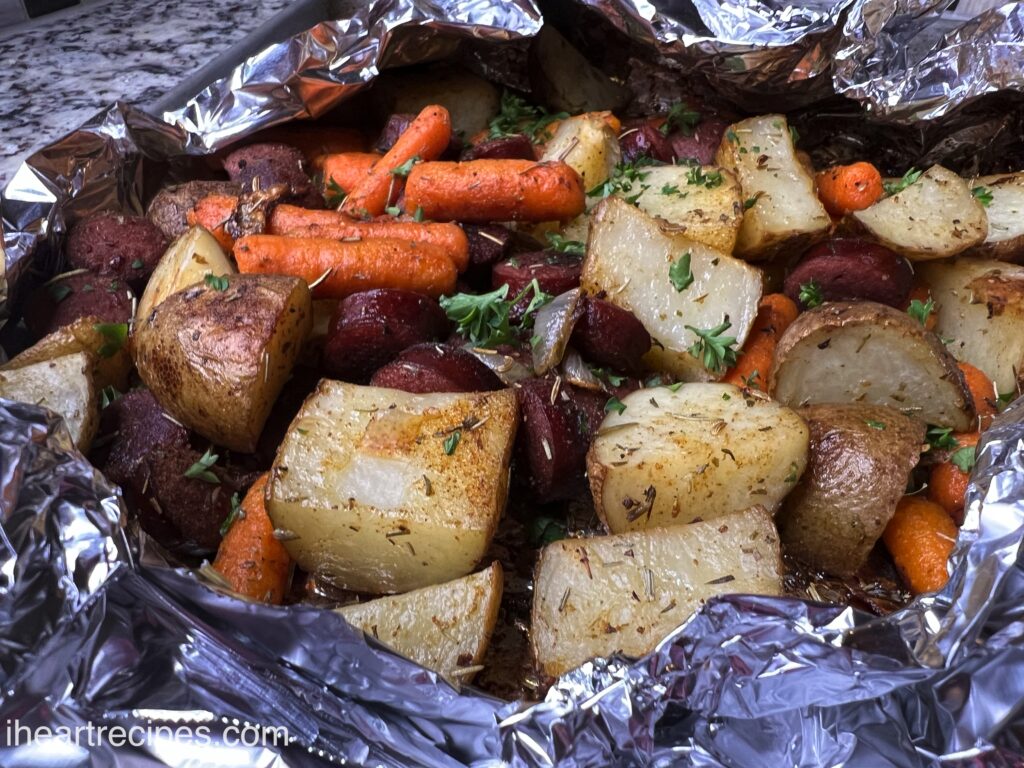 Woohoo, This recipe has a video tutorial! Be sure to watch the video tutorial, and print out the recipe below!
Smoked Sausage, Carrot, and Potato Sheet Pan Dinner
Watch Video
Print Recipe
Ingredients
12

oz

smoked beef sausage

cut in 1/2 inch pieces

4

medium

russet potatoes

cut into 1 1/2 inch cubes or wedges

12

oz

baby carrots

1

tsp

herbs de provence

1 1/2

tsp

Seasoning Salt

of course I use RosaMae Seasonings Seasoning Salt

2

tbsp

olive or avocado oil

1

med

yellow onion

chopped
Instructions
Preheat the oven to 375 F.

Toss the smoked sausage, carrots, potatoes, onions into a large freezer bag.

Drizzle in the oil, the sprinkle in the seasoning salt, and herbs de provence .

Seal the bag, then shake to make sure that everything is coated with the oil, seasoning salt, and herbs.

Set the bag to the side the line a baking sheet with aluminum foil.

Empty out all of the ingredients from the freezer bag onto the baking sheet.

Spread everything out into a even layer.

Place in the oven, and leave uncovered.
Video
If you loved this recipe,
leave me a review below
. This helps future recipe makers and ensures continued high-quality recipes for years to come!
© 2023 I Heart Recipes