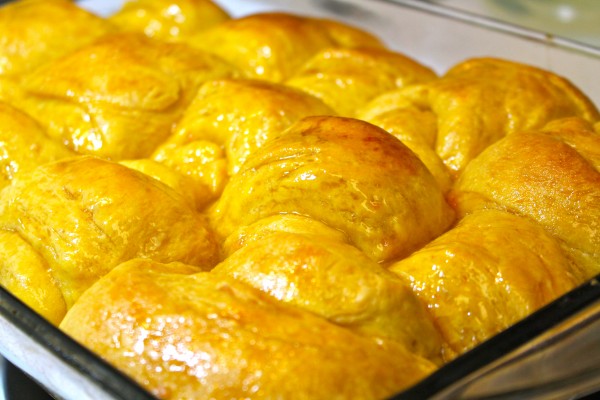 Moist and fluffy Honey Sweet Potato Dinner Rolls
A good old fashioned southern or soul food dinner is nothing without fabulous dinner rolls, cornbread, or buttermilk biscuits. I happen to have several recipes for all of those! In this video, I'm going to show you how to make some amazing Honey Sweet Potato Dinner Rolls. You heard me right! No more making those plain yeast dinner rolls, it's time to spice it up a bit. These Honey Sweet Potato Dinner Rolls, are actually simple and quite easy to make. They just take a little time, because we are making these completely from scratch. Also, you do not need a bread machine for these rolls! These are definitely some of the most moist, fluffy ( thanks to the sweet potatoes!) that I have ever made, and have ever had! Give the recipe a try!
Sweet Potato Dinner Rolls with Honey Butter
These sweet and savory dinner rolls are light and fluffy - a perfect addition to any holiday dinner table!
Prep Time
2
hours
30
minutes
Total Time
2
hours
55
minutes
Ingredients
3 

cups

all-purpose flour

1 1/4

cup

bread flour

2 

large eggs

1 1/2

cup

sweet potato puree

1 medium sweet potato & 2 tbsp water will make a nice sweet potato puree!

1/2

cup

warm water

1

tbsp 

active dry yeast

3

tbsp

sugar

1

tsp

salt

3

tbsp

melted butter

NOT SHOWN IN THE VIDEO!

YOU WILL NEED MORE ALL PURPOSE FLOUR for kneading. Maybe a few TBSP.
Honey Butter
1/2

stick butter

3 

tbsp

pure honey
Instructions
Add 1 tbsp of active dry yeast, and 1 tbsp of granulated sugar into 1/2 cup of warm water. Mix well until the yeast dissolves, then set the cup to the side for about 10 minutes or until the yeast foams.

In a separate bowl, sift together the all-purpose flour, bread flour, 2 tbsp of sugar, and 1 tsp of salt.

Once the yeast is "foamy" place it into a large mixing bowl. Add in 2 eggs, 3 tbsp melted butter, and the sweet potato puree at this time. Mix the three ingredients, until smooth.

Next, gradually start adding in the dry ingredients along with the wet.

Once the mix turns into a dough, place it onto a well floured surface, and knead the dough for at least 15 minutes.

Oil or grease a large bowl, and place the dough into the bowl. Cover, and let the dough rest for 1 & 1/2 hours.

After the resting period, use your fist and press down in the middle of the dough. This will get the excess air out of the dough.

Knead the dough on a well floured surface for an additional 10 minutes.

Next, flatten out the dough.

Use a pizza cutter or knife, and cut the dough like a pizza pie.

Roll the rolls crescent style (it doesn't have to be perfect. This just adds layers to the rolls!) 🙂

Place the rolls into a well greased or oiled 13x9 bake dish.

Cover the rolls, and let them rest for about 30-45 minutes.

While the rolls are resting mix 1/2 stick or butter with 3tbsp of honey. Place the mixture into the microwave for about 20 seconds, or until completely melted, then set it to the side.

The rolls should double in size after the resting period.

Brush some of the butter onto the rolls, then place the rolls in a oven set on 325 F .

Bake the rolls for about 15-20 minutes.

Remove the rolls from the oven, then brush the remaining butter onto the rolls.

SERVE!
Video