Sweet Potato Pie Cinnamon Rolls topped with a Butter and Marshmallow Glaze!
Imagine a nice light and fluffy cinnamon roll that taste like a sweet potato pie. Is it possible? Does it exist? Absolutely! Well- in my world it does!  I've been playing around in the kitchen, and I've come up with the perfect Sweet Potato Pie Cinnamon Roll recipe, that no one can resist ( unless you hate sweet potato pie, and cinnamon rolls!). When I came up with this recipe, I was actually going to make Pumpkin Pie Cinnamon Rolls. However, I remembered the last time I uploaded a pumpkin recipe my viewers let it be known that they were SWEET POTATO fans. So, I decided to make sweet potato pie cinnamon rolls instead. Besides, I've been getting a ton of sweet potato recipes lately, so I decided to surprised ya'll with this one!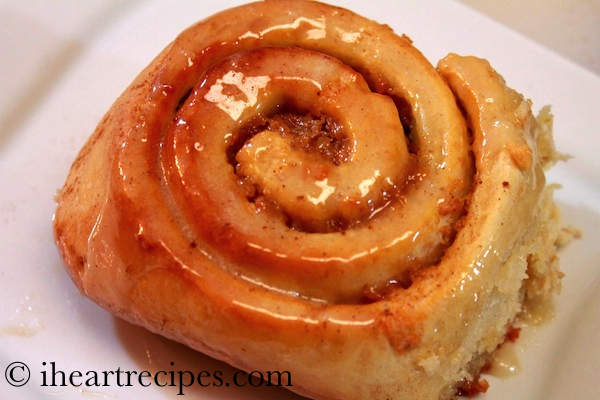 So lets get down to business!  These sweet potato pie cinnamon rolls  are easy to make, but they are time consuming. You have to do a lot of mixing, kneading, and waiting. However it is so worth it! I used my stand mixer for this recipe, but you can do it with a hand mixer ( if it has dough hooks), or you can do it by hand! Make sure that you knead the dough for at about 5-10 minutes before you let it rest the first time! Don't skip out on the kneading, because it's needed… ( Get it?!..HAHA.. Okay- that was corny. Let's move along!)
Again, this recipe is time consuming, so make sure you have plenty of time to make these sweet potato pie cinnamon rolls.  FYI, there may be leftover sweet potato filling. You can toss it or put use to it- but don't over stuff the cinnamon rolls. Otherwise, you will have a big mess!
Also, I made 10 large rolls, but this recipe yields a dozen!
Watch the video tutorial!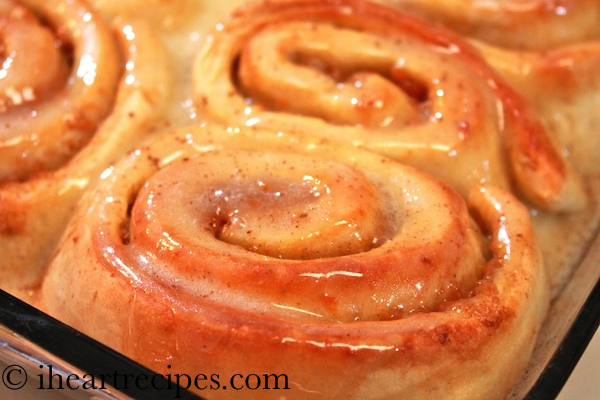 Sweet Potato Pie Cinnamon Rolls
Homemade light and fluffy rolls with sweet potato pie filling, and topped with a marshmallow & butter glaze!
Watch Video
Print Recipe
Pin Recipe
Instructions
Pour 1/2 cup of warm water into the stand mixer or bowl, then sprinkle in the active dry yeast and sugar.

Mix everything until the sugar and yeast dissolves then let sit for about 5 minutes, or until it foams.

Next, melt the butter flavored shortening over low heat, then pour it in the bowl once the yeast foams.

Sprinkle 1 tsp of salt into the bowl, then add in1 cup of flour.

Turn the mixer on a medium speed, and add in another cup of flour.

Crack open one egg, and toss it into the bowl.

Next alternate adding the rest of the flour, and 1/2 cup of warm milk into the bowl.

Once the dough has formed, turn off the mixer, and remove the dough from the bowl.

Knead the dough for 5-10 minutes.

Grease a bowl, then place the dough into the bowl, and cover.

Let rest for 1 1/2 hours.

After the dough has rested, punch out the excess air, and roll it out.
Filling
In a large mixing bowl add in the mashed sweet potatoes ground nutmeg, ground cinnamon, butter, sugar, bourbon vanilla extract, egg, and milk.

Mix Everything until well combined.

Spread the sweet potato pie filling all over the dough, then roll it up.

Cut the dough using butcher string ( watch video)

Butter a 9x13, then place the rolls into the bake dish.

Cover the rolls, then place them in a warm place.

Let the rolls rest for about 30 minutes.

Preheat the oven to 350 F.

Once the rolls have doubled in sized, bake them for 30 minutes.

Remove the rolls from the oven, and let cool.

Place a medium sized pan over medium heat.

Toss in 4 tbsp of butter, and 2 cups of marshmallows.

Mix, and stir until everything is completely melted.

Pour the marshmallow glaze over the rolls.

Let sit until they are cool enough to eat.

Serve and enjoy!
Video
If you loved this recipe,
leave me a review below
. This helps future recipe makers and ensures continued high-quality recipes for years to come!
© 2023 I Heart Recipes