Learn how I make super creamy grits without milk or cream! You only need 4 simple ingredients for this creamy grits recipe. They're perfect for breakfast, brunch, or dinner!
I love making grits for breakfast. There's nothing better than creamy grits served with maple sausage and soft scrambled eggs. In my humble opinion, grits are the ultimate Southern breakfast—and a staple in my household!
Quick & Easy Grits Without Milk
When I make grits, I make them the easy way. I don't use any heavy cream or milk—none of that "fancy" stuff! I like my creamy grits with a bit of butter, salt, and pepper. If you happen to be craving grits but don't have any milk on hand, this creamy grits recipe is for you!
As a kid who grew up in a Southern food household, I know a perfect breakfast when I see one. However, you can make this simple grits recipe for any meal. Enjoy grits with brunch—sweeten them up, or keep it savory and serve with your favorite brunch dishes. Whip them up as a side dish and serve just about any Soul Food recipe over a bed of creamy, salty grits—try smothered oxtails, succulent shrimp, or pot roast. The creamy texture of the grits goes perfectly with fall-off-the-bone tender meat or seafood.
What Are Grits Made Of?
So, what the heck are grits? Basically, grits are dried, ground corn. Regular grits come from a softer type of corn called dent corn. They're a staple in Southern households because of how simple they are to make, but their history goes even farther back to Indigenous people of North America because corn has always been a widely available crop.
There are also different types of grits. Stone-ground grits are what they sound like—dried whole corn kernels ground between stones. These are the good old-fashioned grits. Hominy grits are made from corn kernels that have had the hull and germ removed, resulting in a softer, finer texture. Finally, there are quick grits or instant grits, which have the finest texture and cook the fastest.
Now that you know a little bit more about grits, let's get into how to make creamy grits Cousin Rosie's way!
Ingredients for Creamy Grits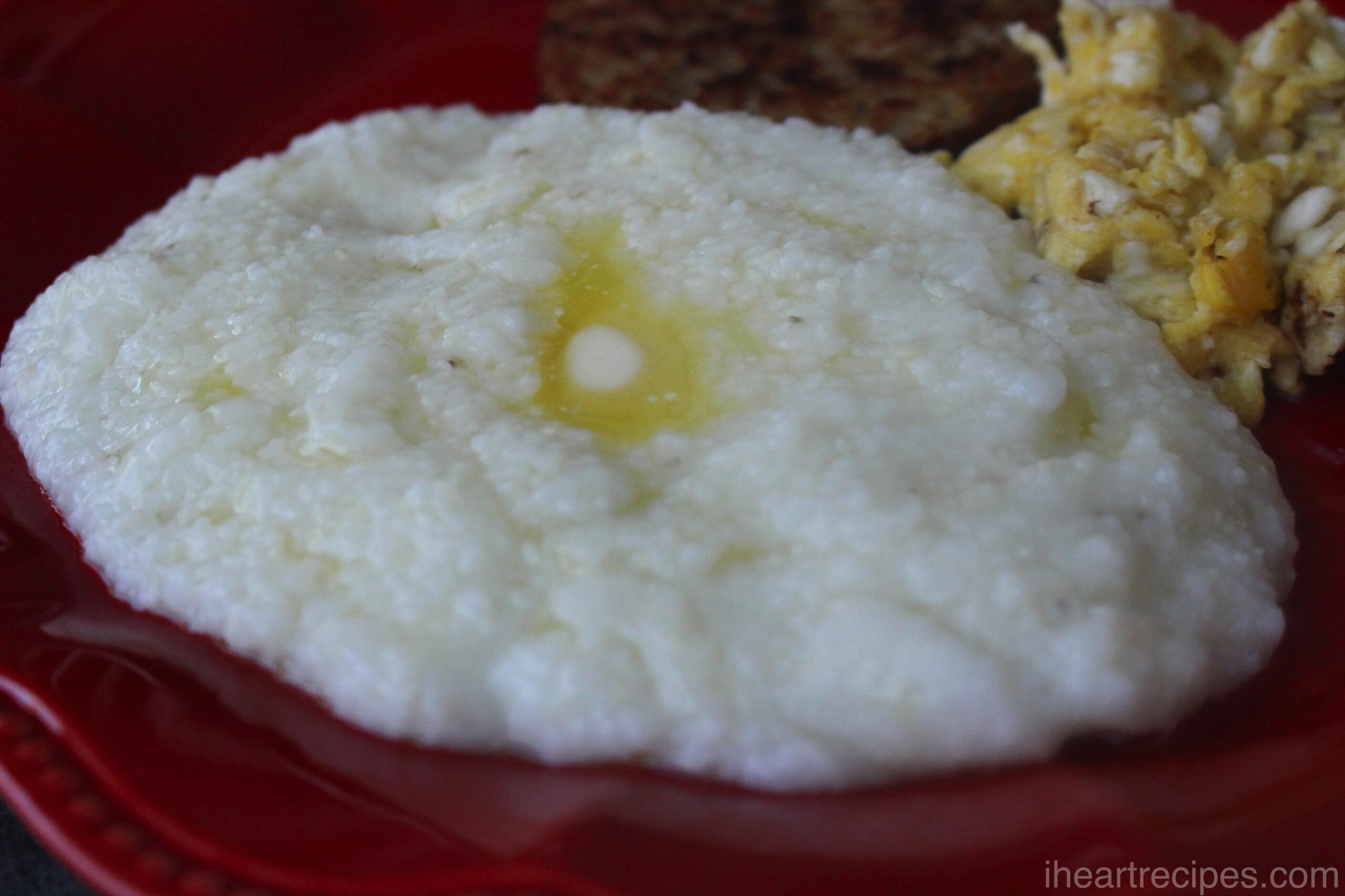 Like I said earlier, this is a creamy grits recipe without milk! Now, many people think you NEED to add cream of milk to grits to make them creamy. I'm here to tell y'all this is NOT true whatsoever! You only need four ingredients to make my creamy grits recipe. Here's what you need!
Quick Grits: I love Alber's Grits—they're high quality and always taste great every time I make a batch.
Water: you need three cups of water for this recipe.
Butter: I use salted butter. If you're watching your salt intake, use unsalted butter or leave out the added salt.
Salt: you only need a little bit—just one teaspoon—to season the grits to perfection.
That's it—those are all the ingredients I use to make creamy homemade grits. It's pretty basic—I don't add a ton of seasoning because I don't need it! Some people like to add sugar to their grits; others make cheesy grits with shredded cheese. I am a simple salt & black pepper kind of girl. What kind of grits person are you?! Are you TEAM SALT or TEAM SUGAR when it comes to grits? Let me know in the comment section! (And no fighting because people get serious when it comes to grits! LOL!)
The Best Brands of Grits
Now, maybe your next question is, "Cousin Rosie, where do I get grits?!" The grocery store, sweet child! You'll likely find grits in the breakfast section of your local grocery stores, right next to other hot cereal options like oatmeal.
So, which grits should y'all be tossin' in your cart? Like I said, I'm partial to Alber's grits—you'll always find a box in my pantry! However, there are plenty of options when it comes to grits. Here are some popular brands of grits you'll likely find at the store:
How to Make Creamy Grits Without Milk
Ready for the best grits recipe? Here are the simple steps for making the creamiest homemade grits without heavy cream or milk. You can find the complete ingredients and directions in the recipe card below!
Bring a pot of water to a boil over medium-high heat. Add butter and salt to the hot water.
Sprinkle in the grits and stir. Then, you can reduce the stovetop to medium-low heat.
Let the grits cook for 30-35 minutes over low heat, stirring occasionally to prevent lumps.
When the grits reach your desired consistency, jazz them up to your liking and serve!
Do you wanna know my secret to the creamiest grits? The secret to making creamy grits is to cook the grits for a long time! Yes, even the quick grits! The longer you cook grits, the creamier the grits will be. It's true! The extra time it takes is 100% worth it, Cousins.
Creamy Homemade Grits: 1-Minute Video Tutorial
Watch the quick tutorial on how I make my creamy grits recipe below! You can find more easy-to-follow video tutorials on my YouTube channel, so make sure to subscribe.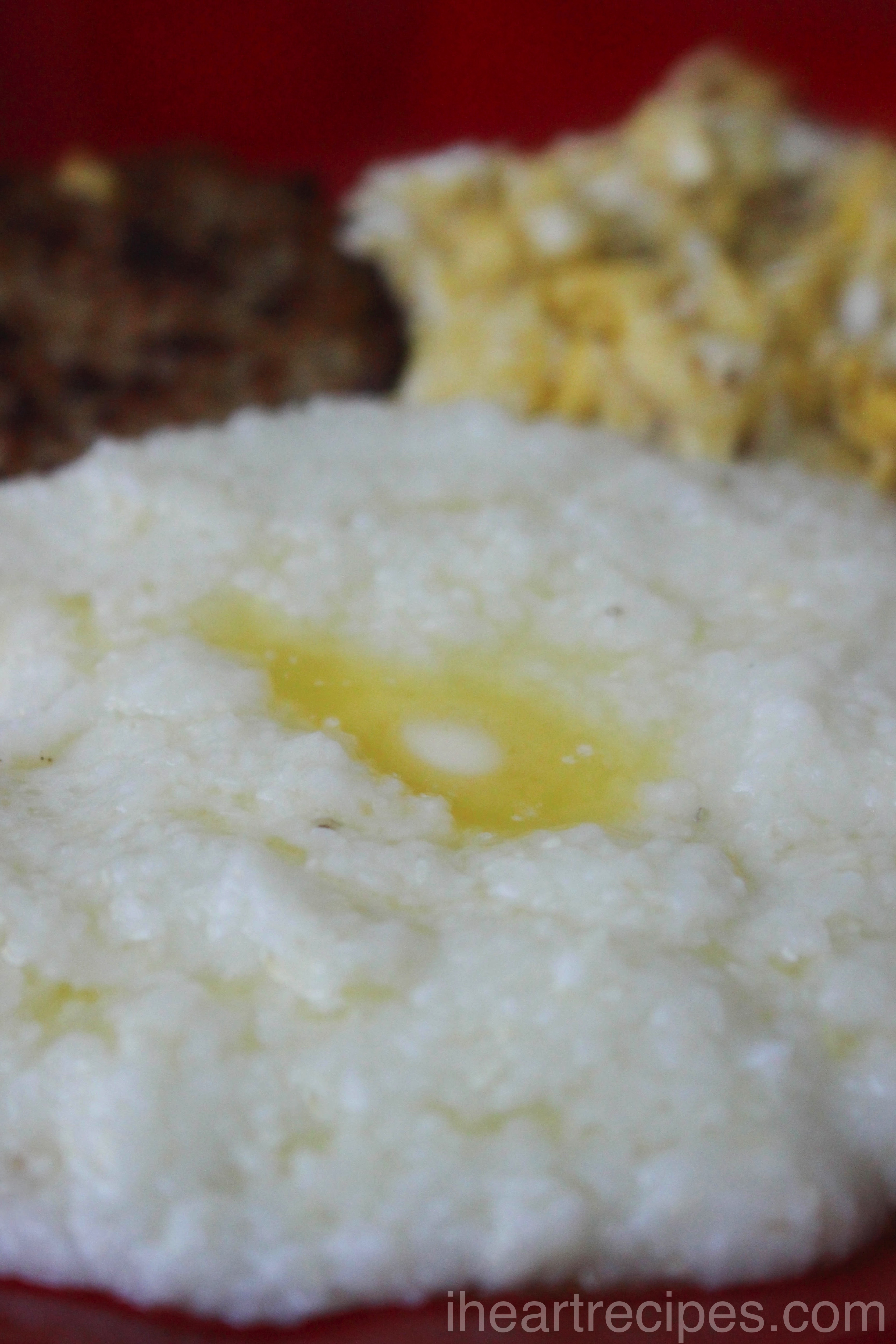 Homemade Grits Recipe Variations, Pro-Tips & FAQs
Now that you know how to make creamy grits at home, let's talk about ways to jazz them up. There are a variety of ways to make grits, and just about everyone will have a preferred method, flavor, or "secret" ingredient.
Ways to Make Grits Taste (Even) Better
Not sure what grits taste like? They're thick, smooth, and mild and taste like whatever you mix them with. In this recipe, the salt and butter make for perfectly creamy, buttery grits without the need for added milk or cream. Here are some other popular variations.
Sweet Grits:
Add sugar, honey, or maple syrup to sweeten your creamy grits.
Serve with fresh fruit like berries, peaches, or apples.
Sweeten with brown sugar instead of white sugar, and add cinnamon, nutmeg, or other warm spices.
Savory Grits:
Make cheesy grits with shredded cheddar cheese or grated Parmesan cheese.
Add savory spices like black pepper, onion powder, garlic powder, cayenne pepper, or paprika.
Instead of water, use broth like chicken broth or vegetable broth for extra flavor.
Add bacon, green onion, or roasted garlic and serve alongside other savory dishes.
How to Make Creamy Grits Vegan/Dairy-Free
If you love this creamy grits recipe because it doesn't use milk, you can easily sub out the butter to make it completely dairy-free! Use vegan butter or margarine instead. You can also make creamy vegan grits with non-dairy milk like almond milk, oat milk, or soy milk.
What's the difference between grits and polenta?
You've probably heard of polenta and cornmeal and might think they're the same as grits, but there are some main differences. Polenta is basically Italian grits—it's made from a different type of corn. Grits are made from white corn, and polenta and cornmeal are made from yellow corn. Aside from the type of corn, the textures are also different. Polenta is very coarse, cornmeal is very fine, and the texture of grits varies depending on the types of grits used.
What to Serve with Creamy Grits
Whether you're serving grits for breakfast, lunch, or dinner, they go along with tons of options!
For breakfast, serve grits with biscuits and gravy, topped with bacon and a fried egg, alongside a flavorful bacon and eggs hash, potatoes O'Brien, or with a tasty sausage and potato scramble.
For lunch, cheesy grits or loaded grits are the way to go. Top your grits with your favorite roasted vegetables, sliced sausage and peppers, or top with leftovers from last night's dinner—like shredded chicken, smothered turkey, or shredded beef.
For dinner, the possibilities are endless! Shrimp and grits is a Southern classic. Use savory grits as a base for Parmesan fish and veggies, a sheet-pan shrimp boil, or pork chops. Anything you'd usually serve with mashed potatoes can easily be served with creamy grits!
If you loved this recipe for creamy grits without milk or cream, leave me a comment down below! How do you usually enjoy your homemade grits? Don't forget to follow along with everything Rosie and I Heart Recipes on social media—you can find me on Facebook, Instagram, and Pinterest, and you can pre-order my next upcoming cookbook, A Cousin Rosie Holiday now!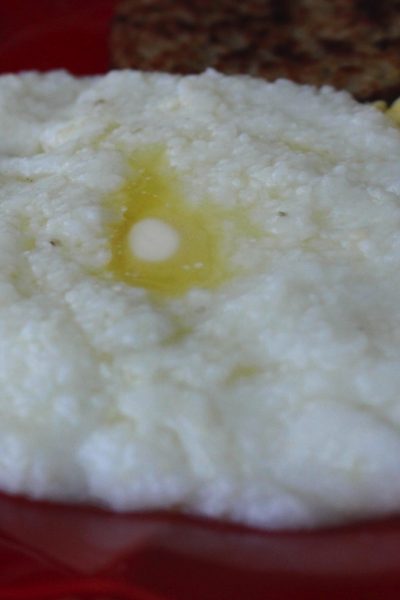 Creamy Grits (Without Milk)
Learn how to make creamy grits — no milk needed! This simple 4-ingredient recipe is perfect for breakfast, lunch, or dinner.
Print Recipe
Pin Recipe
Ingredients
3/4

cup

quick grits

I use Alber's brand

3

cups

water

2 1/2

tbsp

salted butter

1

tsp

salt
Instructions
Boil water in a medium saucepan over medium to medium-high heat.

Add in the butter and salt.

2 1/2 tbsp salted butter,

1 tsp salt

Once the water is at a full boil, sprinkle in the grits and whisk.

Reduce the heat to medium-low. Let the grits cook for about 30-35 minutes, stirring occasionally to prevent lumps.

Serve, and jazz up with more butter, salt, or sugar. Enjoy!
If you loved this recipe,
leave me a review below
. This helps future recipe makers and ensures continued high-quality recipes for years to come!
© 2023 I Heart Recipes