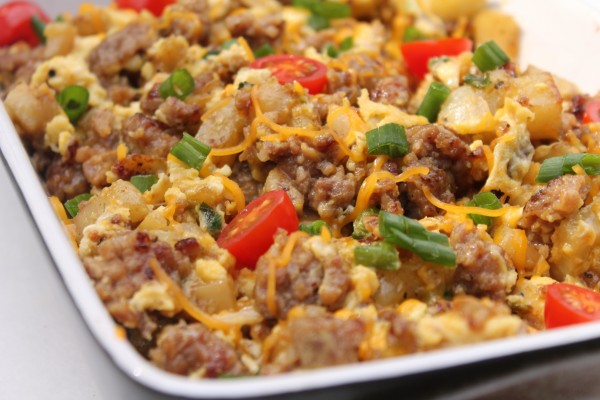 Easy Egg, Sausage, and Potato Scramble Recipe.
Well hello friends!!! Anyone who knows me, know's that I love breakfast. No seriously, I could eat breakfast food all day, and I wouldn't get tired of it. As a matter of fact – After I had my son, I remember making breakfast food for almost 2 weeks straight. I kid you not! Luckily my husband is also a breakfast food lover, so he never complained  ( and if he did, it probably wouldn't had changed a thing! LOL).
My love for breakfast food started at a young age. During my preschool days, my Grandpa would watch me before school. Every morning Grandpa would make these HUGE breakfasts. I'm talking about ham slabs, over easy eggs, home fries, burnt toast ( I loved my Grandpa, but he was always burning my darn toast 😀 ) and of course… Fresh hot coffee! My Grandpa didn't play when it came to his breakfast honey!! Unfortunately, he did play when it came to MINE….
I remember it like it was yesterday. Grandpa had made one of his glorious breakfasts, and I just sat there with a smile on my face. The food smelled so good, and I could already taste it. I sat on the counter top as I watched him flip the ham slab, and I drooled. When he started to plate everything, I took it as a cue, and ran to the table… Heck I was ready to dig in!!! I remember watching him walk over to the table, and then I had noticed something…. He had ONE plate, and a bowl. I assumed that bowl was full of hot creamy grits, and the plate was mine. But then I remembered that I didn't see him make any darn grits! When Grandpa finally made it to the table, he sat his beautiful FULL plate down, then had the NERVE to give me a bowl of cold cornflakes with sliced bananas!!!! OMG, I couldn't believe it.. Before I knew it I was in tears! I threw a serious fit!  I remember asking him "why do you get the good stuff, and I get the nasty stuff?!" He explained to me that he was eating a "man's breakfast", and I was a child- so I was getting a child breakfast… I couldn't believe it! I cried, until I realized that my tears weren't bothering him one bit. So finally I decided to do something bold. I picked up my spoon, and I started to eat off of his plate! I decided that he was going to share with me one way or another! To my surprise, he laughed. He thought it was the funniest thing ever. After that day, he never tried to shade me with a cold bowl of cereal again! He knew that his hard headed "Baby" wasn't having it!
In this post I'm going to show you how to make a easy and delicious Egg, Sausage and Potato Scramble. This scramble will be perfect for any brunch of breakfast event, and it's easy and affordable to make. Let's get started!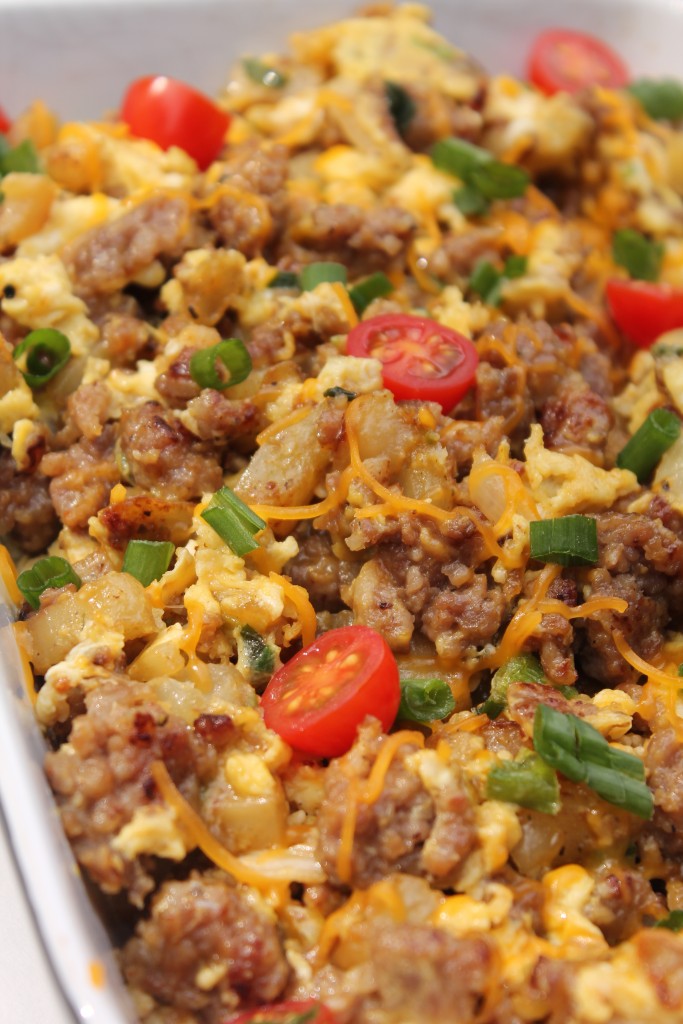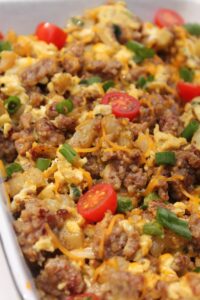 Egg, Sausage, and Potato Scramble
This egg, sausage, and potato scramble is the perfect breakfast or brunch dish! Super easy, comes together in less than 15 minutes, and affordable!
Watch Video
Print Recipe
Pin Recipe
Instructions
Preheat the oven to 350 F.

Place the diced potatoes into a medium sized bake dish, and drizzle 2 tbsp of olive oil over the potatoes.

Sprinkle the seasoning salt( or salt free seasoning), ground black pepper, and garlic powder all of the potatoes.

Make sure the potatoes are nicely coated with the seasonings, then place the potatoes in the oven, and bake them until they are fork tender.

Place the sausage into a skillet, and turn the heat to medium.

Brown the sausage and add in the potatoes,yellow onions, and green onions.

Stir the ingredients, and make sure everything is well combined.

Next, crack open the eggs, and beat them.

Pour the eggs into the skillet with the other ingredients, and scramble them with the other ingredients.

Sprinkle in 1/4 cup cheese, and stir the cheese in.

Once the eggs are cooked to your preference, remove the scramble from the skillet.

Garnish the scramble with cherry tomatoes, cheese, and green onions.

Serve immediately.

Enjoy!
Video
If you loved this recipe,
leave me a review below
. This helps future recipe makers and ensures continued high-quality recipes for years to come!
© 2023 I Heart Recipes