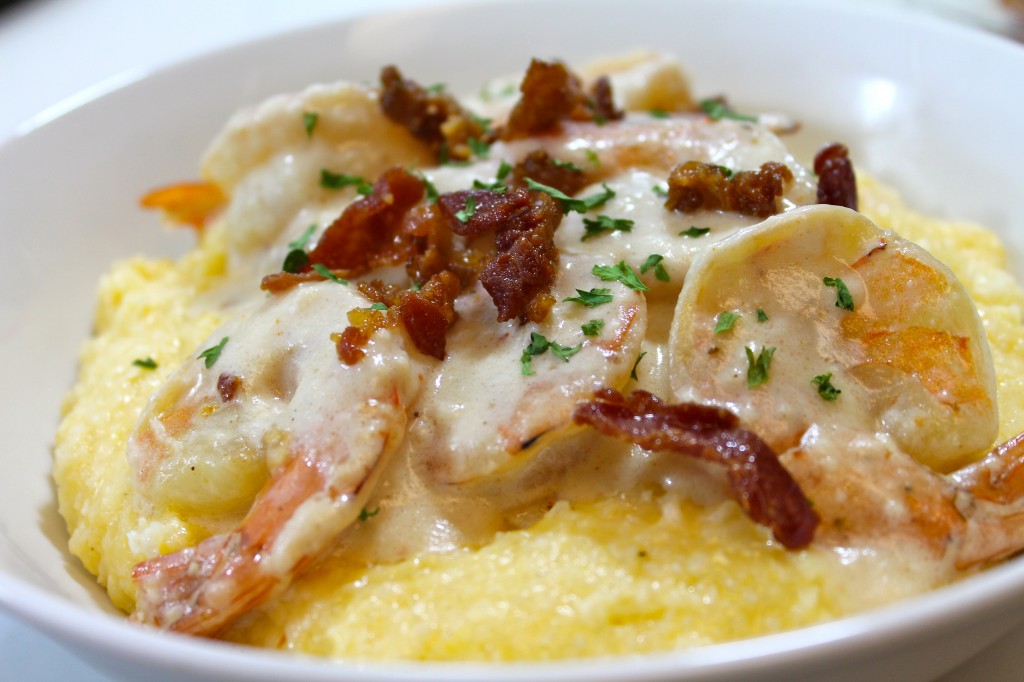 Here is a dish that I absolutely LOVE. This is not the traditional way, it's definitely my way. This recipe is easy to follow, and you can serve it for breakfast lunch or dinner! Give it a try and tell me what you think!
Rosie's Shrimp and Grits
It's not the traditional shrimp and grits recipe - it's better! Perfectly cooked shrimp over cheesy grits and drizzled with a delicious gravy.
Ingredients
1

lb

white tail shrimp

deveined and shells removed - but leave the tails on

1/4

lb

bacon

chopped

1

tsp

Old Bay Seasoning

1/4

tsp

red pepper flakes

1 1/4

cup

water

1

cup

heavy cream

3/4

cup

quick grits

I used Quaker's brand in the video above

1

tsp

salt

1/4

tsp

ground black pepper

3

tbsp

butter or margarine

2/3

cup

shredded sharp cheddar cheese

1

tbsp

diced yellow onion

2

tbsp

all purpose flour
Instructions
In a medium sized pot, pour 1 cup water and 3/4 cup heavy cream. Now add in the butter/ margarine, and sprinkle in the salt and black pepper. Place the pot on the stove top and turn the heat to high. Once the the liquid starts to boil, immediately turn the heat down to medium.

Stir the liquid, and gradually sprinkle in the grits. Let the grits cook until they thickens, and be sure to stir occasionally.

Once the grits are done add in the shredded cheese, stir, and turn the heat down to low.

Place a skillet on the stove top, and add in the bacon. Cook the bacon until the bacon is crisp. Remove the crisp bacon from the skillet, and reserve the fat. Sprinkle in the onions, and let cook for 2 minutes of medium heat. Remove the onions OR leave them in the pan.

Next, sprinkle in the all purpose flour, and stir. Let cook for 3 minutes.

Season the shrimp with the old bay seasoning and red pepper flakes.

Pour 1/4 cup heavy cream and 1/4 cup water along with the flour and bacon fat. Mix until it's creamy then toss is the shrimp.

Cook the shrimp in the white gravy for 2-4 minutes (the heat should still be on medium).

Place the grits in a bowl, then add the shrimp on top along with a little of the white gravy. Sprinkle the crisp bacon on top of the shrimp ( and parsley flakes if you choose), and serve!)
Video