Cajun inspired macaroni and cheese loaded with crawfish, smoked sausage, and cheese.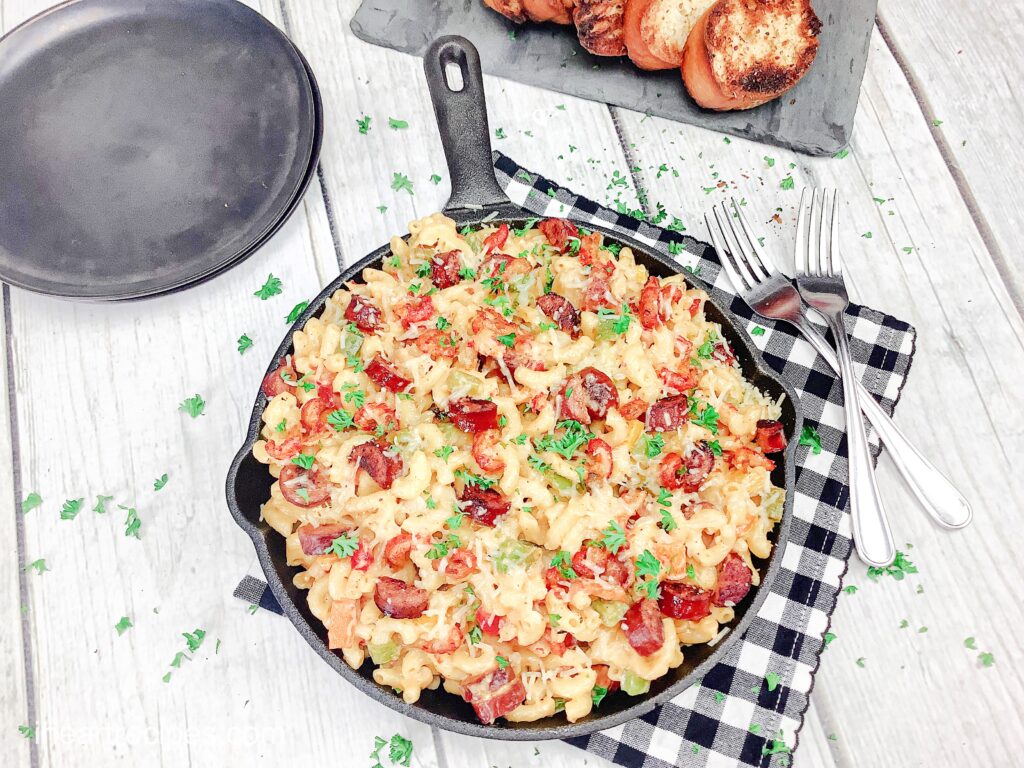 Hey cousins! This delicious dish combines creamy mac and cheese with andouille sausage, Cajun crawfish, veggies, and spices making for an unforgettable dining experience. Let's dive into what crawfish are, where to buy them, how to make the dish, and creative ways to serve it. So, get ready to spice up your mac and cheese with this tasty twist!
What Are Crawfish?
Never tried crawfish? If you've never tried it before, crawfish is seafood that is often associated with Louisiana and southern food. They are also referred to as crayfish and crawdads. Crawfish look like a miniature cross between lobster and shrimp and have a mild, sweet flavor that pairs perfectly with mac and cheese. Since they are so small, most of the meat is in the tails.
You can prepare crawfish tails in several different ways, from boiling to grilling, frying, and baking.
What is Cajun Crawfish Mac and Cheese?
This Cajun Crawfish Mac and Cheese is designed to be a main course, but it's also a perfect potluck side dish. The Cajun spices combined with the cheesy sauce, andouille sausage, and succulent crawfish make this a truly unique dish. It's the perfect way to get your fill of Cajun flavor without having to travel to Louisiana. Enjoy with friends and family for a comforting meal that is sure to be a hit!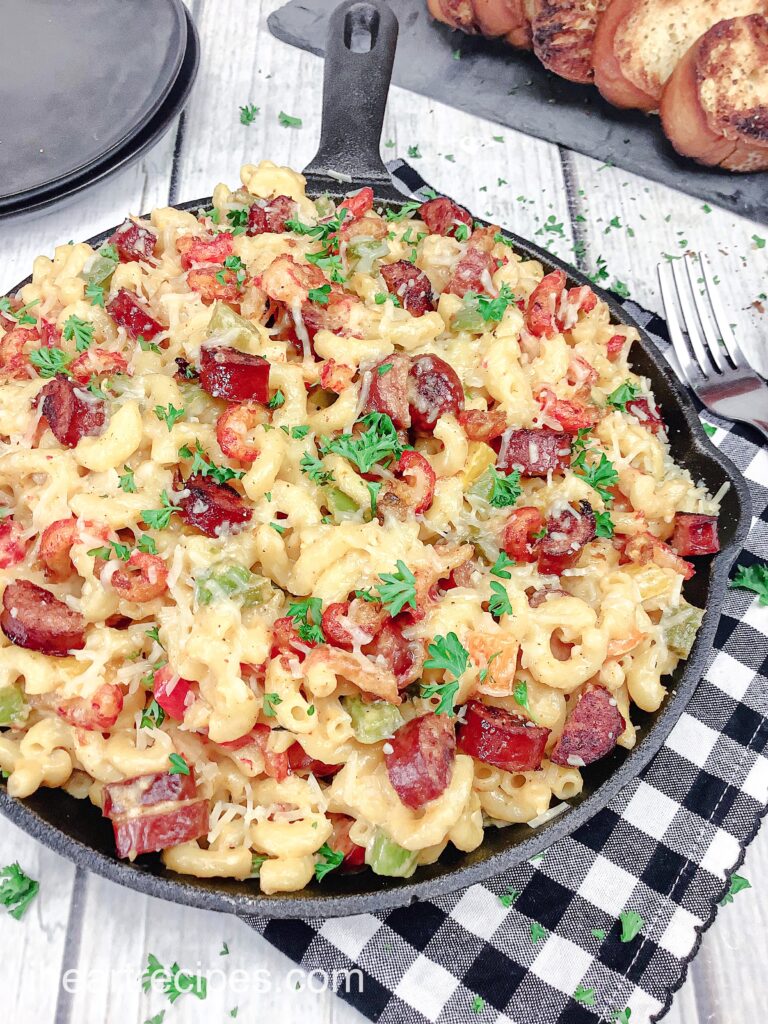 Ingredients and Shopping List
Water—tap or bottled to boil your pasta.
Kosher salt—I use kosher salt for this recipe, but you can use table salt if that is all you have.
Elbow pasta—the only pasta for mac and cheese. One 16-ounce pack.
Canola oil—perfect for sautéing your sausage and veggies and whisking in the remaining ingredients.
Andouille sausage—one 16-ounce packaged, chopped.
Chopped yellow onion—the sweetness pairs perfectly with crawfish.
Bell peppers—1 green, 1 yellow, 1 orange, and 1 red chopped bell peppers.
Galich—1 tablespoon minced garlic.
Frozen crawfish—2 cups of crawfish. You can buy crawfish frozen from Walmart and thaw it in the fridge the night before.
Unsalted sweet cream butter—softened to add to the creaminess of this dish.
Flour—to keep your mac and cheese thick and creamy.
Whole milk—use what you have but whole cow milk is best.
Cajun seasoning—my Down By The Bayou spice blend combines all your favorite Louisiana spices!
Cheddar cheese—8 ounces of shredded cheddar cheese.
Jack pepper cheese—8 ounces of shredded jack pepper cheese for an extra kick.
Supplies
Measuring cups and measuring spoons
Knives and cutting board for chopping
Large pot for boiling your pasta
Strainer to strain your pasta
Deep sauté pan or Dutch oven
Heat-safe wooden or silicone spoon
Whisk to evenly distribute your ingredients
Standard kitchen plate
Paper towel
Cast iron skillet to bake your mac and cheese
Oven mitts
Optional: Easy breezy veggie chopper
Where to Buy Crawfish?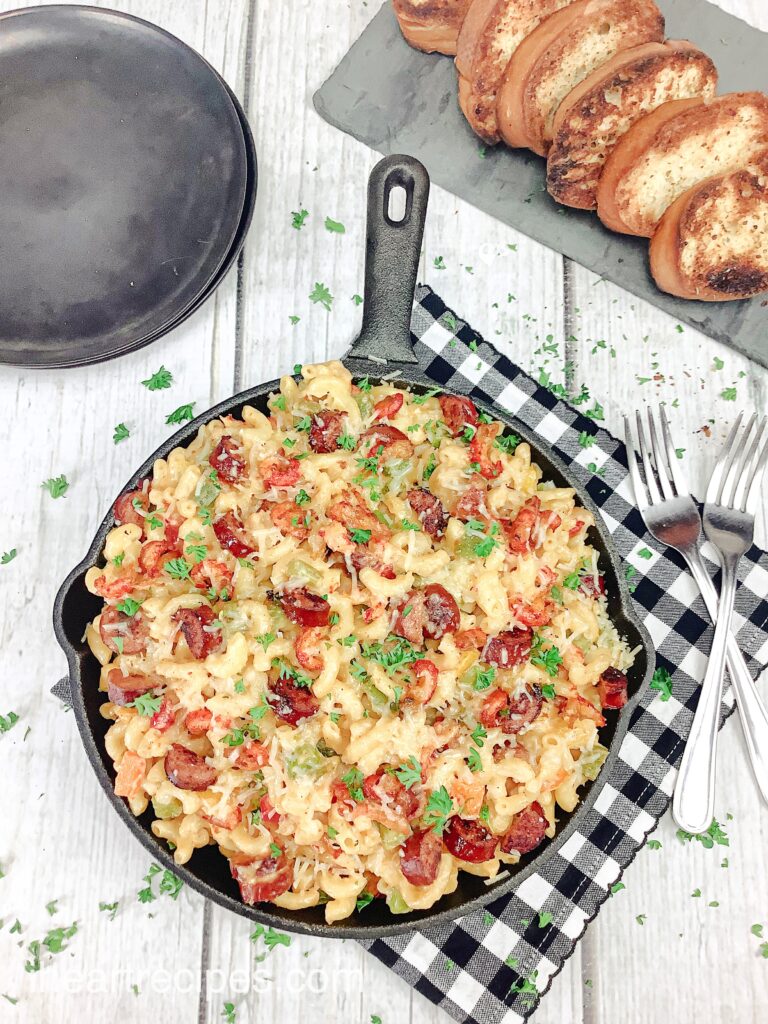 You know I like to keep things simple, which is why I use frozen crawfish in this recipe. You can find crawfish tails at Walmart frozen, peeled, and deveined!
If you want to put in the time and work, you can catch your own crawfish or buy it fresh from a local seafood shop or southern restaurant.
What to Substitute for Crawfish?
If you can't find crawfish or don't like crawfish, use 2 cups of small shrimp instead. If your shrimp is medium in size, cut it in half. If your shrimp is large or jumbo, cut it into 2 or 3 pieces.
At some stores, you can find a mixture of crawfish and shrimp, which works in this recipe too.
How to Quickly Defrost Frozen Crawfish?
It's best to defrost your crawfish the night before or transfer them from the freezer to the fridge first thing in the morning. If you decide to make this recipe last minute, forgot to defrost your crawfish, or it's not quite defrosted—follow the steps below.
Leave the crawfish in their plastic package. If you take crawfish out of the package it will get too wet. If you have already opened the package, place them in a zip-top baggie.
Grab a medium-sized bowl and fill it with cold water. If the water is warm or hot it will begin to cook the crawfish. This can dry out your crawfish by overcooking it.
Let the package sit in the water for 10 minutes. Check to see how frozen it still is. If it's not defrosted yet, swap the water, as the water will get too cold while it defrost.
Repeat until fully defrosted.
How to Chop Your Andouille Sausage?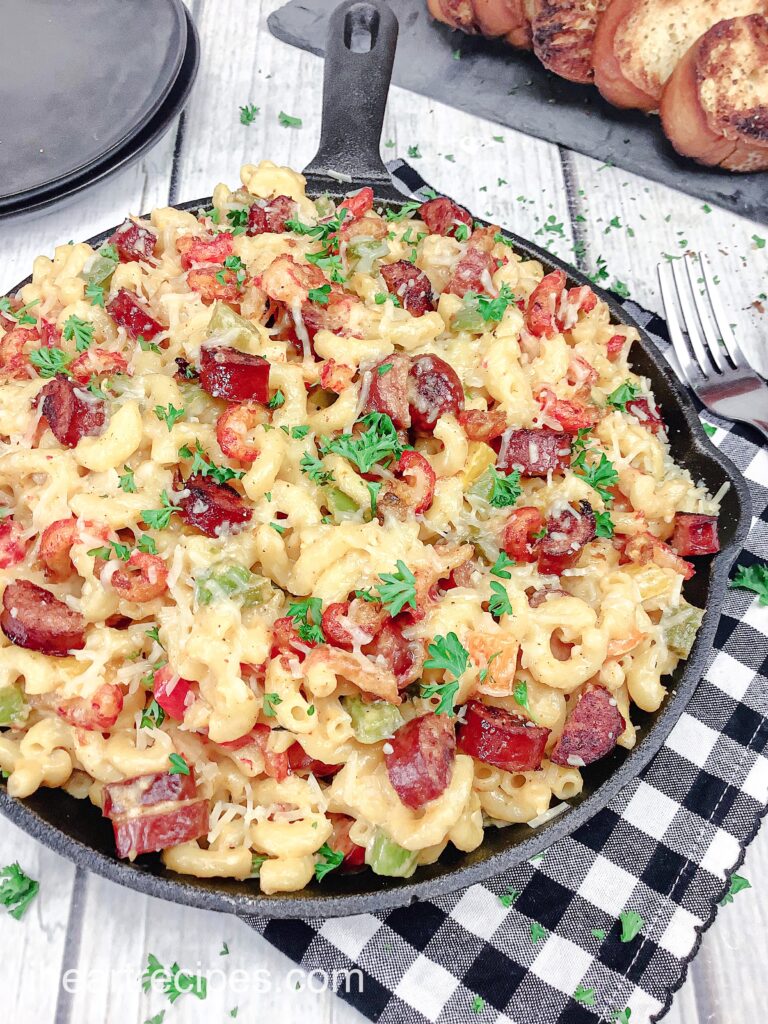 In most recipes, andouille sausage is chopped into half-inch rounds. In this recipe, it needs to be chopped into bits. If the pieces are too large the sausage won't evenly distribute throughout your Cajun mac and cheese.
Slice your sausage in half lengthwise.
Slice each half in half lengthwise one more time.
Chop into triangular chunks.
How to Chop Veggies Like a Pro!
One of my many kitchen hacks is my Multifunctional Veggie Chopper which chops directly into a spacious container. In this recipe, it chops the onion and bell peppers for this recipe in seconds each!
But don't let the name fool you, as it comes with 5 different attachments—so it can grate your cheese too!
You can also buy grated cheese, use a box grater, and chop your veggies with a knife.
Personalizing Your Cajun Crawfish Mac and Cheese
As always, make your dish your own!
Use sharp cheddar instead for a bolder flavor.
Add a bit of heat by sautéing a diced jalapeno or with hot sauce on the side.
Sprinkle some breadcrumbs or crumbled potato chips (original Lays) on top before you bake for a crunchy texture.
Top with chopped green scallions.
What to Serve With Your Mac and Cheese?
This recipe has protein, dairy, carbs, and veggies. You can serve it solo, or with a side or two:
Don't Forget Dessert!
Any dessert will do, but consider a southern classic:
Storage and Freezing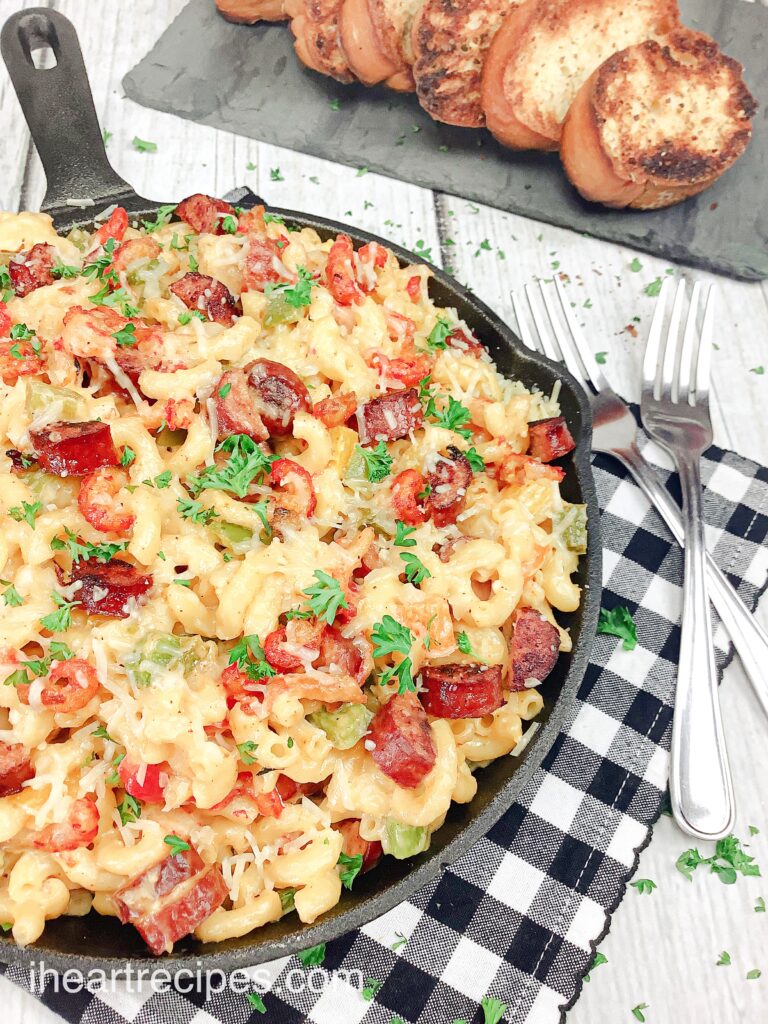 This is so delicious, leftovers may not last very long!
Refrigerator—cool and store leftovers in the fridge in an airtight container for 3 to 5 days.
Freezer—freeze in a zip-top baggie or freezer-safe container for up to 3 months. Defrost in the fridge overnight.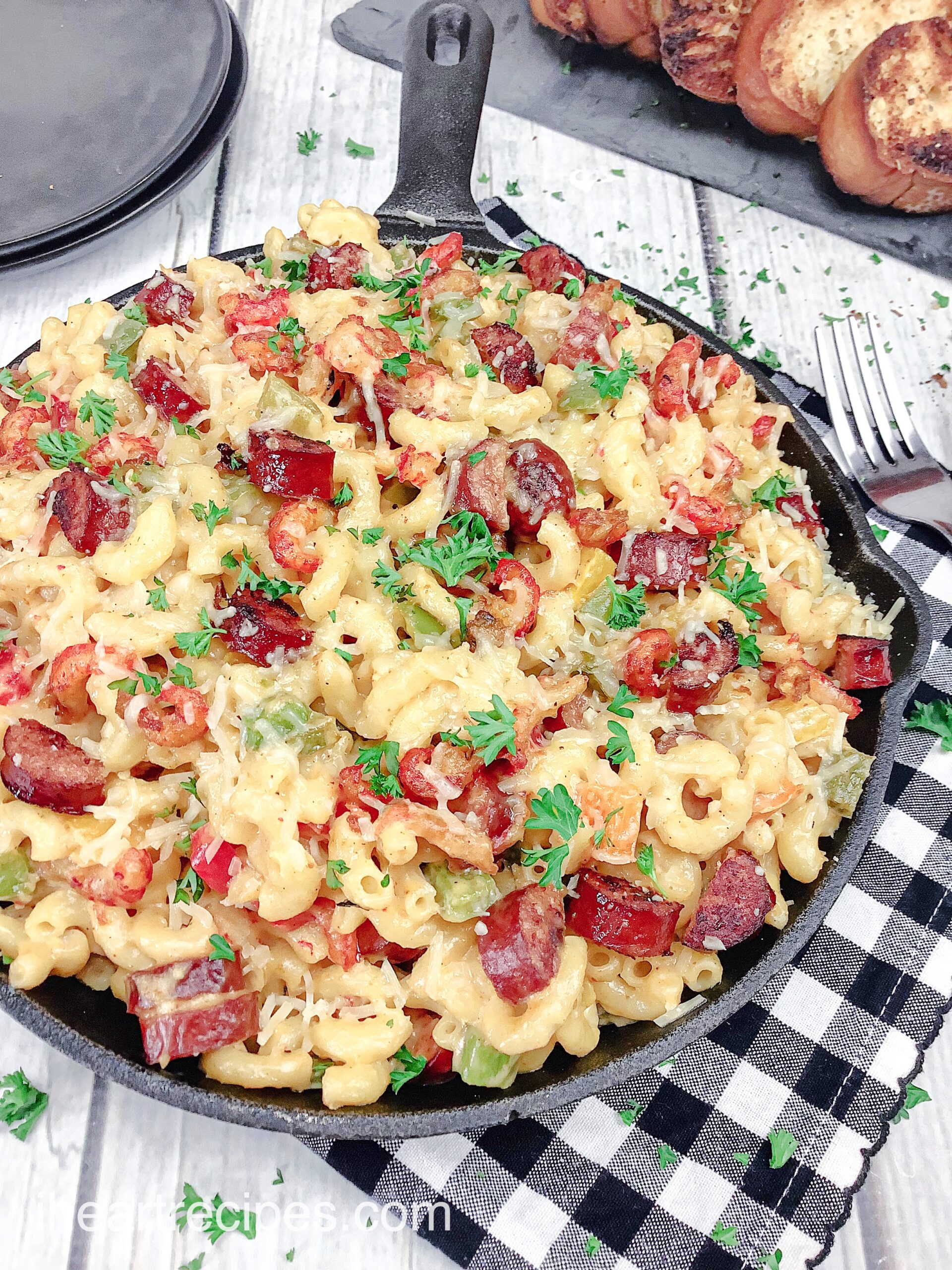 Cajun Crawfish Mac and Cheese
Creamy Cajun inspired macaroni and cheese loaded with andouille sausage, and crawfish.
Print Recipe
Pin Recipe
Ingredients
8

cups

water

2 1/2

tsp

kosher salt

16

oz

box large elbow pasta

1

tbsp

canola oil

1

lb

andouille sausage

chopped

1

yellow onion

chopped

4

multi colored bell peppers

chopped

1

tbsp

minced garlic

½

lb

crawfish meat

thawed

½

cup

unsalted sweet cream butter

softened

½

cup

flour

4

cup

half & half

2

tsp

Cajun seasoning

8

oz

block Cheddar cheese

shredded

8

oz

block pepper Jack cheese

shredded
Instructions
Preheat the oven to 400 degrees.

Cook the pasta according to the directions on the package, then set aside .

Heat the oil in a large saucepan, or skillet over medium heat.

Add the sausage, onion, and chopped peppers.

Cook until the sausage has began to brown, and the vegetables are tender.

Add in the garlic, and stir the mixture .

Once the sausage and vegetables are done, remove from the pan, and place on a plate .

Melt the butter in the same skillet. Once melted, whisk in the flour,.

Gradually whisk in the half & half .

Increase the heat to a medium high, while whisking constantly for about 4 minutes or until it starts to become thick

Whisk in the cajun seasoning .

Remove from the heat, and whisk in the cheeses until well combined.

Start adding in the pasta, sausage, crawfish, and pepper mixture. Fold in until well combined.

Transfer this dish to a large cast iron skillet, and place into the oven for about 15-20 minutes or until golden and bubbly .

Serve, and enjoy!
If you loved this recipe,
leave me a review below
. This helps future recipe makers and ensures continued high-quality recipes for years to come!
© 2023 I Heart Recipes