Love seafood but don't have the time to prepare a traditional shrimp boil? Then you'll love this Sheet Pan Shrimp Boil!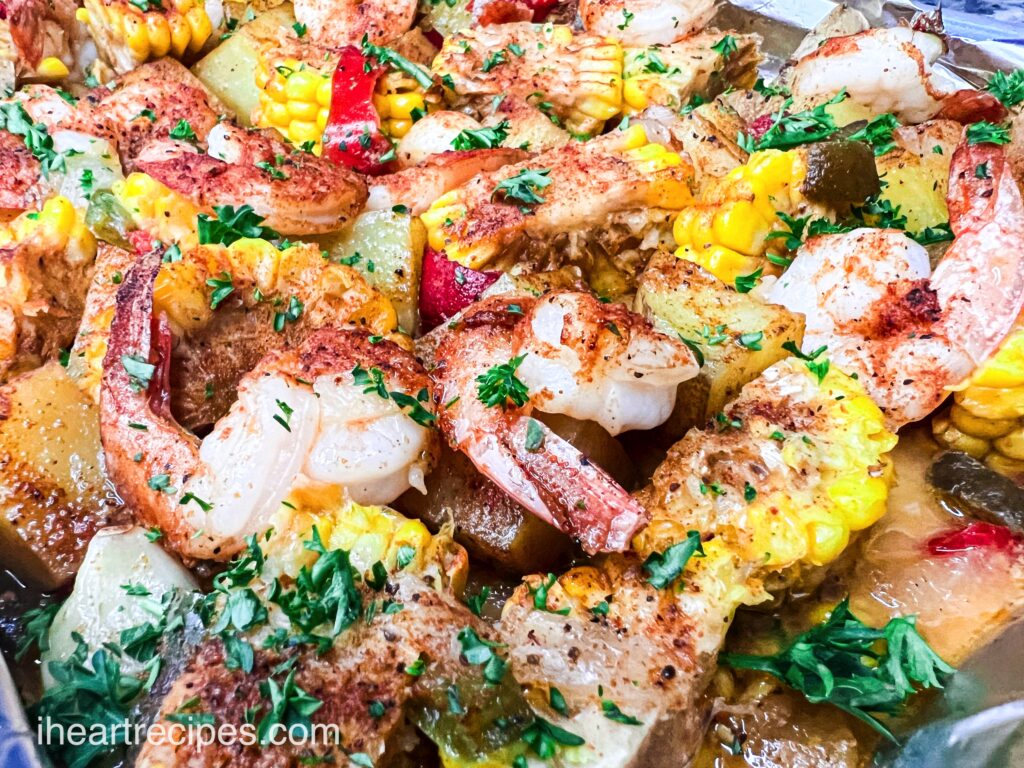 This easy and delicious recipe is perfect for busy weeknights when you want something tasty, but don't have a lot of time. With just a sheet pan, you can enjoy a flavorful shrimp boil with delicious and healthy vegetables.
What is a Seafood Boil?
Seafood boils are a fun and festive meal that is perfect for making and sharing with family and friends. A traditional boil is made with seafood, vegetables, herbs, and spices in a large pot of boiling water. Boils are often prepared outside at picnics and parties and made with local seafood caught fresh the same day—often by those preparing the boil.
This is my take on a shrimp seafood boil that is much faster than making a traditional seafood boil!
The History of Seafood Boils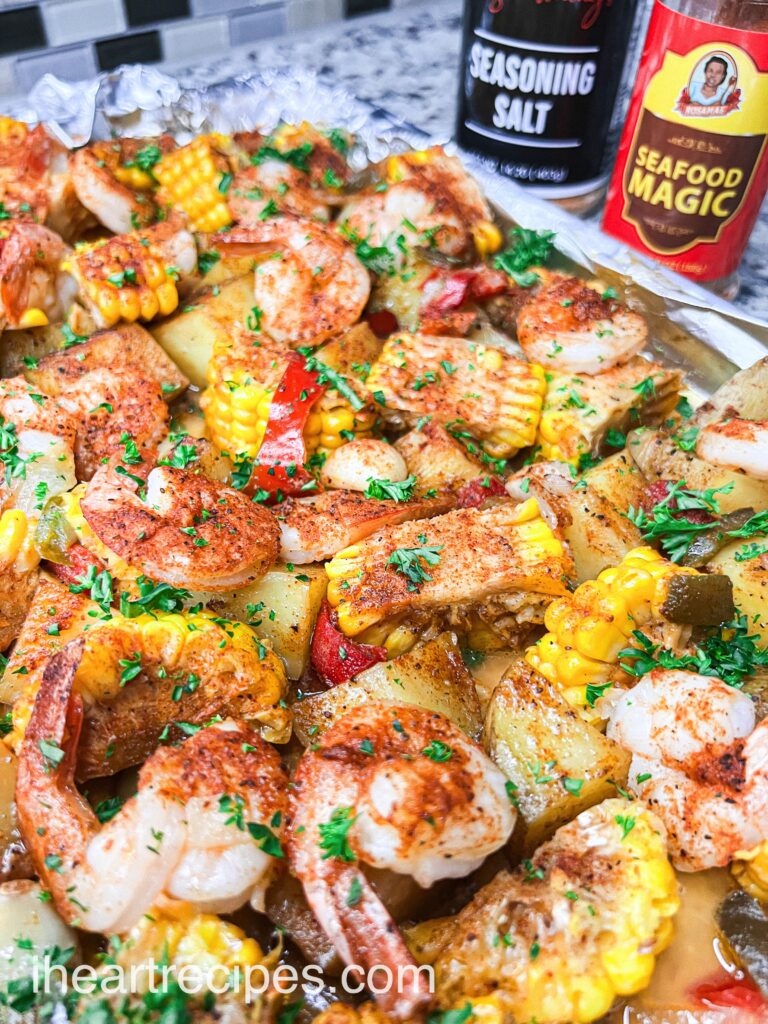 Seafood boils originated in the southern coastal regions of the United States but are now enjoyed around the world. They were introduced to the states when European Cajuns arrived in the 1700s.
Seafood boils can be prepared differently: 
In Southern states, expect a hot and zingy blend of spices.
In the New England area, few spices are added.
Sometimes beer is used instead of water to boil the seafood.
Hot sauce and lemon are popular sides to personalize to perfection.
Every region of the world has its own spin with regional ingredients.
Why Use a Sheet Pan Instead of Boiling?
Cousins, you know me—I like to keep things easy! This recipe delivers the flavor of a traditional boil, without the need to peel and devein fresh shrimp.
The beauty of this dish is that it doesn't require any special equipment or extra time, making it perfect for busy weeknights or last-minute dinners. All you need is a sheet pan and a few fresh ingredients to enjoy a delicious shrimp boil at home.
Shrimp Boil Ingredients and Shopping List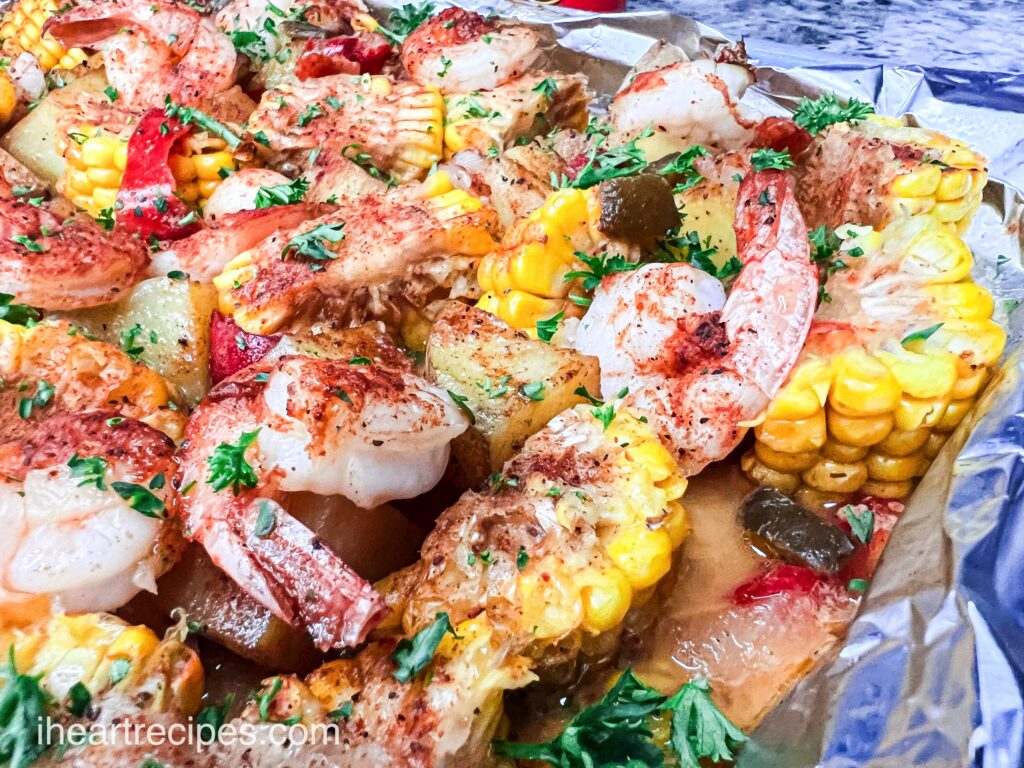 XL shrimp—the bigger the better! Just make sure they are peeled. If you prefer the shell on, make sure they are at least deveined.
Golden potatoes—golden potatoes roast easily in the oven, remaining firm and delicious.
Great Value peppers & onions—the choice is yours, either green, yellow, or red bell peppers. The onions are sweet and roast well but use what you have.
Rosamae Seasoning Salt – My all purpose seasoning!
Rosamae Seafood Magic Seasoning —my signature blend of spices gives your shrimp a flavorful and spicy kick!
Mini Corn cobs – I always use the frozen corn cobs , and cut them into smaller pieces for this recipe.
Supplies Needed for a Sheet Pan Seafood Boil
1 cutting board
1 medium knife to chop your veggies
1 sheet pan
Aluminum foil to line your sheet pan
Optional: small dipping dishes
Sheet Pan Shrimp Boil FAQs and Tips
Shrimp—Shell or No Shell?
Ever wondered why some recipes call for shrimp with the shell on? With the shell on, your shrimp will retain its moisture. But that's not a problem with this recipe! As long as you don't overcook it, your shrimp will stay moist.
With the shell on, shrimp is also messier to eat and takes a bit more time to eat. Since this recipe isn't boiled, shell off is better—as it ensures your shrimp is coated in all the spices!
Frozen or Fresh Shrimp?
The choice is yours! Stocking up on frozen shrimp at Costco or Sam's Club is cost-effective. Just make sure you use XL or jumbo shrimp. If your shrimp is frozen, you can defrost it with the steps below:
Fill a large bowl with cold water.
Place your shrimp in the water.
Set a timer for 20 minutes.
If not thawed after 20 minutes, empty and add more cold water.
Set the timer for 10 more minutes.
How to Garnish a Seafood Boil
This recipe is well-seasoned, but feel free to garnish or top your Sheet Pan Shrimp Boil with:
Parsley—fresh chopped parsley will help to balance out the spices.
Lemon wedges—lemon will brighten up the flavors in this dish. Just squeeze on your desired amount.
Hot sauce—this recipe has a bit of a kick, but kick the heat up a notch the heat with your preferred hot sauce.
Like to Dip Your Shrimp?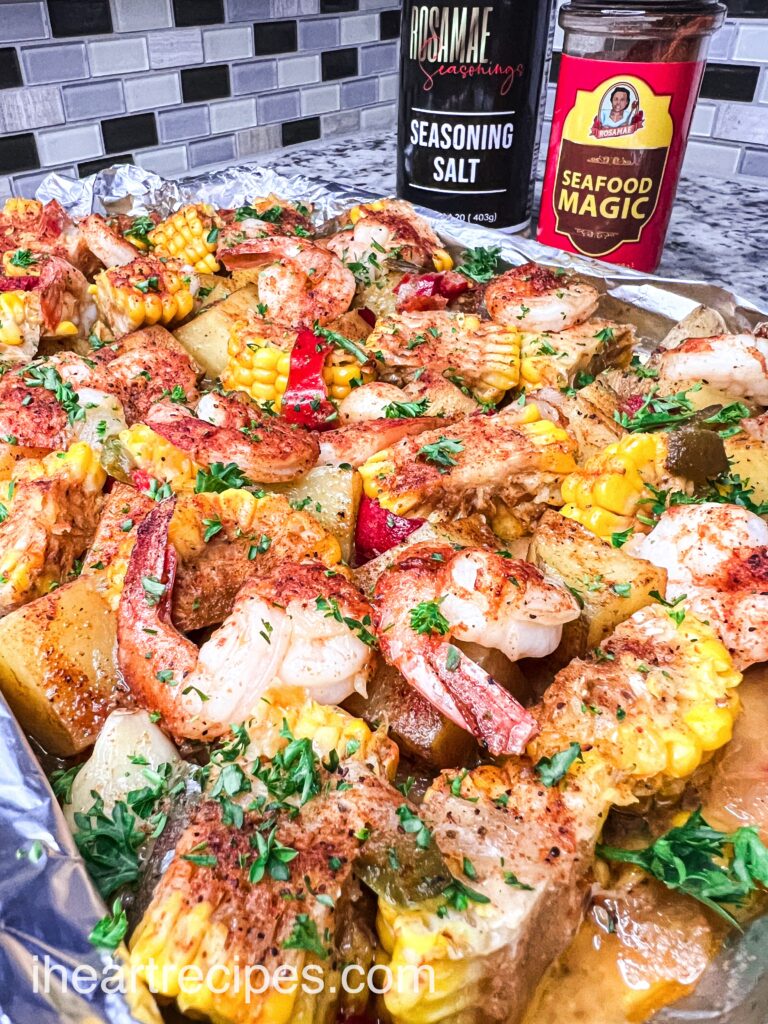 If you like to dip your shrimp, the options below only take a few minutes to make. If not a dip, drizzle them as toppings:
Melted butter—melt some salted butter and place it in small dipping dishes.
Seasoned butter—add a dash of Rosamae Seafood Magic to your melted butter.
Hot sauce—use hot sauce as a dip, add it to any of the dips above, or sprinkle it on.
Can You Make A Shrimp Boil Ahead of Time?
This recipe is best served hot out of the oven! Make no mistake, the leftovers will be delish. If you need to save time, chop your onion and peppers a day or two before and store them in the refrigerator in an airtight container.
If you are going to chop potatoes ahead of time, you can store them in water in the refrigerator. This will keep them from oxidizing, which will turn them brown, black, or grey. Just don't chop potatoes more than 12 hours before baking this recipe.
What to Serve With Your Sheet Pan Shrimp Boil
This is a well-balanced meal on its own, so you don't need much more. If you want a side dish or two, consider serving your boil with:
Store-bought or homemade garlic bread
Store-bought or homemade biscuits
Green salad mix
Shrimp Boil Video Tutorial
Loved this recipe? Be sure to share + save it on Pinterest! Don't forget to tag and follow me on Facebook, Instagram, and Pinterest, subscribe to I Heart Recipes on YouTube, and check out all my cookbooks!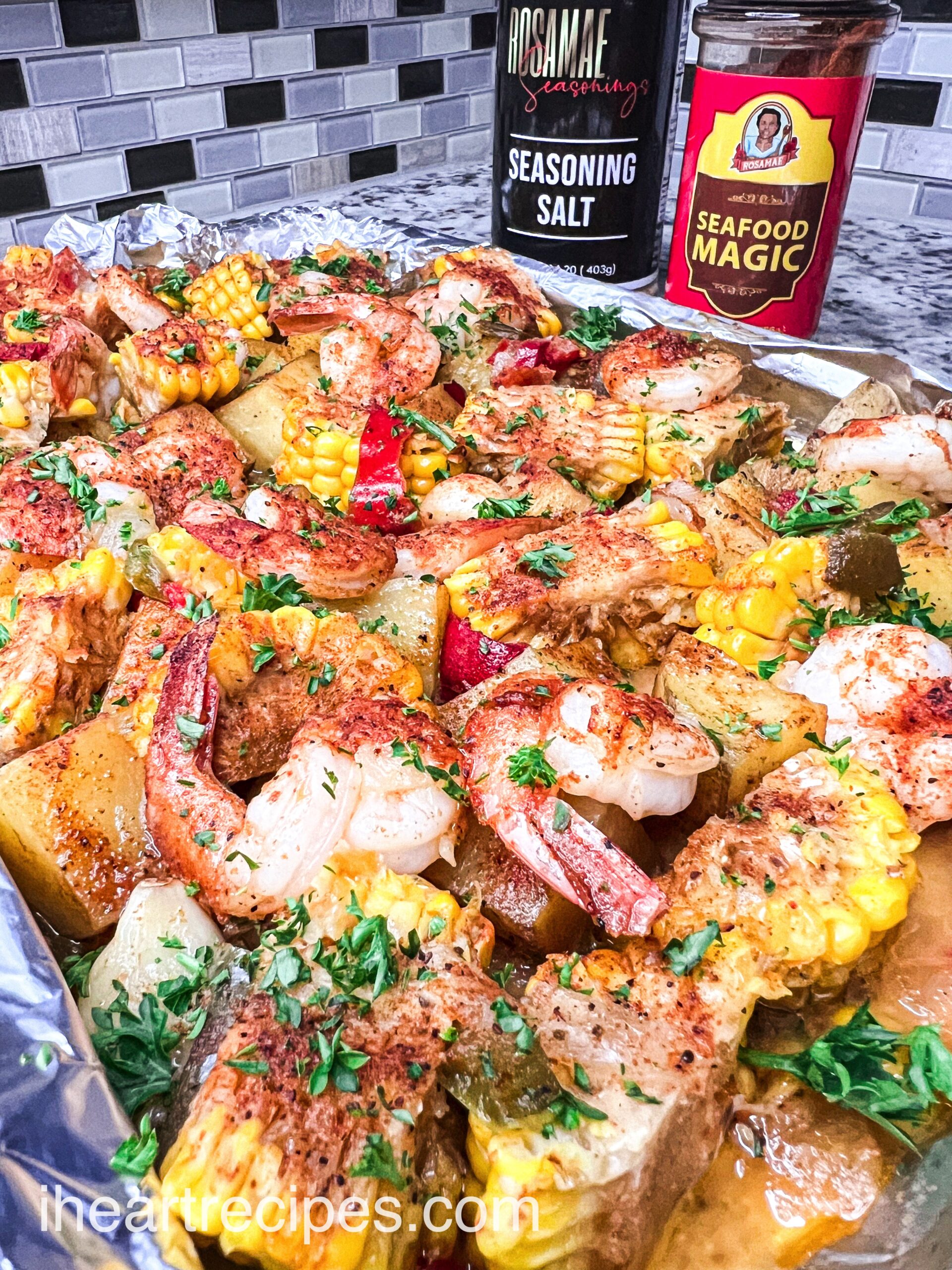 Sheet Pan Shrimp Boil Recipe
If you love a good ol' seafood boil, but want a quick and easy recipe, this sheet pan shrimp boil is perfect for you! Zesty seasonings, shrimp, and veggies baked to perfection.
Print Recipe
Pin Recipe
Ingredients
2

lb

XL or Jumbo Shrimp

peeled, deveined, tail on

1

lb

golden potatoes

cut into 2 inch pieces

5

frozen corn nibblers

cut into small pieces

8

tbsp

salted butter

cut into small tabs

3

tsp

Rosamae Seasonings Seafood Magic

or your favorite seafood seasoning

2

tsp

Rosamae Seasonings Seasoning Salt

1/2

frozen peppers and onions mix

chopped

4

cloves

garlic
Instructions
Preheat the oven to 375 F.

Line a large sheet pan with aluminum foil, then set to the side.

Next, scrub the potatoes until they are nice and clean. Once cleaned, diced the potatoes, and add them on top of the lined sheet pan.

Drizzle the potatoes with vegetable oil, and sprinkle the potatoes with the seasoning salt, then bake in the oven (uncovered ) for about 15-20 minutes.

2 tsp Rosamae Seasonings Seasoning Salt

Remove the potatoes from the oven and spread out.

Add the corn, peppers and onions, shrimp, and garlic.

5 frozen corn nibblers,

1/2 frozen peppers and onions mix,

4 cloves garlic,

2 lb XL or Jumbo Shrimp

Top the ingredients with tabs of butter, then sprinkle the seafood seasoning.

8 tbsp salted butter,

3 tsp Rosamae Seasonings Seafood Magic

Cover with aluminum foil, and place in the oven for 10-15 minutes.

Remove from the oven, and pour the liquid( butter) from the bottom of the sheet pan into a cup or bowl.

Pout the liquid all over the shrimp boil, then garnish with chopped parley.
If you loved this recipe,
leave me a review below
. This helps future recipe makers and ensures continued high-quality recipes for years to come!
© 2023 I Heart Recipes