How to make Seafood, Chicken, and Andouille Sausage Gumbo.
My mom's parents came from Baton Rouge, so with that being said… We love us some Gumbo! No seriously! In addition to the turkey's, hams, and roasts – during the holidays you can always count on us making some good southern style gumbo as well. Keep in mind that I said southern style gumbo! I'm talking Seafood, Chicken, and andouille sausage gumbo! Not the gumbo with just chicken and okra, or just sausage, and rice. REAL GUMBO!!! Honey we go in!!! Our gumbo consist of shrimp, crab, chicken, sausage, okra, and more. We usually serve it with rice, and cornbread- but of course during the holidays we serve a bowl of our gumbo with everything else such as: super cheesy southern baked macaroni and cheese, southern style green beans, potato salad, and a ton of other things ( somehow people manage to eat it all too!).
To be honest you don't have to serve gumbo with a ton of other things ( we are just greedy!) You can certainly just make gumbo, and serve it with rice. In this post I'm going to show and tell you how I make MY gumbo.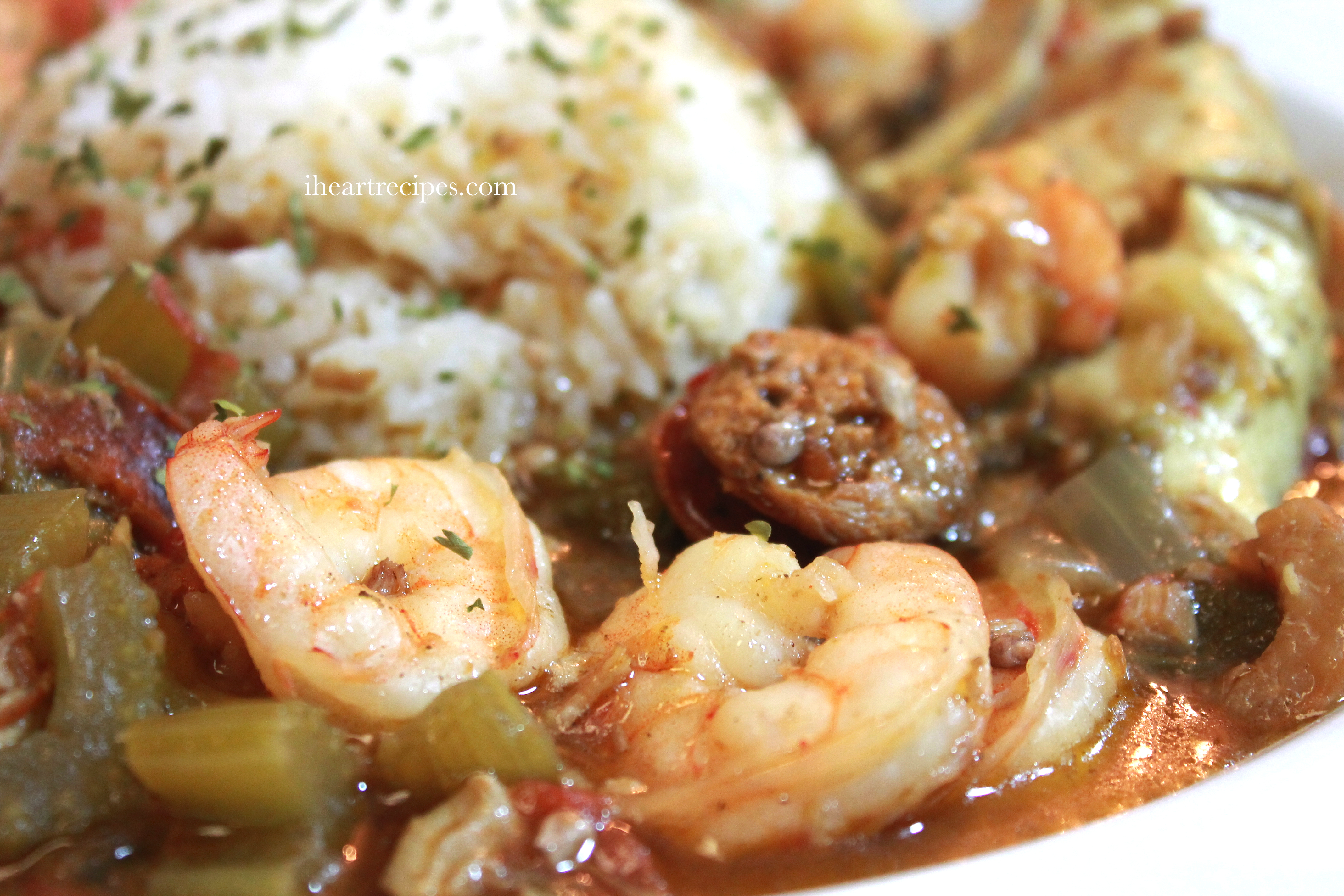 As much as I love seafood, chicken, and sausage gumbo I usually only make it during the holidays or for other special occasions. Why? Because it can be quite expensive. Unless you live in a area where you can fish and get your own crab, and shrimp – you may end up paying a pretty penny for all of the ingredients for a nice authentic gumbo recipe. Therefore I don't make gumbo as much as I'd like to!
I use Alaskan King Crab for my gumbo. In my area, a pound of Alaskan King Crab Legs clusters run $15 and up a pound. Depending on how many people you are cooking for, this can get really pricy. If you are on a strict budget stop by your local seafood market and see if the have any crab claws on sale. In the past I have gotten crab claws for as low as $5 a pound. Also, if you have a different crab preference, you can use that as well!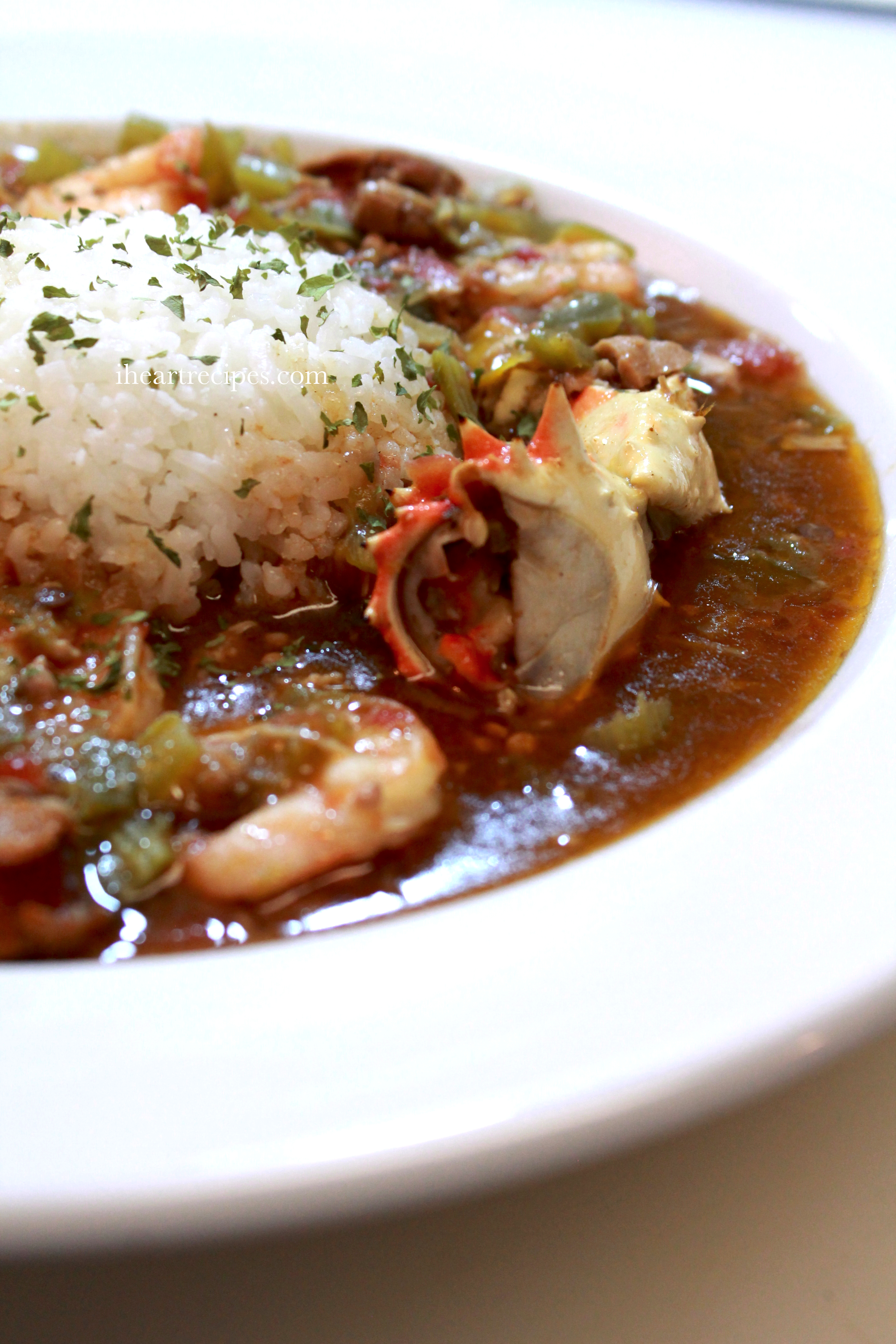 As far as shrimp I use two different kinds of shrimp. One of the shrimps that I like to use is dried shrimp. Dried shrimp is pretty much what is sounds like. It is dehydrated shrimp! The dried shrimp adds a lot of shrimp/ seafood flavor to the gumbo so I try my best not to skip out on it. Some people may have a hard time finding dehydrated shrimp, but I always find my dried shrimp at my local Asian markets.
*** Keep in mind that once you add the dry shrimp into the gumbo, it will hydrate. It won't remain dry. LOL!!!*****
The other shrimp that I use in my gumbo recipe is white tail shrimp. I like my shrimp to be on the larger side, but that's just my preference. Also white tail shrimp is a preference of mine as well, You can certainly use a different shrimp for your gumbo recipe.
Tip: When I buy my shrimp I buy it peeled and de veined. It saves me a lot of time! I freaking hate cleaning shrimp!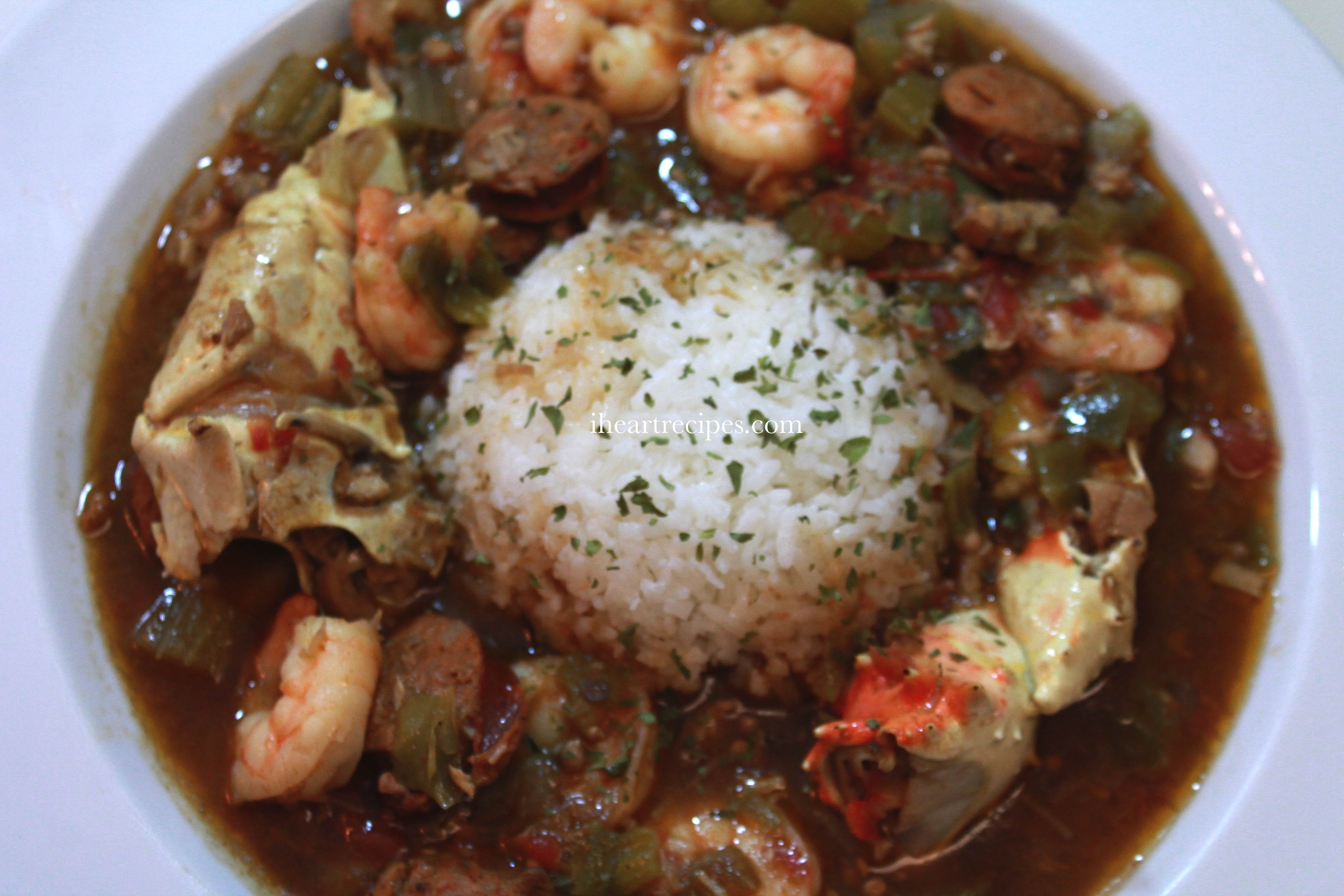 Now let's talk about the most time consuming part of the gumbo… The Roux! In the past I've watched several people make their roux different ways. I've watched my mom, I've watched my aunts, heck- I've even watched chefs on tv make their roux. After all that "watching", no ones roux worked for me. So that's when I sat down, and said " DO YOU!". I make my roux different from a lot of people. I make it thinner than what you may be use to seeing, BUT- just trust when I tell you that it will all come together! I start off with my vegetable oil, and then I heat it up. I then add in my flour, and cook the roux until it is a peanut butter brown color. This step takes about 30 minutes over medium heat! I know.. It's time consuming! So what I do is, listen to music while make my roux ( usually 90's r&B). It relaxes me, and it helps me stay awake during the boring roux process.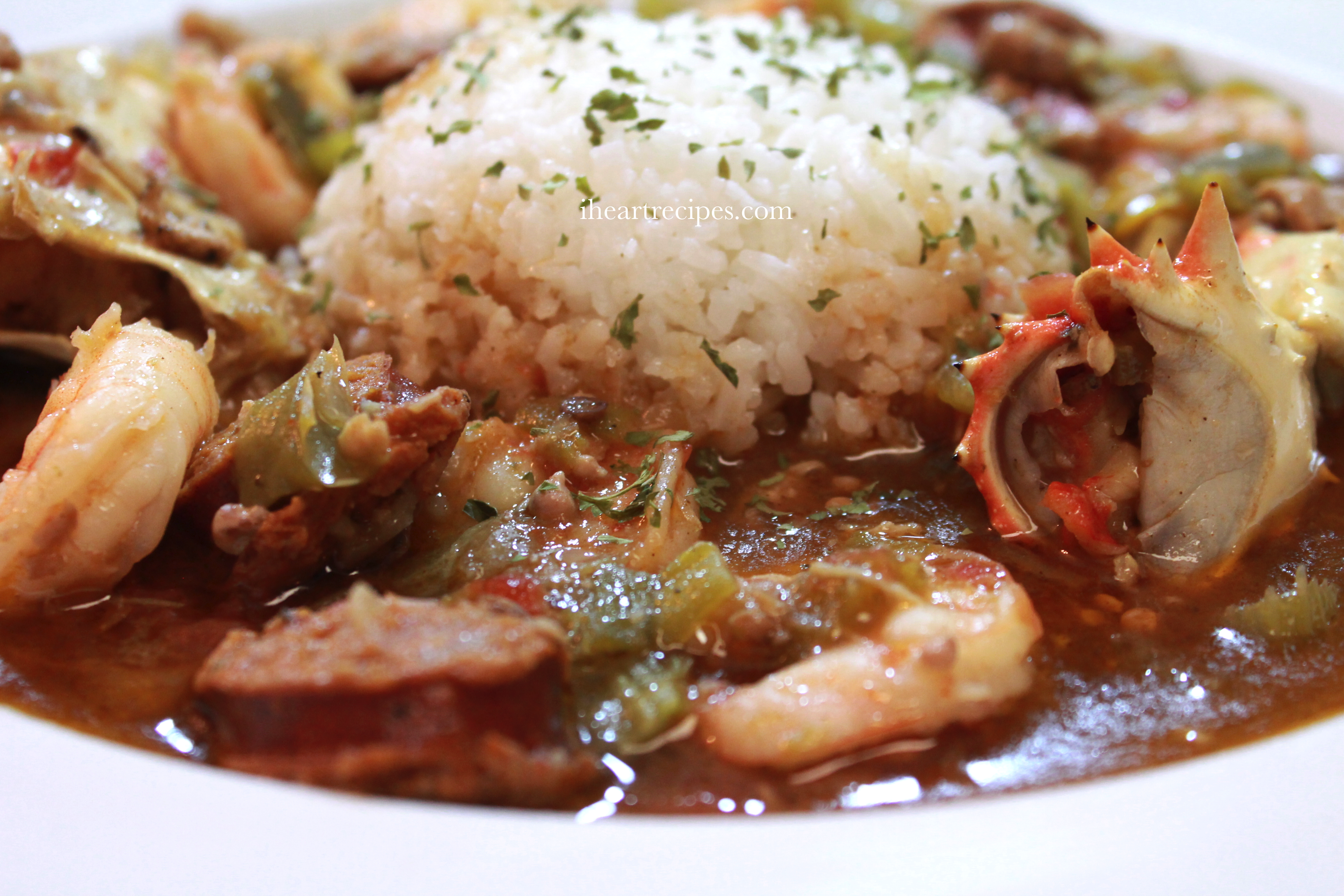 For gumbo, I like to use a lot of sausage! I prefer to use chicken andouille sausage that I buy from Trader Joe's. I really love Trader Joe's andouille sausage. It's packed with flavor, and it's nice and spicy. Although I prefer using andouille sausage for my gumbo, some people don't. My mom is one of those people. My mother prefers to use Louisiana Hot Links in her gumbo. I must admit, that it's pretty good, but I prefer andouille sausage!
If you can't or don't want any spiciness to your gumbo you can use a regular smoked sausage! When I make gumbo for people that can't tolerate spicy food, I use beef smoke sausage. They also have smoked chicken, pork, and turkey sausage available!
So now that I've done all the small talk ( or not so small talk!) let's get to my recipe!
Watch the video tutorial!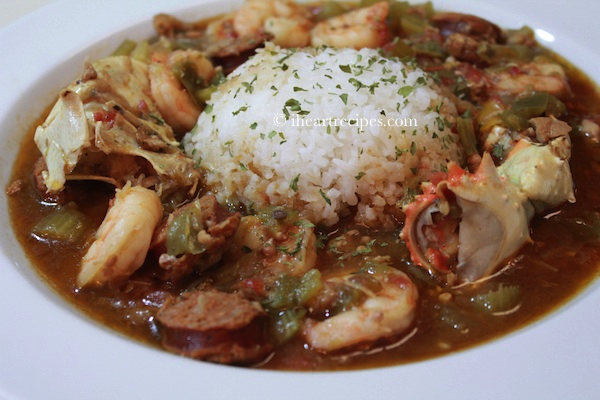 Seafood, Chicken, and Andouille Sausage Gumbo
Seafood, Chicken and Andouille sausage gumbo with two kinds of shrimp, Alaskan king crab, spicy sausage, and more! This recipe is hearty and flavorful – a perfect comforting stew.
Watch Video
Print Recipe
Pin Recipe
Instructions
Pour 1/4 cup vegetable oil into a pan, then place the pan over medium heat.

Once the oil is hot place the chicken thighs into the pan.

Season the chicken with 1 tsp poultry seasoning,1 tsp seasoning salt, 1/2 tsp ground black pepper, 1 tsp onion powder, and 1 tsp garlic powder.

Brown each side of the chicken, then pour in 1/2 cup of the chicken broth.

Cover the pan, and let the chicken cook, until it is completely cooked throughout. Once done, remove the chicken from the pan.

Toss in the celery, bell peppers, and onions, then cook for 2 minutes.

Toss in the minced garlic.

Cook until the veggies are nice and translucent, then turn the heat off.

In a LARGE pot pour in 1 cup of vegetable oil, and place the pot over medium heat.

Once the oil is nice and hot, start sprinkling in the flour, but just a little bit at a time.

Stir continuously, to prevent lumps, and cook until the roux turns into a peanut butter brown color ( about 30 minutes).

Once the roux is nice and brown, slowly pour in the remaining chicken broth.

Add in the cooked vegetables, the chicken, and andouille sausage.

Give everything a nice stir.

Sprinkle in all of the remaining seasoning salt & black pepper.

and add in the tomatoes, and bay leaves.

Stir and cover, then let cook for about 20 minutes.

Next add in the chopped okra, and dried shrimp.

Stir, cover, and cook for 20 minutes.

The next step will be adding in the crab.

Make sure that the crab, and other ingredients are nicely covered with the broth.

Let cook for 20 minutes, then toss in the large shrimp.

Stir the ingredients, and reduce the heat to low.

Sprinkle in the gumbo filet, stir, and let cook for 7 minutes.

Turn the heat off, and let the gumbo sit for a couple minutes.

Serve ad enjoy with steamed rice & cornbread
Video
If you loved this recipe,
leave me a review below
. This helps future recipe makers and ensures continued high-quality recipes for years to come!
© 2023 I Heart Recipes