Homemade Buttermilk Biscuits with Country Sausage Gravy
Hey friends! I've been getting a ton of  request for breakfast and brunch recipes. As many of you know, I am a breakfast lover. I can eat breakfast food, all day every day and I wouldn't get tired of it. You'd think since I love breakfast so much, that I would have a lot of breakfast recipes posted, but I don't. I have no legit reason for it, but that's going to change. Since everyone has been requesting so many breakfast recipes, I'm definitely going to start posting more!
In this post, I'm going to share one of my all time favorite things to have for breakfast- Biscuits and Gravy!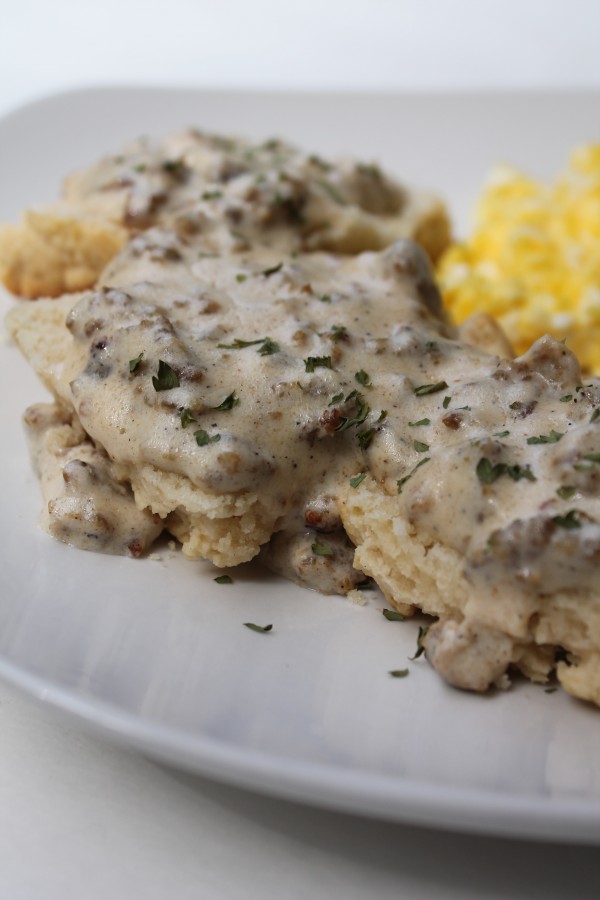 In this post, I'm going to make homemade buttermilk biscuits. I know that we are in a day and time that people like to use canned biscuits. However making your very own homemade biscuits, are actually very easy! The recipe for buttermilk biscuits is really simple, and fool proof!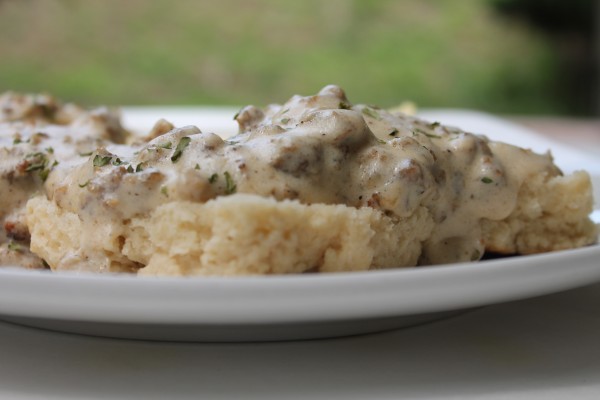 Now let's talk gravy! I love old fashioned country sausage gravy. I used to think that making this gravy was so complicated, but It one of the easiest gravies to make! It only takes 4 ingredients, and one of the ingredients that I use is Half & Half (half milk and half cream). I used half and half because it is MY preference. I love the creamy texture of it. Therefore I use half and half in a lot of my dishes, and baked good. If you'd like to replace the half & half with regular milk, you can.
This recipe is pretty much foolproof, but make sure you watch the video down below for a visual 🙂
Here's the video tutorial & recipe!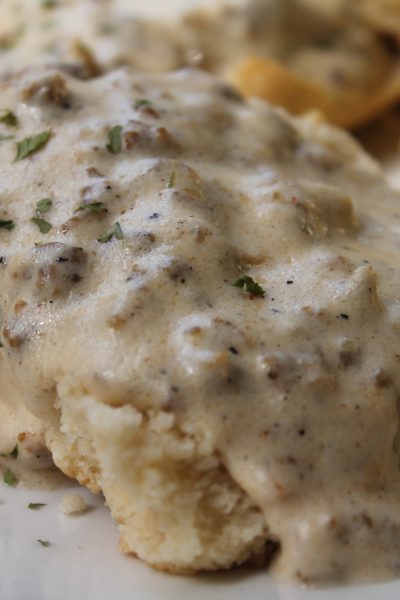 Biscuits and Gravy Recipe
Homemade buttermilk biscuits and a rich sausage gravy make this biscuits and gravy recipe a hit! Perfect for a weekend brunch and super simple to make.
Watch Video
Print Recipe
Pin Recipe
Instructions
Biscuits:
In a large mixing bowl, combine the flour, salt, sugar, baking powder, and cream of tartar.

Sift all of the ingredients, until everything is well combined.

Next, add in the butter flavored shortening, and pour in the buttermilk.

combined everything with a pastry cutter or fork, until it turns into dough.

Flatten the dough into rectangular disk about 2 inches thick.

Cut the disk into 8 sections.

Grease and flour a baking sheet, and place the biscuits onto the sheet.

Bake on 350 F for 10-15 minutes, or until the biscuits are golden brown.
Gravy:
In a large pan, brown the sausage over medium heat.

Drain most of the fat, but leave about 1 tbsp of fat in the pan.

Sprinkle in the flour, and stir.

Pour in the half & half, and stir.

Let cook over medium heat until it thickens, then remove the pan from heat.

Cut the biscuits in half, then pour the gravy over the biscuits.

Serve and enjoy!
Video
If you loved this recipe,
leave me a review below
. This helps future recipe makers and ensures continued high-quality recipes for years to come!
© 2023 I Heart Recipes