How to make homemade light and fluffy red velvet biscuits completely from scratch
Christmas will be here before we know it, and I am beyond excited! I am such a Christmas geek! I love everything about it, the lights, the family gatherings, the movies, and the food! Oh yes, of course I love the food! One of my favorite things about Christmas has to be breakfast. There is nothing like a delicious Christmas breakfast after our gift opening session. Some times, it's actually hard to get my son to the table, and part from his gifts for a few minutes. I swear he acts like he has to guard all his video games, and stuff. I figured out a way to get my little guy to the table on Christmas morning though. Pancakes didn't do it, not even his beloved egg nog would do the trick. It was my homemade biscuits! Not any just biscuits, but my homemade light and fluffy red velvet biscuits! My son loves them! I swear he went bananas the first time he had my red velvet biscuits. I think it was the color and uniqueness that caught his attention, but it was definitely the taste that KEPT his little butt at the table. We like to add a little butter and honey to the red velvet biscuits, and serve them with eggs, bacon, and creamy grits. Oh my goodness, they are just too good!
In this post, I'm going to share my recipe for Red Velvet Biscuits. This recipe is super easy, and is sure to please your guest on Christmas.
For this recipe I use self rising flour. Using self rising flour instead of all purpose flour prevents me from having to add a lot of rising agents. However, I still add cream of tartar. The cream of tartar works with the rising agents that are already in the self rising flour, and makes the biscuits even more light and fluffy!
I use a combination of butter, and butter flavored shortening. The butter makes the biscuits nice and soft, meanwhile the shortening make the outer part of the biscuits nice and flaky.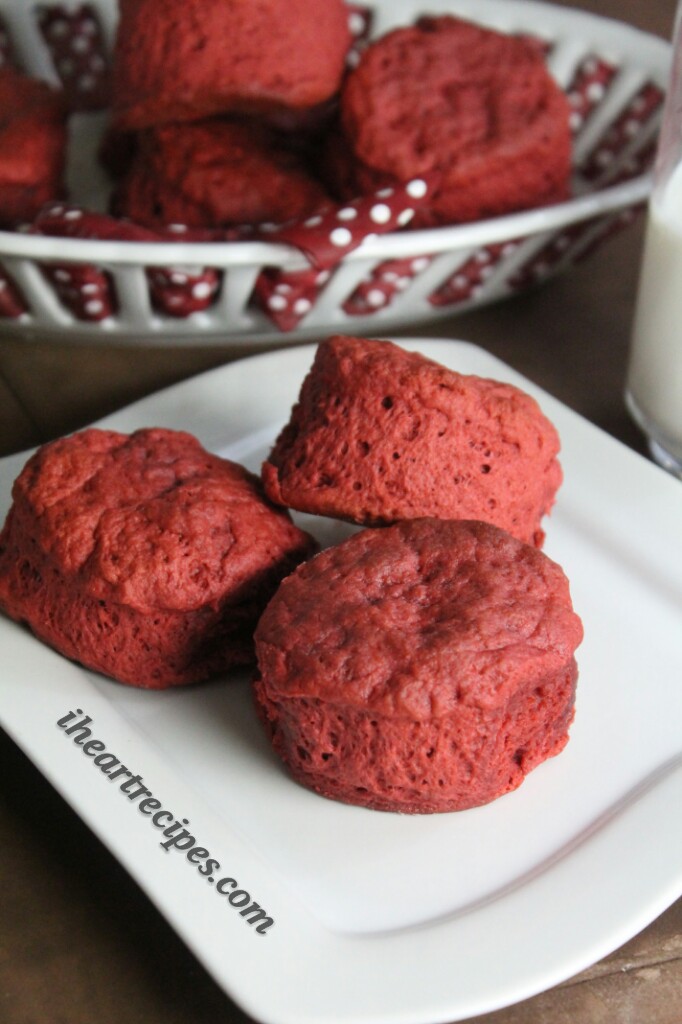 Like most red velvet recipes, I use vanilla extract and unsweetened cocoa powder for these biscuits. You will taste a hint of both, but it will not be overwhelming. These biscuits are on the sweeter side, not extremely sweet, but sweeter than your average biscuits. You can serve these biscuits for other meals other than just breakfast! These red velvet biscuits pair great with fried chicken( think of chicken and waffles).
Other than Christmas I like to make my red velvet biscuits on Valentines, Mother's Day, and Easter as well.
Check out my video tutorial!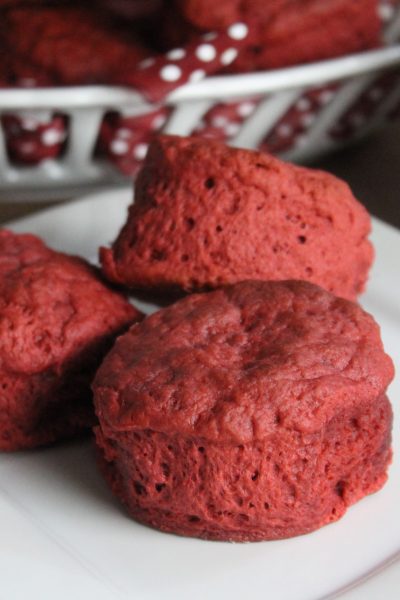 Red Velvet Biscuits
Light and flaky, completely from-scratch Red Velvet Biscuits are a sweet Christmas time treat. Serve warm with some butter for a fun, festive breakfast.
Watch Video
Print Recipe
Pin Recipe
Instructions
Combine the self rising flour, salt, cocoa powder, sugar, and cream of tartar, in a large bowl.

Sift or mix the ingredients until well combined.

Add all of the dry ingredients into the stand mixer bowl.

Add in the butter, the shortening, buttermilk, and food coloring.

Turn on the stand mixer, and let the ingredients mix on a medium speed, until it turns into red dough.

Once the dough has formed, flatten in out on a lightly floured flat surface using a roll pin ( make sure that you flour the roll pin, so that it does not stick to it).

Cut the biscuits out using a canning lid , biscuit cutter, or cookie cutter.

Place the biscuits into a bake dish ( I used a 9 x 13).

Bake the biscuits on 400 F ( make sure you preheat the oven prior to baking), for 12-15 minutes.

Once done, brush or rub butter on top of the biscuits while they are still warm.

Serve & Enjoy!
Video
Notes
I used a stand mixer, but you can make these biscuits with a handheld mixer that has dough hooks, or do the mixing completely by hand.
If you loved this recipe,
leave me a review below
. This helps future recipe makers and ensures continued high-quality recipes for years to come!
© 2023 I Heart Recipes
Check these recipes out as well!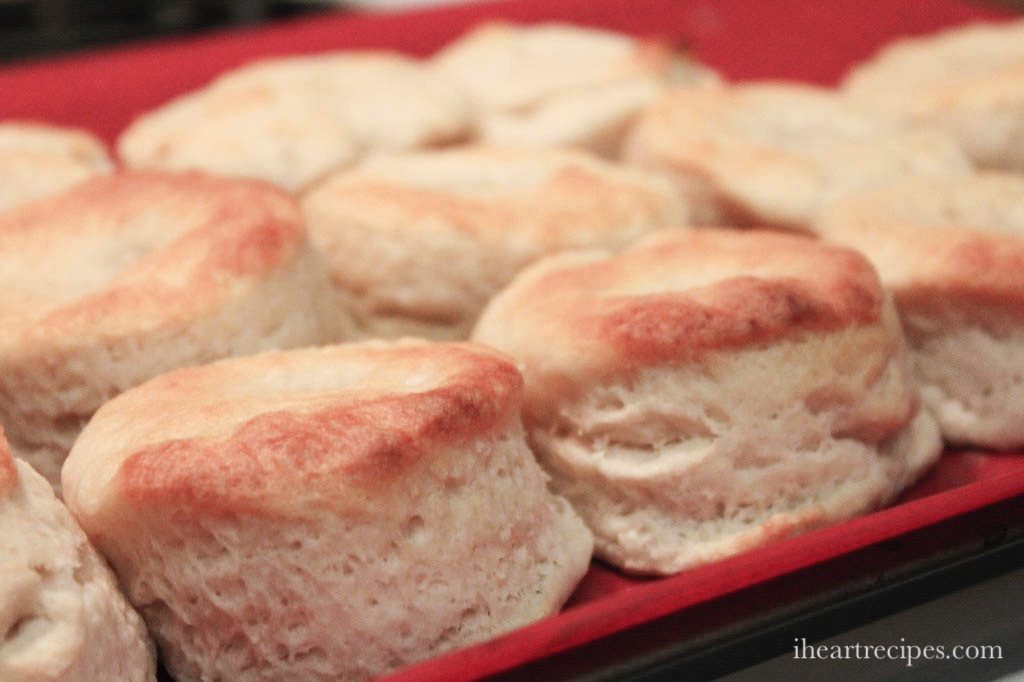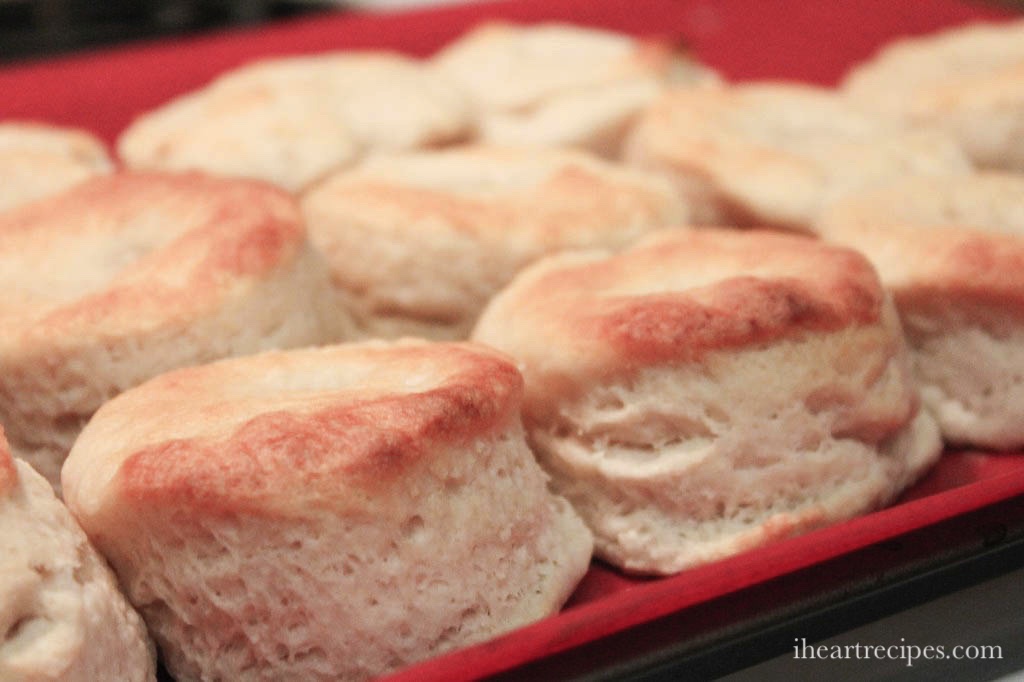 ---
---
---