Delicious homemade red velvet cookie sandwiches, full of homemade cream in the middle and dusted with coarse sugar and crushed peppermint candy!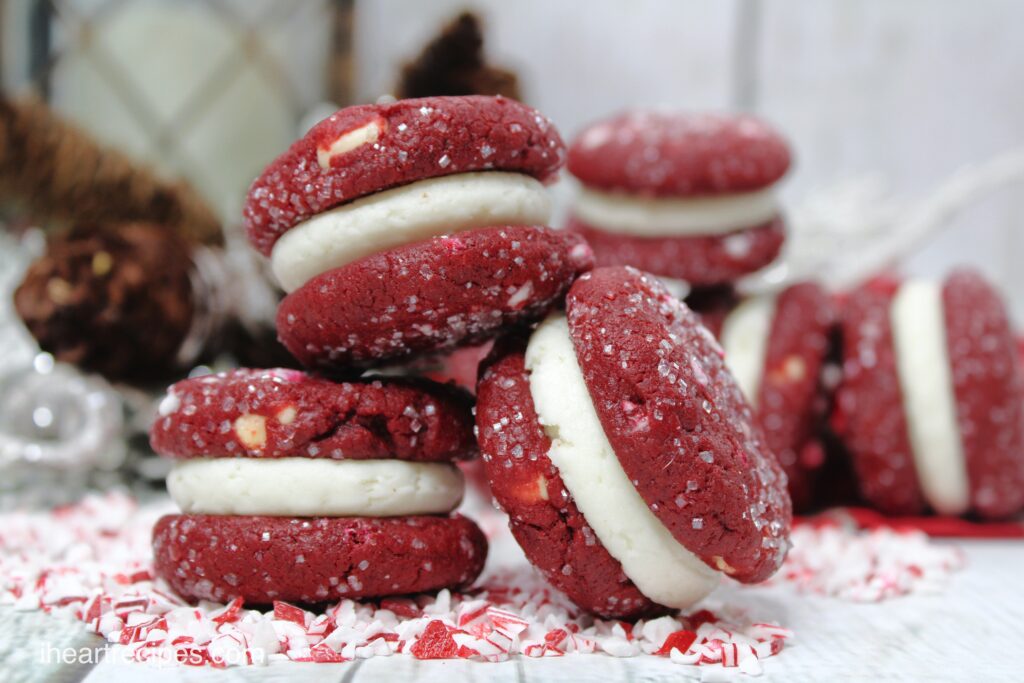 Hey cousins! Are you ready for another Red Velvet Recipe?! I hope that's a yes because in this post, I'm going to share a recipe for these moist, delicious red velvet cookie sandwiches! This recipe screams CHRISTMAS! These soft, chewy cookies have cream in the middle and are dusted with coarse sugar and crushed peppermint candy. Make these cookie sandwiches, find a holiday classic movie, and get into the holiday spirit with this recipe!
This red velvet cookie sandwich recipe reminds me of my childhood. We always made Christmas cookies, and I always enjoyed them right in front of the tv while I watched my favorite Christmas shows… While wearing fluffy slippers and warm PJs. I remember it like it was yesterday! I'd watch my Christmas lineup on the Family Channel (does that channel still exist?). My favorite was " Santa Claus Is Coming To Town". I'd just sit there with my cookies & milk by the Christmas tree and watch my Christmas shows for hours. I loved it! Now that I'm an adult, nothing much has changed! I still love my holiday movies, cartoons, and Christmas cookies! So let's get right to the recipe for these delicious red velvet cookie sandwiches.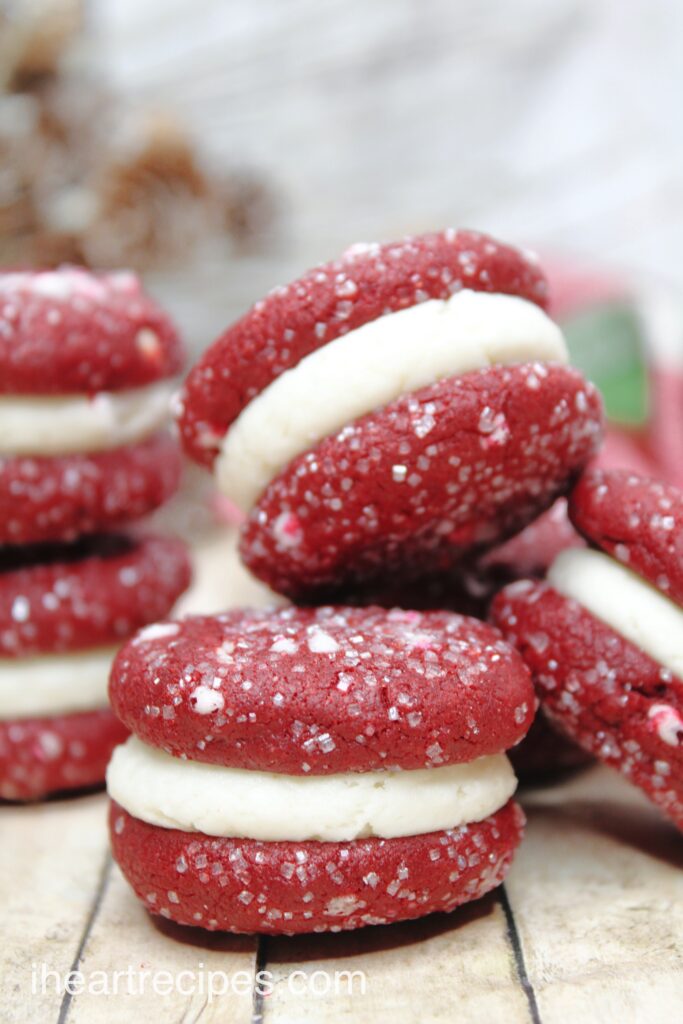 Ingredients need for these delicious Red Velvet Cookie Sandwiches
2 sticks unsalted sweet cream butter, cubed
1 ½ cup sugar
2 large eggs, room temp
1 tsp pure vanilla extract
2 tsp super red food coloring
¼ cup unsweetened cocoa powder
1 tsp baking soda
1 tsp cornstarch
½ tsp kosher salt
1 cup cake flour
1 ¾ cup all-purpose flour
1 ½ cup white chocolate chips
1 cup Crushed candy canes
½ cup coarse sugar
Pin this recipe, and be sure to follow me on Facebook!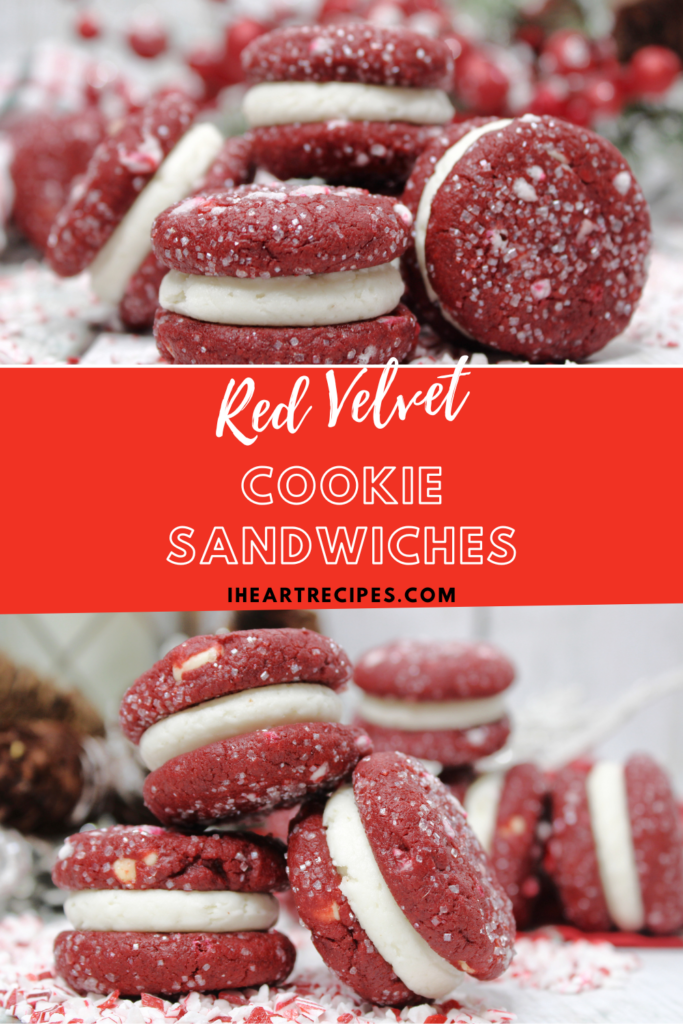 Print this recipe for later, and be sure to come back and get some more free recipes!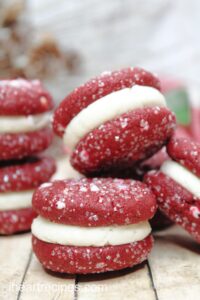 Red Velvet Cookie Sandwiches
These red velvet cookie sandwiches are the perfect Christmas cookies! Soft red velvet cookies sandwich a light, sweet cream. Coarse sugar and crushed peppermint candies give the cookies a plesand crush.
Print Recipe
Pin Recipe
Instructions
Line 2 baking sheets with silicone liners.

In the bowl of a stand mixer add the butter and sugar.

Using a paddle attachment, cream the butter and sugar on medium for 3 minutes. The butter/sugar mixture will appear light in color and fluffy.

Add one egg at a time, beating directly after adding.

After adding each egg, add the peppermint extract, and vanilla in the mixture.

Mix on low speed until combined.

Add in the red food coloring, on low speed until combined.

In a large bowl add both types of flour, cocoa, baking soda, cornstarch, and salt, whisk to combine. Slowly add the flour mixture to the butter mixture while the mixer is on low speed. Continue beating the mixture until a soft dough is made.

With the mixer on low beat in the white chocolate chips and crushed candy canes, mix on low until combined. Place the dough in the refrigerator, covered, until chilled for about 20 minutes.

Preheat the oven to 410 F.

Place the dough on a well floured surface.

Using a rolling pin, roll out the dough to a ½ inch thickness.

With a small sized circle cookie cutter, cut out 24 circles and place on a baking parchment covered baking pan. In a small bowl add the coarse sugar and crushed candy canes, mix to combine.

Dip each cookie into the sugar candy cane mixture and lightly press the mixture into the cookie.

Place on the baking sheet.

Bake for 10 minutes or until golden brown on the top.

Remove the cookies from the oven and let cool for 5 minutes.

Then transfer the cookies to wire racks to cool completely
Vanilla cream
Add the butter, powdered sugar, peppermint extract, and vanilla to a large mixing bowl. Whip using a hand mixer until pale, fluffy.

Fill a piping bag outfitted with a round piping tip, with the vanilla icing. Flip half of the cookies over.

Gently squeeze icing onto the cookie.

Top the cookie with the cookie for the other half of the cookie sandwich Gently push the cookie down to push the icing to the edges.

Repeat with the remaining cookies until all are done.
If you loved this recipe,
leave me a review below
. This helps future recipe makers and ensures continued high-quality recipes for years to come!
© 2023 I Heart Recipes
More Red Velvet Recipes: