Easy Recipe for Red Velvet Cheesecake. This cheesecake recipe is just like the Cheesecake Factory's red velvet cheesecake!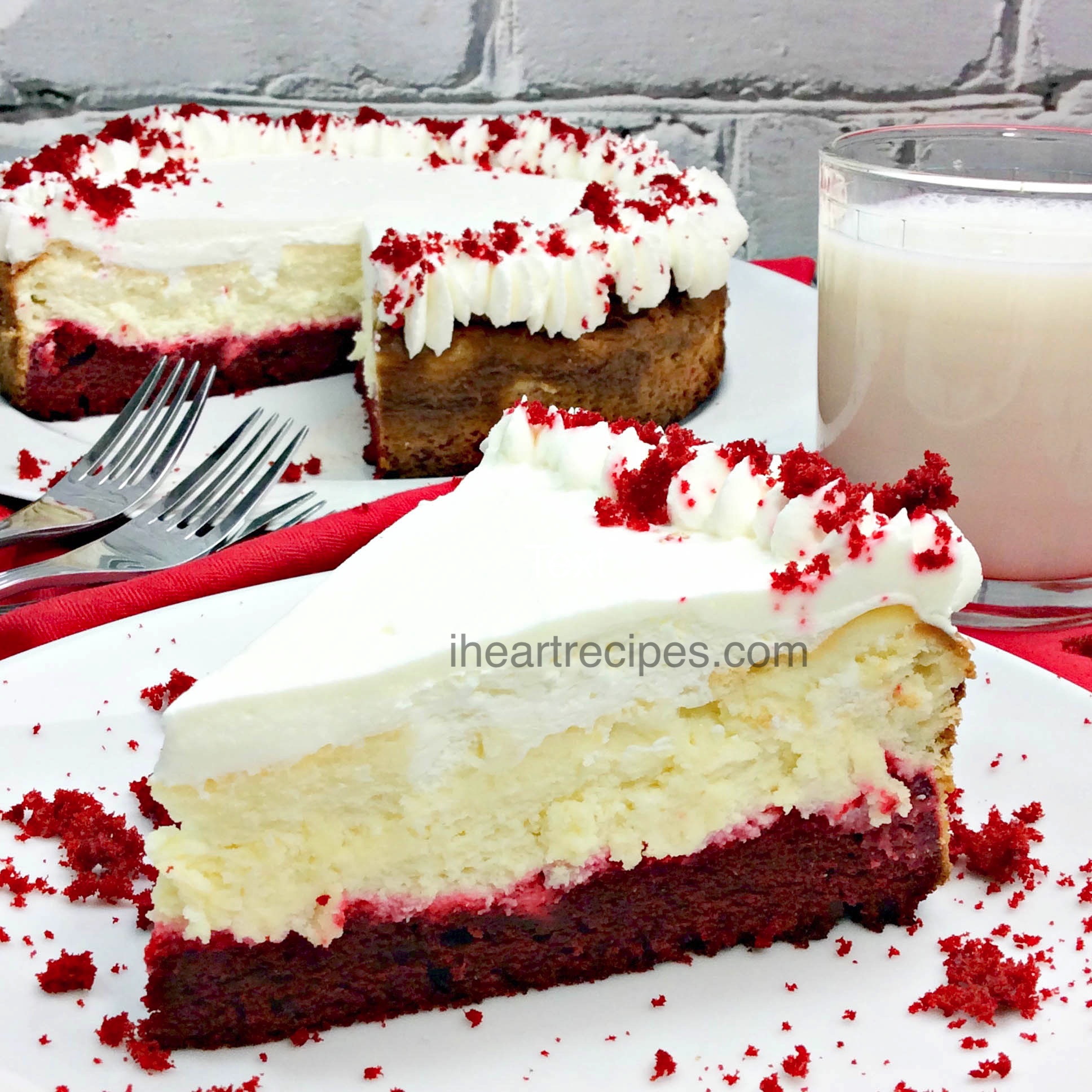 Who doesn't like the Cheesecake Factory's Red Velvet Cheesecake?  I mean what's there not love? I swear it's one of my favorite cheesecakes ever! That's why, when a friend of mine offered to share her recipe for red velvet cheesecake, I was beyond excited! Let me tell y'all- her cheesecake game is fierce! This red velvet cheesecake is so darn close to the Cheesecake Factory's, and it's easy to make!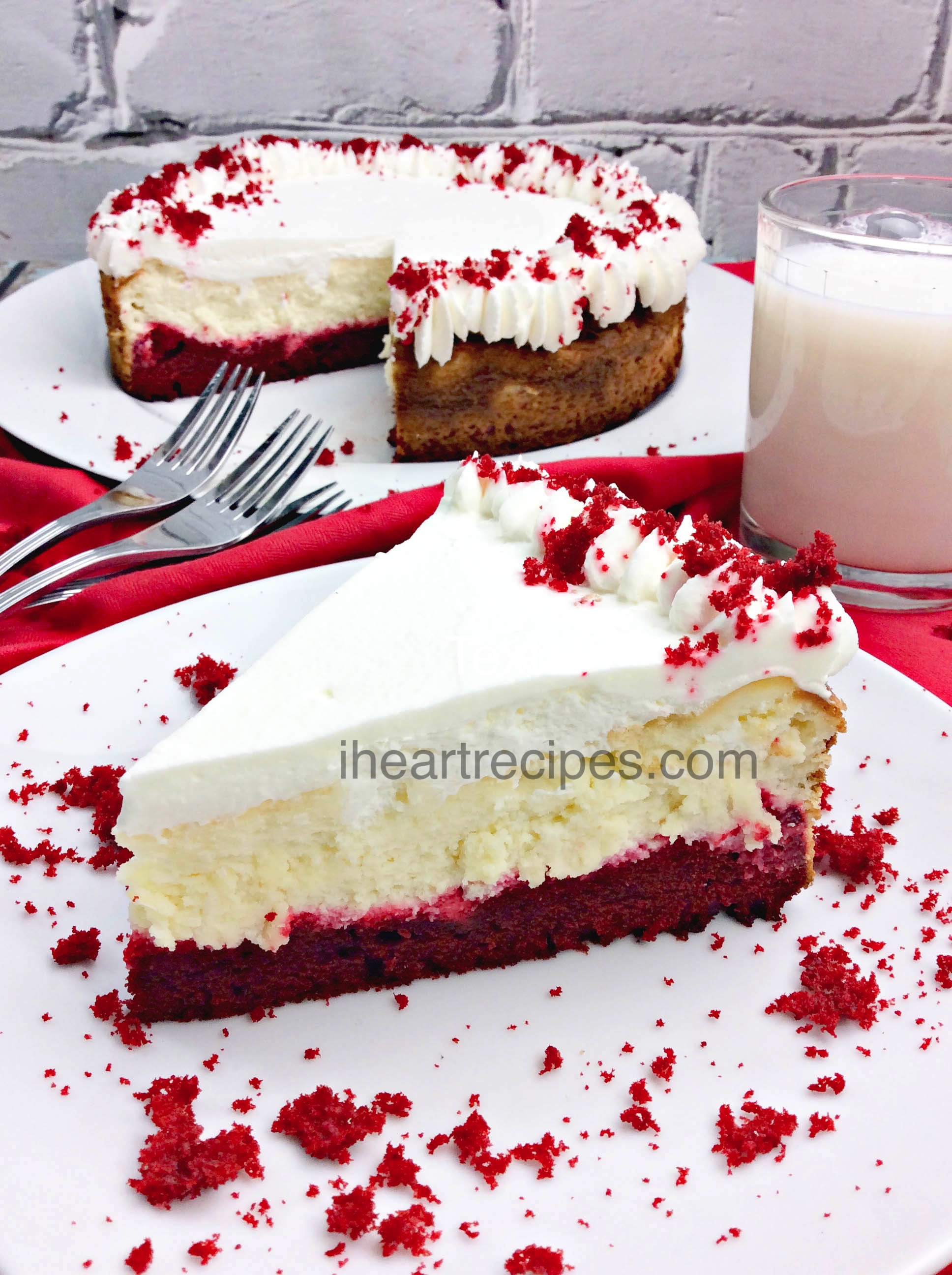 This red velvet cheesecake recipe uses a boxed red velvet cake, so you don't have to worry about making everything completely from scratch.. Unless you want to.. If you must make a Red Velvet Cake from scratch, use my red recipe.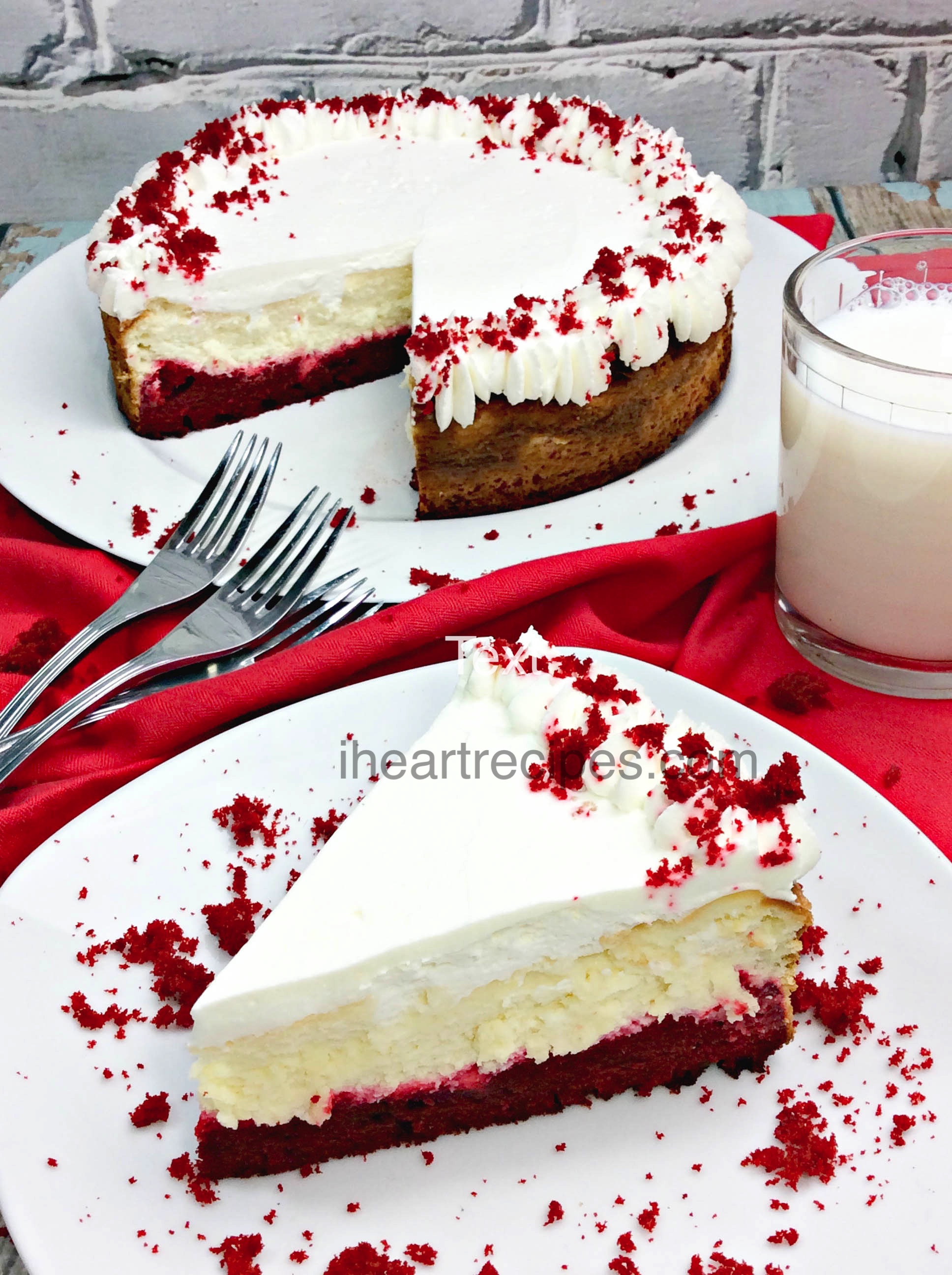 The cheesecake part for this red velvet cheesecake is homemade & It is so darn creamy y'all… Its just amazing!
PIN THIS RECIPE FOR LATER!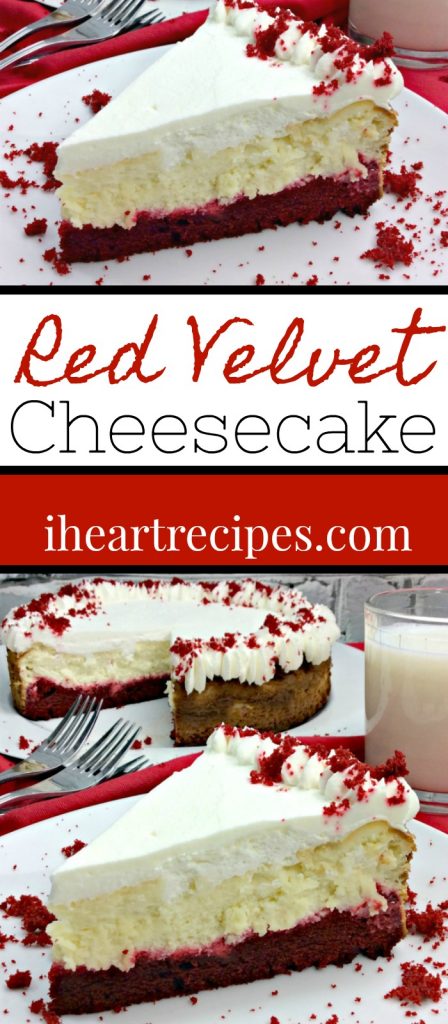 Try this Easy Red Velvet Cheesecake Recipe, and don't forget to subscribe to my mailing list below!
Red Velvet Cheesecake Recipe
Ingredients
Red Velvet Cake
1 box red velvet cake mix, plus ingredients called for on the back of the box
Cheesecake
16 oz cream cheese, softened
⅔ cup sugar
2 large eggs
⅓ cup sour cream
1 tbsp flour
2 tsp vanilla extract
¼ tsp salt
Frosting
2 cups heavy cream
4 tbsps powdered sugar
2 tsp vanilla
Instructions
Preheat oven to 350 F.
Spray a 9 inch springform cake pan with baking spray.
Prepare red velvet cake batter as written on the back of the box.
Next, pour the cake batter in the prepared cake pan.
Bake for about 30 minutes.
Let cool while in cake pan, then remove.
In a large bowl using a hand mixer or t stand mixer,, beat cream cheese and sugar until well combined.
Now add in one egg at a time.
Next, add sour cream, flour, vanilla, and salt and mix until well combined.
Line a 9 inch springform pan with parchment paper.
Pour the filling into a cake pan and bake for about 1 hour. The center will still be jiggly!
Let cool slightly, then transfer to the freezer to cool completely and firm up before assembling.
Place the red velvet layer on the bottom, and top with the cheesecake layer.
Add all the ingredients to a mixing bowl.
Next, combine all of the ingredients needed for the frosting.
Mixed until fluffy, and well combined.
Spread the whipped cream over the top of the cheesecake.
Optional - Use a decorators pastry tip to create whipped dollops on the edge.
Garnish with red velvet cake crumbs.
Let sit for 1 hour.
Serve, and enjoy!
Check these out as well!