The Best Ham with Pineapple & Brown Sugar Recipe. Glaze made with brown sugar, mustard, pineapple juice and more! 
My holiday is incomplete if I don't have a pineapple ham on the table! I seriously believe everyone should have at least one pineapple ham recipe in the recipe collection. So in this post, I'm going to share my ham with pineapple and brown sugar recipe!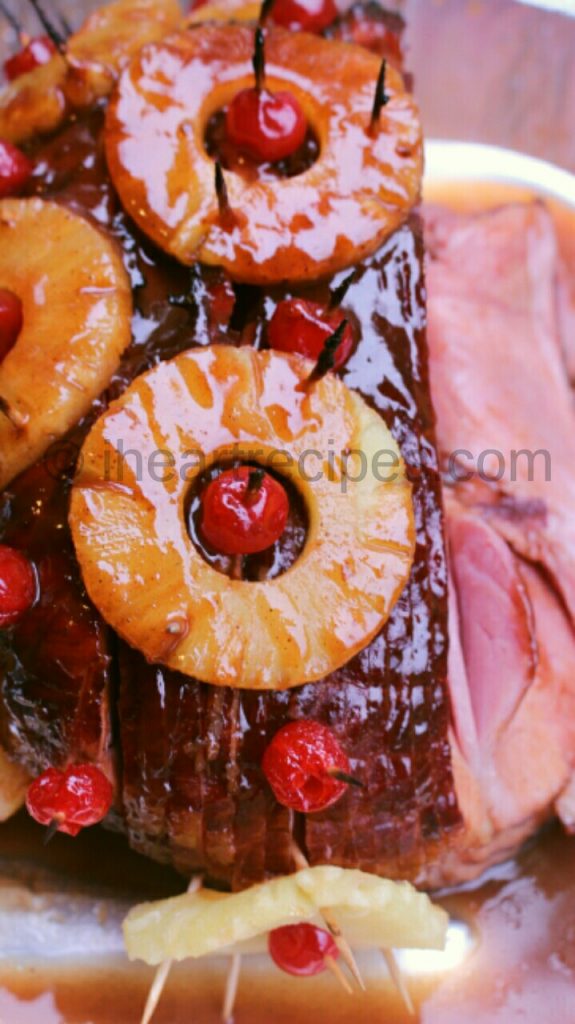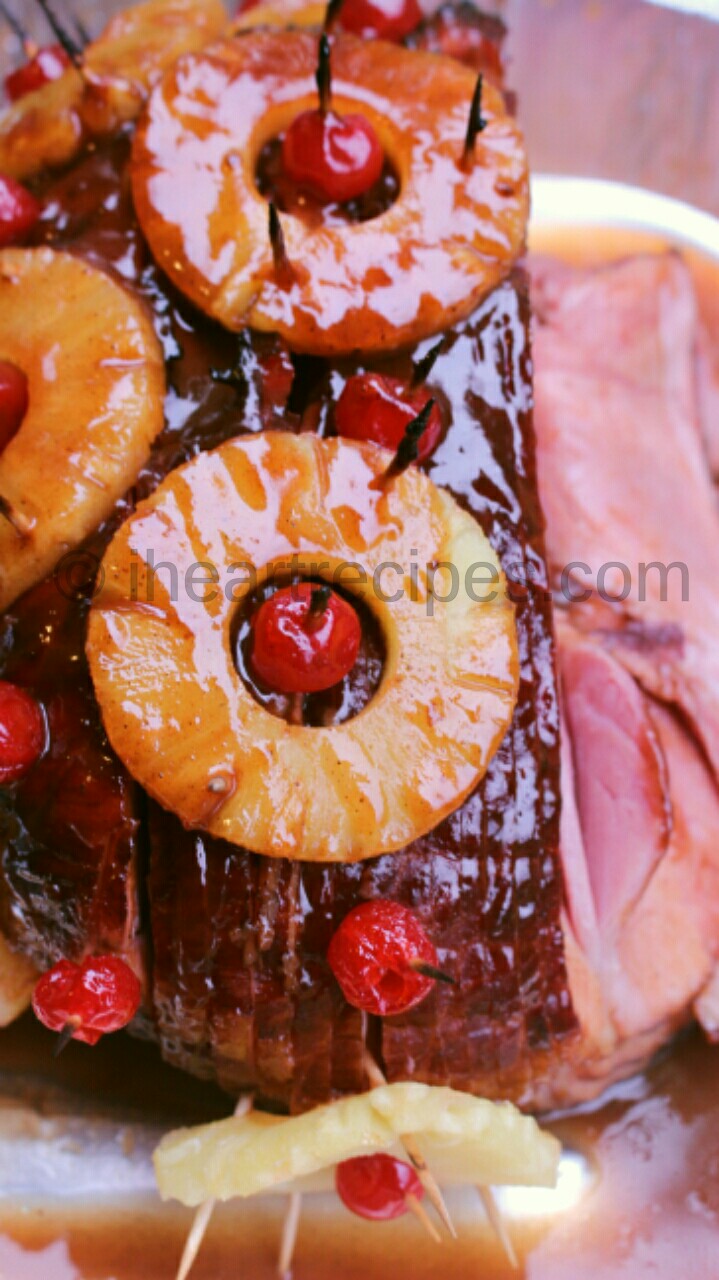 The glaze for this ham has all of your favorite ingredients such as honey, pineapple juice, brown sugar, and even a combination of your delicious holiday spices.
I literally combined all of my ham recipes into one, and made the perfect homemade sauce/glaze. This ham with pineapple and brown sugar is now my go to ham recipe during the holidays… The best part? It's so freaking easy to make. The hardest part ( which isn't hard at all!) is decorating the ham with pineapples and cherries.
Pin this recipe for later!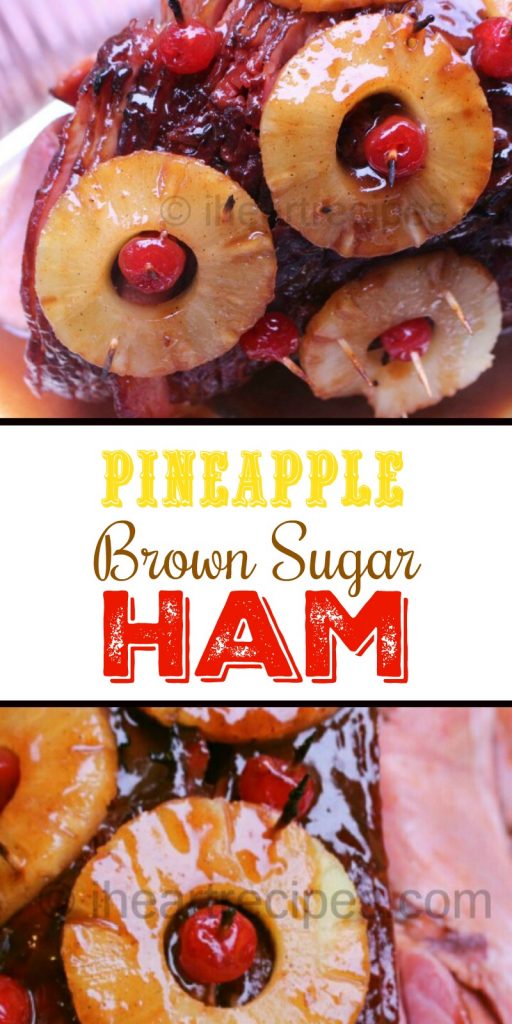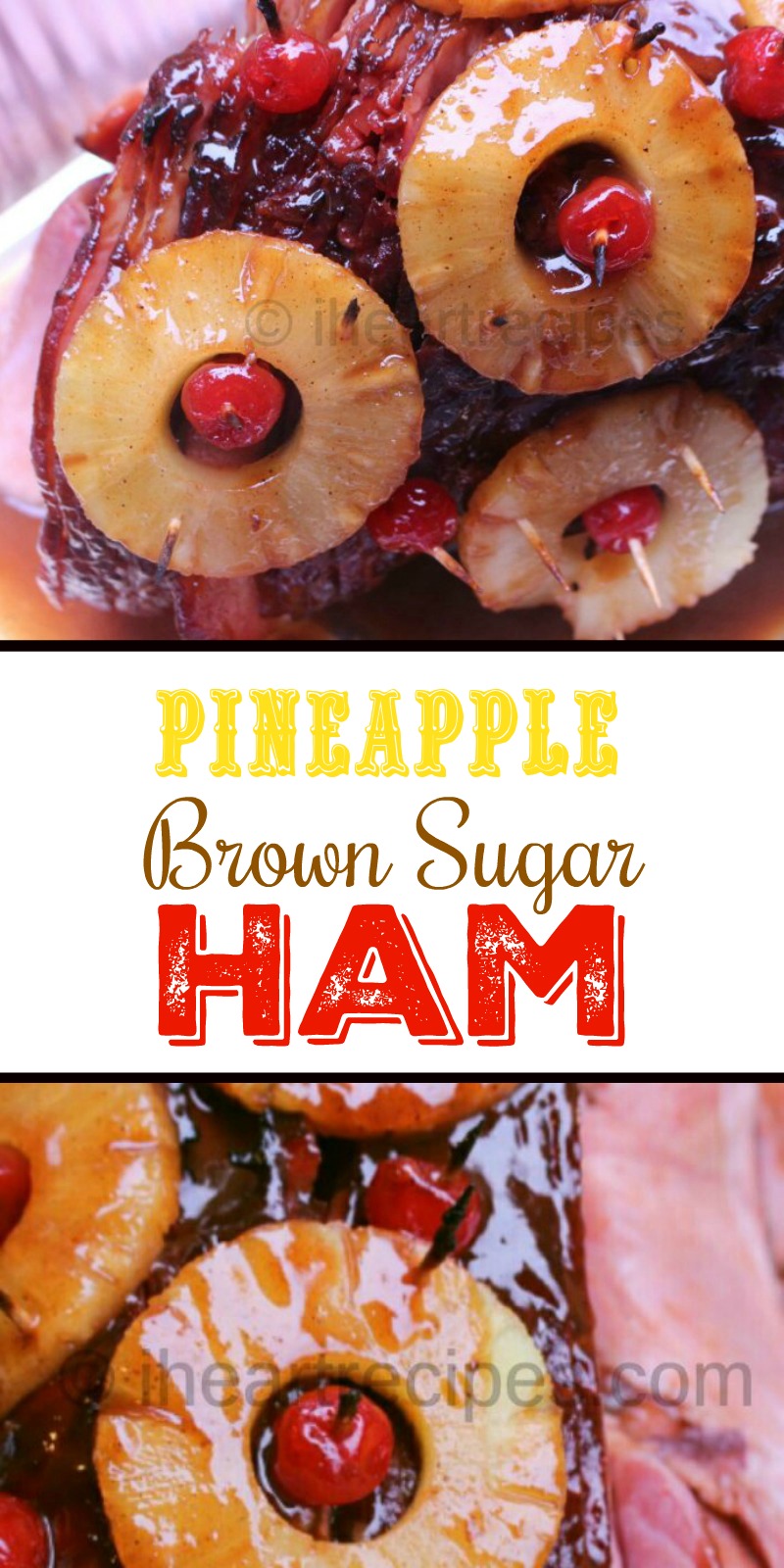 Let me show you how I make this fabulous holiday ham!
Ham with pineapple and brown sugar
Ingredients
8-10 lb smoked ham, fully cooked
20 oz can of pineapple rings, in pineapple juice( juice reserved)
6 oz jar of maraschino cherries( juice reserved)
⅓ cup pure honey
¼ cup yellow mustard
¼ cup brown sugar ( dark or light)
¼ tsp ground nutmeg
1 tsp ground cinnamon
¼ tsp ground ginger
¼ tsp ground clove
¼ cup cornstarch
* Toothpicks
Instructions
Preheat oven to 325 F.
Make sure that the ham is completely thawed.
Decorate the ham with pineapples & cherries, using the toothpicks to hold everything in place.
In a large measuring cup, or medium sized bowl, combine the pineapple juice, cherry juice, brown sugar, mustard, honey, ginger, clove, nutmeg, and cinnamon.
Stir everything, then sprinkle in the cornstarch.
Whisk everything until lump free, then transfer the sauce/ glaze into a saucepan.
Bring the sauce to a boil over medium high heat, and whisk.
Let boil for about 3-5 minutes, then turn the heat off.
Pour the glaze all over the ham.
Bake the ham, uncovered, for 30 minutes.
Remove the ham from the oven, and baste.
Place back in the oven for 20-30 minutes( still uncovered).
Remove from the oven, let sit for about 15 minutes.
Serve & enjoy!