This frittata recipe is a simple and delicious crowd-pleaser that you can enjoy for breakfast, brunch, lunch, or dinner!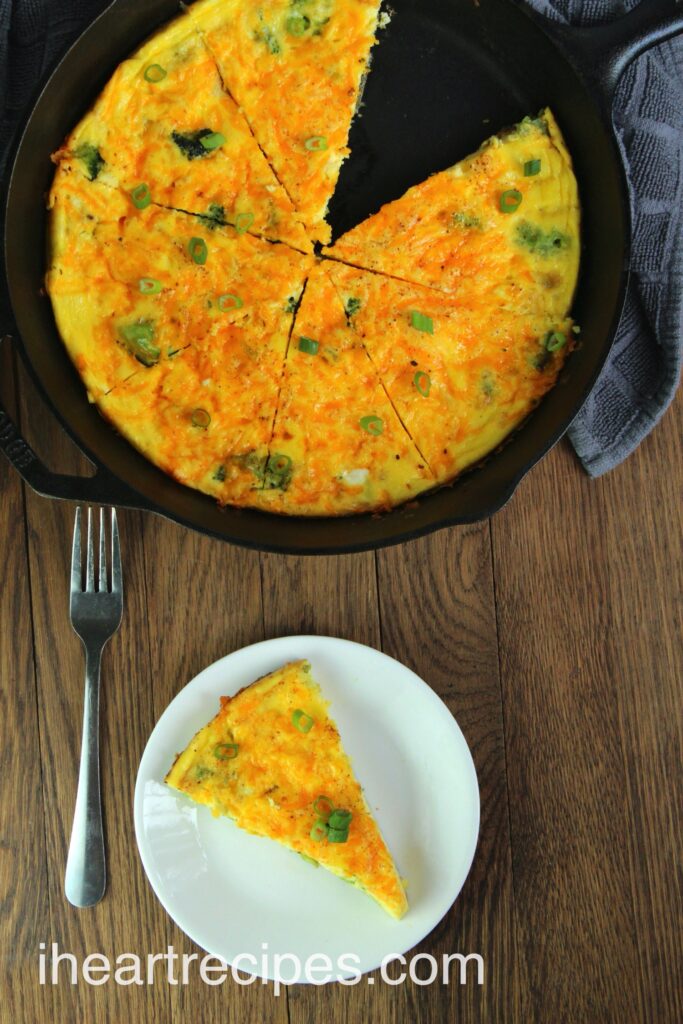 You can never go wrong with cheese and broccoli, and when made as a frittata—it's something both kids and adults will enjoy.
Not only are frittatas easy to make, but the ingredients can be prepped the day before. Or you can make it 1 to 2 days before you plan to serve it. In fact, it tastes better the next day!
What is a Frittata?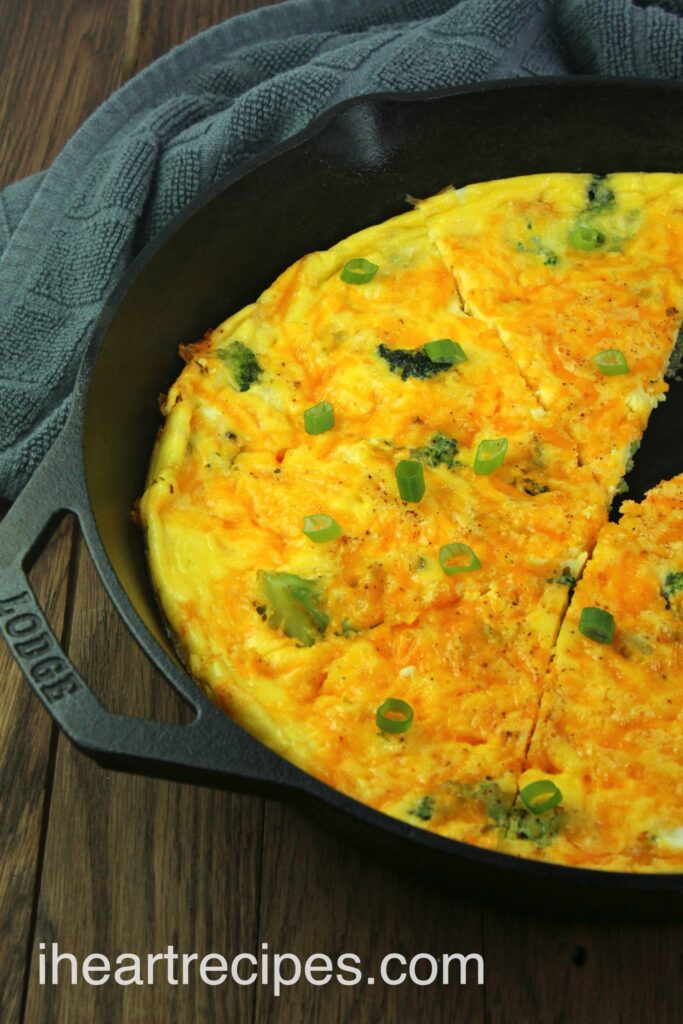 Frittatas are an Italian dish that can be served any time of the day. While an elevated menu item in the states, in Italy, it's a quick snack made with leftover vegetables. The name translates loosely to "fry", as it's an open-face omelet that you bake in your oven. You can also find similar dishes in Spain made with potatoes. It's also a faster, easier, and crust-free version of a French quiche.  
If you'll be enjoying this delicious dish for breakfast or brunch, you can serve it with bacon, ham, fruit, or something sweet—such as my Pumpkin Cinnamon Rolls. And maybe a mimosa! 
For lunch or dinner, you can serve it with soup, salad, or your side dish of choice.  
Prep or Make this Cheddar and Broccoli Frittata Ahead of Time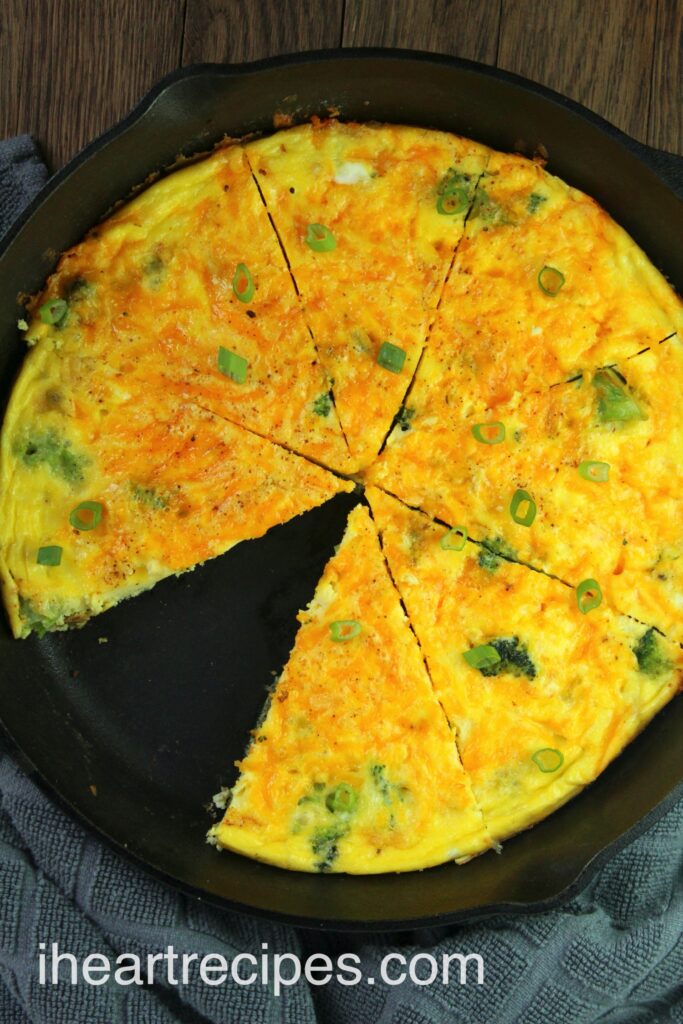 If time is tight, feel free to chop the veggies and shred the cheese ahead of time. You can even beat the eggs and mix them with the half-and-half and spices the night before. Just be sure to store your egg mixture separately from the veggies.
You can also bake your frittata 1 to 2 days in advance if that fits better into your schedule. It is safe to eat for 3 to 4 days after it bakes.
Serve Cold, Hot, or Room Temperature 
This dish is delicious at all temperatures. Straight out of the oven is great if you are in the mood for something warm. You can also chill it in the fridge and serve it cold, or you can eat the leftovers cold.
One of the most popular ways to serve frittata is at room temperature. To serve at room temperature, let it cool after it comes out of the oven for about 1 hour. Then slice and eat. Or chill it in the fridge and let it sit out for about 1 hour before serving. Just don't let it sit outside of the fridge for more than 2 hours.
If it's chilled and you want to warm it up, the oven is the best way to go. Preheat your oven to 350 degrees and heat it for 20 to 25 minutes. Eggs are delicate, so reheating it in the microwave can dry the frittata out. For best results, set your microwave to 50% and warm it up in 30-second intervals. Let it sit for 1 minute once it's at your desired temperature. 
You can freeze leftover frittata for up to 3 months. Slice into individual servings, wrap each slice in cling wrap, and place the slices in an airtight container.
Enjoy as an Appetizer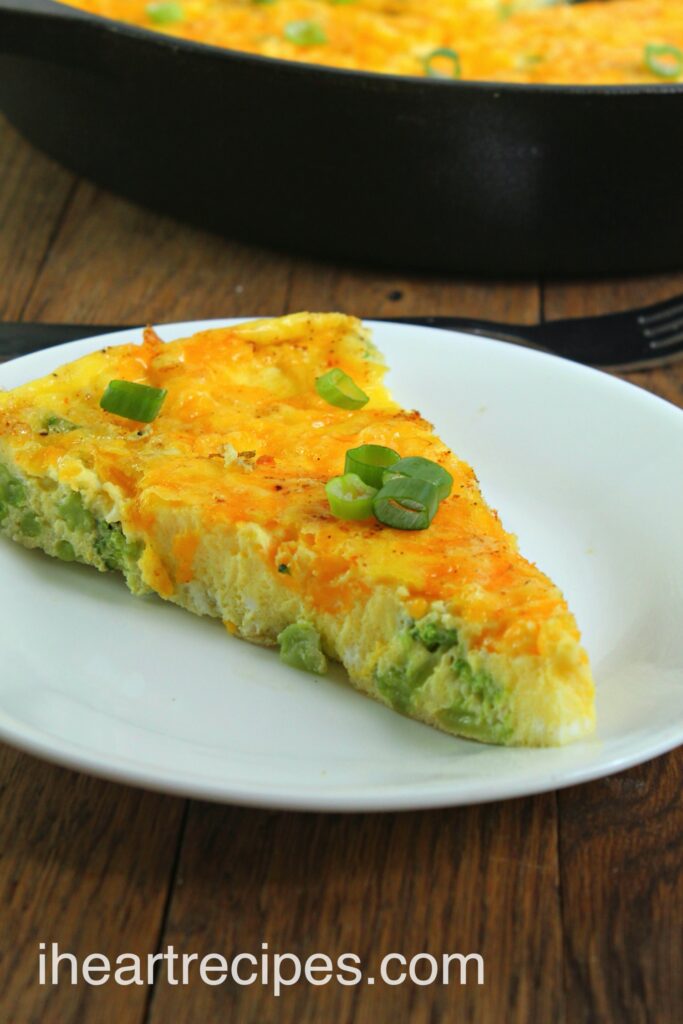 Some restaurants and wine bars serve their frittata as an appetizer. So, consider it as an appetizer the next time you have a dinner party. Since it's something you can prep a day or two in advance, it will lighten your load the day you are entertaining. It also travels well in the car if you will be bringing a dish to friends and family.
Instead of slicing it into pie-like servings, slice your Cheddar and Broccoli Frittata into half-inch cubes. Arrange them on a seasonal serving tray and place a toothpick in for an easy bite-sized treat.
Do I Need a Cast Iron Skillet to Make a Frittata? 
There are a few reasons to prepare your frittata in a cast iron skillet. First and foremost, you can transfer it straight from the stovetop to the oven for an easy one-dish meal. A well-seasoned cast iron skillet is also naturally non-stick. Finally, cast iron will sear your veggies, adding to your frittata's flavor.
If you don't have a cast iron skillet, you can transfer the ingredients to an oven-safe dish. Just make sure that the sides are high enough for the ingredients to rise. If you are using a flat dish, it may not need to cook as long, so keep a close eye.
Yes, This Cheddar and Broccoli Frittata is Vegetarian!
Have a vegetarian coming over to eat and not sure what to serve? This meatless dish is ideal. However, it contains a lot of dairy, so it's not vegan-friendly. Not to worry, though, as meat eaters won't feel deprived, as it's protein-packed and delicious. And you can always have a meat appetizer or serve bacon or ham as a side.  
It's Also Low-Carb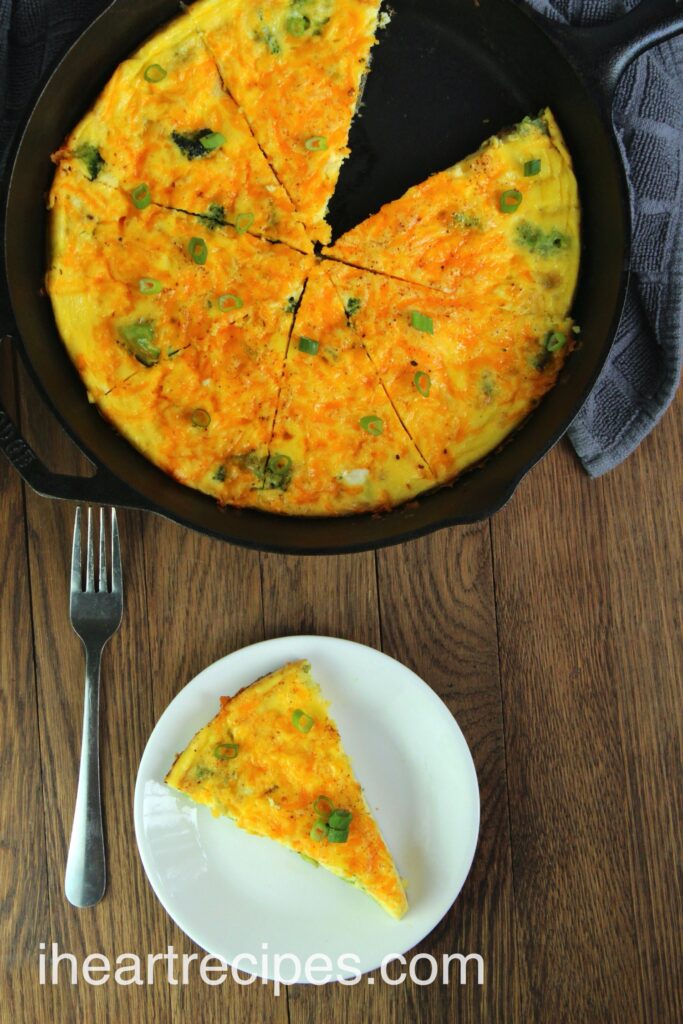 Have a low-carb guest coming over to eat? This recipe is also Keto and low-carb-friendly. Some frittata recipes are made with milk, which is high-carb. However, this recipe is made with half-and-half instead of milk, so it won't break you or your guest's diet.
Sharp or Cheddar Cheese?
Not sure which type of cheese to try in this recipe? Sharp cheddar packs a bit more of a punch than standard cheddar. You can't go wrong though, as any kind of cheddar cheese pairs perfectly with both eggs and broccoli.
How to Customize this Breakfast Frittata
One of the things you will love about this recipe is that it can be made with ingredients you are likely to have in your fridge and pantry. Even if you need to go shopping, you'll only have to purchase a few items. 
If you aren't yet a skilled home chef, you may be nervous to make recipes your own. However, this recipe is super easy to personalize. Simply substitute the broccoli for an equal amount of freshly chopped vegetables.
If you are feeling adventurous, you can add a teaspoon of your favorite dried herbs. Herbs that pair best with eggs include:
Basil
Thyme
Oregano
Sage
Tarragon
Dill
Chives
Parsley
You can also top this recipe with:
Fresh Italian herbs
Avocado slices
Sour cream
Salsa
Hot sauce
Sprinkled cheese
Be sure to print this breakfast frittata recipe for later and share on Pinterest.
Broccoli and Cheddar Frittata
This easy-to-make breakfast frittata is perfect for a weekend brunch or a fast breakfast! Make ahead of time, and customize with your favorite ingredients to make it your own!
Print Recipe
Pin Recipe
Ingredients
12

large eggs

1/2

cup

half-and-half

1/2

teaspoon

sea salt

1/4

teaspoon

black pepper

dash of cayenne pepper

1

cup

shredded sharp or mild cheddar cheese

3

tablespoons

salted butter or vegetable oil

1

green onion

sliced

2

cloves

garlic

minced

1 1/2

cups

fresh broccoli

chopped
Instructions
Preheat the oven to 350 F.

In a medium bowl, combine the eggs, half-and-half, salt, pepper, and cayenne pepper and whisk until smooth.

Add the shredded cheese and set aside.

In a large cast iron, melt the butter (or add in the vegetable oil) and broccoli and cook over medium heat for 1-2 minutes before adding in the green onions and minced garlic. Cook for another 2 minutes.

Spread the vegetables in an even layer of the pan, then slowly pour in the egg mixture.

Continue to cook on the burner for 30 seconds to a minute.

Bake in the oven for 13-15 minutes.

During the last 5 minutes sprinkle some more cheese on top.

Remove from the oven, and let it cool for a bit.

Serve and enjoy.
If you loved this recipe,
leave me a review below
. This helps future recipe makers and ensures continued high-quality recipes for years to come!
© 2023 I Heart Recipes
Don't miss these other easy breakfast recipes: