If you like Canadian Bacon and Pineapple Pizza, then you'll love these pizza sliders. These sliders have all of the same delicious flavors as the pizza, but it's much easier to make!
Hey cousins! I know that a lot of your will turn your noses up to this one, but let me be the first to tell you that I've always loved Canadian Bacon and Pineapple Pizza! That's right, I am a "Hawaiian Pizza" lover! I remember whenever we'd order pizza when I was younger, I'd always put in a request for Canadian bacon and pineapple pizza from Dominos.
However, my mom would always order a darn supreme pizza. When I got old enough to order my very own pizzas, I would always order either Hawaiian Style Pizza or Pepperoni. I guess it's no surprise that I've turned both of my favorite pizzas into sliders. In this post, I'm going to show you how to make the absolute best Canadian bacon and pineapple pizza sliders!
Is pineapple on pizza a Canadian thing?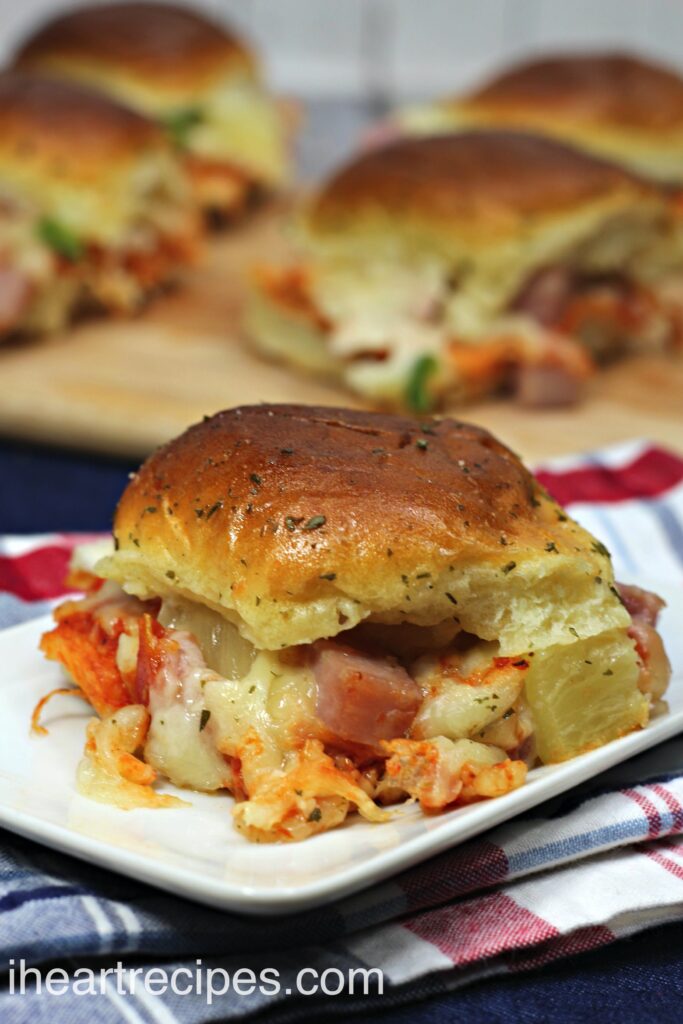 UH-YESSS! You better ask somebody!! While many people will say that pineapple doesn't belong on pizza, I personally would have to disagree. Especially for these Canadian bacon and pineapple pizza sliders. There's just something about the combination of mozzarella cheese and the saltiness from the Canadian bacon that just does it for me.
Is Canadian Bacon and Pineapple Pizza really Hawaiian-style pizza?
I hate to be the one that burst everyone's bubble, but NO! To be honest, my sis that is Hawaiian, actually hates the fact that it's called "Hawaiian Pizza"! According to Google, the pizza was actually created in Canada in 1962 by a Greek immigrant named Sam Panopoulos! How funny is that? I guess people assume that if you put pineapples on something, it makes it "Hawaiian" style, but that couldn't be further from the truth. Therefore I just call it what it is – Canadian bacon and pineapple pizza!
These sliders truly taste like pizza, but they're a lot easier to make. Sometimes I like to add more toppings when I want to jazz things up.
Other toppings that can be added:
Red Bell Peppers
Green Onion
Yellow Onion
Banana Peppers
Jalapenos
Fresh Basil
Roasted Garlic
Grated Parmesan
Red Pepper Flakes
Can you serve Canadian bacon and pineapple pizza sliders as an appetizer or meal?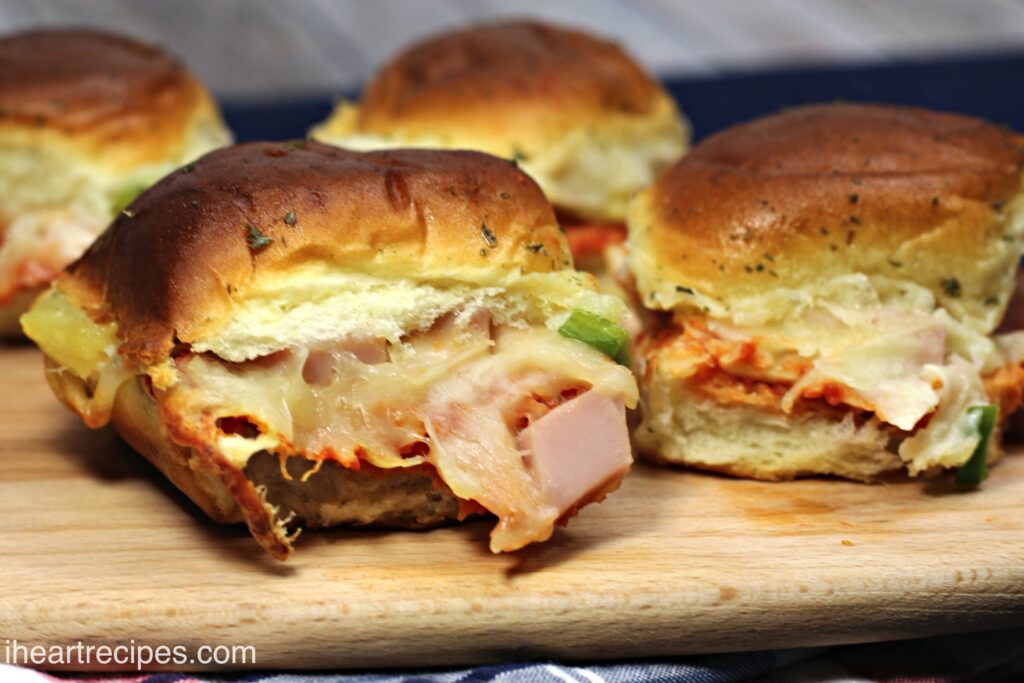 I serve these Canadian bacon and pineapple pizza sliders as appetizers as well as a main dish. I love making these and serving them as an appetizer on Football Sunday, along with wings, chips, and dip. On the other hand, I also serve these as a main dish on Friday movie nights with the family. When it's served as a main dish, I usually serve it with a loaded green salad, and cheesy bread.
More appetizers you can serve with pizza sliders for a full spread:
Now it's your turn to try these Canadian Bacon and Pineapple Pizza Sliders! Don't forget to share this recipe on Pinterest and Facebook!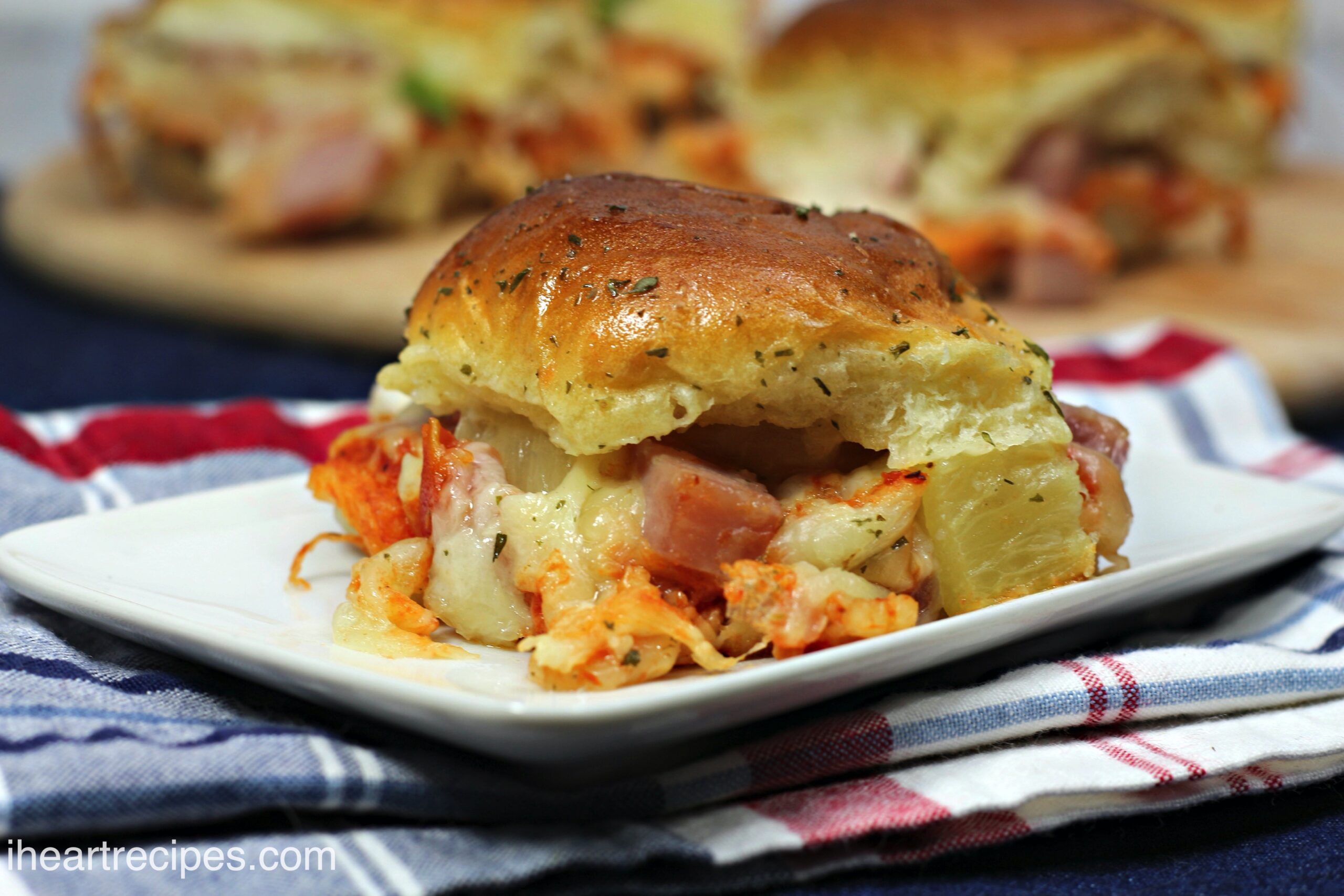 Canadian Bacon And Pineapple Pizza Sliders
If you love Hawaiian-style pizza, you'll love these pizza sliders! Made with Canadian bacon, pineapple, Swiss cheese, and pizza sauce, these pizza sliders are perfect as an appetizer or main course.
Print Recipe
Pin Recipe
Ingredients
12

Hawaiian Sweet Rolls, sliced in half lengthwise

1

lbs

ham

chopped

1

cup

pineapple chunks

drained

8

oz

mozzarella cheese

shredded

1/2

cup

of your favorite marinara sauce

2

tbsp

salted butter

melted

1 1/2

tsp

Italian seasoning

1

tbsp.

granulated garlic

1/4

cup

chopped green bell pepper
Instructions
Preheat the oven to 375F.

Line a 9×13-inch pan with parchment paper, then set to the side .

Slice the Hawaiian rolls in half lengthwise.

Place the bottoms of the rolls into the baking pan.

Spread the marinara evenly on the bottom part of the rolls.

Sprinkle 1/2 of the mozzarella cheese on top of the sauce.

Next add the ham, pineapple chunks, and bell pepper over the cheese.

Top off with the remaining cheese.

Place the top of the rolls on top of the cheese.

Bake in the oven for 8-10 minutes.

Melt some butter, and sprinkle in the Italian seasoning. Mix well.

Brush the sliders with the melted butter mixture.
If you loved this recipe,
leave me a review below
. This helps future recipe makers and ensures continued high-quality recipes for years to come!
© 2023 I Heart Recipes
If you like this recipe, you'll love these as well!