Creamy chicken lasagna with a rich and creamy gouda cream sauce!
Lasagna has to be one of the most requested recipe request within this past week! I decided to make a lasagna, but step away from the traditional version. Sure, I love the old fashioned lasagna as much as the next person, however chicken lasagna has been one of my favorite dishes since I was a child.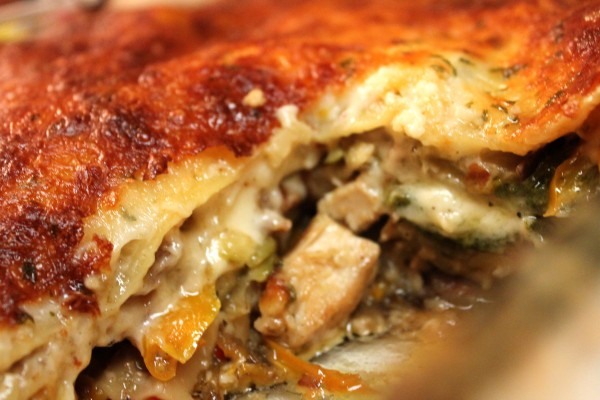 I make this lasagna completely from scratch! Unlike many lasagnas, I don't use ricotta nor cottage cheese for this recipe. Instead, I make a super creamy gouda cheese sauce that will knock your socks off! I also like to add a lot of vegetables to this lasagna. This lasagna has eggplant,  colorful sweet peppers, zucchini,  mushrooms, spinach, and onions. I roast the all vegetables ( except the spinach) in the oven to help remove some of the liquid from the veggies ( you don't want a watery lasagna right?!) Roasting the vegetables also gives them a great texture .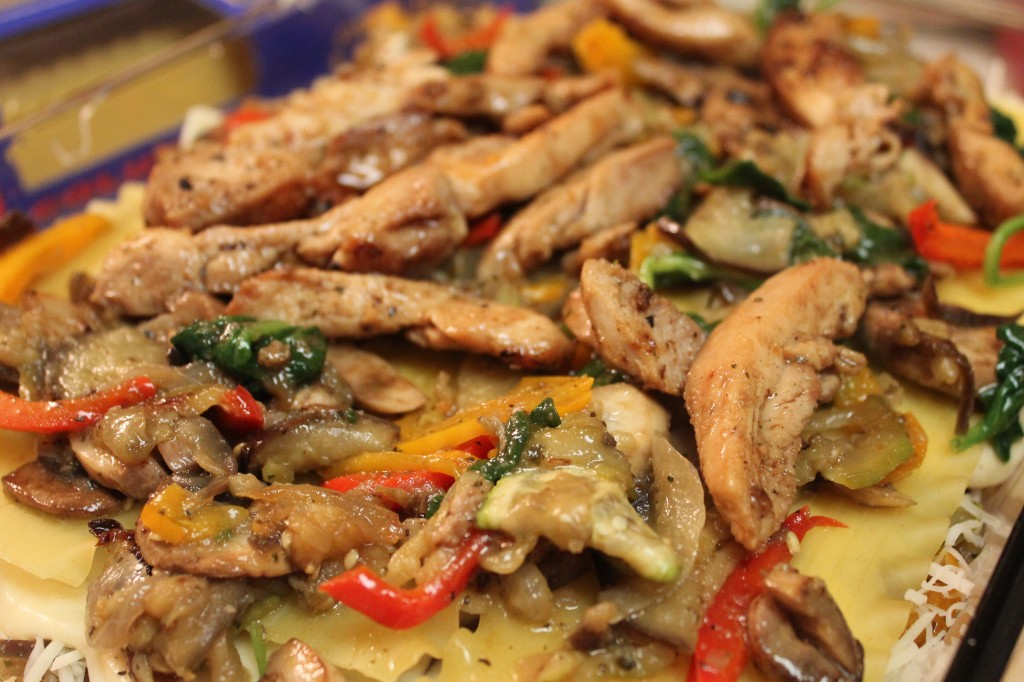 Give this recipe and try tell me what you think!
Chicken Lasagna Recipe
This isn't your traditional lasagna! Packed with chicken and veggies like eggplant, peppers, and onions, all mixed with a creamy gouda sauce, this lasagna will be a hit at dinner.
Ingredients
1

box oven ready lasagne pasta

2

lbs

boneless skinless chicken thighs

or breast

1

large zucchini

peeled and sliced

1

large orange sweet pepper

sliced

1

large red sweet pepper

sliced

1

large egg plant

sliced thin

1

medium sized onion

sliced

3

cups

fresh spinach

1 1/2

cup

sliced mushrooms

3

cups

shredded gouda cheese

4

cups

Italian blend cheese

1

pint

heavy cream

1

tsp

salt

1/2

tsp

ground black pepper

1

tsp

garlic salt

4

tbsp

salted butter

1/4

cup

all purpose flour

4

tbsp

canola oil

1

tsp

canola oil

3

tbsp

salt free seasoning

1

tbsp

Italian seasoning
Instructions
Place all the vegetables, except for the spinach, in a roaster pan and drizzle 2 tbsp of the canola oil over the veggies. Sprinkle 1 tbsp of the salt free seasoning, and Italian seasoning on the veggies, then toss.

Roast the vegetables on 400 for 10 minutes.

Meanwhile place 2 tbsp of canola oil in a pan, place over medium heat.

Season the chicken with 2 tsp of salt free seasonings, then pan fry the chicken. Once the chicken is done, thinly slice it.

In a large pot add 4 tbsp of butter, and place over medium heat. Once the butter melts and starts to bubble, sprinkle in the all purpose flour and stir.

Pour in the heavy cream and whisk until the mixture is lump free.

Add in the shredded gouda into the pot, and stir. Reduce the heat down to low.

Cook the spinach in a pan, along with 1 tsp of canola over medium heat for 2 minutes.

Combine all of the vegetables in one bowl.

At the bottom of a bake dish, add some of the vegetables, and chicken. Pour some of the cheese sauce on top, then add a layer of the lasagne pasta.

Next add more vegetables, chicken, and cheese sauce, then add some of the Italian cheese blend, then pasta. Repeat twice.

On top of the last layer of pasta, add the remaining of the cheese sauce, then Italian cheese.

Cover the dish, then bake on 375 F for 35 minutes.

Remove the cover from the pasta, and let bake for another 10-15 minutes.

Let the lasagne sit for 10 minutes before serving.

ENJOY!
Video