This creamy seafood lasagna recipe is made with a from-scratch white garlic sauce and loaded with lobster, crab meat, and shrimp. It's a seafood lover's dream!
I know how much my readers LOVE seafood, but a lot of you also love lasagna. So, I decided to combine a classic lasagna dish with an amazing seafood recipe to create this to-die-for seafood lasagna recipe! This creamy seafood lasagna is loaded with your favorites—shrimp, crab, and a ton of lobster meat.
Now, maybe you're thinking… seafood and cream sauce? Seafood and cheese?! Cousins. You're talking to the lady who made seafood baked ziti, crab alfredo, and crawfish mac and cheese, for goodness sake! If there's one thing Cousin Rosie can do, it's make a bomb.com creamy seafood recipe.
What Is Seafood Lasagna with White Sauce?
This fantastic seafood lasagna recipe is the best of two worlds. It's layered like a classic lasagna dish, but you have a creamy mix of seafood and bechamel sauce instead of a meaty red sauce. Everything is seasoned to perfection, the lasagna noodles are cooked perfectly to al dente, and it has a whole lot of cheese. The cream sauce is rich and garlicky, and the seafood mixture is seasoned with the one and only Old Bay Seasoning. If you're a seafood lover, you can't help but fall in love with this white seafood lasagna!
Ingredients for Creamy Seafood Lasagna
You can find my complete list of ingredients and measurements in the recipe card at the end of this post. Here are the simple ingredients you need to make a homemade seafood lasagna.
Seafood: I use a mixture of lobster meat, crab meat, and fresh shrimp.
Green Onion: puts a little bit of a fresh bite in the lasagna.
Seasoning: this dish is packed with flavors from Old Bay (you can use your favorite seafood seasoning), garlic, pepper, and Italian seasoning.
Butter, Heavy Cream, Flour: these three ingredients build the rich white sauce that makes the lasagna oh-so-creamy.
Lasagna Noodles: cooked perfectly to al dente.
Italian Cheese Blend: yes, I use a pre-shredded cheese blend; it's a shortcut! 
Ingredient Variations for Seafood Lasagna
Now, usually, I tell y'all to follow my recipe to a T if you want greatness, but in every great recipe, there's a little wiggle room to do what you love. I know y'all are going to ask me about substitutions, so let me offer you some of my faves.
What other types of seafood can I use in seafood lasagna?
You can use imitation crab meat, canned shrimp or frozen shrimp instead of fresh, crawfish, scallops, or salmon! It may sound weird, but clam juice really boosts the seafood flavor if you're into that. You can use all fresh seafood or stick with frozen—just make sure everything is well-thawed before you layer it into the lasagna. Can't find one of the ingredients I used? Leave it out or swap it out!
Can I use no-boil lasagna sheets in seafood lasagna?
Yes, you most certainly can! Oven-ready lasagna noodles are a godsend if you're short on time. No boiling is needed; just layer them into the lasagna like normal, bake, and they come out perfect.
If you want to omit the lasagna noodles altogether… well, now that's straight up a different recipe. However, you can transform this into seafood pasta by using rotini or penne pasta. Going low-carb? Try layering zucchini noodles instead!
I don't want to make a homemade bechamel sauce; what else can I use?
If you're going for semi-homemade or don't have time to stir together a rich cream sauce, sub it with your favorite jarred alfredo sauce. This recipe doesn't call for ricotta cheese, but if you want to go the more traditional lasagna route, you can use a ricotta mixture for the creamy layers.
Cousin Rosie… there are no vegetables in this seafood lasagna! What vegetables can I add?
I gotchu Cousins! Peas, diced carrots, mushrooms, or onions all go great with seafood. Of course, you can't go wrong with fresh spinach and cream sauce.
I don't want to use pre-shredded cheese; what's the best cheese blend in seafood lasagna?
The Italian blend I use has Parmesan cheese, mozzarella cheese, Provolone, Fontina, Romano, and fresh asiago. If you want to go with freshly shredded cheese, I'd recommend a simpler blend of Parmesan, mozzarella, and provolone.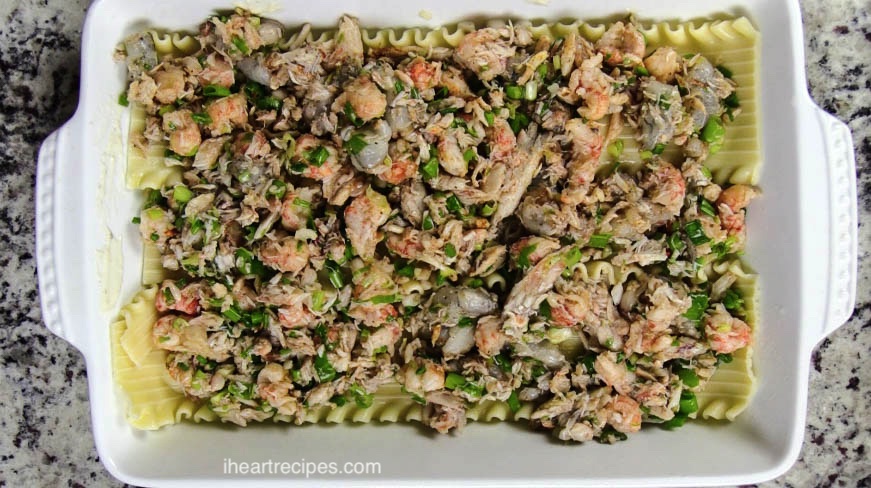 How to Make Seafood Lasagna (+ Video Tutorial)
Alright, now let's get into the nitty-gritty: how to make this easy seafood lasagna! Traditional lasagna is a labor of love—not this recipe! If you want to watch how I make it, I've got a special treat for you…
I teamed up with my friend and fellow YouTuber Daym Drops to make this recipe video tutorial for you! My guy narrates the video, and man, is he funny! You can't help but laugh! Don't forget to subscribe to I Heart Recipes on YouTube, and send some love to Daym Drops while you're at it!
The Seafood Mixture
The first step is the flavorful seafood mixture. Mix everything in a large bowl—the green onions, lobster, crab, and shrimp—and season it with your favorite seafood seasoning. You can't go wrong with classic Old Bay seasoning, but I also have my very own Rosamae Seasonings Seafood Magic seasoning that is outta-this-world delicious.
The Cream Sauce
Next, grab a large skillet to make the from-scratch béchamel sauce. What the heck is a béchamel sauce anyway? Creamy, rich GOODNESS. Melt butter in a large saucepan or skillet, then whisk in your all-purpose flour. The skillet should be over medium heat so the flour doesn't burn. Once mixed, slowly add the heavy cream, whisking constantly to avoid lumps.
Toss in your seasoning: fresh minced garlic, salt, black pepper, and Italian seasonings. Whisk and cook the sauce until it thickens—it should only take a few minutes! Once it's done, you're ready to layer.
Assemble the Lasagna
Grab your casserole dish and spray it down with non-stick cooking spray. Then, spread a thin layer of sauce in the bottom of the dish. Here is the specific layer order I want you to follow:
First Layer: Sauce, noodles, half of the seafood mixture
Second Layer: Sauce, shredded cheese, noodles, other half of the seafood mixture
Third Layer: Sauce, noodles, shredded cheese, parsley flakes (optional)
So, you should have used 9 lasagna noodles—bottom, middle, and top—between layers of cream sauce and lots of cheese. Imagine how GOOD this will taste when it's hot and bubblin', y'all!
Cover the seafood lasagna with foil and toss that baby in the oven for 1 hour and 25 minutes. If you want that cheesy top layer to get perfectly golden brown, remove the foil for the last 5-10 minutes of cooking time.
This amazing seafood lasagna recipe is perfect for special occasions, a dinner party, large family gatherings… you name it!
How to Store Leftover Seafood Lasagna
You can store leftovers in an airtight container for up to 5 days in the fridge. You can make a whole pan of this lasagna and toss it in the freezer, tightly wrapped, and it will store for up to three months. Just make sure to thaw it completely before baking to avoid watery, runny lasagna.
What to Serve with Seafood Lasagna
Need some side dish ideas? Like most Italian recipes, seafood lasagna pairs well with bread—homemade dinner rolls, breadsticks, or garlic bread. I'd also serve a fresh green salad or some roasted veggies.
Before you go, check out some more easy seafood recipes the whole family will love!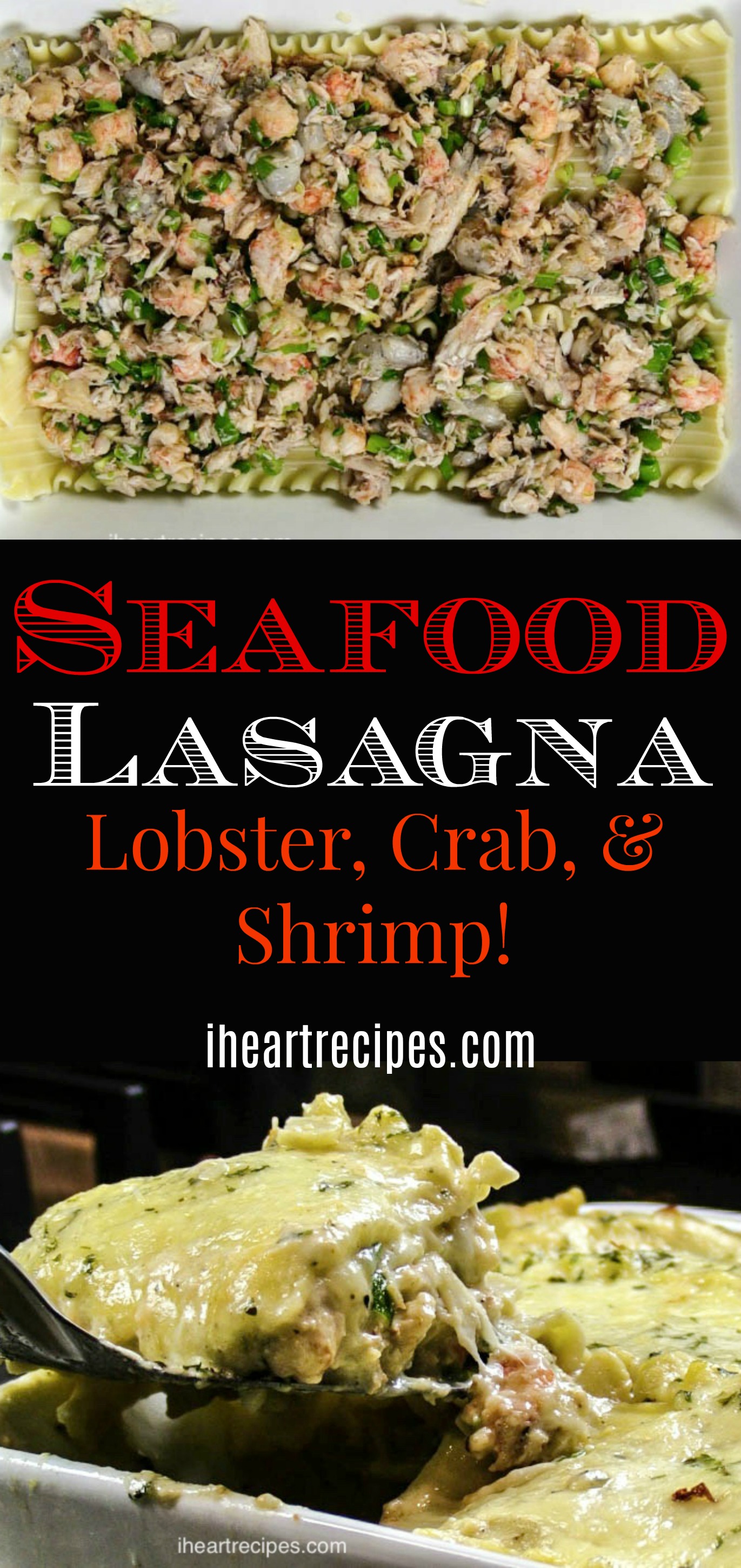 Loved this recipe? Be sure to share and save the recipe on Pinterest! Keep up with Rosie and I Heart Recipes on social media—you can find me on Facebook, Instagram, and Pinterest, and check out my cookbooks!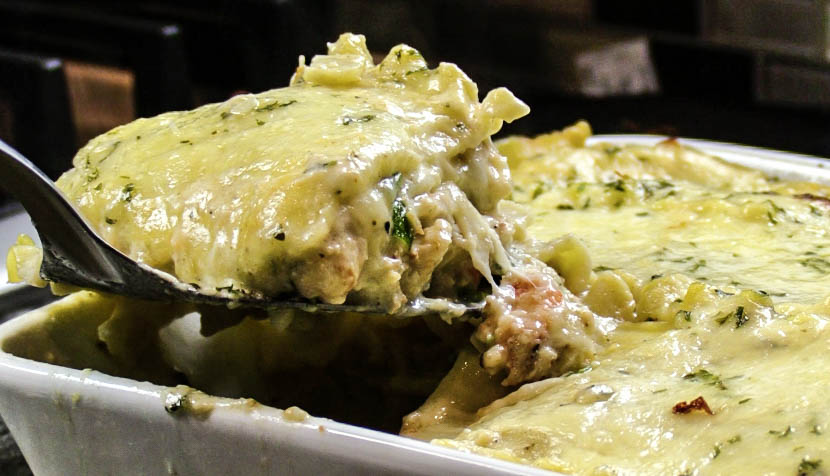 Creamy Seafood Lasagna
This Creamy Seafood Lasagna is a show-stopper! Lobster, crab and shrimp are smothered in a creamy garlic sauce and nestled between layers of pasta. Sinfully delicious!
Watch Video
Print Recipe
Pin Recipe
Ingredients
9

lasagna noodles

cooked until al dente

1

bunch of green onions

diced

1

lb

cooked lobster meat

1

lb

crab meat

1

lb

raw shrimp

diced up

4

tsp

seafood seasoning

4

cups

Sargentos Italian Cheese blend
Instructions
Toss the diced green onions, lobster, crab, and shrimp meat into a large mixing bowl.

1 bunch of green onions,

1 lb cooked lobster meat,

1 lb crab meat,

1 lb raw shrimp

Mix the ingredients until well combined, then sprinkle in the old bay seasoning.

Fold the ingredients then set to the side.

Next, toss the butter into a large sauce pan, and melt over medium heat.

Once the butter is melted, sprinkle in the flour, and whisk until well combined.

Pour in the heavy cream, then whisk until lump free.

Cook the sauce until it thickens, then toss in the garlic.

Next sprinkle in the Italian seasoning, black pepper, and kosher salt.

2 tbsp Italian seasoning,

2 1/2 tsp kosher salt,

1 tsp coarse black pepper

Whisk, and let cook for 2 more minutes.

Turn off the heat, and remove the pan from the burner

Lightly oil a 9X13 bake dish, then begin layering the lasagna.

First Layer: Sauce, 3 noodles, half of the seafood mixture.

Second Layer: Sauce, shredded cheese, 3 noodles, the other half of the seafood mixture.

4 cups Sargentos Italian Cheese blend

Third Layer: Sauce, 3 noodles, shredded cheese, parsley flakes (optional).

Cover the lasagna with foil.

Bake on 350 F for 1 hour and 25 minutes.

Remove the lasagna from the oven, and let sit for about 15 minutes.
Video
If you loved this recipe,
leave me a review below
. This helps future recipe makers and ensures continued high-quality recipes for years to come!
© 2023 I Heart Recipes