A non traditional lasagna recipe made Philly Cheesesteak Style! Loaded with tender steak, peppers, onions, ricotta, over 5 cheeses, AND a creamy homemade sauce!
A Simple Recipe for Philly Cheesesteak Lasagna!
Recently I asked my readers to pick this years recipe. I got a HUGE response. A lot of you asked for casseroles, some asked for Philly cheesesteak recipes, while others asked for more slow cooker recipes. I will try my very best to answer as many request as I possibly can this year ( You can still leave a request here!), but I'm going to combine the casserole & Philly cheesesteak recipe for this post, and share my recipe for homemade Philly Cheesesteak Lasagna!
For this recipe I use Beef Chuck Flank Iron Steak. Depending on where you get the steak, it may cost a tad bit more than other steak, but I ensure you that it is worth it. This steak is super tender, and juicy, unlike other cuts.
All of the cheese used in this lasagna can be found at you local grocery store. I got all of my cheeses from my local Krogers store, from the deli. However, you can find them at other stores as well such as Safeway, Wincos, and etc….
This recipe may seem a tad bit intimidating, however it is quite easy. If anything, it's time consuming, but worth every minute.
Try making this Philly Cheesesteak Lasagna for your next get together, or Sunday dinner!
While you're here, check out some of my other lasagna recipes!
ZUCCHINI LASAGNA ROLL UPS WITH BEEF & RICOTTA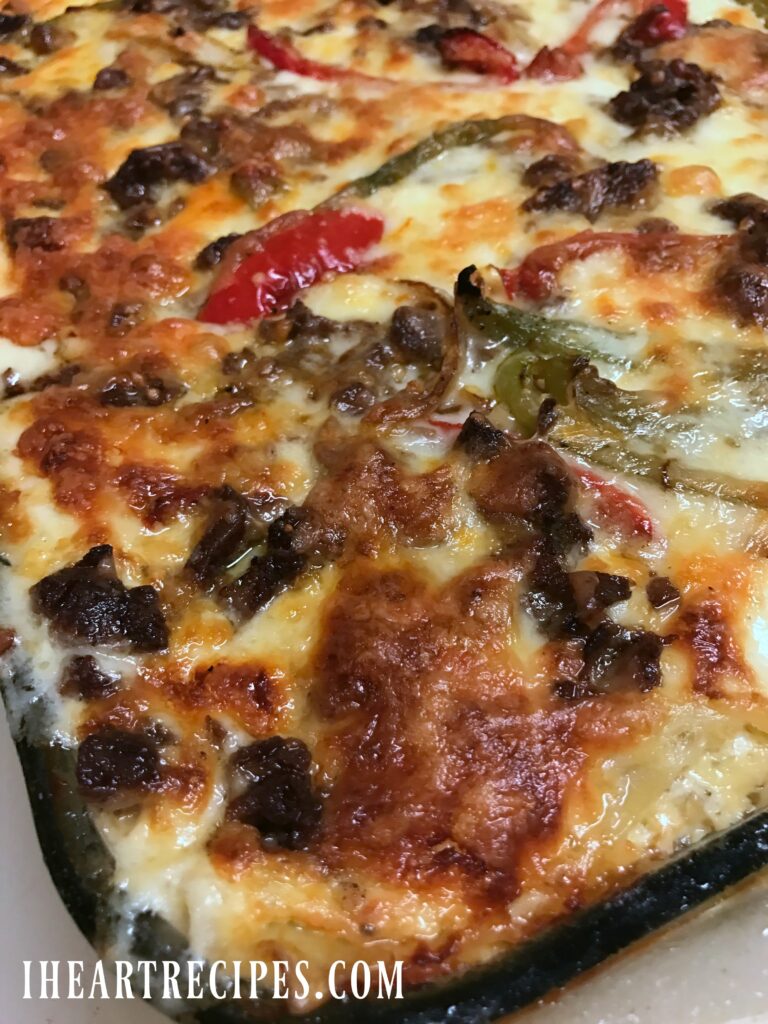 Print the recipe below, and subscribe to my mailing list for more recipes! Follow me on Facebook, Instagram, Pinterest and YouTube!
Watch me make this homemade Philly cheesesteak Lasagna!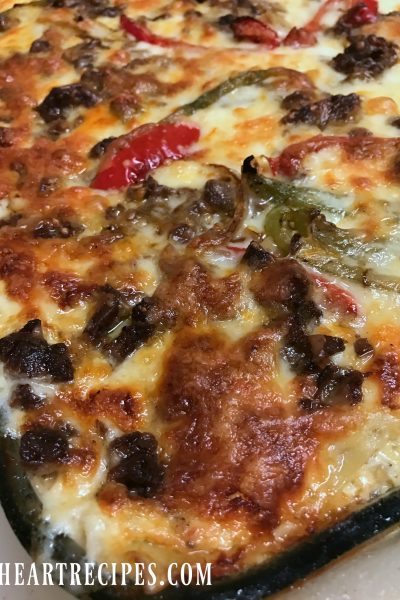 Philly Cheesesteak Lasagna
This Philly Cheesesteak Lasagna is a delicious take on a classic. It contains scrumptious layers of creamy cheese sauce, tender steak, and flavorful veggies. It's a crowd-pleaser!
Watch Video
Print Recipe
Pin Recipe
Ingredients
16

oz

of lasagna pasta

2

lbs

Beef Chuck flank iron steak

thinly sliced

1

large red bell pepper

sliced

1

large green bell pepper

sliced

1

large yellow onion

sliced

1

lb

mozzarella cheese

shredded

1/2

lb

provolone cheese

shredded

1/2

lb

white cheddar cheese

shredded

1/2

lb

Muenster cheese

shredded

1/4

lb

Creamy Harvarti

cubed

16

oz

ricotta

4

tbsp

salted butter

1/3

cup

all purpose flour

1 1/2

cup

whole milk

8

oz

Mascarpone

3

medium sized eggs

2

tsp

Italian herbs

2

tsp

fresh or dehydrated minced garlic

2

tbsp

vegetable oil

salt & pepper for taste
Instructions
Pour 2 tbsp of vegetable oil into a large pot of pan, then heat up over medium high heat.

Once the oil is hot, add in the steak, season with the salt & pepper, then cook for about 5 minutes.

Next, remove the steak from the pan, then add in the peppers & onions. Season with sat & pepper.

Cook until translucent, then remove from the pan.

Combine the steak, onions, and peppers, then toss in the minced garlic. Set to the side.

In medium sized sauce pan, add 4 tbsp of salted butter, and melt down over medium heat.

Sprinkle in 1/3 cup of all purpose flour, then stir and let cook for 2 minutes.

Next pour in the milk, then add the mascarpone cheese.

Stir the ingredients, and now add in the creamy harvarti.

Stir the ingredients, until all sauce is creamy, and everything is melted & creamy.

Reduce the heat to low.

Now cook the pasta until it al dente'.

Combine the ricotta, eggs, 8 oz shredded mozzarella cheese, and Italian herbs.

Mix until well combined.

Combine all of the remaining cheese.

Now it's time to LAYER THE INGREDIENTS!

Preheat the oven to 350 F.

Lightly oil a 9x13 bake dish.

Add in a layer of pasta, then the ricotta mixture, the cheese mixture, the pepper and onions, then the cheese sauce.

Repeat.

The top off with sauce, steak, and cheese.

Leave the lasagna uncovered,

Bake in the oven for 45 minutes.

Let cool for about 10 minutes before digging in.

Serve & enjoy!
Video
If you loved this recipe,
leave me a review below
. This helps future recipe makers and ensures continued high-quality recipes for years to come!
© 2023 I Heart Recipes