Vegetable lasagna with white sauce is a quick and easy dinner. Packed with veggies, cheese, and a store-bought alfredo sauce, this vegetarian lasagna is decadent and delicious.
When you think of vegetarian lasagna, what's the first thing that comes to your mind? I'll tell you what I think of—deliciousness, PURE deliciousness!
When I make vegetarian lasagna, I load it with lots of spinach, mushrooms, cheese, and alfredo sauce. Want to know a secret? I don't make the alfredo sauce from scratch. Instead, I use the store-bought stuff, preferably one with lots of garlic flavor—that's my favorite!
This easy vegetable lasagna recipe is extremely simple to assemble, unlike many other lasagna recipes. There aren't a ton of ingredients that you'll be dealing with, making this vegetable lasagna a breeze to throw together.
Why You'll Love This White Vegetable Lasagna Recipe
Lasagna in ANY form is straight-up comfort food. I've made many lasagna recipes—a turkey lasagna, seafood lasagna, and even a Philly cheesesteak lasagna. Needless to say, I love a good lasagna recipe!
Making lasagna is typically a labor of love, so I love the semi-homemade shortcut I take when making my vegetarian lasagna recipe. If you want a decadent, cheesy lasagna packed with vegetables, this is definitely the recipe for you. You'll love this vegetable lasagna with white sauce because…
It's EASY. Skip the labor-intensive homemade white sauce and use your favorite store-bought alfredo sauce.
It's FAST. In my recipe, I don't spend time sautéing the vegetables or pre-cooking the lasagna noodles. This vegetarian lasagna takes one hour from start to finish.
It's COMFORTING. The creamy alfredo sauce perfectly cooks the vegetables, so they're tender and delicious. Plus, who doesn't love a ton of cheese? It has all the elements of true comfort food.
Ingredients for Vegetarian Lasagna with White Sauce
Now, this recipe IS vegetarian, which just means it contains no meat. But even meat eaters will love this recipe because of the rich and creamy white sauce and tons of cheese! Veggie lasagna is the perfect recipe to make if you need to use up garden vegetables as well.
The following ingredients are what I use and recommend, but keep in mind that you can sub in some of your favorites—especially when it comes to vegetables, cheeses, and brands of alfredo sauce.
Here's what you need to make a veggie lasagna with white sauce:
Vegetables: I use spinach, mushrooms, and onions in my vegetable lasagna. I know some people don't like mushrooms, so feel free to leave them out. Other popular vegetables for veggie lasagna include green or yellow squash, eggplant, zucchini, carrots, or broccoli.
Cheese: I use ricotta cheese, shredded mozzarella, and grated parmesan cheese. The ricotta adds that signature lasagna creaminess. The mozzarella and parmesan are the perfect white cheeses for this dish (but an Italian blend of shredded cheese would also work)!
Alfredo Sauce: store-bought alfredo sauce is my secret to a quick and easy vegetable lasagna. I am not married to a brand, so buy whatever you prefer. An alfredo with roasted garlic is my favorite kind!
Lasagna Noodles: I use no-boil lasagna noodles in this recipe. It cuts down on the cooking time, and I don't have to worry about pre-cooking the noodles.
Butter & Herbs: Butter, oregano, and basil are my go-to flavor-makers for my veggie lasagna. Sauté the vegetables in butter and season with the herbs. You should also add salt and pepper to taste.
Jarred alfredo sauce can be bland—how do I spruce it up for extra flavor?
I get it if you're not the biggest fan of jarred alfredo sauce. But sometimes, making a homemade white sauce isn't in the cards for me, so we gotta go the jarred route! You can spruce up jarred alfredo sauce in a few easy ways:
Add seasonings like salt, white or black pepper, minced garlic, Italian seasoning, onion powder, garlic powder, or dried herbs.
Add cheese like extra parmesan cheese (grated cheese mixes well into a sauce) or asiago cheese. Even cheddar cheese or gouda cheese will knock it up a notch.
Melt butter and sauté some garlic, then mix it into the alfredo sauce. This combination will add a rich creaminess with an extra kick of garlic.
Spice it up with cayenne pepper, a drizzle of hot sauce, or crushed red pepper flakes. Start with a little—1/2 teaspoon at a time—so you don't accidentally go overboard.
Add a flavorful liquid like chicken broth (or vegetable broth, if you're keeping it vegetarian), white wine, or heavy cream. Again, add small amounts and simmer the sauce over medium-high heat to infuse all the yummy flavors.
How to Make Vegetable Lasagna with White Sauce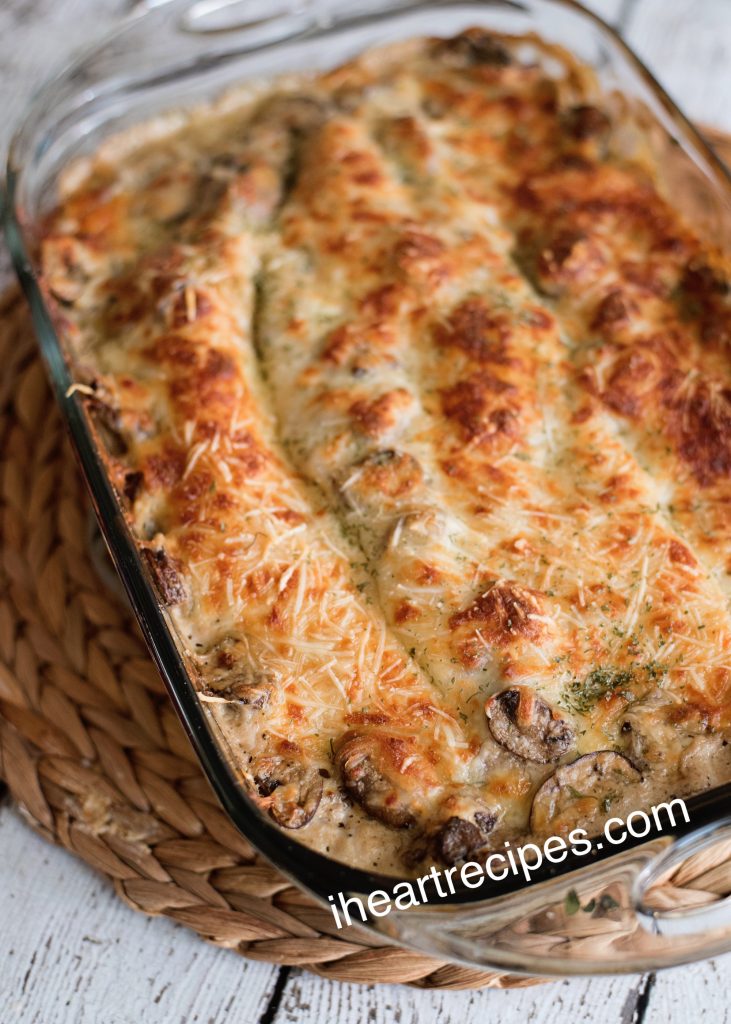 Now it's time to jump into how to make the best vegetable lasagna recipe. For best results, I always recommend following the written recipe and instructions.
Step 1: Prepare the Alfredo Sauce
I gave y'all a few notes on how to spruce up the jarred alfredo sauce above. So here's what I do! First, I sauté some onions and mushrooms in butter for a few minutes until they're soft and flavorful. Next, I pour my alfredo sauce into the pot. Add oregano and basil, and let it simmer over medium heat for a few minutes.
Step 2: Start Layering the Vegetable Lasagna
I start by spreading a layer of white sauce on the bottom of my baking dish—about one cup. Then add a layer of 3 noodles. Next, add a layer of spinach, ricotta, and the shredded cheese mixture.
Feel free to use either frozen or fresh spinach. I use frozen spinach and allow it to thaw completely. You can also blot it off with a paper towel to get rid of the excess water.
Mix the ricotta cheese and spinach together in a separate bowl to make the layering process even easier. You can also mix your cheeses.
Repeat the layering process—sauce, noodles, spinach, and ricotta, then cheese. The top layer should be a final layer of white sauce, three noodles, and the rest of the shredded cheese mixture.
Step 3: Bake the Lasagna
You're going to bake the vegetable lasagna uncovered for 40-45 minutes at 350 degrees. You do not need to cover the lasagna; we want the top to get all nice and gooey-melty. Switch to broil for the last 2-3 minutes so the cheesy top layer browns a little bit.
Finally, allow the lasagna to cool before serving, so all the layers set, and you're done! A perfectly creamy, cheesy vegetarian lasagna with white sauce on the table in an hour. FAQs and Tips for the Best Vegetable Lasagna Recipe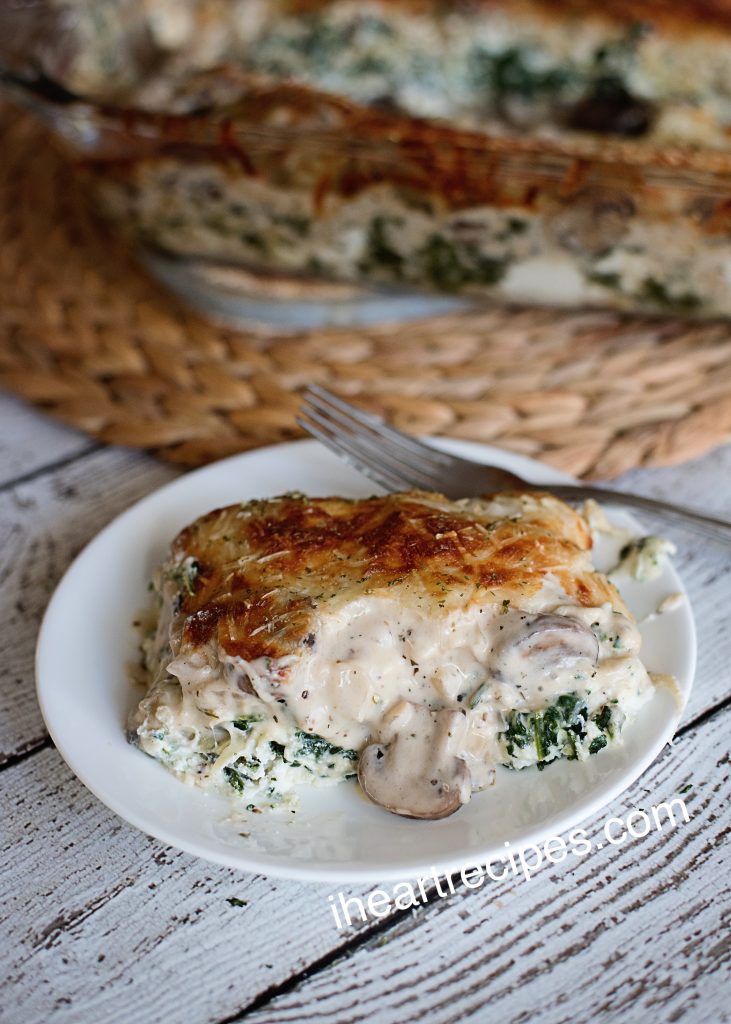 Got questions? I got answers! Here are some pro tips from yours truly so you can make the best possible vegetable lasagna!
Can I use cottage cheese instead of ricotta cheese for this vegetable lasagna recipe?
Yes, your vegetable lasagna will turn out perfectly fine if you use cottage cheese. Cottage cheese may make your lasagna a little bit lighter, whereas ricotta adds rich creaminess, which is why I prefer it over cottage cheese. You do you, boo boo!
How many layers should a white sauce lasagna have?
As you see from my instructions, my vegetable lasagna has three layers of noodles and filling. However, if your baking dish is large enough, you can add an additional layer for a total of four layers. Anything more than four layers of lasagna will feel heavy, and the no-boil noodles might not cook all the way through.
Can I make vegetable lasagna with white sauce ahead of time?
Yes, you can make this lasagna ahead of time! Simply assemble, cover the dish, and refrigerate until you're ready to bake. However, I would NOT recommend freezing it! Cream-based lasagnas and casseroles don't hold up so well in the freezer. Avoid mushy and grainy lasagna by making it the day of or just a day or two in advance and keeping it in the fridge. (The same tip goes for leftovers—store leftovers in an airtight container in the refrigerator for up to 3 days.)
Vegetable Lasagna with White Sauce Recipe Card + More Delicious Recipes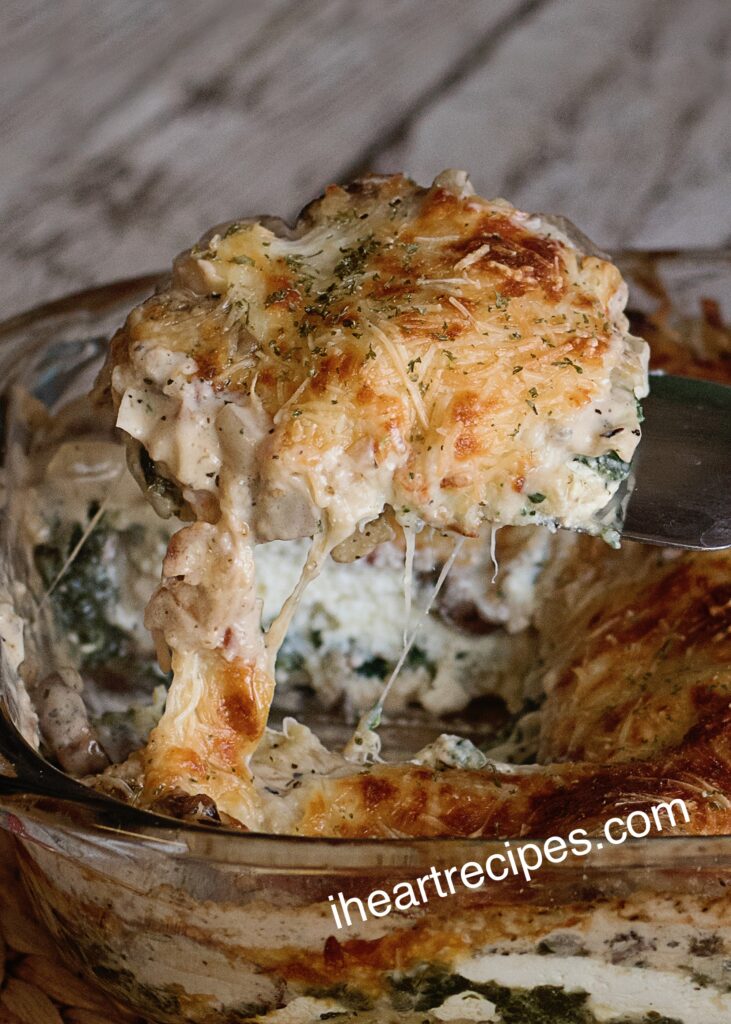 Are y'all ready to get cookin'?! I hope you all enjoy this easy vegetable lasagna recipe! It's one of my favorites because it's unique but a total crowd-pleaser. It's the perfect special dish for the holiday season, yet it's simple enough to make on a weeknight.
If you loved this recipe, here are some others I recommend you try!
If you've tried my vegetarian lasagna recipe, let me know in the comments! You can print this recipe using the recipe card below. Don't forget to subscribe to my mailing list, and follow me on Facebook, Instagram, Pinterest, and YouTube for more recipes!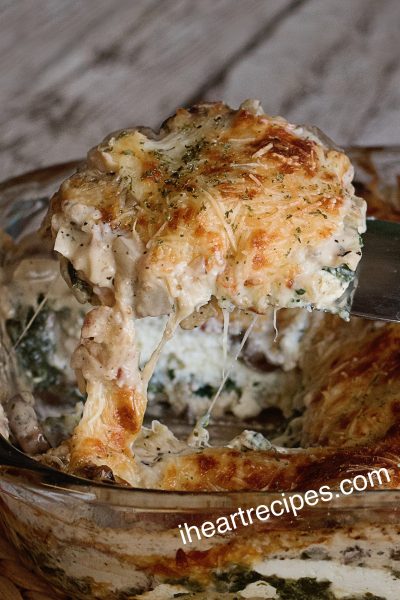 Vegetable Lasagna with White Sauce
This creamy vegetable lasagna is packed with veggies and cheese. Try this simple recipe for a flavorful family dinner.
Print Recipe
Pin Recipe
Instructions
Preheat oven to 350 degrees.

In a large pan, melt down the butter. Next add in the onions & mushrooms, and cook for about 3 minutes.

Now pour in the alfredo sauce sauce.

Sprinkle in the oregano, and the basil into the skillet, and cook for a few more minutes.

In a 9X13 pan, spread 1 cup of the sauce onto the bottom.

Top the sauce with 3 noodles.

Now add 1/2 of the spinach, and spread ½ of the ricotta cheese onto the first layer of noodles, followed by 1 cup of the mozzarella cheese and ¼ cup of parmesan cheese.

Add 3 more noodles and repeat with the ricotta, mozzarella and Parmesan cheese. Top with the remaining 3 noodles, the remainder of the mushroom sauce and the remainder of the mozzarella/parmesan cheese.

Top with the remaining 3 noodles, then add the sauce and the last bit of cheese.

Bake in the oven , uncovered for 40-45 minutes.

Switch to broil, and let cook for another 2-3 minutes to brown the cheese.

Cool for 15 minutes before cutting.

Serve & enjoy!
If you loved this recipe,
leave me a review below
. This helps future recipe makers and ensures continued high-quality recipes for years to come!
© 2023 I Heart Recipes
Loved my Vegetable Lasagna recipe? Try these recipes as well!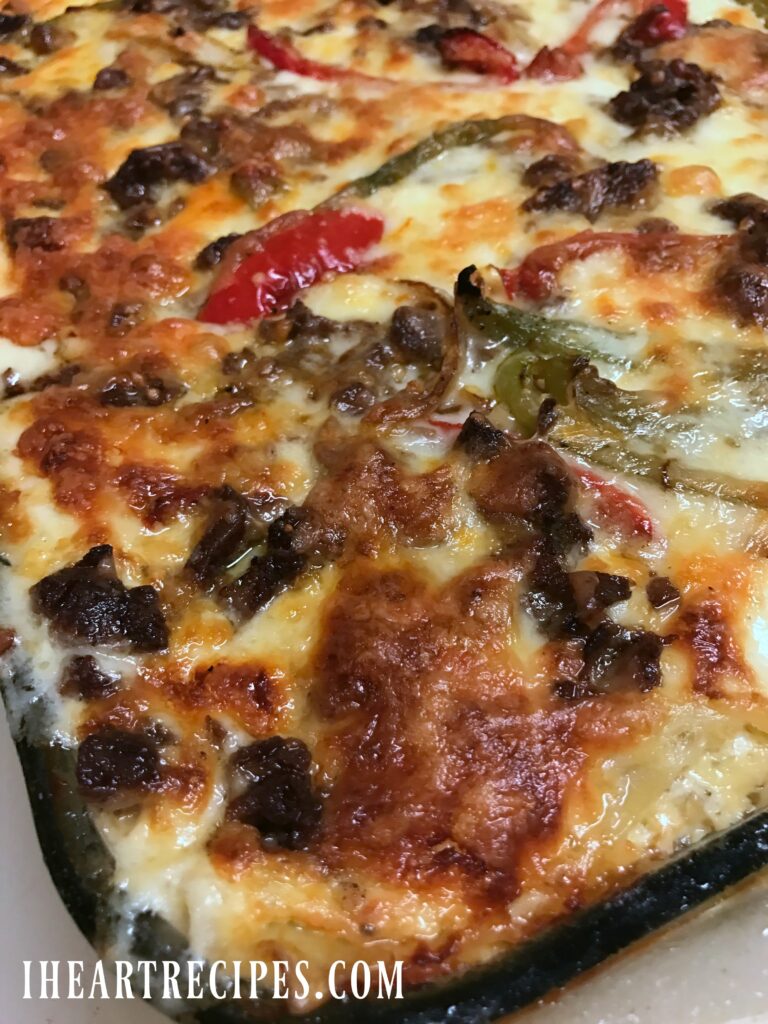 ---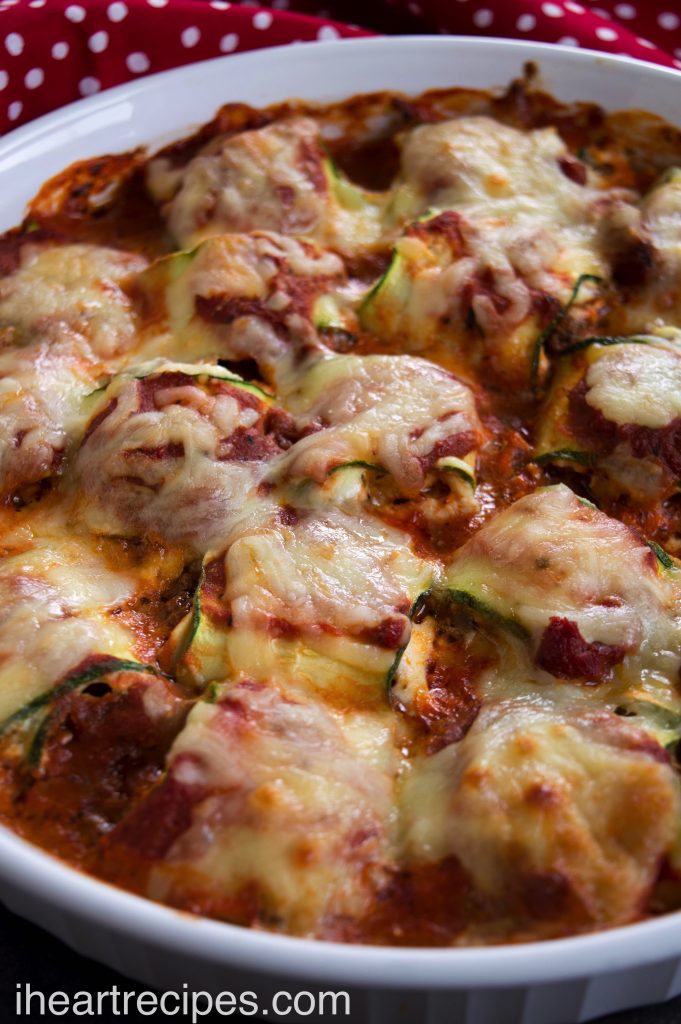 ---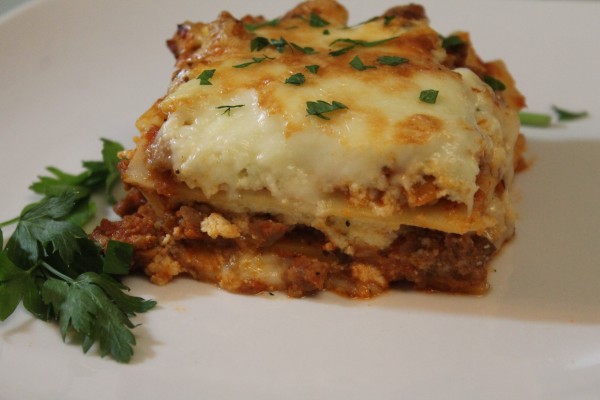 ---