Try this ground turkey taco lasagna seasoned to perfection, packed with cheesy goodness, and topped with all your favorite taco toppings.
Hey Cousins! Are you ready for a super easy weeknight dinner?! I'm currently having a lasagna moment! I love all things lasagna right now. If you remember correctly, I just made a seafood lasagna a few weeks ago, and I'm sure no one could forget about my Philly Cheesesteak lasagna, right? Well, guess what? I'm back with another winner, and this time it's a ground turkey recipe!
That's right y'all, I made the most delicious ground turkey taco lasagna recently, and my family went crazy. They LOVED IT! Taco Tuesday is made even easier with this taco lasagna recipe. Forget traditional lasagna. This recipe takes the best parts of tacos – savory seasoned meat, your favorite taco toppings, and tons of cheese – and combines them with layered pasta noodles for an easy, delicious Mexican-inspired taco casserole. I've gotten so many requests that I decided to share the recipe with you! So, time to get comfortable and check out how I make this fantastic taco lasagna!
Ground Turkey vs. Ground Beef: Which is Better?
First things first–I made this recipe with ground turkey. If you're a die-hard ground beef fan, go ahead and use it! But seriously, the ground turkey is terrific in this recipe. Health-wise, ground beef and ground turkey are about the same. Ground turkey tends to have less flavor than ground beef, so I punch it up with a nice amount of vegetable oil, which also keeps it from getting dry (because we all know ground turkey can get dry).
For this taco lasagna recipe, you cook the ground turkey the same way as the ground beef. Use taco seasoning to season it up to par and add any extras. Now let's get into the ingredients you need to make this delicious Mexican-inspired recipe.
Ingredients for Turkey Taco Lasagna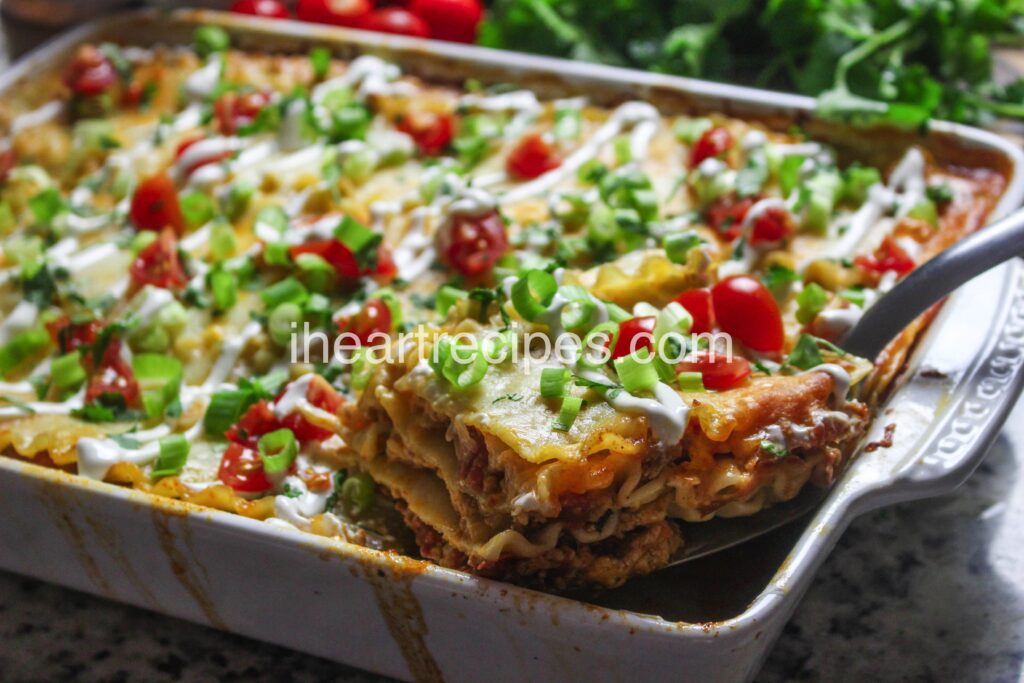 Alright friends, now there are plenty of ways to make a tasty taco lasagna. The best part about this recipe is that you can customize it entirely to your tastes! Here's what you need to make taco lasagna:
Taco Meat: As the recipe title implies, I use ground turkey. If you're not a fan of ground turkey, sub in ground beef; you could even use ground or shredded chicken. The key is your seasoning – use your favorite taco seasoning! I have a delicious homemade taco seasoning recipe, or you can use your favorite store-bought brand.
Lasagna Noodles: Now, many taco lasagna recipes use corn or flour tortillas instead of lasagna noodles, but I ain't about that. I use traditional lasagna noodles. Barilla has oven-ready lasagna noodles, which cuts down on cooking time, or you can use regular ol' dried lasagna noodles.
Vegetables: Here's where you can get creative! I add onions, garlic, and canned tomatoes to my ground turkey taco meat, which adds flavor and moisture (so the turkey doesn't dry out). I top my taco lasagna with green onions and grape tomatoes. You could also use Rotel tomatoes and chilies if you want your taco meat to have a bit of a kick.
Cheese: Arguably, the most essential part of taco lasagna is the cheese. And cousins, rest assured, I use plenty of it! My go-to is Sargento 6-cheese Italian blend, along with some shredded sharp cheddar. But, of course, you can use any cheese you like. The best cheese for a Mexican casserole like this would be cheddar, cheddar jack, or a Mexican blend.
Additional Taco Lasagna Ingredient Options
What else can you add to taco lasagna? Well, Cousins, what else do y'all like on your tacos? That, my friends, is the answer! Here are some popular extra ingredients to spice up this recipe:
Black beans, pinto beans, or refried beans between the lasagna layers
Red, yellow, or green peppers add a crunch and a bit of color
Black olives, lettuce, pico de gallo, or guacamole as toppings
Your favorite taco sauce or hot sauce
Let me know down below in the comments what YOU would add to your taco lasagna recipe.
How to Make Taco Lasagna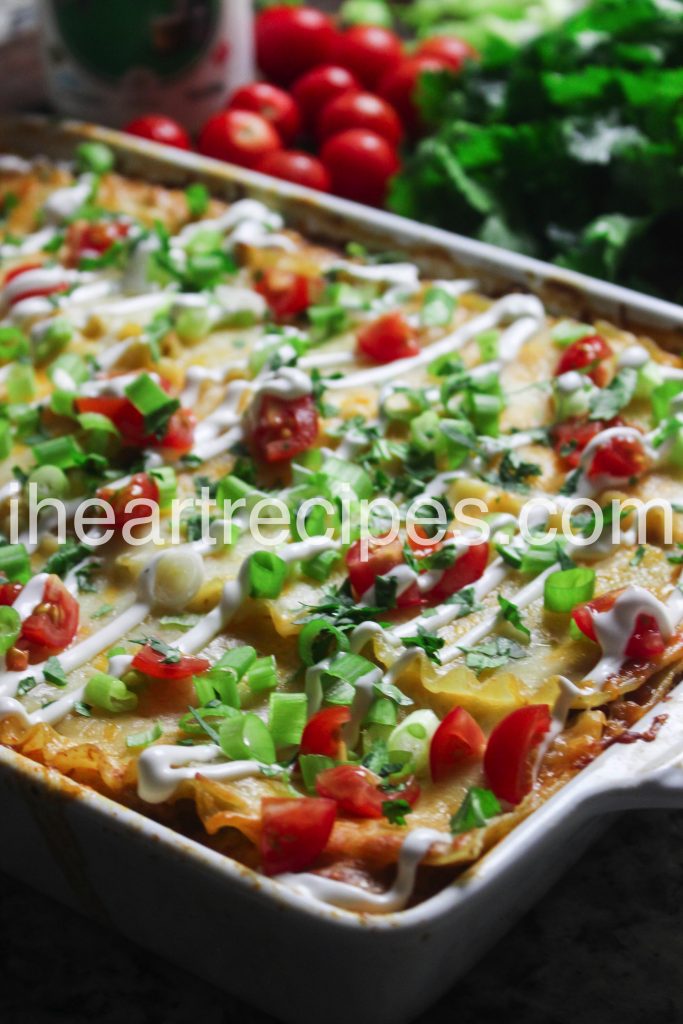 Making this taco lasagna could not be easier. Start by cooking the ground turkey in a large skillet over medium-high heat. I always add a bit of vegetable or olive oil to help keep the turkey moist. Once the turkey is cooked through, add your taco seasoning. Then add in onions, canned tomatoes (if you like it spicy, you can add Rotel instead!), garlic, and yummy cilantro. Let your taco meat simmer over medium heat for about ten minutes. Now we're ready to assemble.
Next, you need a large baking dish or casserole dish. Start with a layer of your taco meat at the bottom, then lasagna noodles, another layer of meat, then a nice layer of cheese. Repeat these layers until the baking dish is full. You'll want the very top layer to be lasagna noodles and the rest of your shredded cheese.
Cover the taco lasagna with aluminum foil and bake it at 350 degrees for 30 to 40 minutes. Once done, let it sit for a few minutes before you add your toppings. For toppings, I used green onions, grape tomatoes, and Mexican crema (or sour cream) – simple, tasty, and perfect for taco night!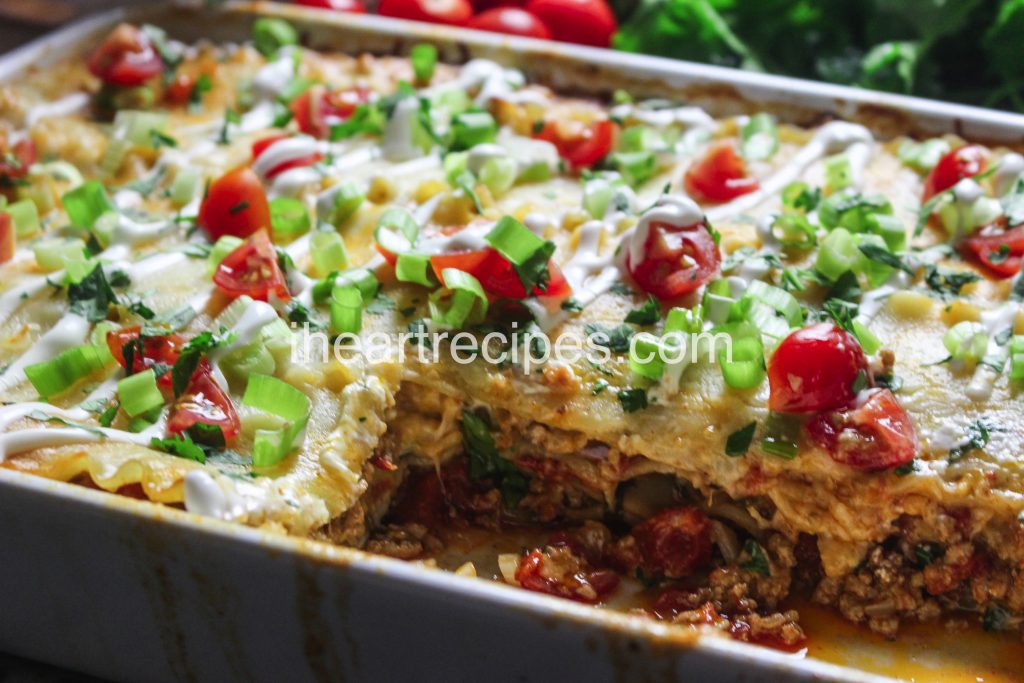 Can you make taco lasagna ahead of time?
Yes! Just like traditional lasagna, you can make this ground turkey taco lasagna ahead of time if necessary. If you don't intend on freezing your taco lasagna, only make it two days ahead of time, maximum, for best results.
Can you freeze taco lasagna?
Again – yes, you can! A frozen pan of taco lasagna should keep in the freezer for up to two months. I recommend assembling your lasagna in a foil pan and wrapping it with plastic wrap and aluminum foil to keep it safe from freezer burn.
How to reheat Mexican lasagna?
You can reheat this taco lasagna casserole in the oven or microwave. To reheat in the oven, bake at 350 degrees for 30 minutes, until hot and bubbly. Add a fresh layer of shredded cheese before baking. To reheat in the microwave, reheat individual portions on a microwave-safe plate for about 90 seconds or until heated through.
Ground Turkey Taco Lasagna Recipe Card + Video Tutorial
Are you ready to learn how to make this super easy Mexican-inspired dish that's perfect for a jazzed-up taco night? Below, you'll find a recipe card with exact measurements and step-by-step instructions to make this delicious taco lasagna. Don't forget to subscribe to I Heart Recipes on YouTube to see my recipe videos, cooking tips, and more! You can also follow me on Facebook, Instagram, and Pinterest to keep up with all things Rosie and I Heart Recipes!
Are you looking for more lasagna recipes? I've got plenty for you to try!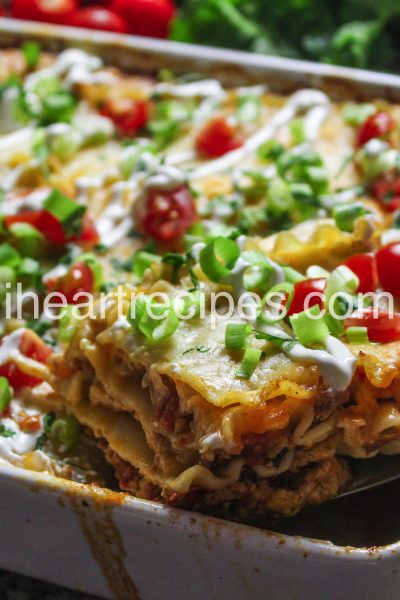 Taco Lasagna
Upgrade Taco Tuesday with this super easy weeknight-friendly Taco Lasagna recipe! Made with ground turkey, a homemade taco seasoning, and your favorite taco toppings, this Mexican-inspired casserole combines traditional lasagna and yummy tacos for a fun taco night recipe.
Watch Video
Print Recipe
Pin Recipe
Instructions
Place the ground turkey into a large skillet and drizzle in the vegetable oil.

Turn the heat to medium and cook the ground turkey until browned.

Next, sprinkle in the taco seasoning and make sure that it's throughout the ground turkey.

Now add in the chopped cilantro, green onions, red onions, and garlic.

Make sure everything is well combined, then add in the diced tomatoes (or Rotel).

Reduce the heat from medium to low and let simmer for about 10 minutes.

Combine the cheese in a medium-sized bowl, then set to the side

Grab a 9×13 bake or casserole dish and spray it with nonstick spray.

Add a layer of meat sauce to the bottom of the bake dish, then top off with 3 lasagna noodles. Next, add another layer of the meat sauce, then top with some cheese.

Repeat layers, then add the remaining noodles and top with cheese.

Cover the lasagna with foil and bake on 350 F for 30 minutes.

Remove the lasagna from the oven and uncover. Bake for another 15 minutes uncovered.

Remove the taco lasagna from the oven and garnish with the toppings.

Let sit for 10 minutes before serving.
Video
If you loved this recipe,
leave me a review below
. This helps future recipe makers and ensures continued high-quality recipes for years to come!
© 2023 I Heart Recipes