Spiralized zucchini and crab meat, covered in a creamy Alfredo sauce and topped with melted mozzarella. Cousin, this food looks like it will be a memorable meal. It brings both ease and sophistication to your plate.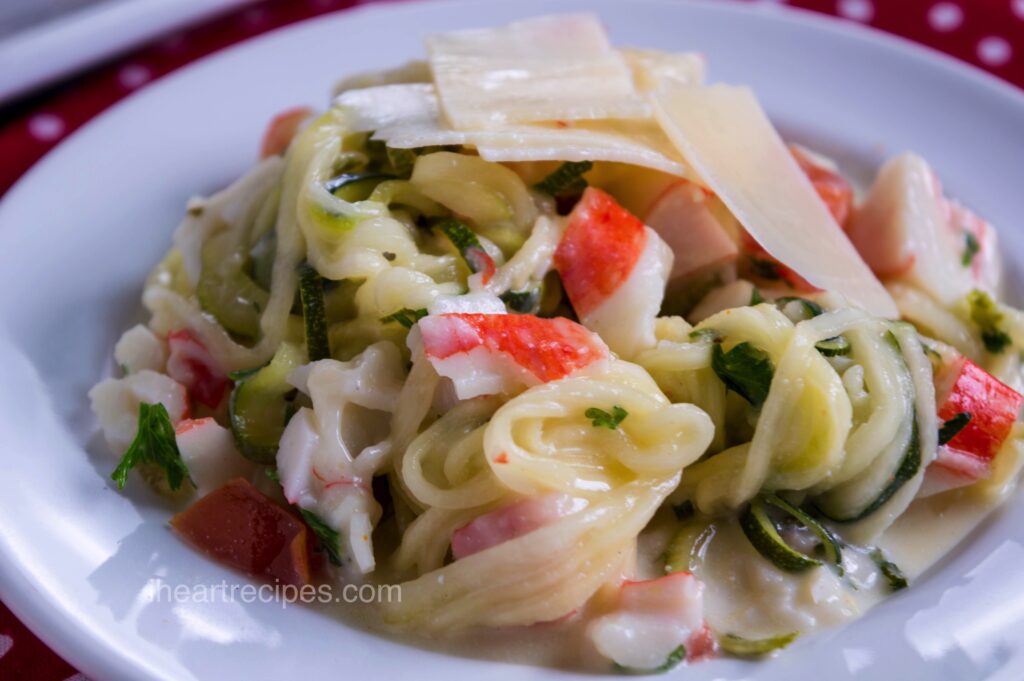 Delicious Zucchini and Crab Alfredo Casserole
On days when you need something rich, warm and comfortable to soothe your soul, I give you the Zucchini and Crab Alfredo Casserole. Cousin, I promise you that you will want to save this page.
For a moment, picture soft threads of spiralized zucchini twirling around delicious crab, all covered in a rich Alfredo sauce. Every bite takes you to a town by the sea in Italy, where the flavors dance on your tongue and every meal is a party. It's more than just food; it's an event and a tribute to the art of eating.
Zucchini's earthy freshness and crab's richness work together to make a symphony of tastes and textures that will make your taste buds sing. So what about that crown of melted mozzarella? It's the star of the show; it adds a gooey, golden touch that turns the dish from delicious to divine.
So, dear Cousin, remember this recipe for those days when the world seems too much and you want to feel like a foodie in your own home. It's not just food; it's like a warm hug on a plate, ready to ease and fill you up. Let's start this trip through food together. I promise it will be an adventure you will never forget.
Are you ready? Let's get right to the good stuff!
Shopping List
Zucchini (Get the big, vibrant ones! Size does matter here.)
Imitation or real crab (Whichever your heart desires. Go real if you're feeling fancy.)
Your go-to store-bought Alfredo sauce
Mozzarella cheese (A little extra won't hurt, you cheese fiend!)
Fresh parsley
Good old table salt
Freshly ground black pepper
RosaMae Seasonings Seafood Magic (Or any seafood seasoning you swear by.)
---
How to Make Zucchini and Crab Alfredo Casserole
Preparation: Preheat your oven to 375°F. Create a little ambiance – maybe play some light jazz. Cooking should be an event, Cousin!
Zucchini Time: Once you've spiralized that gorgeous zucchini, squeeze out any sneaky excess liquid with a cheesecloth. It's like giving your zucchini a gentle hug.
Mix: Dive into a large bowl and combine all your ingredients. Remember, reserve 1 cup of the mozzarella cheese for later.
Layer It Up: Pour that luscious mixture into a large oven pan. Feel free to give it a little shake to even it out.
Cheese, Please: Sprinkle the reserved mozzarella generously over the top.
Bake: Bake it uncovered for about 25 minutes, aiming for a tantalizing golden brown finish on the cheese.
Serve and Revel: Cool slightly and serve with your favorite sides.
Tips & Tricks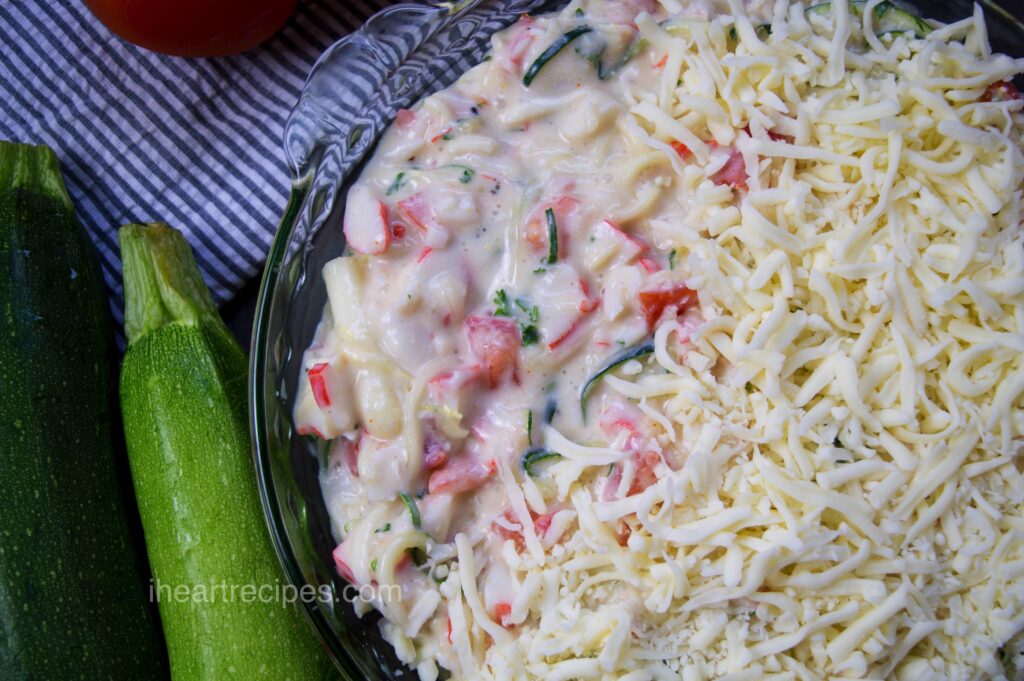 Zucchini: Opt for medium to large-sized zucchinis. The larger ones have a better texture when baked.
Crab: If using real crab, ensure all the shells are removed.
Seasoning: Adjust the seasoning based on your preference. The RosaMae Seafood Magic is a recommendation.
Love zucchini? Check out these recipes as well!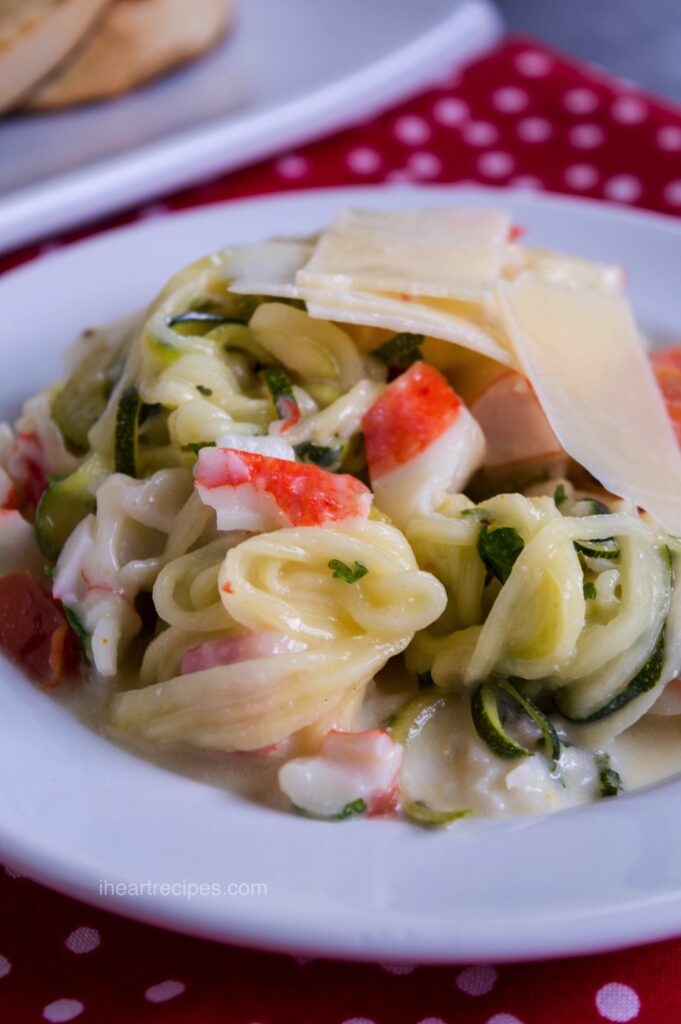 Don't forget to tag and follow me on Facebook, Instagram, and Pinterest, subscribe to I Heart Recipes on YouTube, and check out all my cookbooks with many recipes you can't find anywhere else.
Print this recipe, and save it for later!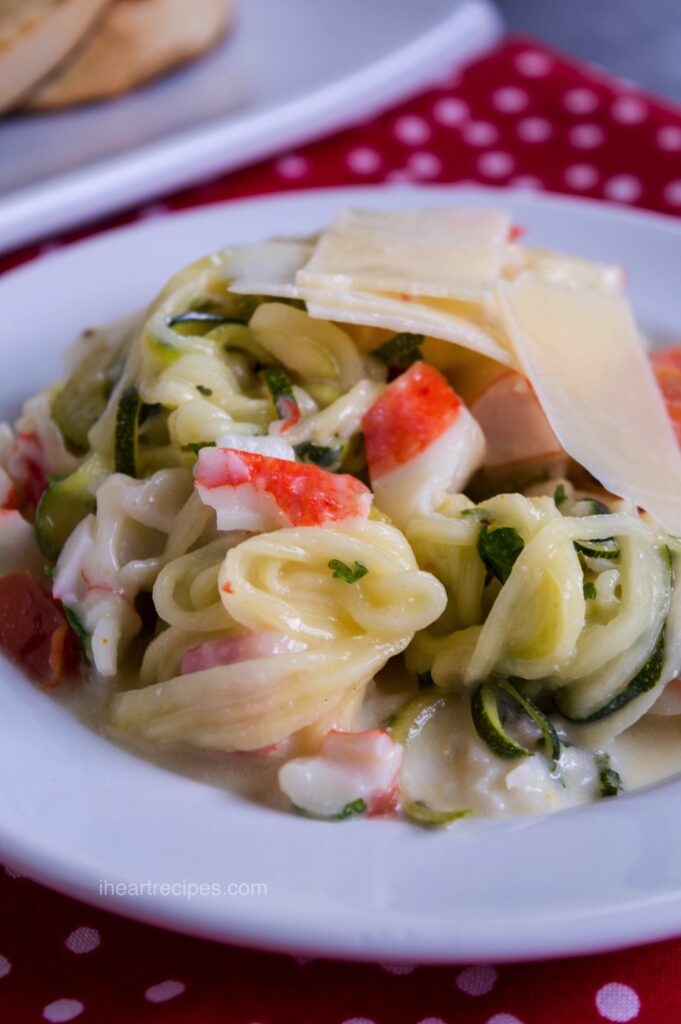 Zucchini and Crab Alfredo Casserole
Tender crab and spiralized zucchini are covered in a creamy Alfredo sauce and topped with gooey melted cheese. Cousin, this simple yet fancy meal will be one to remember.
Print Recipe
Pin Recipe
Ingredients
1

large zucchini

spiralized

12

ounces

imitation or real crab

chopped

1

cup

favorite store bought alfredo sauce

1 ⅓

cup

mozzarella cheese

2

tablespoons

chopped parsley

1

teaspoon

salt

½

teaspoon

black pepper

1

teaspoon

seafood seasoning

I use RosaMae Seasonings Seafood Magic
Instructions
Preheat the oven to 375 F.

Squeeze any excess liquid from the zucchini out, using a cheesecloth.

In a large bowl, mix all the ingredients together, except for 1 cup of mozzarella cheese.

Pour the mixture into a large oven pan.

Top it off with the remaining mozzarella cheese.

Bake, uncovered, for 25 minutes or until the cheese is golden brown.

Serve, and enjoy with your favorite sides.
If you loved this recipe,
leave me a review below
. This helps future recipe makers and ensures continued high-quality recipes for years to come!
© 2023 I Heart Recipes