A Delicious Recipe for Homemade Seafood Alfredo!
Here is my version of Seafood Alfredo. I recently went to the Olive Garden and paid $15 for a plate of Seafood Alfredo. The Seafood Alfredo that I had bought had very little seafood and very little Alfredo sauce (I actually had to ask for more sauce). Although the Olive Garden had amazing customer service, and the pasta was quite good, I just don't see myself buying this dish for THAT price again.
So I recreated the Seafood Alfredo dinner at home!
Recreating the restaurant experience at home was quite easy. I used a jarred Alfredo sauce and dressed it up with Italian cheese and garlic. Instead of using fettuccine pasta, I used spaghetti, but you can use whatever pasta you'd like! I used the same seafood that the restaurant used, which was shrimp and scallops.
I actually made a huge pot of Seafood Alfredo for less than $15! I also served the pasta with breadsticks and a fresh salad. Look at the comparison photo below. The Olive Garden Seafood Alfredo is on top, and my version is at the bottom!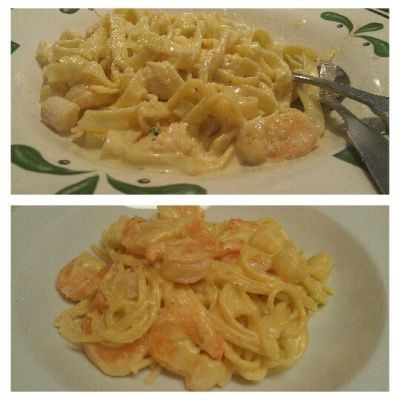 My Alfredo sauce has more cheese in it; therefore, my sauce was a tad thicker. If you want a thinner sauce, be sure to not add cheese to the sauce.
[mpprecipe-recipe:161]
Let me know how you enjoyed this recipe. Tag me on Facebook, Instagram, and Pinterest, subscribe to I Heart Recipes on YouTube, and check out my brand new cookbook, Super Soul Food with Cousin Rosie, loaded with many recipes you can't find anywhere else.
If you enjoyed my homemade version of Seafood Alfredo, check out these other better-than-takeout recipes!
Better than Applebees Chicken Wonton Tacos
Homemade Pizza : No more Takeout!
Better Than Red Lobster's Shrimp Scampi Recipe