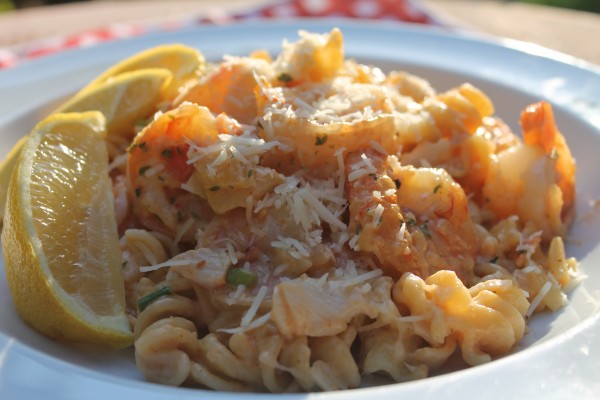 Hey guys! It's been a while since I've uploaded a dinner for two recipe. I've been getting a lot of emails and comments, asking me to bring back the series, so here we go!
I'm kicking this series off ( again) with my version of Seafood Louie Pasta. This pasta is full of well seasoned jumbo shrimp, and chunks of crab ( or imitation crab) meat. As stated in my video, I am s fan of imitation crab, but if you're not use real crab, or lobster meat. I used regular rotini pasta for this recipe, but sometime I use tri-color rotini.
You will need a nice grade of jarred Alfredo Sauce for this pasta. Here are some of my favorite brands
Classico
Bertolli
Francesco Rinaldi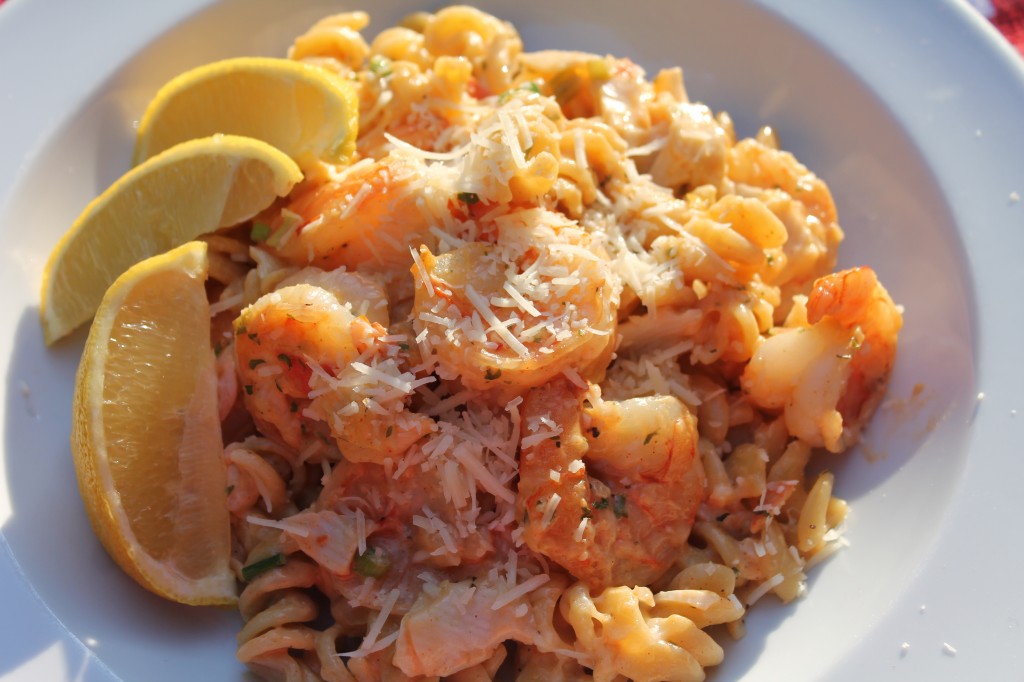 Again,  I used jumbo shrimps which were about 12-14 a lb. I prefer larger shrimp with this dish. If you want to replace the jumbo shrimp with smaller shrimps, that should be fine!
This meal is quite easy to make, and I think you will enjoy it!
Don't forget to watch my video demonstration 🙂
Seafood Louie Pasta
This recipe for Seafood Louie Pasta is the perfect dinner for two. It's so flavorful, creamy and simple.
Ingredients
16

oz

bag of rotini pasta

1

lb

jumbo shrimps

peeled and deveined

1

lb

crab meat or imitation crab meat

chopped

15

oz

jar alfredo sauce

1/4

cup

diced white or yellow onion

1/4

cup

chopped green onion

4-5

tbsp

butter

2

tsp

Old Bay seafood seasoning

2

tsp

seasoning salt

2

tsp

smoked paprika

1 1/2

cup

shredded parmesan cheese

*parsley flakes

*lemon wedges
Instructions
Line a cookie sheet with foil, then butter it.

Place the shrimp on the cookie sheet.

Melt down 1 tbsp of butter, then brush the butter on the shrimp.

Sprinkle the Old Bay seasoning on the shrimp.

Place the shrimp in a preheated oven, on 350 F, uncovered for 7 minutes.

Cook the rotini pasta in lightly salted water until al dente.In a sauce pan, add 1 tbsp of butter, and melt down over medium heat. Add in all of the yellow or white onions, and 1/8 cup of the green onions.

Cook the onions until they start to sweat, then add sprinkle 1 tsp of seasoning salt.

Pour the alfredo sauce into the pan, and stir. Remove from the heat.

Drain the pasta, then place it into a 9x13 bake dish.

Add the shrimp, crab, and remaining green onions along with the pasta.

Sprinkle in the remaining seasoning salt, smoked paprika, and parsley flakes.

Pour the alfredo sauce over the pasta, and sprinkle in 1 cup of parmesan cheese.

Fold in the ingredients, and bake in the oven on 350 F for about 5 to 7 minutes.

Dish the pasta out into a pasta bowl, sprinkle a little of the parmesan cheese on top of the pasta.

Place a few lemon wedges in the side of the pasta, and serve!
Video