King Crab, Smoked Sausage, Shrimp, Clams, Corn, and MORE…
I remember when I was younger and had gone to Louisiana for the first time. We were there for a family reunion, and I want to say that we were there for about a week. I never eaten so much seafood in my life! Before my visit there, I had NEVER heard of catfish, and we only ate gumbo during the holidays. It was such a pleasant surprise to find out my family in Baton Rouge had seafood every day. It was nothing to them. Every day was a fish fry!
I remember when they made a seafood boil. Honey, I almost lost my mind! I remember everyone outside talking and fussing over the pot. I was in the way of them cooking, but I just had to see what was in the darn pot. I remember seeing crawfish, crab, corn, all different sizes of shrimp, different sausages, and more. When the food was done, they would just dump all of the deliciousness on a newspaper lined table, and everyone would dig in. It was nonstop! They just keep cooking, and cooking… until I couldn't eat anymore. I believe I fell asleep at the table, or next to it!
When we came back to Washington the luxury of those fish frys and seafood boil parties were over. My family up here was not going to be outside frying fish and boiling seafood in the rain ( we Seattle folks, weren't up to it)! We went back to our special occasion gumbo, but we definitely added catfish to our regular routine. In the summer time some people make the seafood boil outdoors, but it was a hassle! As I got older I decided to my own boil… but indoors!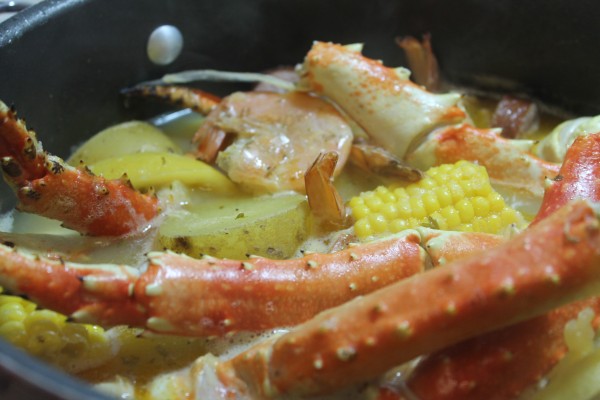 Making a seafood boil is completely doable indoors. If you have a large pot… You CAN make it! You don't need any special gadgets, all you need is a big pot!
As far as seasoning the boil I don't use any store bought bottled stuff, simply because I prefer making my own. When you make your own "boil" you are in control! You can add more of less of whatever you want….
For my ingredients, I kept is simple for several reason. Those reasons being cost, and simplicity. You can definitely add more ingredients if you'd like!
Give this boil a try, and please be sure to watch the video tutorial as well!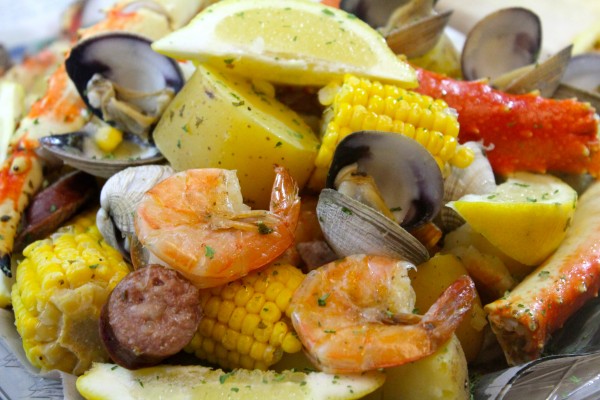 Seafood Boil Recipe
For your next party, make this delicious seafood boil; packed with sausage, king crab, corn, and more!
Watch Video
Print Recipe
Pin Recipe
Ingredients
2

lbs

King Crab legs

or you can use whatever crab that you want to use...

2

lbs

white tail shrimp

I used 16/18 count per pound

1

lb

smoked sausage

chopped (you can use beef, pork, chicken... use what you like babe!)

2

lbs

venus clams

 in shells

4 -6

corn on the cobs

cut into small section

5

medium golden or red potatoes

cut into halves

1

stick

salted butter OR margarine

1

medium onion

sliced

2

tbsp

 minced garlic

2

large lemons

sliced

3 

tbsp

old bay seasoning

1 1/2

tbsp

dried parsley flakes

2

tbsp

red pepper flakes

3

large lay leaves

6-8

cups

water
Instructions
In a large pot add in the butter, water, lemons, onion, garlic, old bay seasoning, parsley flakes, and bay leaves. Turn the heat to high, and let boil for 30 minutes.

Reduce the heat to medium, then add in the smoked sausage and potatoes. Let the potatoes cook for about 15 minutes, then add in the corn

Make sure you do a taste test on the "boil" (the liquid). If it doesn't meet your standards and more seasonings... If it does, move to the next step.

Once the potatoes are tender, add in the crab legs.

Steam the clams on top of the boil. DO NOT boil the clams in the pot, otherwise the clams will detach from the shells, and get lost in the pot 🙁  .

The clams are done once the shells open. If the clam shells don't open, that means it's a bad clam, and it needs to be tossed!

Once the clams are done, remove them and set them to the side.

Last but not least, add in the shrimp ( I left the shells on, but I removed the veins). Remove the pot from the heat, stir the ingredients, and let sit for 3 - 5 minutes.

Remove the food from the pot, but reserve the liquid. Place the food on your chosen platter.

Place the clams into the POT, and stir( to season them up a bit). Then add them to the platter.

ENJOY!!!!
Video
Notes
You may want to serve this with lemon wedges, hot sauce, and other condiments.
If you loved this recipe,
leave me a review below
. This helps future recipe makers and ensures continued high-quality recipes for years to come!
© 2023 I Heart Recipes