Tired of going to the seafood boil restaurants? Make make my Ultimate seafood boil recipe, with my creole garlic sauce!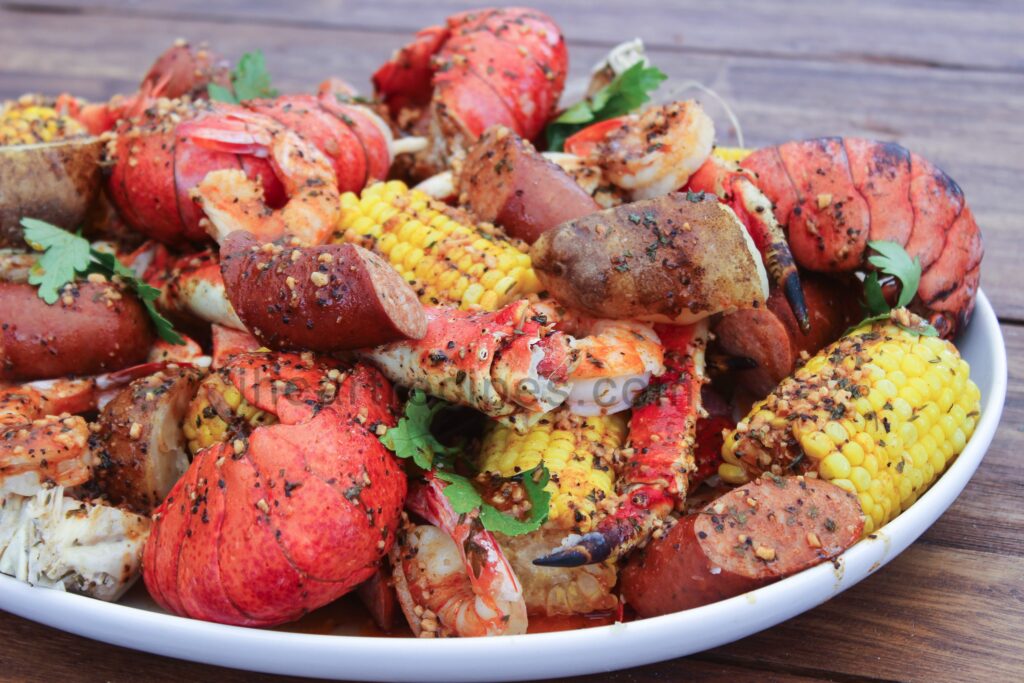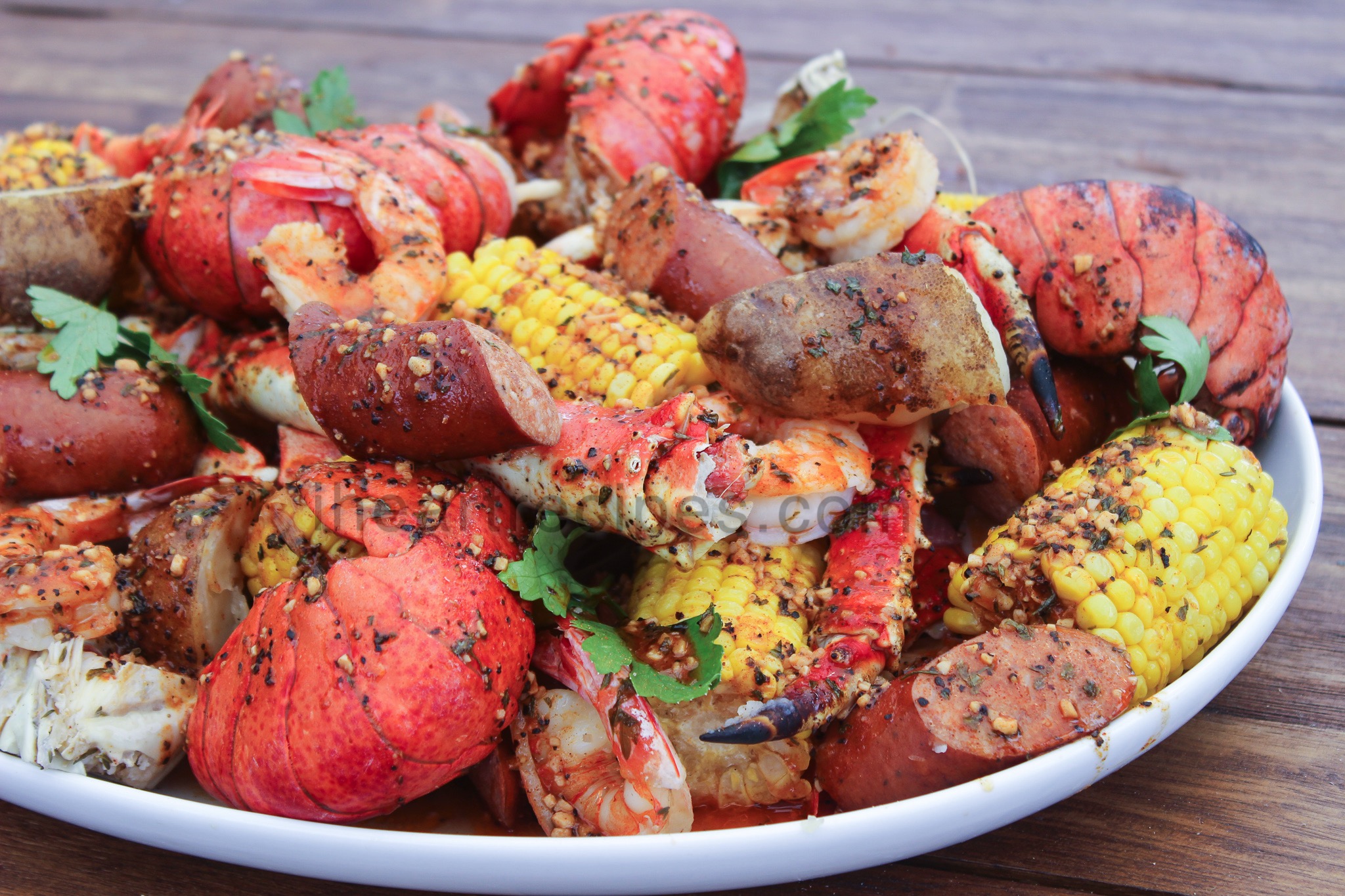 It's officially Fish Fry season cousins!! You know what that means right?! It is a MUST that your seafood boil recipe is on POINT! I don't want y'all out there using that bottled stuff either! I'm going to show you how season your seafood boil, WITHOUT using the store bought seafood boil seasoning- AND it's going to taste even better!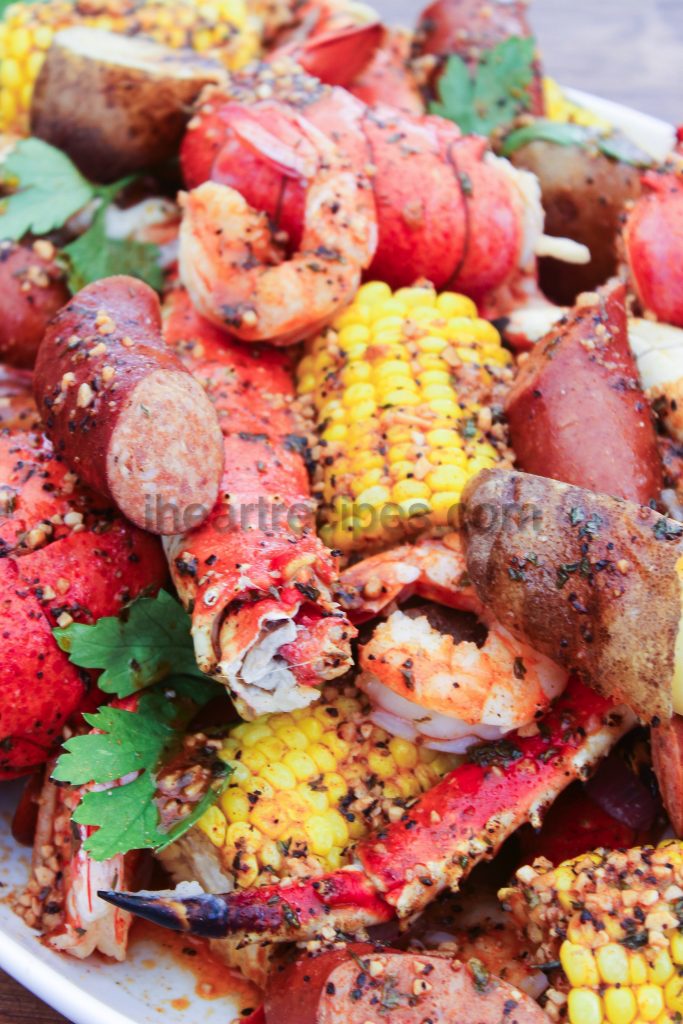 So if you've been following me for a while, you know that I shared a seafood boil recipe a few years back. However, I have stepped my game up, so I want y'all to step your game up as well with my Ultimate Seafood Boil recipe.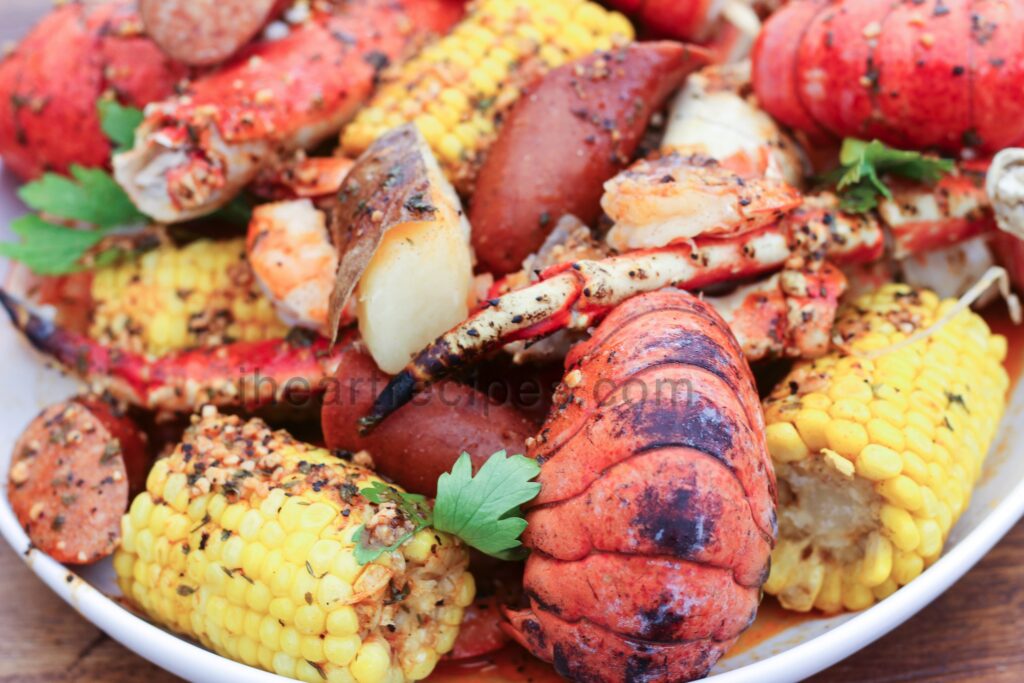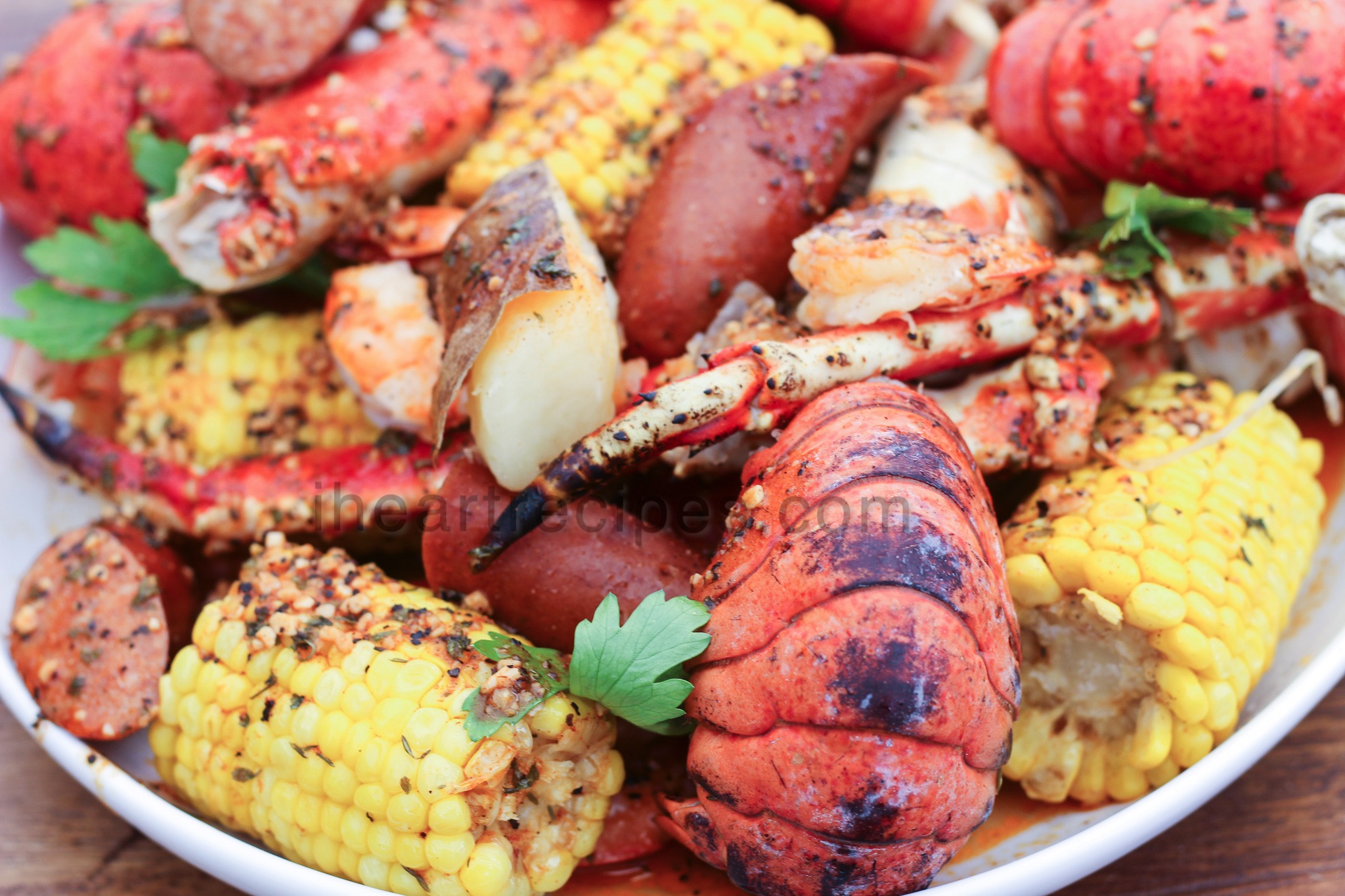 How to Make a Seafood Boil on the Stovetop!
Just like my previous seafood boil recipe, I will NOT be making this deliciousness outside. I will be making it on my stovetop! Unlike my previous recipe I will be using more seafood. sure I will still be using crab, and shrimp, but I will also be tossing in some lobster tails as well!
Also once our ultimate seafood boil is done, we are going to drizzle some delicious creole garlic sauce all over the crab, potatoes, corn, lobster, shrimp, and andouille sausage.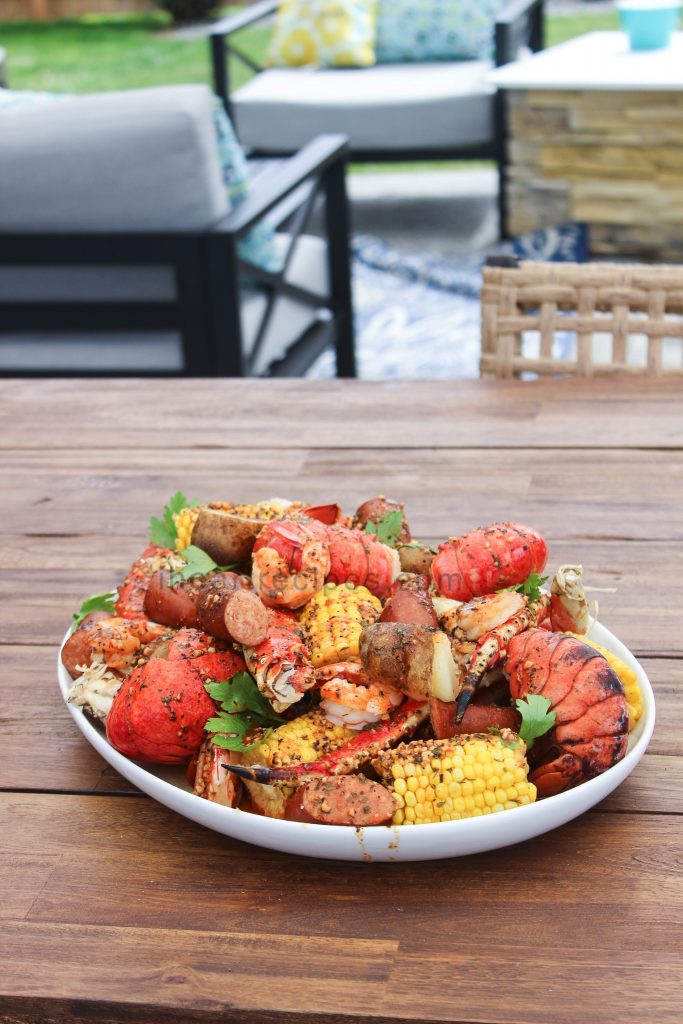 So are y'all ready to make my ultimate seafood boil?? Well check out my video tutorial below, and be sure to print the recipe below!
Ultimate Seafood Boil
This seafood boil is the best of the best. Tender lobster, shrimp, crab, tons of veggies and a delicious creole garlic seasoning, you'll make the whole party happy with this easy recipe!
Ingredients
16

cups

water

2

large lemons

sliced

1

medium size yellow onion

sliced

3

sprigs fresh Italian parsley

2

sprigs fresh thyme

3

sprigs fresh dill

6-8

cloves

garlic

1

stick salted butter

1

tbsp

apple cider vinegar

2

tbsp

creole seasoning

3

lbs

king crab legs

2

lb

jumbo shrimp

peeled & deveined

1

lb

crab claws

4-6

lobster tails

I used 4 oz lobster tails

2

lbs

andouille sausage or your favorite smoked sausage

sliced

8

ears of fresh corn

each cut into 3 parts

5

medium potatoes

I used russet potatoes
Creole Garlic Sauce
1

stick salted butter

3

tbsp

mild hot sauce

1

large lemon

juice only

1 ½

tbsp

minced garlic

1 ½

tsp

creole seasoning

2

tsp

paprika

2

tsp

parsley flakes
Instructions
Make sure that all the seafood, herbs, and etc are nice and clean.

Slice up 2 large lemons, and one large onion, then toss them into a large pan.

Toss in the Italian parsley, fresh thyme, dill, and cloves of garlic.

Now add in 1 stick of salted butter, 1 tbsp of apple cider vinegar, and 2 tablespoons of creole seasoning in the large pot.

Pour in 16 cups of cool water, and place the pot over high heat.

Bring the water to a boil, then turn the heat down to medium high.

Let cook for 45 minutes.

Reduce the heat to medium.

Now fish out all the herbs and etc ( or as much as you can).

Add in the andouille sausage, and corn. Let cook for 15 minutes.

Next add in the potatoes, and cook for 10 minutes.

Start adding in the crab legs & claws, and the lobster tails. Cook for 15 minutes.

Now toss in the shrimp, and turn the heat off!

Let sit for 10 minutes.

While the seafood boil is sitting, we can make our creole spiced garlic sauce.

Combine the butter, minced garlic, hot sauce, lemon juice, creole seasoning, paprika, and parsley flakes into a sauce pan, and place it over medium heat.

Once the butter is melted, stir the ingredients, and reduce the heat to low.

Let cook for 10 minutes.

You can pour the sauce over the seafood boil, or use to dip!

Enjoy!
Video
Before you go, you've got to take a look at these delicious recipes to try next: