A seafood free low country boil recipe with smoked pork neck bones, corn on the cob, baby red potatoes, onions, and carrots made in the slow cooker!
Hey y'all! It is cookout, and fish fry season! Everyone and their mama will be hosting some type of get together. If you have a family like mine you can count on eating lots of barbecue ribs, potato salad, , fried fish, and low country boils. Speaking of low country boils, you may remember my seafood boil recipe that I posted last year. Once I uploaded the recipe, so many of you shared it on Facebook, and Instagram. Even a few media outlets shared it! I got a ton of questions about the recipes, and a few of you even asked me to upload a seafood free boil. Well I thought of a few different ingredients, and came up with a super easy low country boil that everyone will enjoy… A Low Country Neck Bone Boil!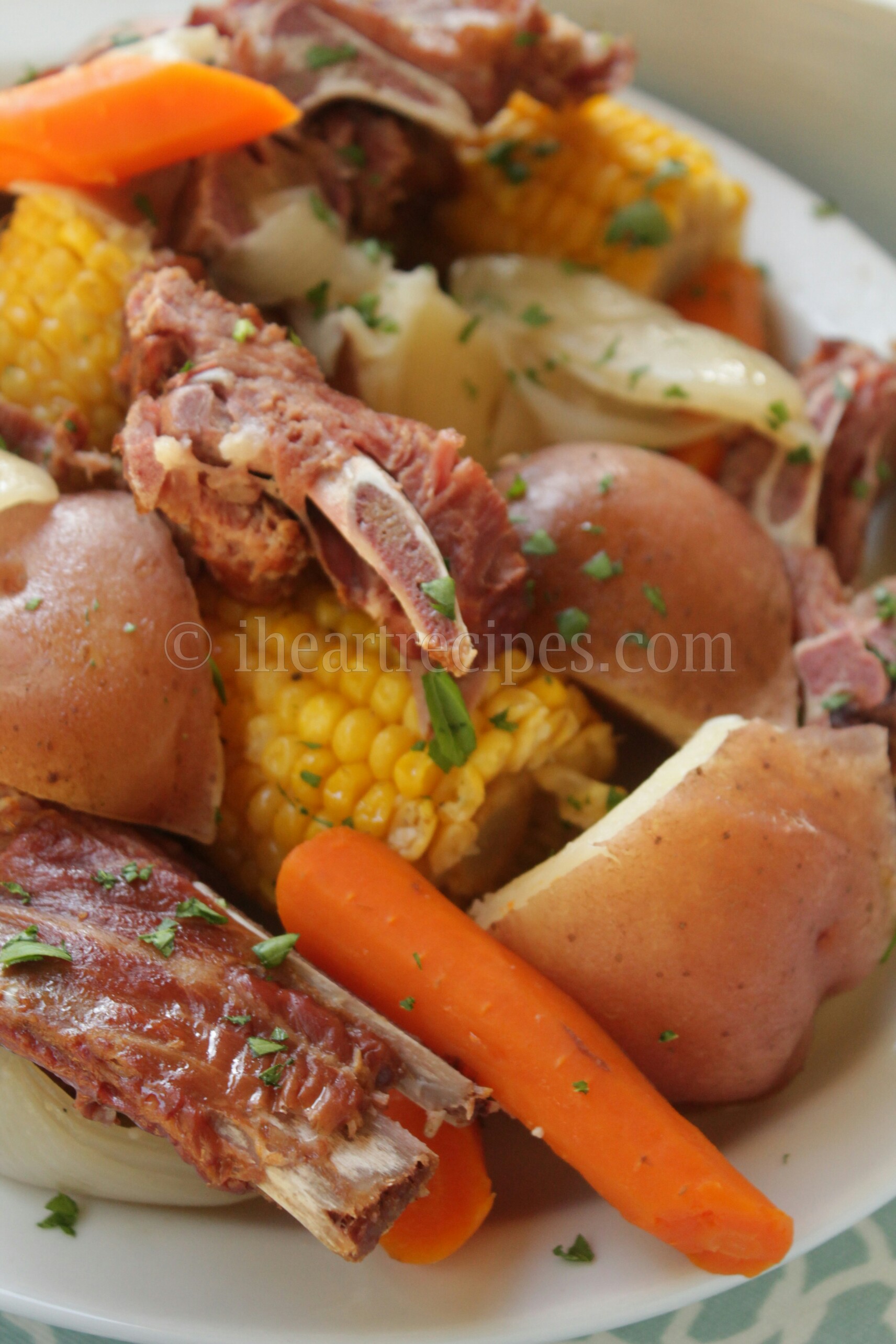 This boil is delicious. This recipe includes red potatoes, corn, onions, carrots, and a ton of smoked pork neck bones( that flavor up everything in the pot!). Smoked pork neck bones are super flavorful, inexpensive, and damn right delicious! Therefore I love using them in a lot of my southern and soul food dishes.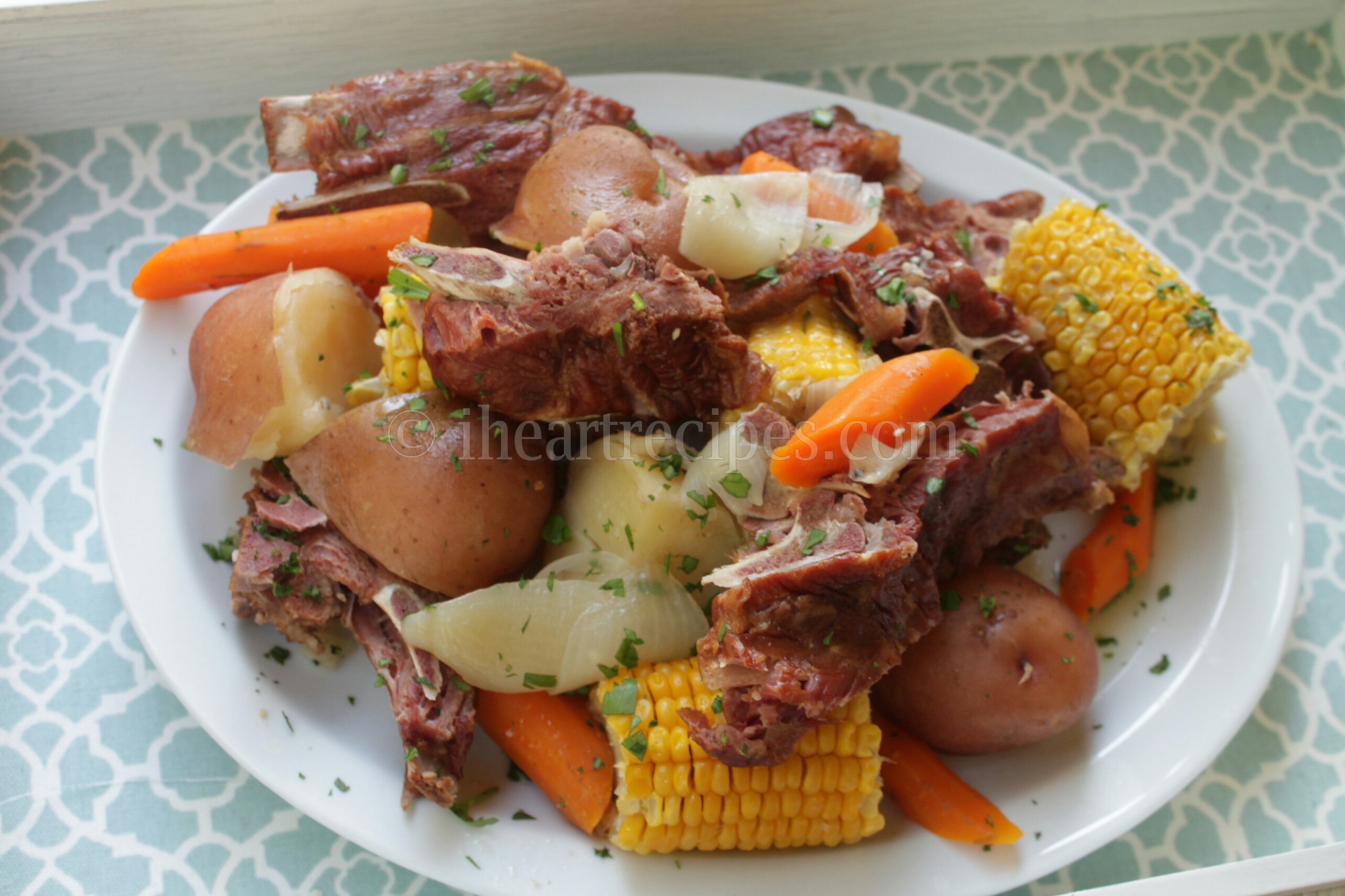 FYI if you do not eat pork, you can substitute the pork neck bones with smoked turkey wings. It will not hurt this recipe one bit!
Check out my video tutorial for this low country neck bone boil!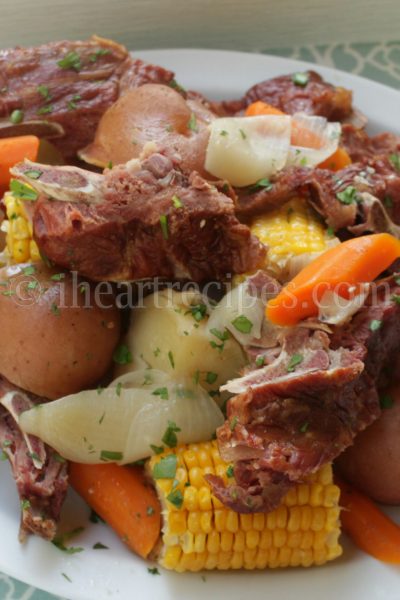 Low Country Neck Bone Boil
This Low Country Neck Bone Boil is bursting with flavor! It's a simple, budget-friendly meal. Perfect for feeding a crowd.
Watch Video
Print Recipe
Pin Recipe
Instructions
Put all the ingredients in the slow cooker.

Cook on high for 4 hours.

Serve and enjoy!
Video
If you loved this recipe,
leave me a review below
. This helps future recipe makers and ensures continued high-quality recipes for years to come!
© 2023 I Heart Recipes