Tired of searching for the perfect seafood boil at a restaurant? Make your own ultimate seafood boil at home! With my seafood boil recipe and Creole garlic sauce, you'll never have to search for the best seafood boil again.
It's officially fish fry season, Cousins—and you know what that means, right?! It's a MUST that your seafood boil recipe is ON POINT! If you've been following me for a while, you'll know I shared a seafood boil recipe quite a few years back. Since then, I've stepped up my game and want y'all to step up with me! So today, I am introducing my new and improved ultimate seafood boil recipe, homemade on the stovetop.
Like my old recipe, I will not be making this deliciousness outside. I will also be using more seafood! I will still be using crab and shrimp, but I will be tossing in lobster tails as well. Once the seafood boil is done, we will drizzle some delicious Creole garlic sauce all over the crab, tender potatoes, fresh corn, lobster, shrimp, and andouille sausage. Is your mouth watering yet?!
What Is a Seafood Boil?
A seafood boil is exactly what it sounds like—a variety of seafood boiled in a flavorful broth with tons of seasoning. Seafood boils have a rich history that spans back centuries, and just about every region has its own variations. From the type of seafood used to the cooking method, seasonings, and even the added vegetables, there's an endless combination of ingredients you can toss together to make a homemade seafood boil.
But what makes the ultimate seafood boil recipe? Well, Cousins, let me show you!
Seafood Boil Ingredients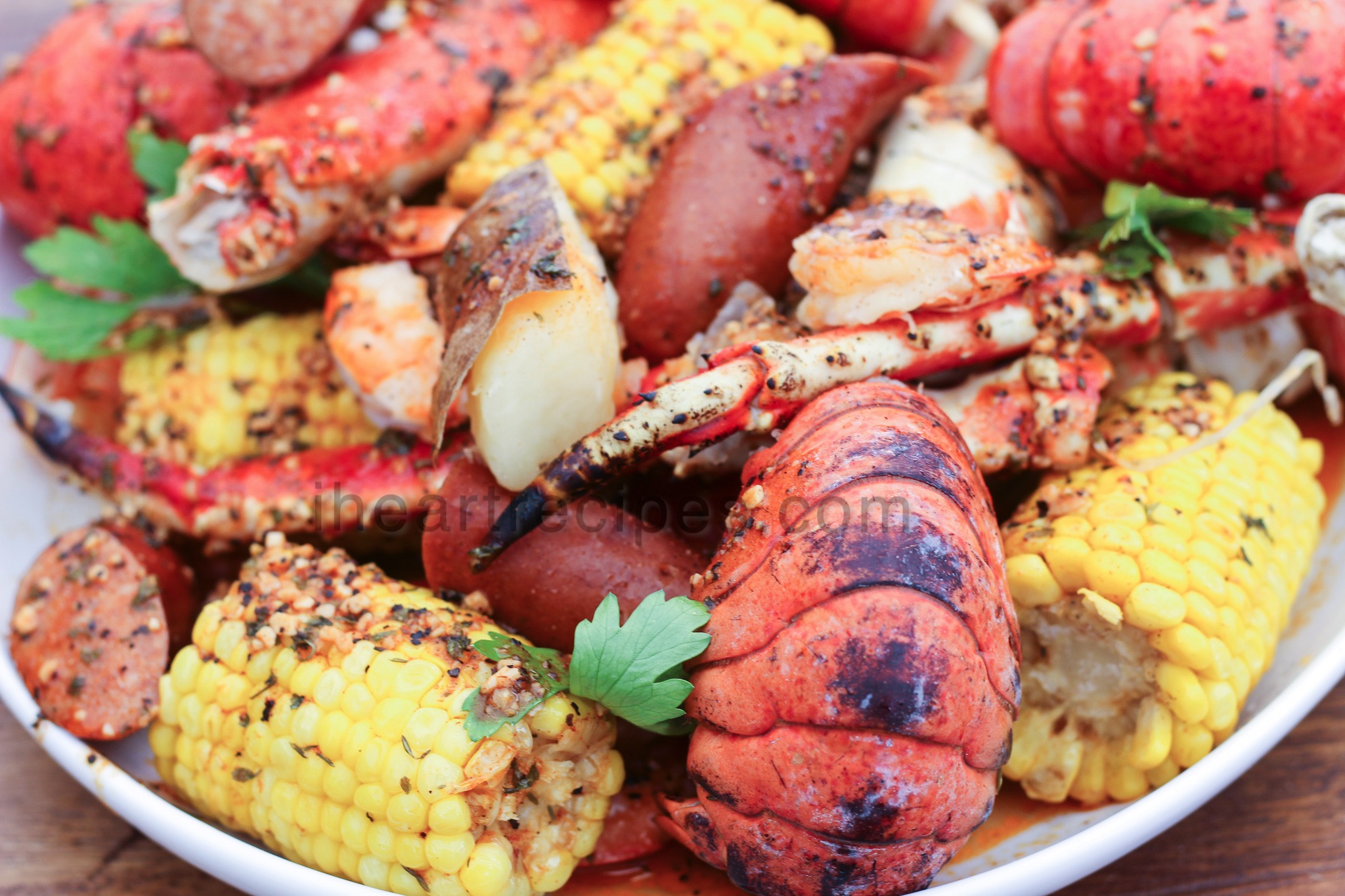 So, what goes into a seafood boil? Tons of stuff! I'm going to break down the main ingredients into a few different parts. I'll warn you, there's a lot of ingredients. But the best part is that they're simple ingredients, a lot of which you likely already have on hand (especially if you're a regular cook like me). So, here are the main ingredients you need for the ultimate seafood boil recipe.
The Seafood:
King Crab Legs: I usually cut the crab legs in half to make them fit better in the pot.
Crab Claws: claws tend to have more meat than the legs, so I like using them when feeding a crowd.
Jumbo Shrimp: I prefer peeled and deveined shrimp. We want clean shrimp in this recipe!
Lobster Tails: the yummy delicacy is totally worth the expense in this seafood boil recipe!
The Vegetables:
Sweet Corn on the Cob: cut the cobs in half to save room in the pot. You can also use frozen corn instead of fresh!
Potatoes: I use Russet potatoes, but any kind will work—red potatoes, Yukon gold, whatever you prefer!
Onions: I use yellow onions, but white onions or red onions would also work.
The Herbs & Seasonings:
Seafood Medley of Herbs: my grocery store has a seafood medley, which contains fresh Italian parsley, fresh dill, and fresh thyme. I also add bay leaves. As long as you have those herbs, you're good to go!
Fresh Garlic: I use garlic in the broth as well as in the Creole garlic butter. Feel free to use fresh or jarred minced garlic.
Cajun Seasoning: arguably the most important ingredient! My go-to seasoning for seafood boil is Tony Chachere's Creole seasoning, my Down By the Bayou Cajun seasoning, or my Creole Lady seasoning. Of course, Old Bay seasoning is a seafood boil classic as well.
The Extras:
You need a few other odds and ends for this seafood boil recipe that, in my opinion, are just as important!
Lemons: you'll need lemon wedges for the seafood boil broth and garlic butter.
Andouille Sausage: adds meat, some heat, and smoky flavor to the seafood boil. If you don't like andouille, you can use any other kind of smoky sausage you prefer.
Butter: and lots of it! I prefer salted butter but feel free to use unsalted.
Apple Cider Vinegar: used in the broth for added flavor.
Water: the base of the seafood boil broth. I prefer to use water and season it to my liking rather than chicken or seafood stock. (Pro-tip: keep the broth once the boil is done for a delicious homemade seafood stock.)
What other seafood can you use in a seafood boil?
You can use just about any seafood your heart desires. Seafood boils traditionally have crawfish, but I don't use that in my recipe because I'm allergic to crawfish (I think that's a good enough reason, right?!). However, if you love crawfish, feel free to use it. You can also use:
Mussels, clams, or oysters (just make sure to toss any that don't open after cooking—those are bad!).
Scallops or squid.
Different kinds of crab legs, like snow crab legs, blue crab, or Dungeness crab legs.
Imitation crab meat.
A frozen seafood medley from the grocery store (good if you're short on time or on a budget). I prefer fresh seafood but use what works for you!
What is seafood boil sauce made of?
Seafood boils usually have two different sauces: the broth the seafood is boiled in and a seasoned sauce tossed on at the end. For my seafood boil recipe, I use water, lemons, onions, herbs and seasonings, and butter for the broth. I also make a bomb.com Creole garlic butter sauce that's made with butter, Creole (or Cajun) seasoning, and hot sauce.
How much seafood do you need per person?
How much seafood you need for a seafood boil depends on how many people you're serving. You can easily scale up this seafood boil recipe to feed an army! You should count on 3/4th of a pound to one pound of seafood per adult and about ½ of a pound per child. Remember that shellfish like crab legs, claws, and lobster tails have less meat than their overall weight. For example, a pound of crab legs will yield about ½ pound of meat.
How to Make a Seafood Boil on the Stovetop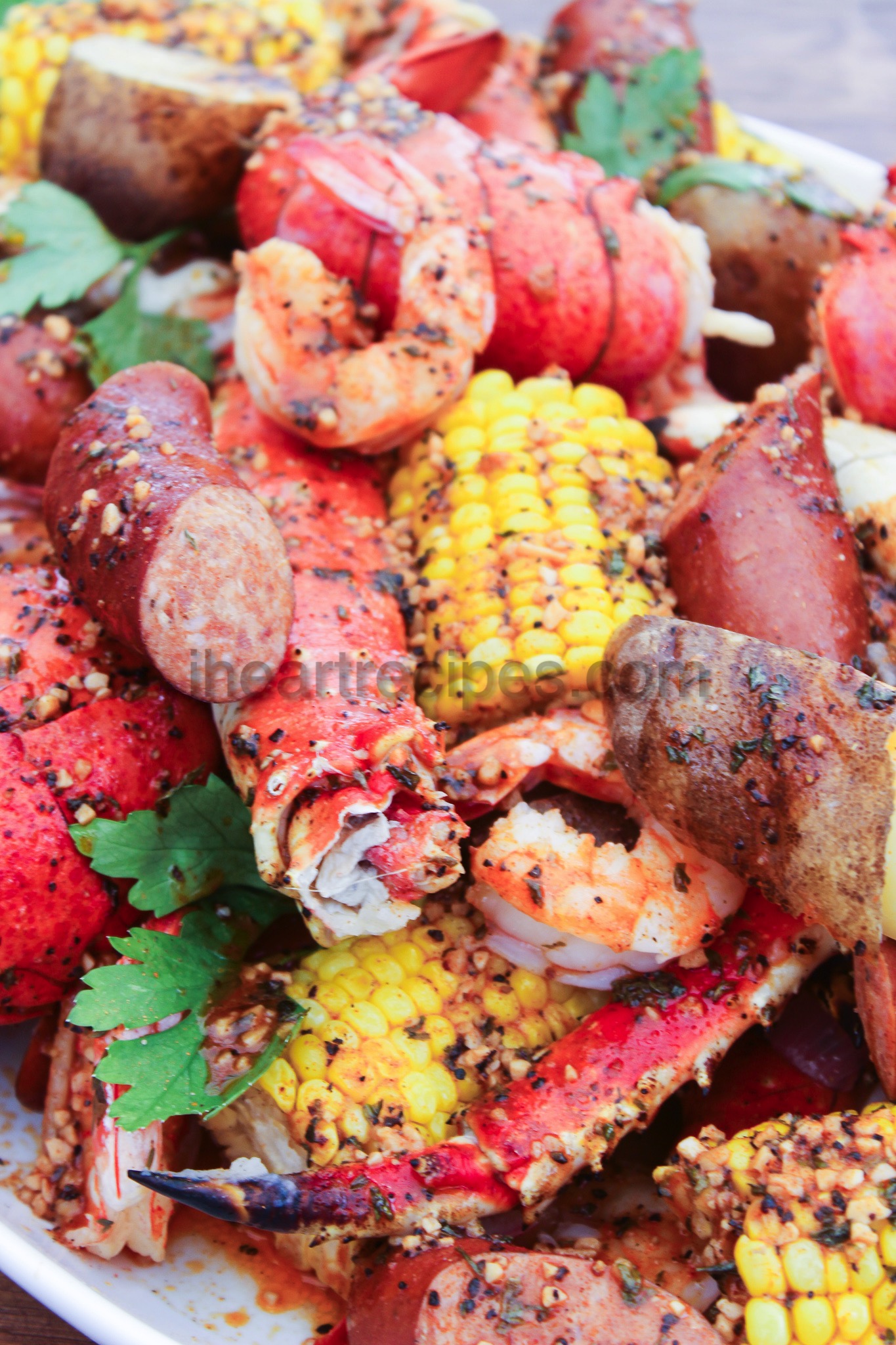 Now, as I said at the beginning of this post, I don't make my seafood boil outside. But, you certainly can—if you're having a cookout and want to put on a show, toss a big ol' pot over a propane take and let 'er rip. Since this boil serves about five people, a large stockpot works perfectly fine for me.
If you want to see exactly how I make my ultimate seafood boil, be sure to watch my video tutorial below. I walk through the whole process step-by-step for you visual learners.
For complete instructions, read on! You can print the recipe card below with the exact measurements and directions.
Here's how to make a homemade seafood boil:
Start with the broth. We're using a lot of water, which takes a hot minute to come to a boil. Gather the ingredients for the seafood boil broth—lemon wedges, herbs, garlic cloves, and butter. Place everything in a large pot, add the apple cider vinegar and Creole seasoning, then add your water. Bring the water to a boil over high heat. When it's come to a rolling boil, turn it down to medium and let the broth cook for 45 minutes.
While the broth is cooking, prep the seafood, vegetables, and sausage. Make sure everything is nice and clean, chop up the sausage and potatoes, and shuck and cut the fresh corn cobs.
Next, it's time to boil! Fish those aromatics out of the broth as much as you can. If you leave some lemons and onions in there, it's not the end of the world! Then you'll start adding the seafood, sausage, and vegetables, starting with what needs to cook the longest.
Add the andouille sausage and fresh corn. Let this cook covered over medium-high heat for about 15 minutes.
Next, add the potatoes and cook for about 10-15 minutes. The larger the potatoes are, the longer they will take to cook.
Next, add the crab legs, crab claws, and lobster tails and cook for an additional 15-20 minutes.
Finally, add the shrimp. At this time, turn the heat off. Shrimp cook quickly, so they should go in last. Let the seafood boil sit for about 10 minutes (with the heat off) while the shrimp cooks.
While the seafood boil finishes cooking, make the Creole garlic butter sauce. In a small saucepot, melt a stick of butter along with minced garlic, lemon juice, hot sauce, and Creole seasoning. In addition to the Creole seasoning, I add paprika, black pepper, and parsley flakes—these are optional ingredients. I just love the red color paprika gives the sauce! Let the sauce cook over low heat for about 10 minutes.
Finally, you're ready to serve your seafood boil!
How do you serve seafood boil?
There are a few ways to serve seafood boil. You can do like I do and serve everything on a platter, drizzled with the flavorful, spicy Creole garlic butter. Or you can do the more traditional (and messy) route and dump everything out on a newspaper-lined table and dig in!
You can double the garlic butter recipe to make extra for dipping—the lobster and crab meat is amazing in that zesty sauce!
How do you store leftovers?
Seafood is pretty perishable, even when cooked, so leftovers should only be kept refrigerated for 1-2 days in an airtight container. Reheat leftovers in the oven or steam on the stovetop.
What to serve with a seafood boil?
This recipe is pretty filling on its own because we included potatoes and corn! However, you can serve seafood boil with sides like simple rice, garlic bread, or other vegetables like okra, green beans, etc. You could also pair it with mac and cheese, fresh greens, or collard greens.
So, are y'all ready to make my ultimate seafood boil? Check out my video tutorial, and be sure to print the recipe below! If you made this recipe and loved it, leave me a comment below! Don't forget to follow along with all things Rosie and I Heart Recipes by following me on Facebook, Instagram, and Pinterest, and check out all my cookbooks! I just released a brand new cookbook, Super Soul Food with Cousin Rosie, with many recipes you can't find anywhere else.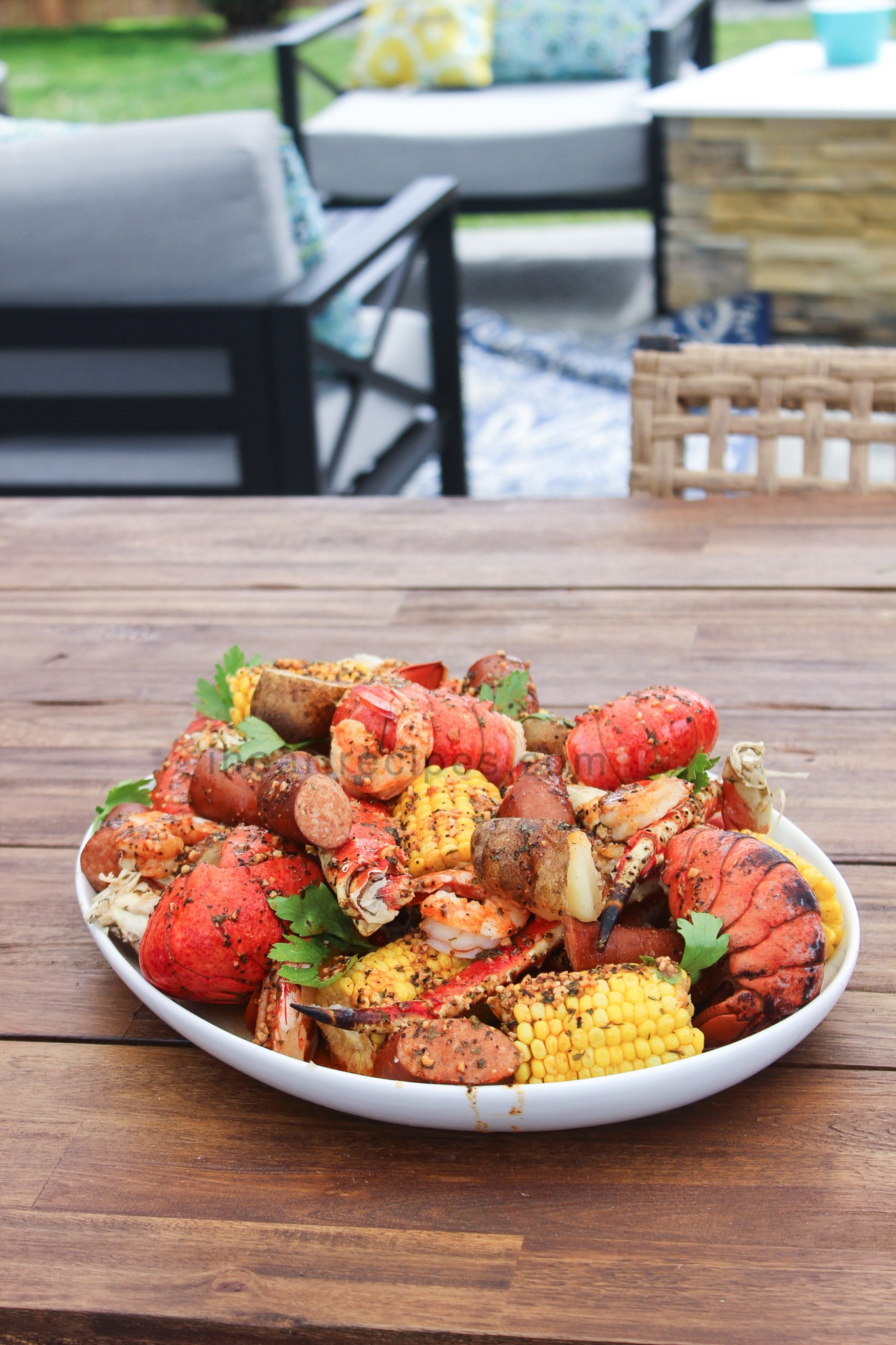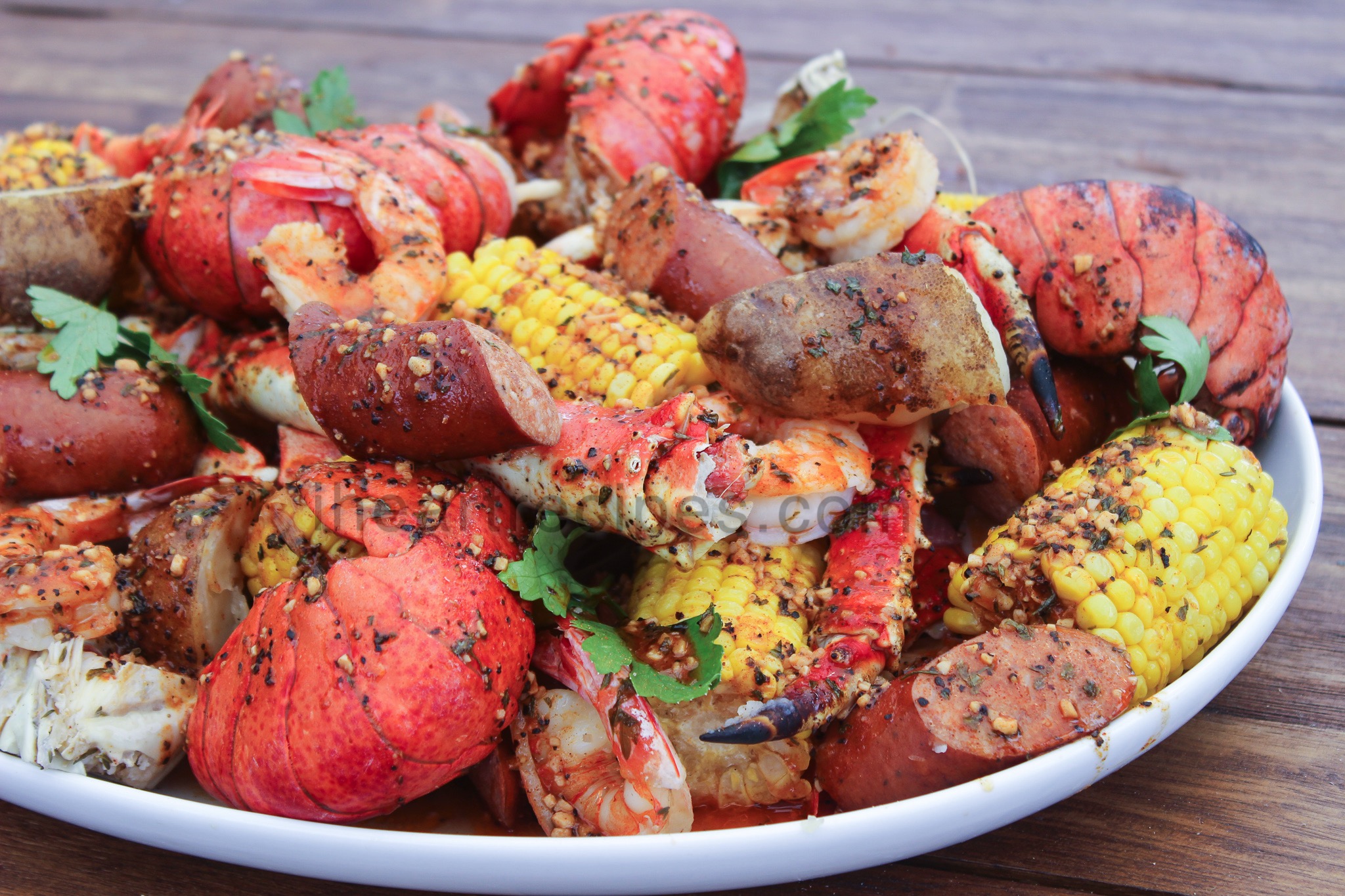 Ultimate Seafood Boil
This seafood boil is the best of the best. Tender lobster, shrimp, crab, tons of veggies and a delicious creole garlic seasoning, you'll make the whole party happy with this easy recipe!
Watch Video
Print Recipe
Pin Recipe
Ingredients
Seafood Boil Broth:
16

cups

water

2

large lemons

sliced

1

medium size yellow onion

sliced

3

sprigs fresh Italian parsley

3

sprigs fresh dill

6-8

cloves

garlic

1

stick salted butter

1

tbsp

apple cider vinegar

2

tbsp

creole seasoning
Seafood, Sausage, & Vegetables:
3

lbs.

king crab legs

2

lbs.

jumbo shrimp

peeled & deveined

1

lb.

crab claws

4-6

lobster tails

I used 4 oz lobster tails

2

lbs.

andouille sausage or your favorite smoked sausage

sliced

8

ears of fresh corn

each cut into 3 parts

5

medium potatoes

I used russet potatoes
Creole Garlic Butter Sauce:
1

stick salted butter

3

tbsp

mild hot sauce

1

large lemon

juice only

1 ½

tbsp

minced garlic

1 ½

tsp

creole seasoning

2

tsp

paprika

2

tsp

parsley flakes
Instructions
Make the Broth:
Make sure that all the seafood, herbs, and etc are nice and clean.

Slice up 2 large lemons and one large onion, then toss them into a large pan.

Toss in the Italian parsley, fresh thyme, dill, and cloves of garlic.

Now add 1 stick of salted butter, 1 tbsp of apple cider vinegar, and 2 tablespoons of creole seasoning into the large pot.

Pour in 16 cups of cool water and place the pot over high heat.

Bring the water to a boil, then turn the heat down to medium high.

Let cook for 45 minutes.

Fish out all the herbs, lemons, onions, etc. (or as much as you can), and reduce the heat to medium.
Add Sausage, Veggies, and Seafood:
Add in the andouille sausage, and corn. Let cook for 15 minutes.

Next add in the potatoes, and cook for 10 minutes.

Start adding in the crab legs & claws, and the lobster tails. Cook for 15 minutes.

Now toss in the shrimp, and turn the heat off! Let sit for 10 minutes.
Make Creole Garlic Butter Sauce:
While the seafood boil is sitting, we can make our creole spiced garlic sauce.

Combine the butter, minced garlic, hot sauce, lemon juice, creole seasoning, paprika, and parsley flakes into a saucepan, and place it over medium heat.

Once the butter is melted, stir the ingredients and reduce the heat to low.

You can pour the sauce over the seafood boil or use for dipping.

Enjoy!
Video
If you loved this recipe,
leave me a review below
. This helps future recipe makers and ensures continued high-quality recipes for years to come!
© 2023 I Heart Recipes