Homemade Creamy Chicken Tetrazzini that can be made with leftover chicken or store bought rotisserie chicken!
An Easy and Quick Creamy Chicken Tetrazzini Recipe!
My family and I love creamy chicken tetrazzini! Like seriously, I think we could eat it everyday.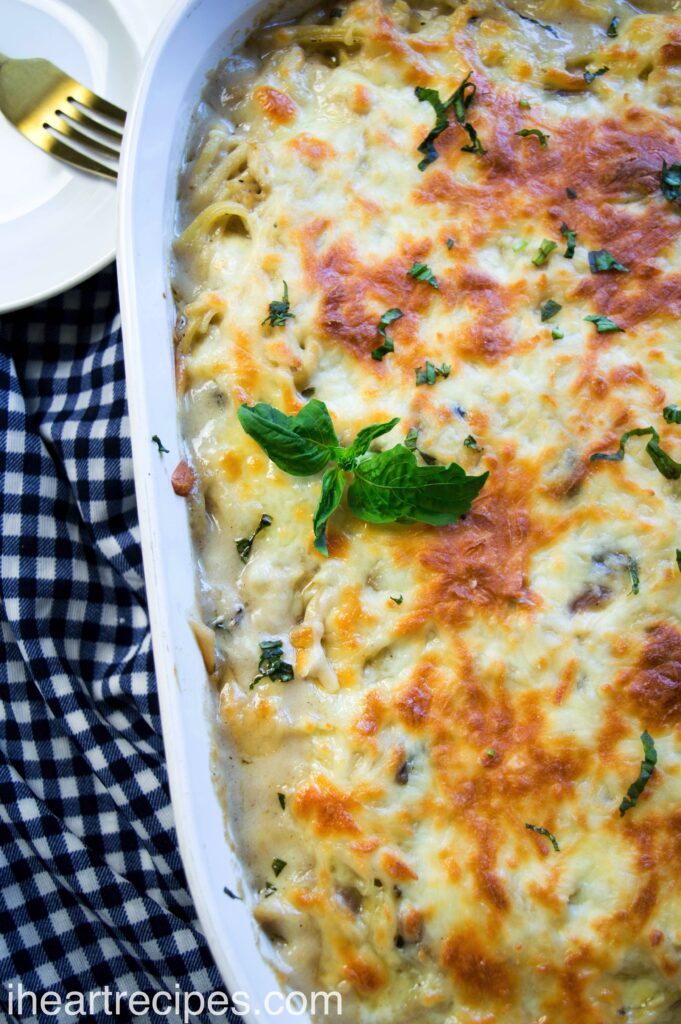 My recipe for creamy chicken tetrazzini is super easy, because I take a huge shortcut. Whenever I make chicken tetrazzini, I usually use leftover chicken, or I use store bought rotisserie chicken! Those steps alone cut my cooking time in half!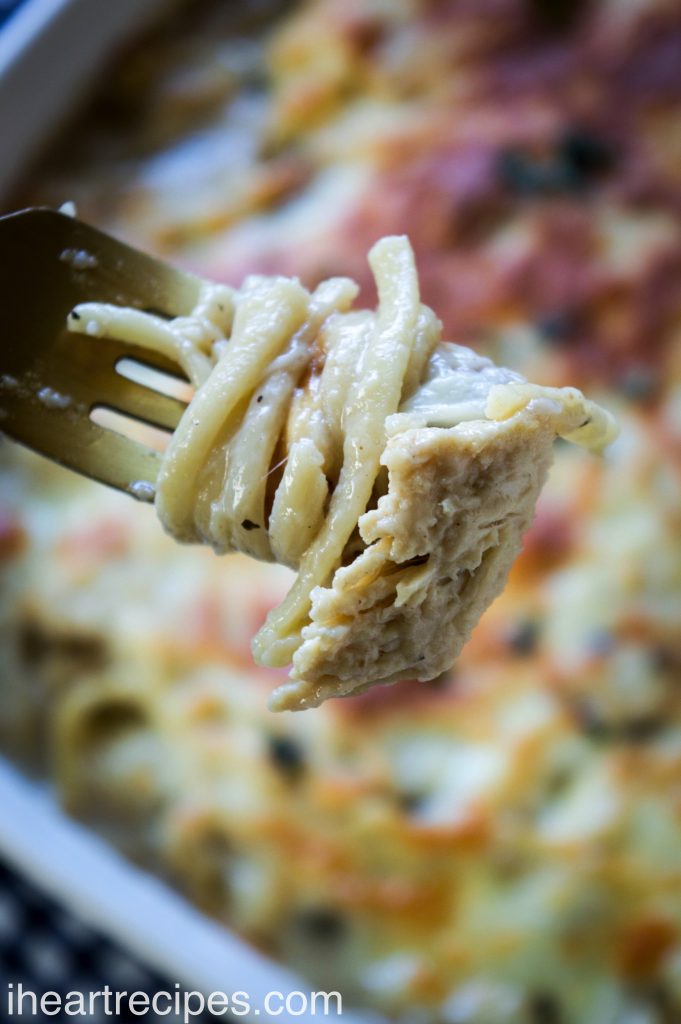 This creamy chicken tetrazzini can be made ahead of time. Also, even though I bake my tetrazzini, you can certainly cook your chicken tetrazzini in the CrockPot!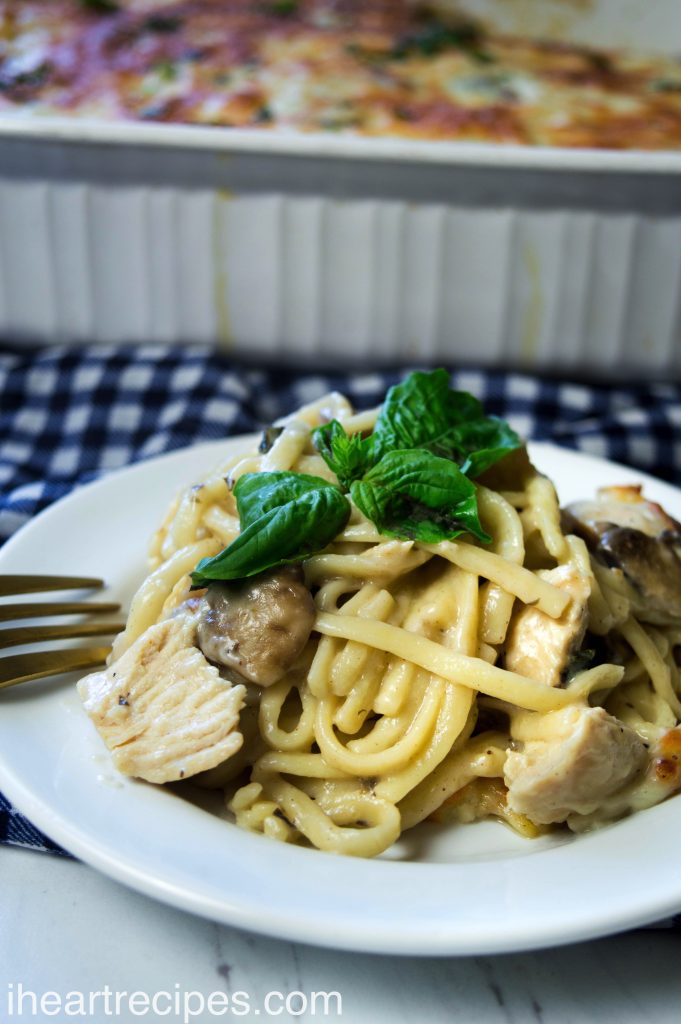 Simply check out the steps below, and when you get to step number 15, add the ingredients to slow cooker instead of a casserole dish. Instead of baking it for 35 minutes, cook it in the slow cooker on LOW for 2 hours!
Definitely try out this creamy chicken tetrazzini recipe, and be sure to check these dinner ideas out as well!
DINNER FOR TWO : LEMONY CHICKEN & BACON BUCATINI
Print this recipe, and follow me on Facebook, Instagram, Pinterest and YouTube for more recipes! Check out my brand new cookbook, Super Soul Food with Cousin Rosie, loaded with many recipes you can't find anywhere else.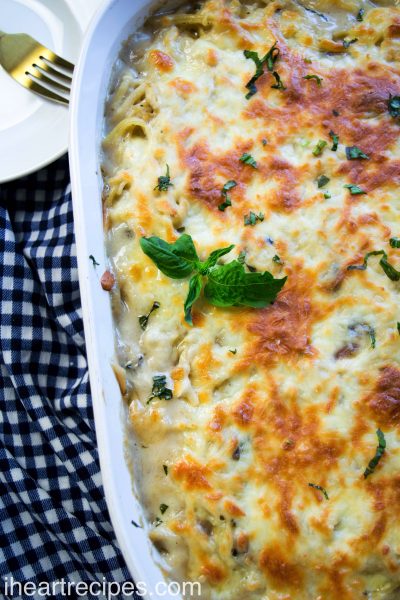 Creamy Chicken Tetrazzini
This simple Chicken Tetrazzini is the perfect weeknight meal! Cut down on cook and prep time by using store bought rotisserie chicken. Super easy!
Watch Video
Print Recipe
Pin Recipe
Instructions
Drizzle 2 tbsp of vegetable oil into a large pan, and turn the heat on.

Toss in the onions, and cook until they are translucent.

Next add in the garlic, and stir.

Remove ingredients from the pan.

Toss the butter into the pan.

Once the butter is melted, sprinkle in the all purpose flour.

Cook until the flour is lightly browned.

Slowly pour in the chicken broth, and half & half, then whisk.

Reduce the heat to low medium, and let simmer for 5 minutes.

While the sauce is simmering cook the linguini.

Combine the sauce, chicken, mushrooms, onions, garlic, lemon juice, lemon zest, and fresh basil.

Combine all the cheeses in a bowl.

Toss half of the cheese mixture into the bowl with the chicken, and etc.

Next, add in the pasta, and fold the ingredients.

Preheat the oven to 350 F.

Lightly oil a large casserole dish, and add in the pasta.

Top with the remaining cheese.

Bake, uncovered, for 35 minutes.

Serve and enjoy!
Video
If you loved this recipe,
leave me a review below
. This helps future recipe makers and ensures continued high-quality recipes for years to come!
© 2023 I Heart Recipes