Hello friends! In this video I am demonstrating how I made my delicious Chicken Stuffed Shells. The chicken stuffing is a combination of : chicken, spinach, seasonings, onions, egg, and cheese. I used large Pasta shells, and I cooked them until they were half way done. I stuffed the shells with the chicken mixture, then I placed them into a dish pan that I had poured a premade pasta sauce in. I sprinkle the shells with cheese, then I covered the baking dish with foil. I baked these shells in the oven for approximately 20 minutes.
Recipe
1 bag of jumbo pasta shells
1 jar of your favorite pasta sauce
1 lb boneless/skinless chicken breast
1 cup frozen/fresh spinach
1/2 chopped white onion
1/4 cup chopped green onion
1 egg, lightly beaten
2 cups mozzarella cheese
Chicken-Stuffed Shells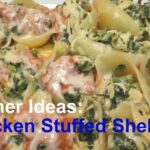 These Chicken-Stuffed Shells are overflowing with flavor! A simple, low-fat and tasty dinner the whole family will love.
1 lb boneless skinless chicken breasts
2 cups chicken broth
1 lb pasta shells
½ white onion (chopped)
1/4 cup green onions (chopped)
1 cup fresh or frozen spinach
2 cups mozzarella cheese (divided in half)
½ teaspoon seasoning salt
¼ teaspoon black pepper
1 large egg (slightly beaten)
1 jar pasta sauce
On the stovetop, cook 1-½ to 2 lb boneless skinless chicken breasts in 2 cups of chicken broth over medium-high heat, covered. Cook each side to ensure chicken is fully cooked. Once cooked, set aside.
Boil 1 lb pasta shells in salted water. Cook until pasta is al dente. Don't overcook.
While pasta is cooking, shred chicken.
Place chicken in a large mixing bowl and add white onion and green onions. Mix.
Add spinach and 1 cup mozzarella cheese. Mix.
Sprinkle in seasoning salt and black pepper. Mix.
Add egg. Mix.
Spread 1 cup of spaghetti sauce on the bottom of a 9 x 13 baking dish.
Using a spoon, stuff pasta shells with chicken filling.
Place shells on top of sauce.
Add additional sauce on top of some or all of the shells.
Top with remaining mozzarella cheese.
Cook in preheated 350-degree oven for 25 minutes.
Serve warm and enjoy!