Perfectly seasoned Wagyu steak made at home in a grill pan!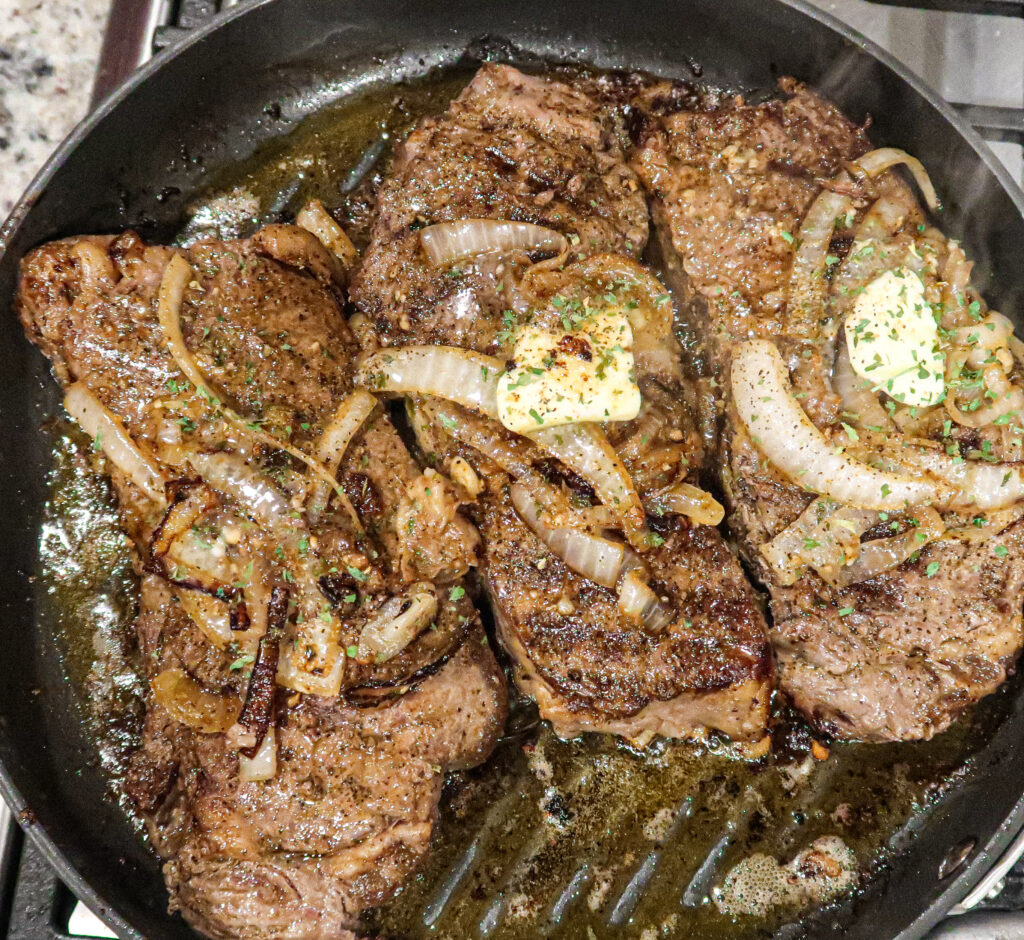 Hey cousins! I don't know if it's just me, but lately these steakhouses just aren't doing what needs to be done. I swear, that every time I order a steak from a restaurant (no matter how fancy it is) I leave unsatisfied. The steaks are usually unseasoned, dry, and definitely overpriced. Finally, I got tired of the games y'all! I took my butt to a local butcher, and bought my own damn steaks! Cousins, I bought a bunch of NY Steaks, Ribeyes, and my all time favorite – Wagyu Steaks!!! I know, I know – Wagyu steaks are freaking expensive, but I like to treat my family (and myself!) every once in a while!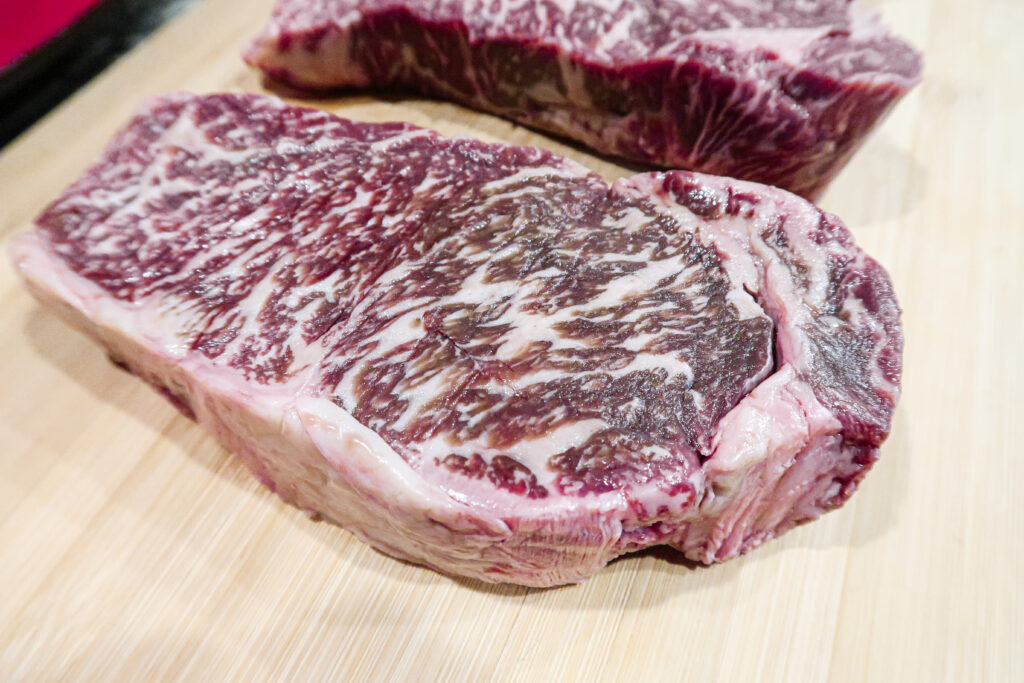 Now, let's talk about these steaks baby! If you're unfamiliar with Wagyu steaks, allow me to put you on some game, but simply! Wagyu steaks are known for the marbling. Take a minute, and look at the picture above. Y'all, see that marbling right?! No matter if like your steak rare, medium, or well, Wagyu steaks seem to always come out so darn tender. In my opinion, these steaks are worth every darn dime. If you need more information on Wagyu beef, be sure to look it up. Right now, I'm going straight to the recipe.
The Perfect Seasoning for Pan-Grilled Waygu Steak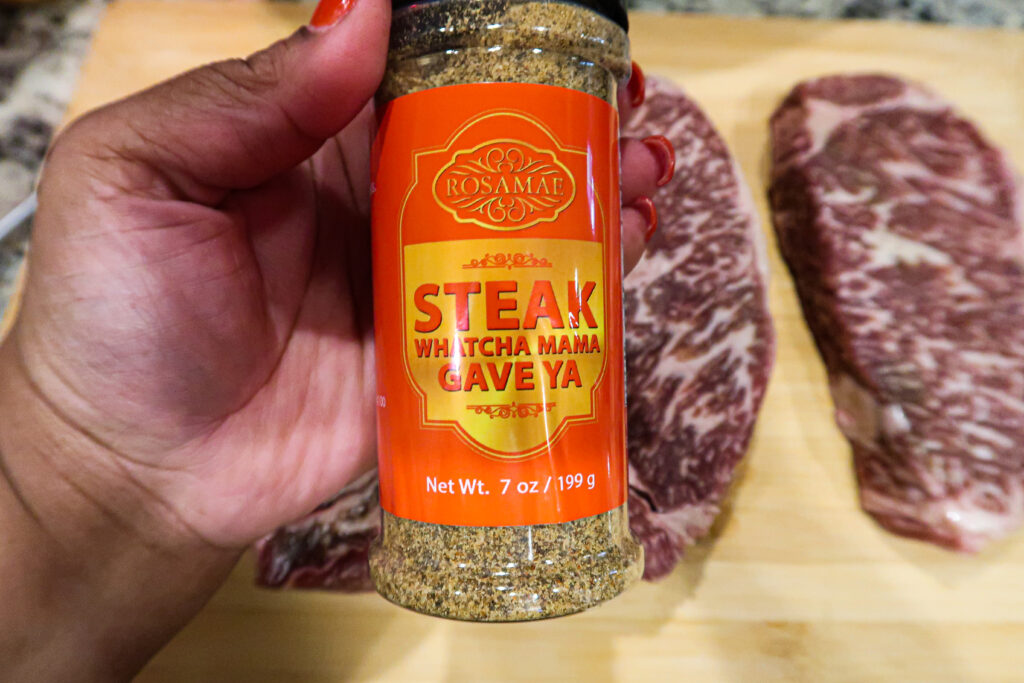 When making any steak recipe, I like to keep it easy. I don't like reaching for a ton of ingredients. However, I want my steak seasoned to perfection. I achieve the best-tasting steaks, by simply using my Rosamae Seasonings "Steak Whatcha Mama Gave Ya". Everything you need from garlic, salt, and other spices is in the steak blend. Also a little goes a long way. I used about 1 1/2 tsp of seasoning on each steak.
How to Make a Delicious Pan-Grilled Waygu Steak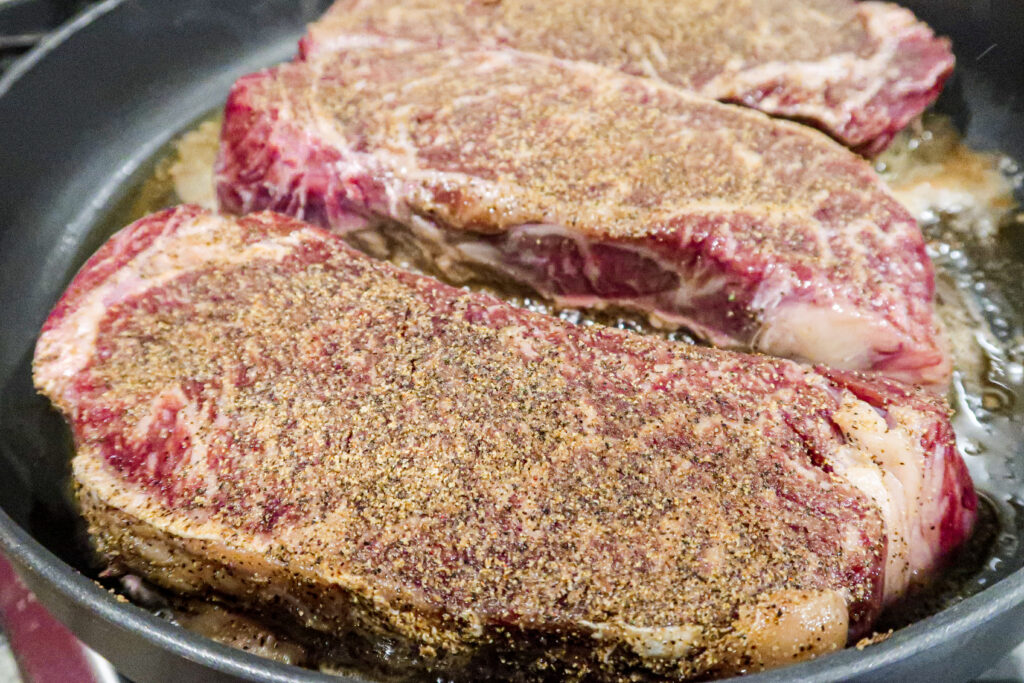 I grill each of the Wagyu steaks in my grill pan. I simply add a little oil, and butter. I then place the pan over medium-high heat and wait for it to heat up. Next, I add in the steaks! I'm a fan of onions, and many of you know that I'm a garlic fiend, so I toss those in the pan as well. I like my steaks medium rare so I cook my steaks for about 15 – 20 minutes. Keep in mind that the Wagyu steaks that I used for this recipe were quite thick. I'd say each steak was about 1 1/2 inch before cooking.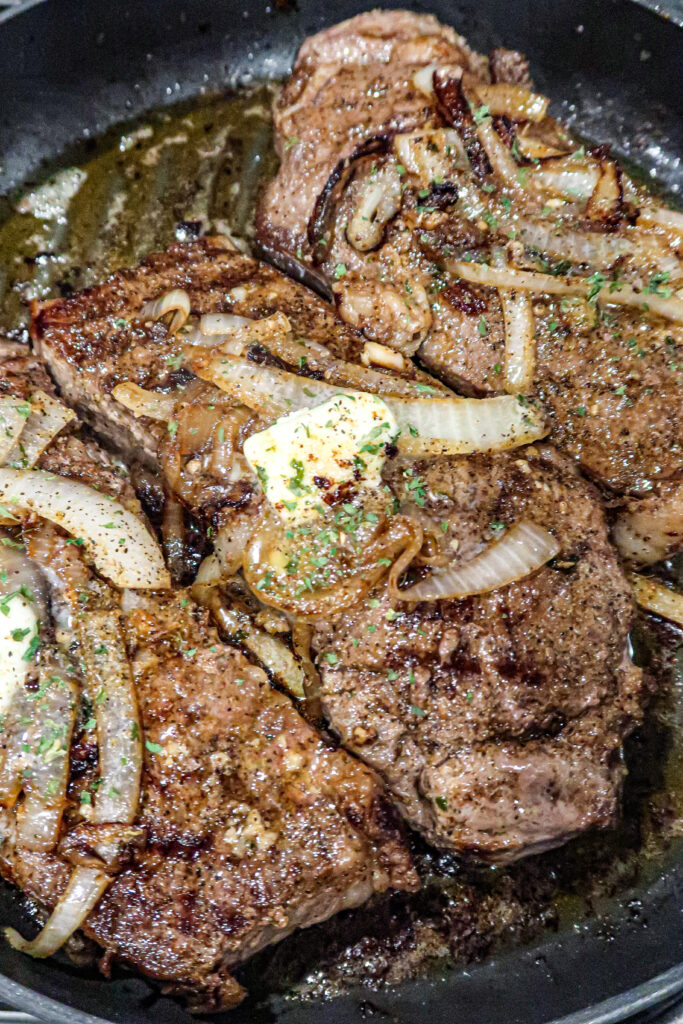 Be sure to try this recipe, and tell me what you think. Keep in mind that you can use a different cut of steak if you'd prefer!
Pan-Grilled Wagyu Steak Recipe
Want to treat yourself to a gourmet dinner? Here's how to make a decadent pan-grilled waygu steak dinner! Use my special steak seasoning for a flavor-packed, delicious steak.
Ingredients
(3) 16

oz

Wagyu Steak

3 3/4

tsp

Rosamae Seasonings " Steak Whatcha Mama Gave Ya"

or your favorite steak seasoning

2

tbsp

avocado oil

or your favorite oil

2

tbsp

salted butter

2

tsp

minced garlic

1/2

medium

yellow onion

chopped
Instructions
Season the steaks with Rosamae Seasonings "Steak Whatcha Mama Gave Ya", then set to the side.

Drizzle in 2 tbsp of oil into a large grill pan, then add in tbsp of salted butter.

Heat the pan over medium high heat. Once the oil starts to sizzle, add in the seasoned steaks.

Cook for about 10 minutes (5 minutes on each side), then add in the onions. Let cook for about 3-4 minutes, then add in the minced garlic.

Flip the steak about 2 more times, making the total cook time about 20 minutes.

Top the steaks off with the melted butter, garlic, and onions.

Serve, and enjoy with your favorite sides.
Before you go… Don't forget to check out more fan-favorite recipes: