A Quick and Inexpensive Recipe for Chicken Fried Rice!
As a frugal wife and mother, I'm always trying to make meals stretch and get the most out of my money. With that being said, I always try to make meals with any leftovers that I may have instead of letting them just spoil in the refrigerator. They way I look at it is, any time I'm throwing something good away, I'm throwing away money.
A few days ago, I grilled some chicken for a family get together. So many people got caught up at work, while others had sick kids. I didn't get the memo on time, so I had made far too much chicken. For the next few days, I made chicken and ramen for lunch, chicken salads for dinner, and I was just getting chickened out of ideas. My husband suggested that we all just go out for Chinese food, but my cheap self could only think of how much it would be (whenever I go to a Chinese restaurant I over do it…I need wonton soup, dim sum…so we're talking at least $50). I talked my husband into letting me make a, Asian-inspired meal instead of going out, and, of course, he was game for it.
I remember that I had made rice the previous day, and, of course, I still had leftover chicken. I searched my freezer for more ideas and came across frozen peas and carrots, and thats when it hit me…"I'm going to make some bomb Chicken Fried Rice!" (Yes, I still use the term "the bomb".)
The rice I made was off the chain. Like seriously, my family thought it was just as good, if not better, than our favorite Chinese restaurant's chicken fried rice. I served the rice with some homemade lumpia and stir fried vegetables, and I think this meal was under $10, which beats the pricey takeout we almost bought.
Anyways, give this recipe a try…and keep in mind that you can use any leftover chicken, just make sure that you get rid of the skin and bones. ENJOY!!
XOXOXO
Rosie
Chicken Fried Rice Recipe Card, Video Tutorial & More Frugal Recipes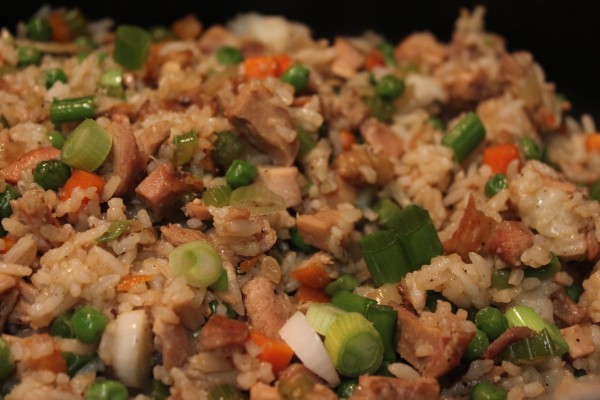 Chicken Fried Rice with Veggies
This frugal meal makes use of all those leftovers. Chicken, rice, veggies and whatever spices you have on hand is all you need. Stay home and save some money. You might even enjoy it more than your favorite takeout!
Watch Video
Print Recipe
Pin Recipe
Instructions
Place 2 tbsp of vegetable oil into a pan, and place it over medium-high heat.

Once the oil is hot, place the yellow onions and celery into the pan, and cook for 3 to 5 minutes.

Add in the chicken, then sprinkle in the garlic powder, ground ginger, and black pepper.

Next, add in the oyster sauce, and sesame seed oil, and stir.

Add the peas and carrots then stir the ingredients until they are well incorporated.

Add the rice into the pan, and mix the ingredients.

Last but not least, sprinkle in the green onions.

Serve!
Video
If you loved this recipe,
leave me a review below
. This helps future recipe makers and ensures continued high-quality recipes for years to come!
© 2023 I Heart Recipes
If you enjoyed this Chicken Fried Rice recipe, try these others!
OLD FASHIONED BEEF GOULASH RECIPE