A mix of kale, collard greens, and mustard greens cooked Southern-style with bacon and turnips! This Southern mixed greens recipe is easy, delicious, and packed with flavor.
A few years ago, I uploaded my recipe for Southern Collard Greens, and so many of y'all have tried and loved the recipe. Since the recipe was a quick fan-favorite, I decided to come back with another southern greens recipe, but this time the greens are a flavorful mix of different greens.
I have a ton of Southern-style greens recipes, and each one is a bit different! That's what happens when you eat greens your whole life… you get a lot of people cooking all different kinds of greens because collard greens are a Southern staple. So, in this recipe, we're mixing some of my favorite fresh leafy greens with bacon, onions, garlic, and turnips for the ultimate mixed greens recipe.
What Are Mixed Greens? 
Now, in Southern households, Southern mixed greens are just a mix of different types of greens—turnip greens, collard greens, mustard greens, and so on. However, we're not using turnip greens in this Southern-style greens recipe! I use fresh kale instead, and it works perfectly! (If you want a recipe for turnip greens, try my smoked turkey and turnip greens recipe!)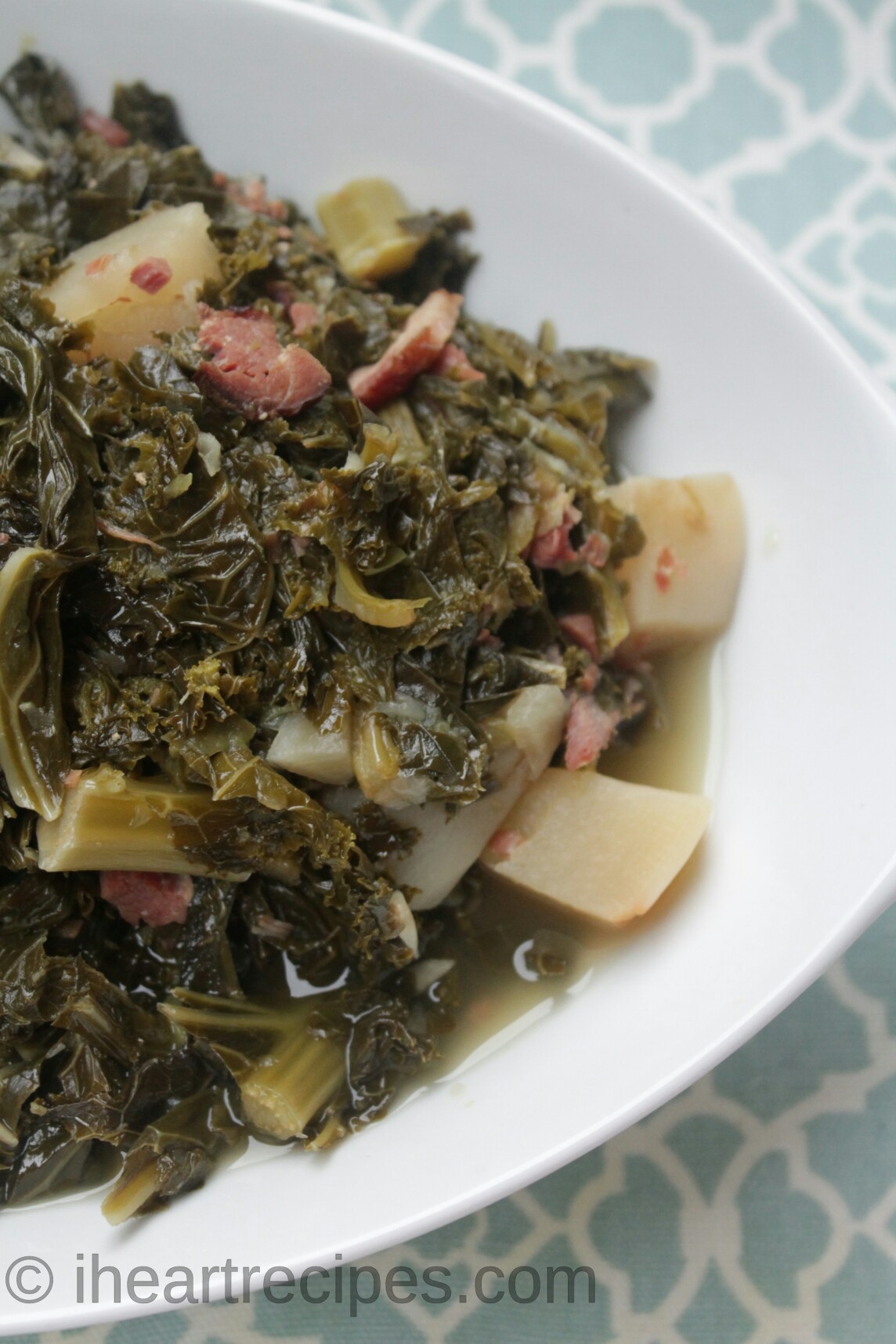 Mustard Greens vs Collard Greens: What's the Difference?
So, what's the difference between mustard greens and collard greens? Is it okay to cook these two staple Southern greens together? Absolutely! These two leafy greens have their differences—size, texture, and nutritional value—even though they belong to the same plant family.
The most significant difference between collard greens and mustard greens is taste. Mustard greens have a more intense, peppery flavor than mild fresh collard greens. In a mixed greens recipe, the collards and kale balance out the sharp taste of mustard greens. When they're cooked in a flavorful broth seasoned with onions, garlic, and spices, then you've got a delicious Southern greens recipe fit for holidays that true Southerners will love.
Ingredients for Southern Mixed Greens with Turnips
I season my mixed greens with European-style bacon, and I absolutely loved it. I usually use bacon ends, ham hocks, smoked turkey, or smoked pork neck bones in my collard greens recipes. However, my local butcher talked me into trying European-style bacon. It's smokier than regular bacon but has less fat. The outcome was amazing… I think I'm in love with European bacon now, y'all!
Other than using bacon to flavor my Southern mixed greens, I also use simple ingredients for flavor. Here's a list of everything you need!
Mixed Greens: as I said above, I use a mix of fresh kale, collard greens, and mustard greens.
Bacon: if you can't find European-style bacon, regular bacon works just fine.
Onion, Bell Pepper, and Garlic: I prefer to use fresh onions, peppers, and garlic for the best flavor.
Seasonings: I use seasoning salt, black pepper, and red pepper flakes. I like my greens with a hint of spice!
Apple Cider Vinegar: gives the greens great flavor and cuts any bitterness.
Chicken Broth: for cooking down the greens. You could also use vegetable broth.
Turnips: I use 3-4 medium-sized turnips, peeled and cubed, in this huge pot of greens. Make sure to wash them thoroughly.
If you want to make vegetarian or vegan greens, you just need to omit the bacon and swap out chicken broth for vegetable stock. These mixed greens are made with fresh leafy greens that are packed with nutrients. You can't go wrong with this Southern mixed greens recipe!
How to Cook Mixed Greens with Turnips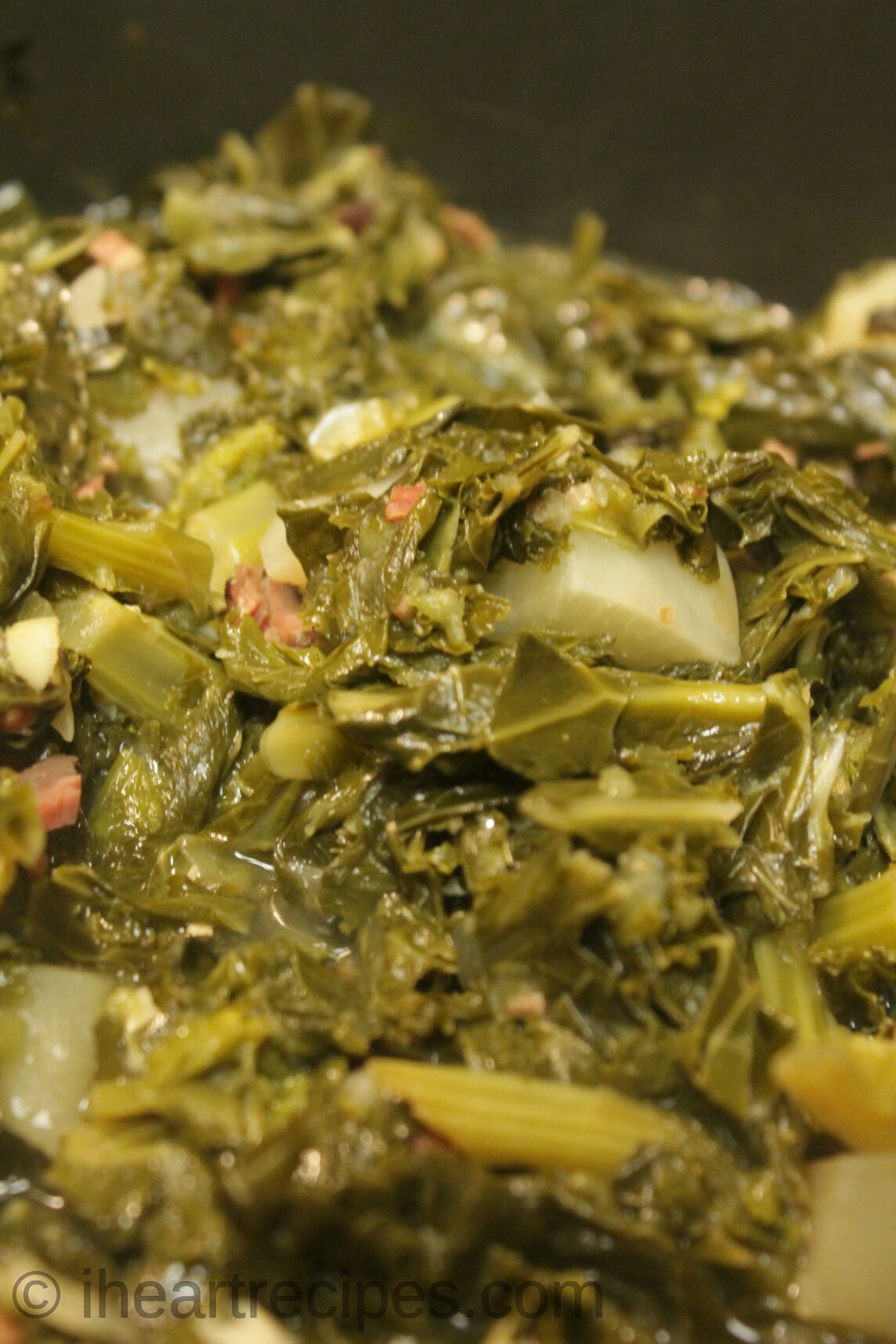 Ready to make the best mixed greens? It just takes a few easy steps! You can find all of these steps, plus the complete ingredient measurements in the recipe card at the end of this post. Let's get started!
Step 1: Prep the Greens & Vegetables
First, before anything else, wash the greens well, y'all! Fresh collard greens, mustard greens, and kale can have dirt and grit trapped between the leaves and around the stems, and no one wants gritty greens! To clean the greens, fill a CLEAN sink with cool water and completely submerge the fresh greens. Scrub each leaf with your fingers, along the surface of the leaves and up and down the stem to completely clean off any dirt and grit. Then drain the water and repeat the cleaning process until you see no more grit at the bottom of your sink.
Once the greens are nice and squeaky clean, the next step is to cut them up into pieces, along with the bell pepper (I use green bell peppers, but red or yellow bell peppers would work fine too), white onion, and mince the fresh garlic cloves.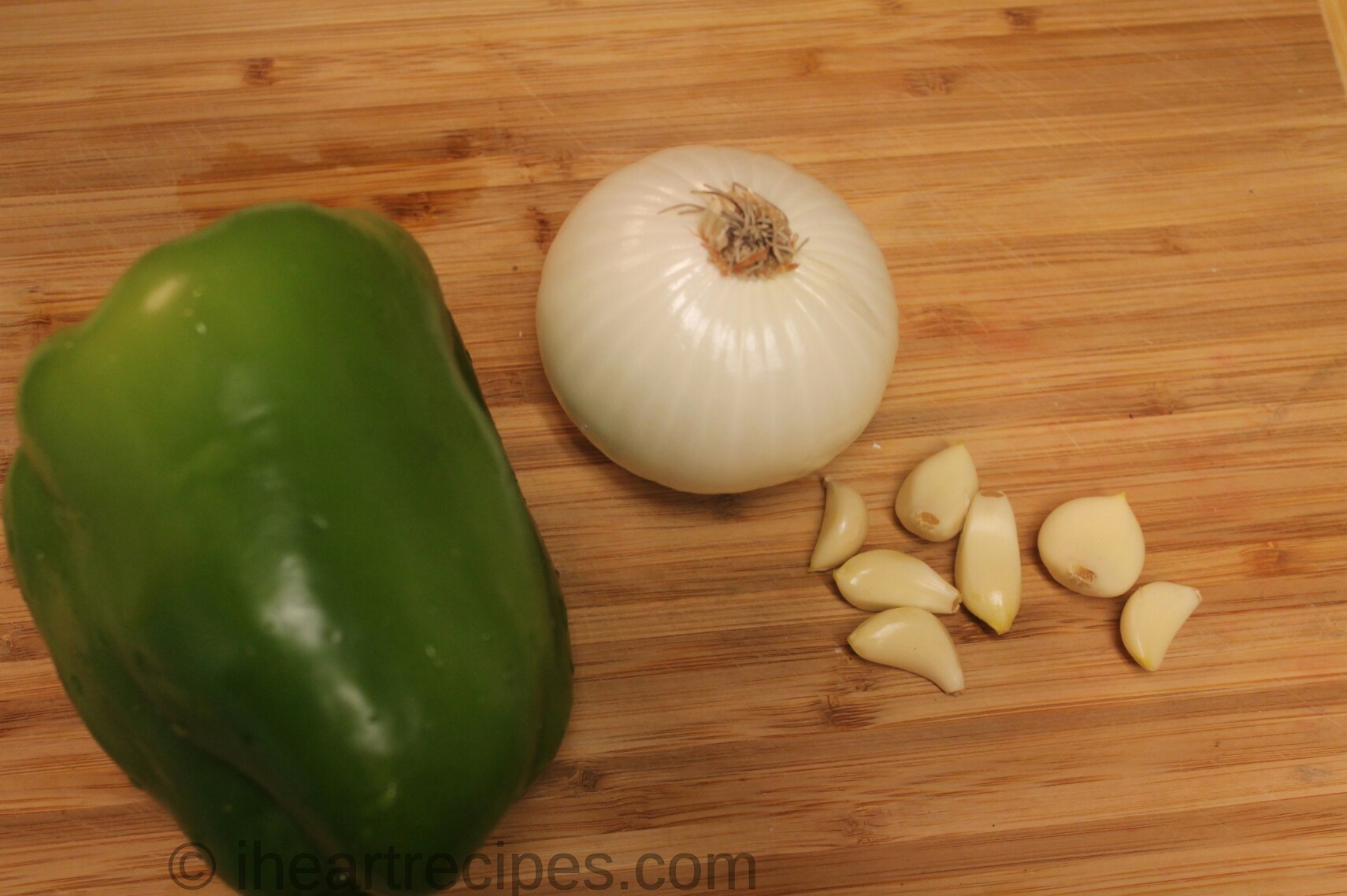 Step 2: Cook the Bacon and Veggies
Once the greens are cleaned and the veggies are chopped, it's time to get cookin'! Toss the bacon into a large pot over medium heat along with the diced vegetables. I rough chopped my bacon into large pieces so they mix well into the greens.
Those veggies will sauté perfectly in the bacon grease and turn oh-so-tender and flavorful.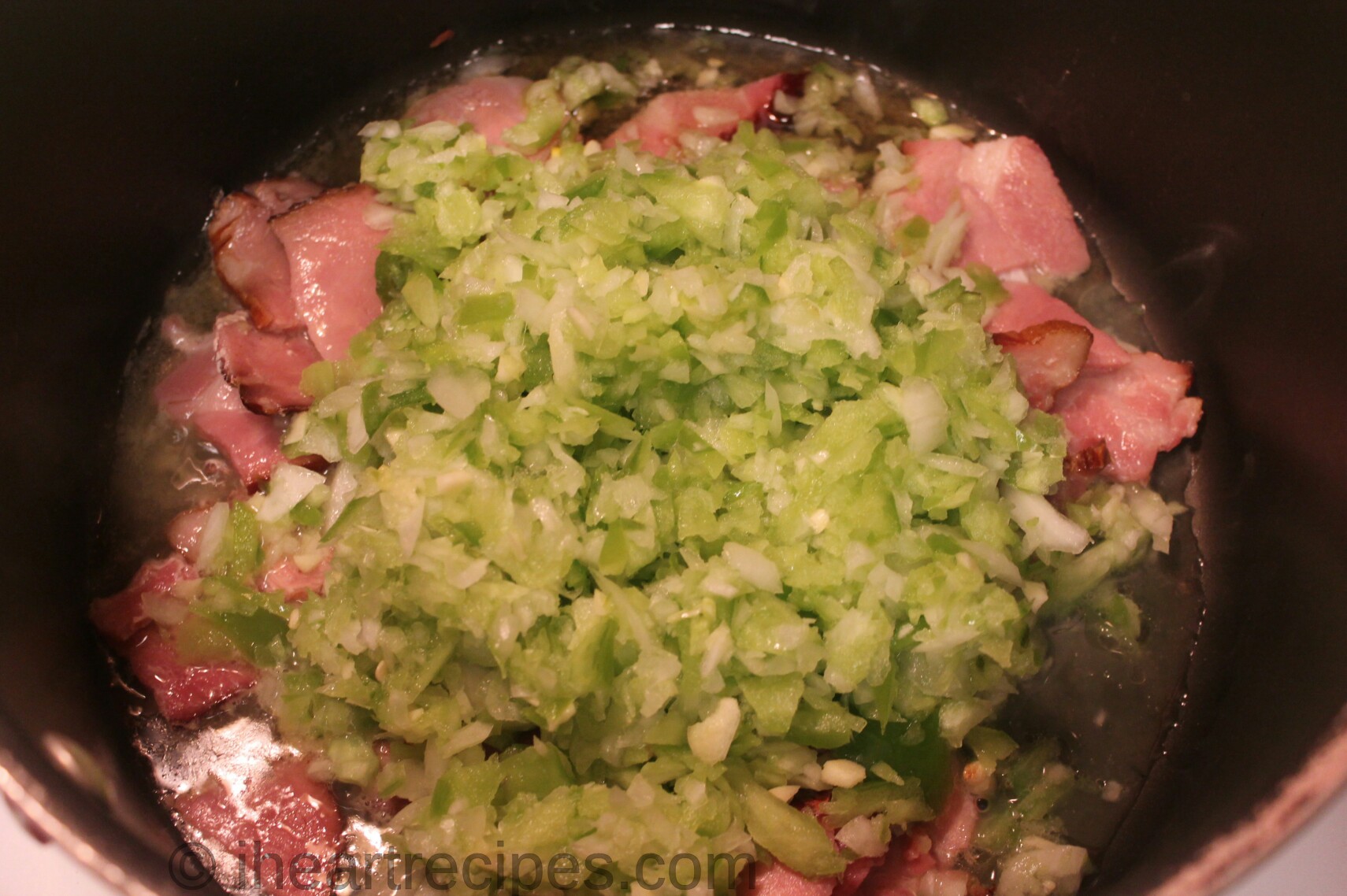 Step 3: Cook Down the Greens
Next, we're adding the greens into the large pot of veggies and bacon. Now, you won't be able to fit all of the greens in the pot at once, and that's okay! As they begin to cook down, you can add more.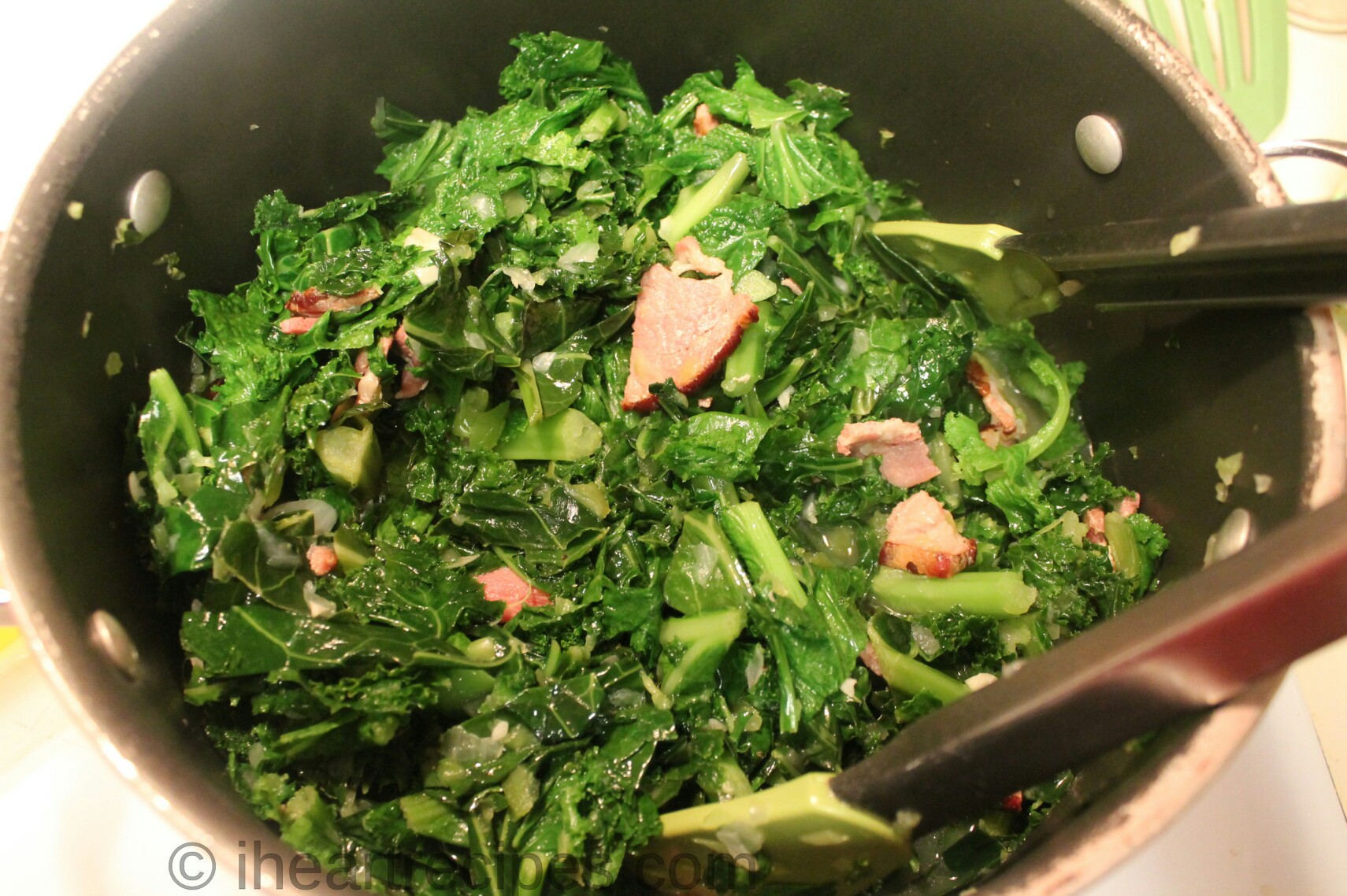 Once all the greens are in the pot with the bacon, onion, bell peppers, and garlic, we add the seasonings. I keep it simple: salt, black pepper, and red pepper flakes for some heat. However, you can adjust the seasonings based on your tastes! You can use onion powder and garlic powder, your favorite seasoning salt, or try my Rosamae Seasonings green seasoning! It has everything you need for flavorful greens—a hint of sweet, smoky, and spicy. It's perfect on roasted vegetables too! (I also have a salt-free greens seasoning for those watching their salt intake.)
Step 4: Add the Broth
Now we're at the good part… the liquid gold! Add the chicken broth and apple cider vinegar. Stir everything together and let the mixed greens simmer over medium heat for 1 hour and 30 minutes. This is going to create a savory, hearty liquid called pot liquor, or what us Southern folk call "pot likker." It's packed with all that concentrated greens flavor, and if you have any remaining in the pot once the greens are done… keep it! It can be used in anything from soups to gravies and sauces.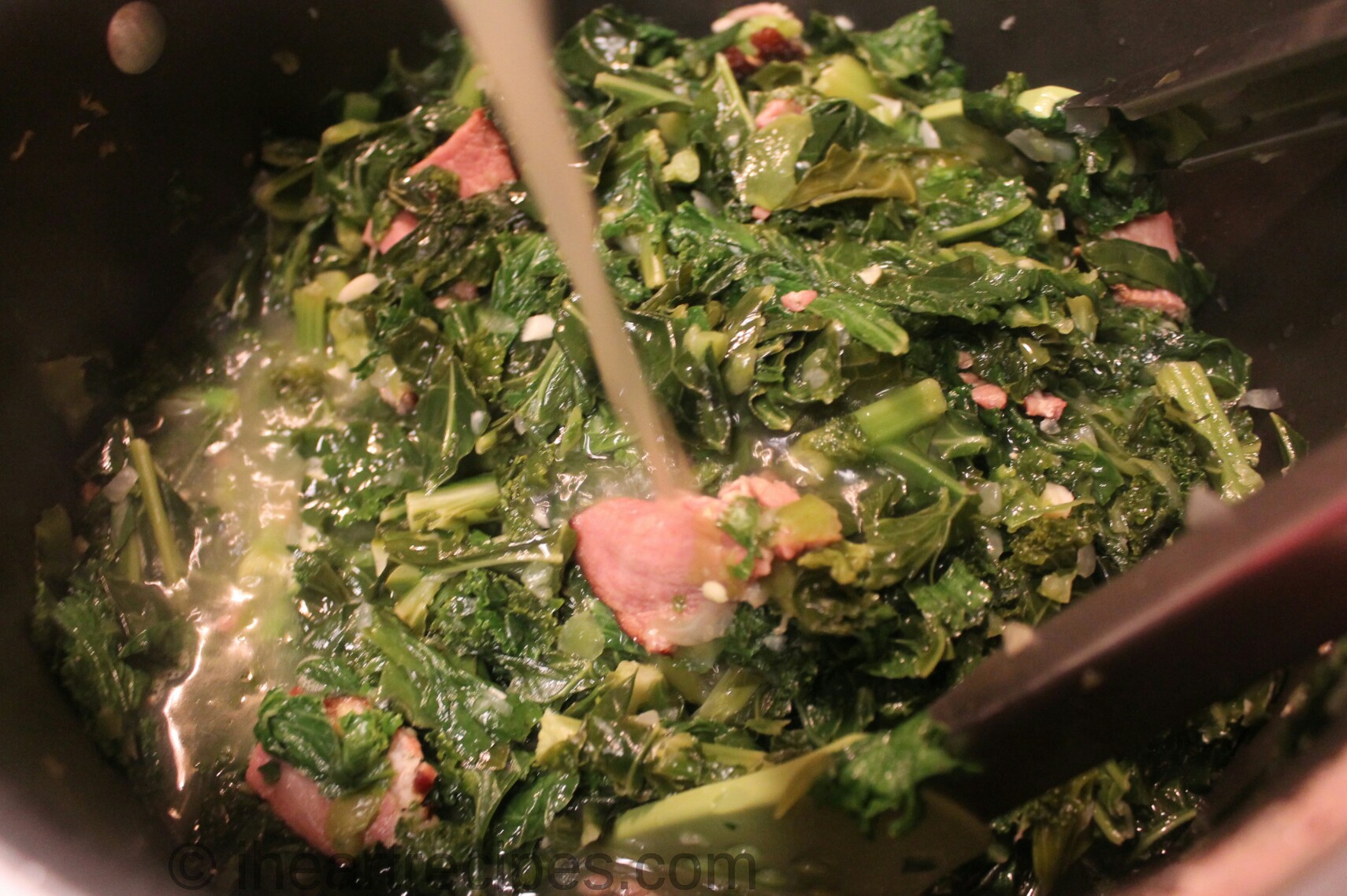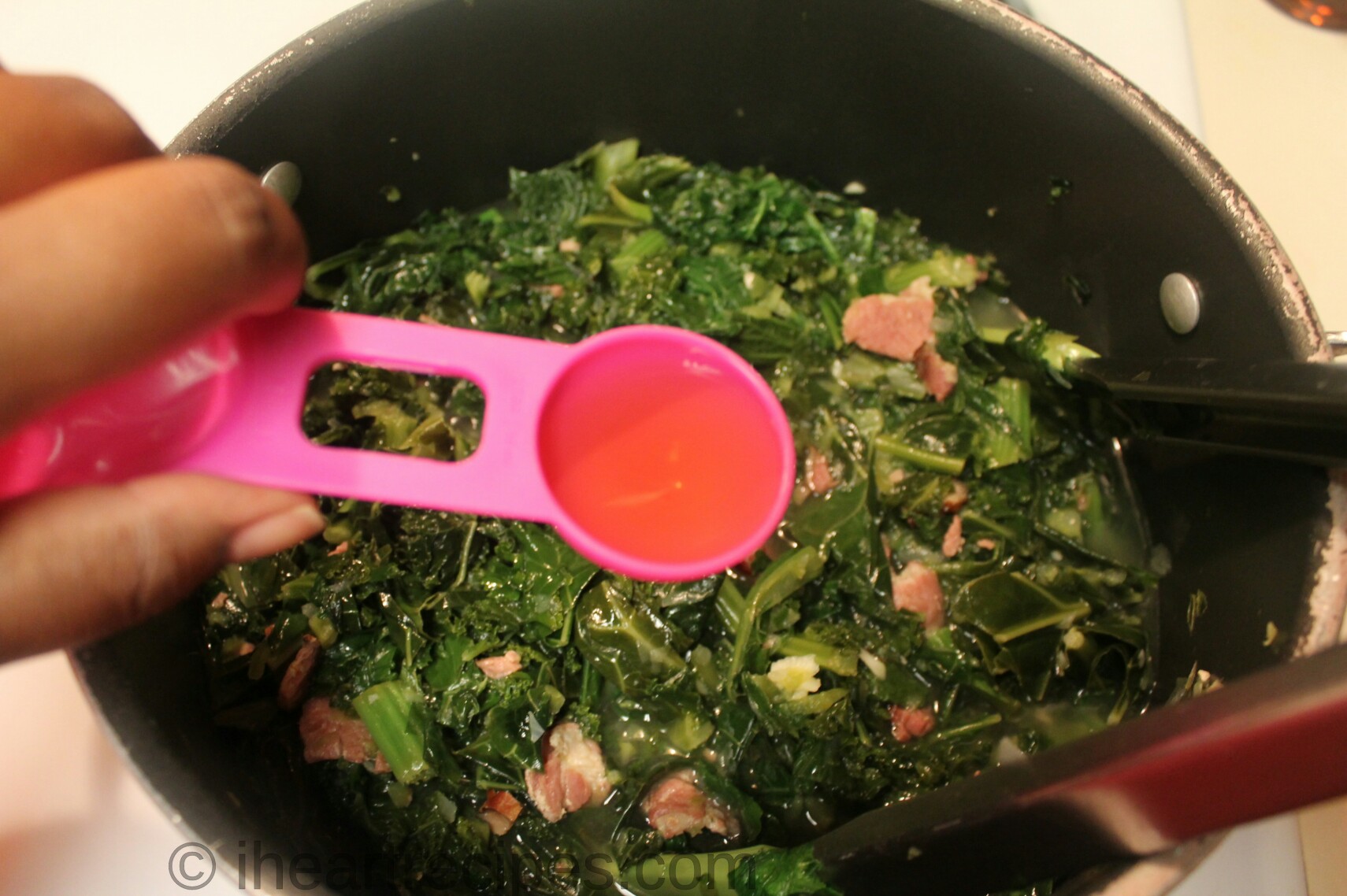 Step 5: Add the Turnips
While the Southern mixed greens are simmering away, wash and peel the turnips. I dice them up into small cubes so they get nice and perfectly tender in the greens. Turnips are similar to potatoes but have more flavor. They're starchy and when cooked, turn sweet and nutty. They'll soak up all the flavors of the pot liquor, and they're the perfect way to beef up the mixed greens.
Toss the cubed turnips into the pot of mixed greens and simmer for 30 more minutes. These delicious Southern mixed greens and turnips are ready when everything is nice and tender.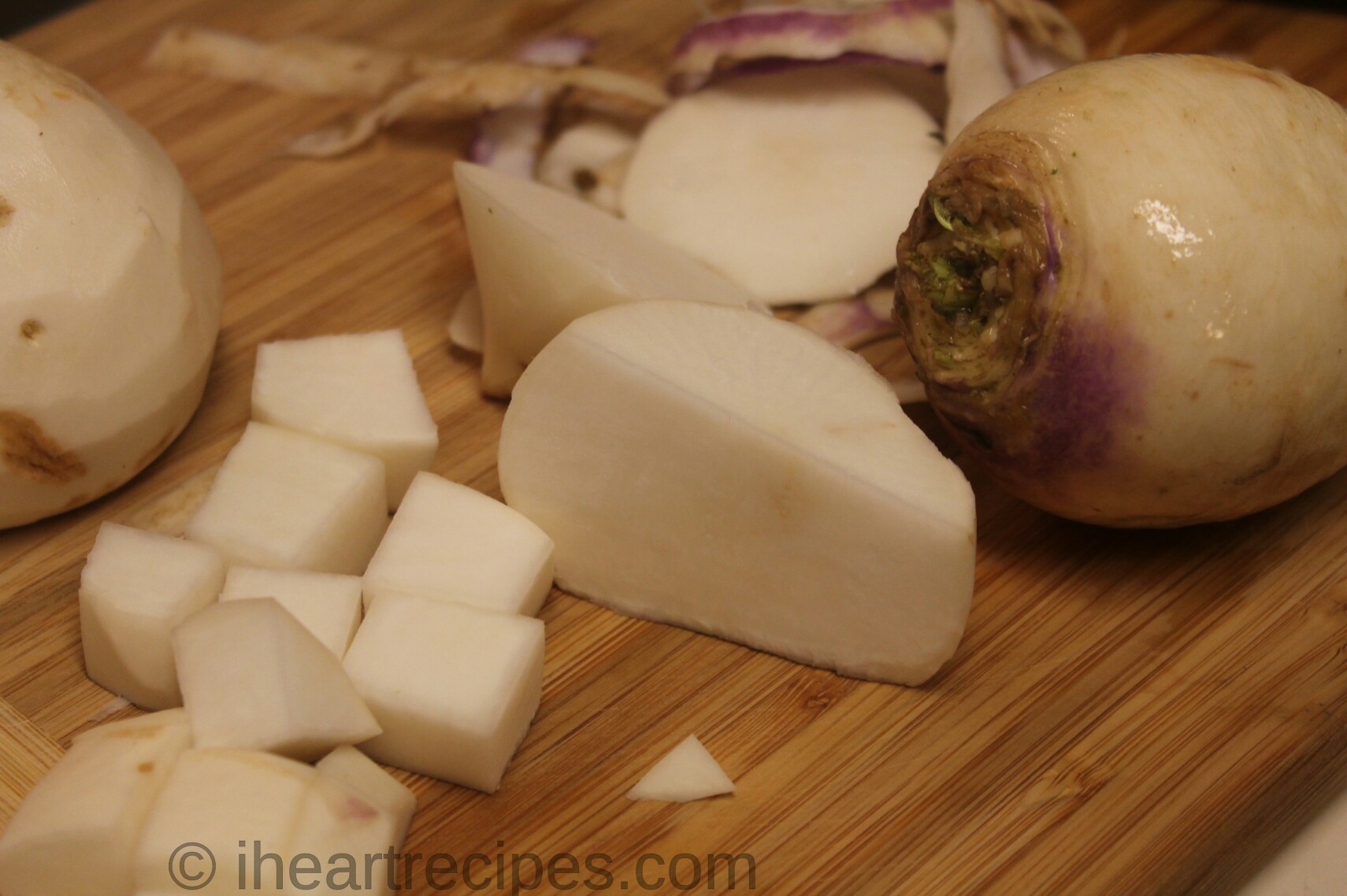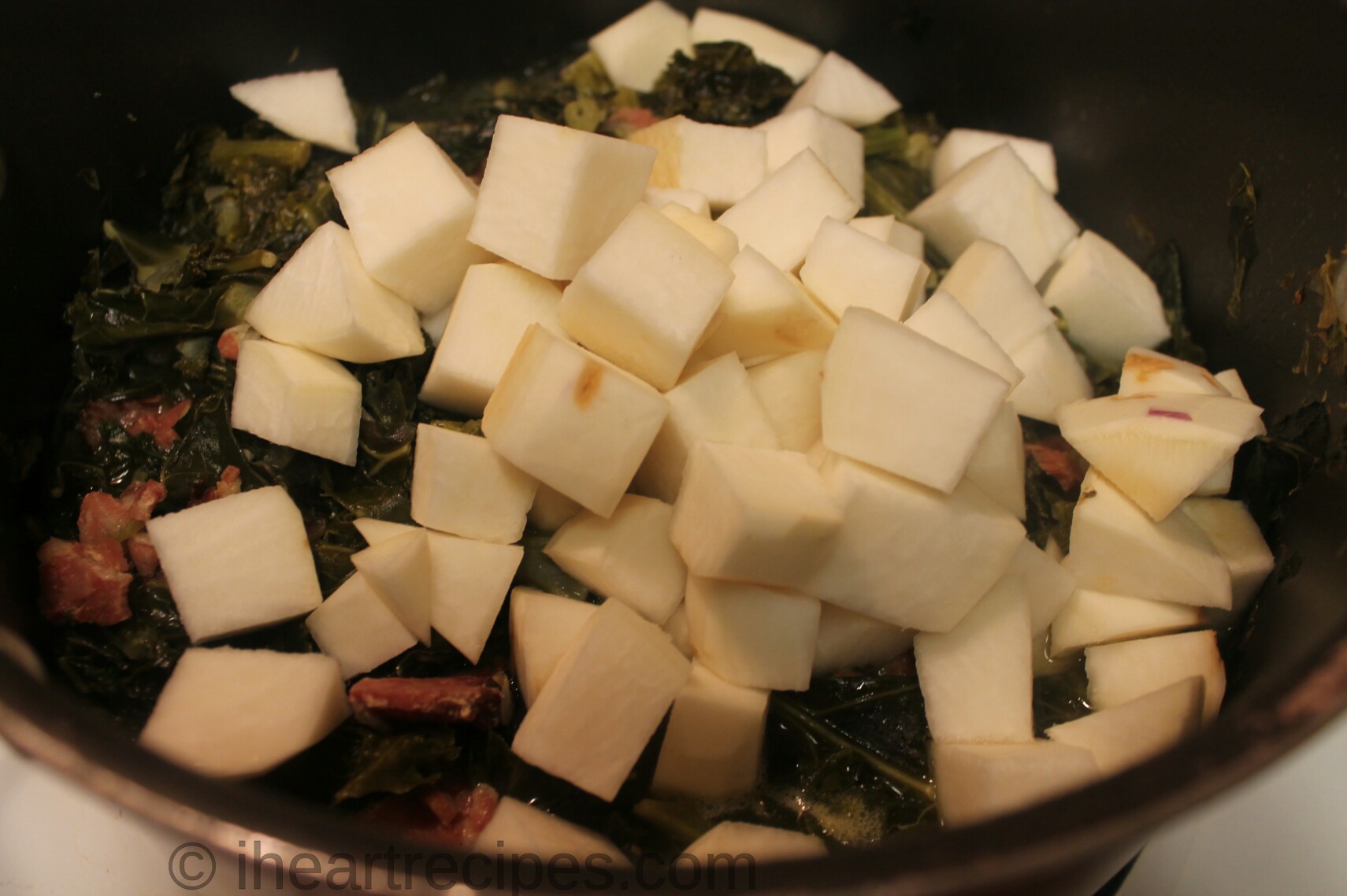 Southern Mixed Greens Recipe Tips and FAQs
This is a pretty easy Southern greens recipe, but even the best home cooks have questions! Let's go over some pro tips and tricks for the most delicious Southern mixed greens recipe.
Remove the tough stems from the greens before cooking as part of the cleaning process. The stems are bitter and tend to take longer to cook, but if you want to keep the stems on the greens, they are okay to eat.
If you don't want to use bacon, swap it out with another meat. Smoked meats like smoked ham hock or turkey necks complement the flavors of the greens. You could even cook greens with chicken or oxtails.
Cooked mixed greens can be stored in an airtight container in the fridge for 4-5 days. You can even freeze them, along with that flavorful pot likker—in freezer bags and they keep for months!
Want truly spicy mixed greens? Serve with hot sauce, dice up and add some jalapenos in with the vegetables, and add more red pepper flakes.
You can easily make mixed greens in the slow cooker as well. It's a great alternative if you cook for the holidays and need space on the stovetop.
Can I use turnip greens in this Southern mixed greens recipe?
Absolutely, I LOVE turnip greens! If you buy fresh turnips from the farmer's market or your local grocery store with the stems still attached, you certainly can chop them up and toss them in with the mixed greens.
How long does it take to cook mixed greens?
This greens recipe cooks for about two hours. However, the total cooking time for greens varies based on how tender you want your greens. If you want crispier mixed greens, you'll cook them for less time. Tender, soft greens should be cooked for upwards of one hour to 90 minutes.
What do you serve with Southern mixed greens?
These greens pair perfectly with just about any dish, but especially Southern cuisine! Serve Southern-style mixed greens alongside fried chicken, oxtails, smoked turkey wings or legs, or smothered turkey. I love serving mixed greens with turnips with cornbread and candied yams for a truly Southern meal.
No matter how you serve these Southern mixed greens, they're a showstopper. They're packed with flavor, tender and juicy, and perfectly seasoned.
Want another Southern collard greens recipe? I have plenty! Here are some more greens recipes: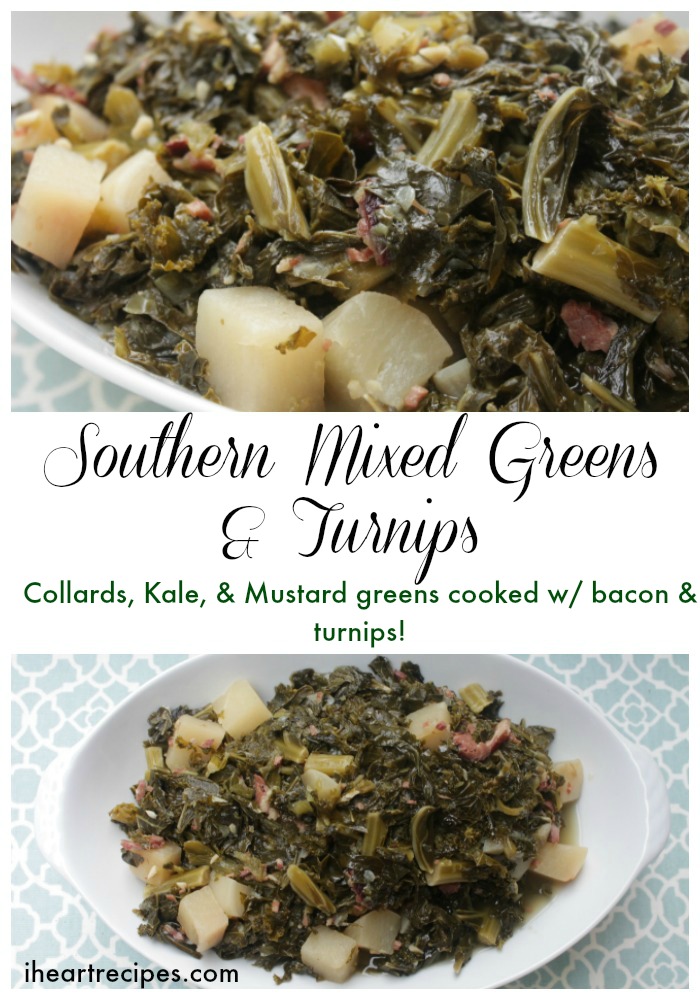 If you loved this classic Southern recipe, leave a comment below! Save and pin this recipe on Pinterest for later, and don't forget to follow along with everything Rosie and I Heart Recipes on social media—you can find me on Facebook, Instagram, and Pinterest, and you can pre-order my next upcoming cookbook, A Cousin Rosie Holiday now!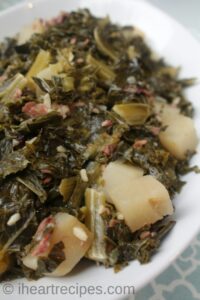 Southern Mixed Greens with Turnips
Tender Southern style mixed greens, simmered and slow cooked in a deeply flavorful broth with peppers, garlic, onions, and turnips. These delicious greens are the ultimate Southern staple side dish.
Print Recipe
Pin Recipe
Instructions
Make sure that the greens are nice and clean prior to anything else, then cut or tear the greens in small pieces.

1 lb collard greens,

1 lb mustard greens,

1 lb kale

Toss the bacon into a large pot and cook it over medium heat.

1 lb European style or regular bacon

Once the bacon starts to brown, add in the onions, bell peppers, and minced garlic. Stir and cook until tender.

1 large yellow onion,

1 large bell pepper,

3 cloves of fresh garlic

Toss in the greens. Keep in mind that all the greens may not fit into the pot at first. Once they cook down, you can add more to the pot.

Once all the greens are in the pot, pour in the chicken broth.

Next sprinkle in the red pepper flakes, seasoning salt, and black pepper.

2 tsp seasoning salt,

2 tsp ground black pepper,

2 tsp red pepper flakes

Next, add in the apple cider vinegar, then give everything a stir.

1 tbsp apple cider vinegar

Reduce the heat from medium to low-medium, place a lid on the pot, and let the greens simmer for 1 hour 30 minutes.

Remove the lid from the pot, and carefully add in the turnips.

3 – 4 medium sized turnips

Stir the ingredients, cover the pot with the lid, and let cook for an additional 30 minutes.

Serve & enjoy!
If you loved this recipe,
leave me a review below
. This helps future recipe makers and ensures continued high-quality recipes for years to come!
© 2023 I Heart Recipes