My BEST EVER candied yams recipe… sweet and tender candied yams with marshmallows! This classic dish belongs on your next holiday table.
Hey Cousins! Are you ready for another yams recipe? I honestly can't tell you how good these yams are because there are no words to describe them. I'm making the BEST candied yams recipe with marshmallows!
Now, if this candied yams recipe looks familiar, it's because I shared it on YouTube many years ago. It's the same recipe, and this time I'm giving you the written recipe, directions, and a little bit of a history lesson. Why? Because these marshmallow candied yams are just that bomb.com!
Why Do People Put Marshmallows on Candied Yams?
So, why the heck do people pile sweet and gooey marshmallows on top of candied sweet potatoes? Would you even believe me if I told you that sweet potato casserole was created to sell marshmallows?! Cousins, it's true!
In 1917, executives at the modern-day marshmallow manufacturing company, Angelus Marshmallows, needed a clever way to market their sweet and squishy new product in the United States. They reached out to Janet McKenzie Hill, the founder of the Boston Cooking School Magazine, to develop a small collection of recipes that incorporated marshmallows as an ingredient. And there you have it—the birth of modern-day sweet potato casserole with marshmallow topping! 
Are sweet potatoes and marshmallows a Southern thing?
Are sweet potatoes a Southern thing? Yes, most definitely! Sweet potatoes—or yams—were brought to America from Western Africa and found their popularity in the South. Yams are now a staple in Southern and Soul Food recipes. Enjoying a good old-fashioned sweet potato pie is very much a Southern thing. The marshmallows, however, well, that's just an American thing! You'll be hard-pressed to find marshmallows on any sweet potato or yams casserole in another part of the world.
Are candied yams and candied sweet potatoes the same thing?
Is there really a difference between candied yams and candied sweet potatoes? Technically, yes—traditional yams are different in taste and appearance than traditional sweet potatoes. Sweet potatoes have that trademark orange (or purple) color; they're sweeter and widely available in the US. Real yams have rough, bark-like skin, are starchy, and can be toxic if eaten raw. If you want true yams for any recipe, you'll likely have to go to a specialty African, Asian, or Caribbean grocer. Candied yams and candied sweet potatoes refer to the same dish—American sweet potatoes baked until tender in a sweet syrup made with brown sugar and butter.
Ingredients for Candied Yams with Marshmallows
So, after that history lesson, let's get on with the recipe! The ingredients you need to make yams with marshmallows are similar to other candied yams recipes I've shared before. Here's everything you need.
Medium-Sized Yams: American sweet potatoes are usually between 6-10 oz. each, so you'll need about 2 pounds to make this recipe.
Dark Brown Sugar & White Sugar: sugars caramelize with salted butter to make the base of the candied yams sauce.
Spices: classic spices for yams include ground cinnamon, nutmeg, and ginger, which is what I use in this recipe.
Vanilla: a hint of vanilla extract is all you need for flavor.
Marshmallows: need I say more?! I use mini marshmallows.
What kind of marshmallows should I use on candied yams?
Did y'all know there are so many kinds of marshmallows?! Flavored, stuffed, candied, cereal, fluff… you name it. However, plain ol' white marshmallows are what we need for these candied yams. 
Some tips for perfect marshmallow usage:
Use miniature marshmallows if you want less coverage or smaller marshmallows. You can use fewer for small pockets of toasted fluff or more for full coverage.
Use large marshmallows, or campfire marshmallows, if you want a larger marshmallow-to-sweet potato ratio. Campfire marshmallows toast beautifully, puff up a little bit, then shrink into gooey, sweet pockets of goodness.
If you're feeling really adventurous, make a homemade marshmallows recipe! The flavor of from-scratch marshmallows can't be beat, even though they take some effort.
The amount of marshmallows you use is totally up to you. I use 1.5 cups of mini marshmallows, which is not full coverage on top of the yams. I'd recommend not using less than a cup unless you're making a smaller batch.
How to Make Baked Candied Yams with Marshmallows
The process is very similar if you've made any of my holiday yam recipes before. It's such an easy recipe and takes less than an hour. During the holidays, that's precious cooking time you're saving!
Below is a quick overview of how to make baked candied yams with marshmallows! Check out the recipe card at the bottom of the post for complete instructions and ingredient measurements.
Wash, peel, and slice the fresh sweet potatoes. Cut them up in chunks or rounds—totally up to you. Just make sure to cut them into similar size pieces so they cook evenly.
Boil the yams in a large pot of water over high heat. We don't need to cook them through fully; they will finish cooking in the oven!
In a small saucepan, make the brown sugar mixture. Combine melted butter with white and brown sugars, spices, and vanilla. Don't overcook this mixture—you should make it over low heat.
Spread the boiled yams in a single layer in a prepared baking dish and pour the brown sugar mixture on top. Make sure all the yams are covered in the sauce.
Bake, uncovered, in a preheated 375-degree oven for about 20 minutes.
Add the marshmallows, then place the casserole dish back in the oven for another 5-7 minutes until the marshmallow topping is perfectly golden brown and gooey.
There you have it! That's the quick-step process to making one of the most classic Thanksgiving dinner side dishes. You definitely want to save this recipe for a holiday meal or a special occasion only—it's far too sweet for an everyday side but perfect for indulgences.
Do I have to boil the yams before baking the candied yams casserole?
In this recipe, yes—I boil before I bake! However, I have a similar baked candied yams recipe that skips the boiling step, so it's not always necessary. In this case, I think boiling the sweet potatoes makes them perfectly tender on the outside. Then baking in the oven with the sweet, caramelized sauce ensures they're perfectly cooked entirely through.
Canned Yams vs. Fresh Yams: Which Should You Use? 
Y'all know I am all about time-saving hacks, especially around the holidays. Can you save a little prep time and use canned yams for a candied yams recipe? Sure, you could; desperate times call for desperate measures. 😉 Canned yams might be just as nutritious as fresh, but in this recipe, fresh is definitely best.
More Candied Yams Recipes & Holiday-Worthy Side Dishes
Candied yams with marshmallows are a must-have on any holiday table. Lucky for you, I have plenty of variations of candied yams right here!
The sweet potato recipes don't stop there—I told y'all I'm a Soul Food blogger! You've gotta fill your Thanksgiving table with my Soul Food Sweet Potato Pie, a classic Sweet Potato Casserole, Sweet Potato Pie Fudge, and even Honey Sweet Potato Dinner Rolls.
Candied yams with marshmallows pair perfectly with other savory holiday season side dishes like collard greens, cornbread dressing, and creamy mashed potatoes. 
Video Tutorial for Baked Candied Yams with Marshmallows
Watch my video tutorial below, showing exactly how I make decadent homemade candied yams with marshmallows. You can also print out the ingredients and instructions using the recipe card. 
Be sure to share and save this recipe on Pinterest! You can also follow along with all things Rosie and I Heart Recipes by following me on Facebook, Instagram, and Pinterest, and check out all my cookbooks!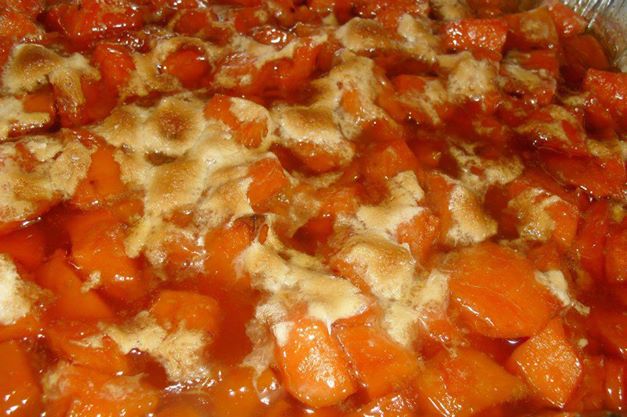 Candied Yams with Marshmallows
Made completely from scratch, these are the BEST candied yams to serve at any holiday dinner! Sweet, tender yams with a simple syrup sauce topped with marshmallows. Sweet and savory!
Watch Video
Print Recipe
Pin Recipe
Instructions
Place the peeled and cut yams into a large pot and cover the yams with water.

Place the pot on the stovetop, turn the heat to high, and let the yams boil for about 5 minutes. Then drain the yams and set them to the side.

In a separate pot, add 1 stick of butter and melt it over medium-high heat. Once the butter is melted, reduce the heat to low (or off) and add in the granulated sugar and brown sugar. Stir to cook for 1 minute.

1 stick of salted butter,

3/4 cup granulated sugar,

3/4 cup dark brown sugar

Sprinkle in the ground cinnamon, ground nutmeg, and ground ginger. Stir, then add in the vanilla extract.

1 tbsp cinnamon,

1/2 tsp ground ginger,

1 tsp ground nutmeg,

1 tbsp pure vanilla extract

Place the yams into a buttered baking dish and pour the candied mixture all over the yams. Make sure the yams are well coated with the candied mixture!

Place the yams in the oven, uncovered, at 375 F for 20 minutes.

Remove the yams from the oven and add the marshmallows on top.

1 1/2 cup mini marshmallows

Place the yams back into the oven for 5-7 minutes or until the marshmallows are golden brown and gooey.

Allow the candied yams and marshmallows to cool for 10 minutes, then serve & enjoy!
Video
If you loved this recipe,
leave me a review below
. This helps future recipe makers and ensures continued high-quality recipes for years to come!
© 2023 I Heart Recipes