This easy Thanksgiving inspired meal is made on a sheet pan. It includes two well seasoned Cornish Hens, homemade cornbread dressing, and southern style green beans, and potatoes.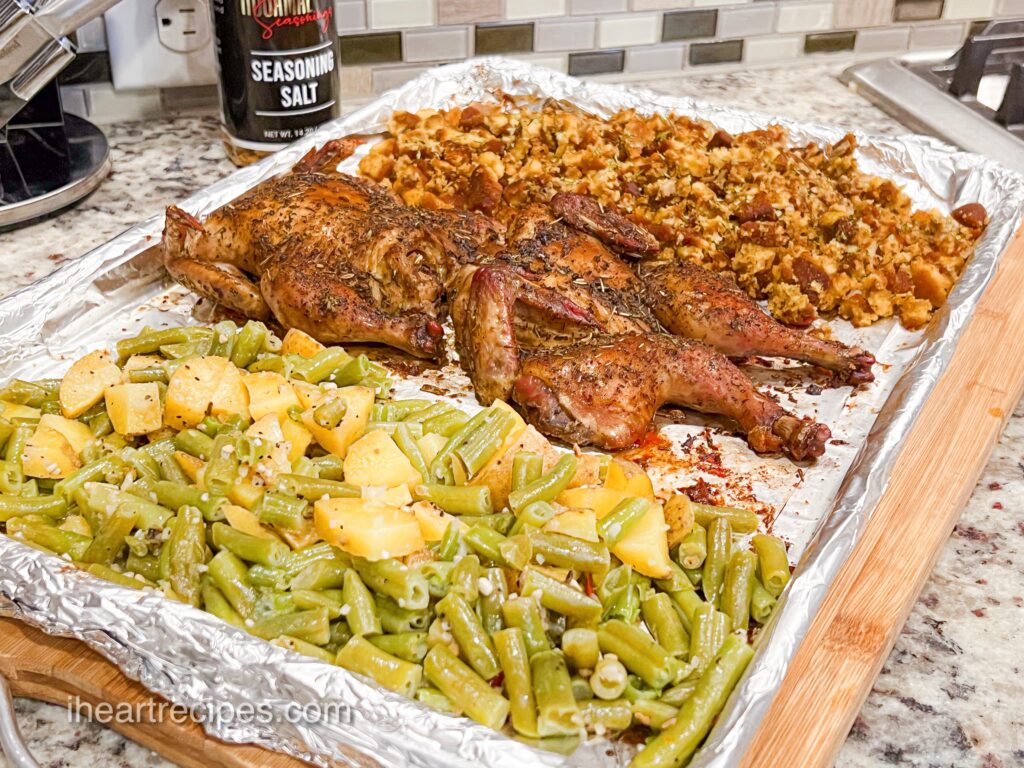 Now, when Thanksgiving rolls around, I know many of us picture that massive table heaving under the weight of every conceivable dish. But let's keep it real—not everyone's about that life! Some of us cherish a quieter, more intimate setting. Maybe it's just you and your boo, or perhaps it's a solo celebration where you're the guest of honor. For those moments, we need a meal that's less "feed the neighborhood" and more "this is just for us." So, for my cousins out there seeking a simplified, yet still oh-so-delicious, Thanksgiving, here's a dinner for two that won't have you navigating leftovers into Christmas.
First Up: Cornish Hens
Alright, Cousin! If you've never dabbled in the world of Cornish hens, let me give you a little nudge in that delicious direction, especially when we're talking small holiday dinners.
Why Cornish Hens are the VIPs (Very Important Poultry) for Small Holiday Dinners:
Just the Right Size: Cornish hens are like the compact cars of the poultry world. Perfectly sized for one or two people. Each person gets their own bird, and there's something fancy about that, right? It's like giving everyone their own little poultry kingdom on a plate!
Quick Cooking: Ain't nobody got time to spend all day in the kitchen, especially during the holidays. Cornish hens cook up faster than larger birds, meaning you spend less time checking the oven and more time sipping that festive drink and rocking around the Christmas tree (or Menorah, or whatever festive decor you've got going on).
Versatility is Key: These little birds are like blank canvases ready for your culinary masterpiece. Whether you're into a savory herb rub, a sweet glaze, or a spicy kick, Cornish hens can handle it all. And let's be real, Cousin, they're pretty much the chameleons of the holiday table, blending in with any flavor profile you throw their way.
Juicy and Tender: Because of their size and usually even thickness, Cornish hens tend to cook very evenly. That means every bite is juicy and tender. No more dry meat scenarios. It's like having the VIP section of poultry on your plate.
Aesthetic Appeal: Let's face it, presentation is everything during the holidays. And serving individual Cornish hens? Well, that just ups the fancy factor by about a hundred. It's like saying, "I care about you so much, I got you your own bird."
Less Leftovers, More Freshness: If you've ever tried to fit a leftover turkey in your fridge, you know the struggle. With Cornish hens, you usually won't have much leftover. And if you do, it's a lot easier to manage. Fresh meals every time, without the week-long turkey sandwich saga.
So, the next time you're thinking about what to serve for that intimate holiday dinner, remember our little friend, the Cornish hen. They're small, but they pack a punch, and they're ready to be the star of your holiday table. Go on, Cousin, give these birds their moment in the spotlight!
Homemade Cornbread Dressing
Now, let's slide over to that cornbread, folks! Whip up this homemade delight using just a handful of ingredients. But wait, there's a plot twist: enter Rosamae Seasonings Dressing Seasoning! With this superstar in our pantry, we're sidestepping all that tedious dicing without skimping a smidge on flavor. The result? A cornbread masterpiece that screams 'delicious' but whispers 'easy-peasy.' It's all about getting that hearty, home-cooked taste without breaking a sweat. So grab that mixing bowl and let's make some cornbread magic, y'all!
Southern-Style Green Beans and Potatoes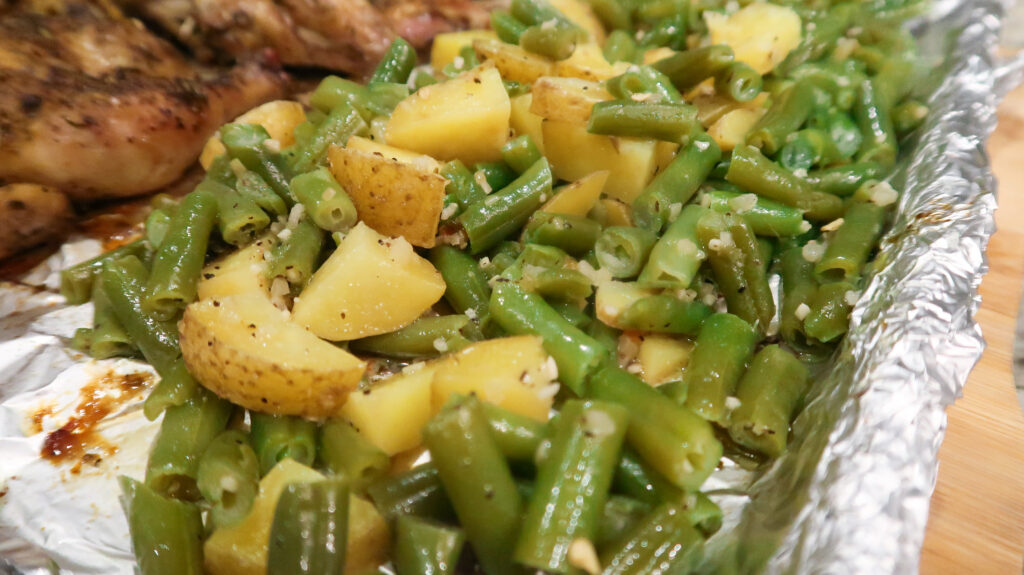 What's a good meal without some classic Southern-Style Green Beans and Potatoes? These aren't just veggies; they're like little bites of family history and tradition. And here's the best part: they cook right on the same sheet pan with those Cornish hens and cornbread dressing. It's a full meal, with flavors and memories all mixed in, ready to serve up and enjoy. It's comfort food done right, y'all!
Watch me make this easy sheet pan Thanksgiving Dinner For Two!
Stock up on Rosamae Seasonings HERE!
Looking for some more Holiday Dishes? Check these out!
Check out this video tutorial, and print out the recipe card below!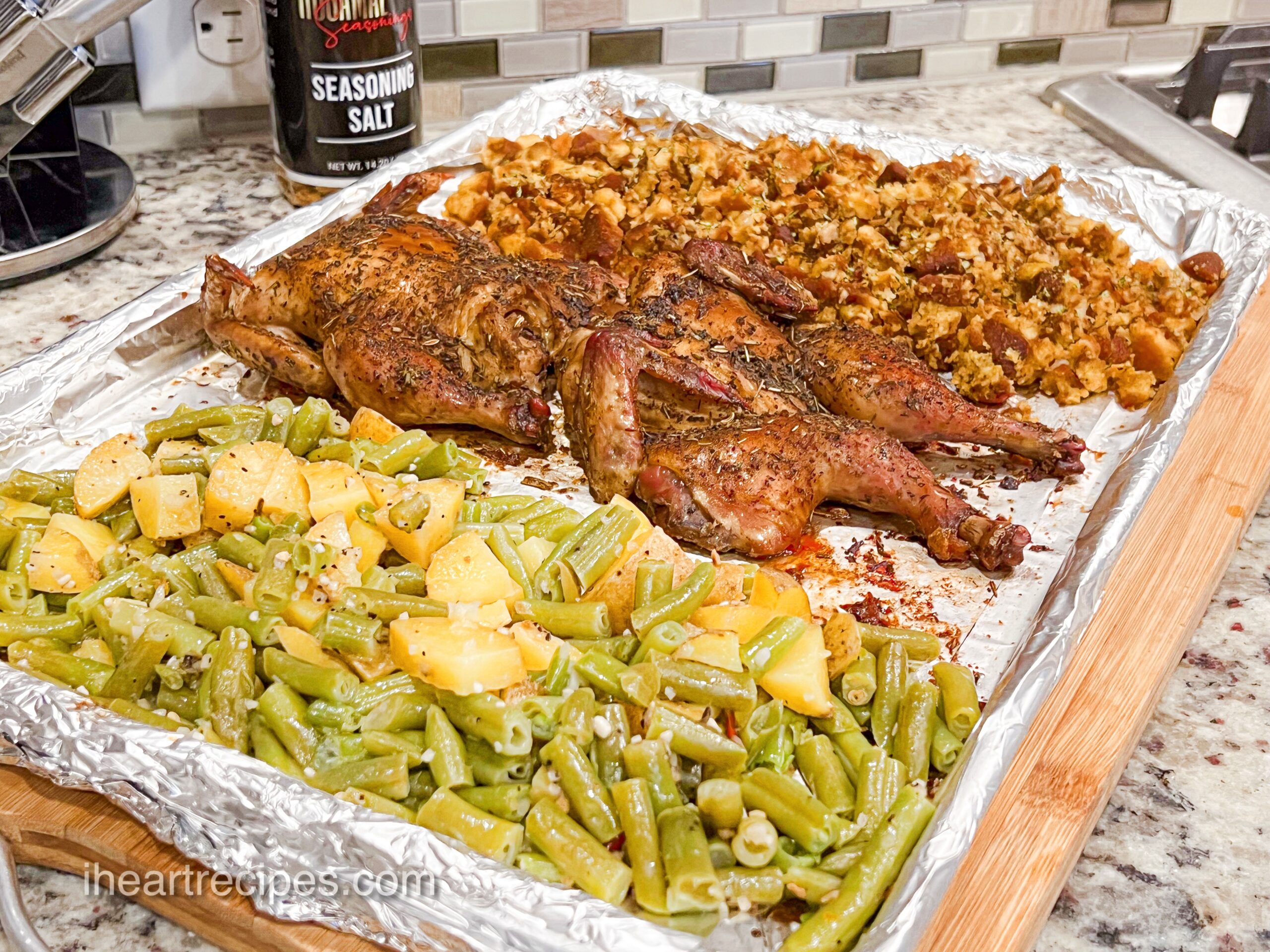 Thanksgiving Dinner For Two
An easy holiday meal for two, cooked on a sheet pan!
Print Recipe
Pin Recipe
Ingredients
Green Beans & Potatoes
1/2

lb

frozen green beans

3

small

golden potatoes

chopped

2

tbsp

Rosamae Seasonings Greens Seasoning

4

tsp

salted butter
Cornbread Dressing
3

cups

cubed cornbread

1

small

onion

diced

2

tsp

Rosamae Seasonings Dressing Seasoning

shredded cornish hen from cornish hen backs( watch video)

1/2- 3/4

cup

liquid from cornish hens ( watch video)

1 1/2

cup

water or broth
Instructions
Cornish Hens
Preheat the oven to 375°F.

Line a baking sheet with aluminum foil.

Remove the backbone of the Cornish hens using kitchen shears.

Place the hens on the prepared baking sheet.

Season both sides of the hens with seasoning salt, garlic pepper, Herbs de Provence, and poultry seasoning.

Cover the hens with aluminum foil.

Remove the hens and pour the accumulated liquid into a measuring cup.
Green Bean and Potato Foil Pack
In a bowl, combine frozen green beans, chopped potatoes, and Green Seasoning.

Top with a pats of butter.

Wrap the mixture tightly in a foil pack.

Place the foil pack next to the Cornish hens on the baking sheet.
Cornbread Dressing
In a large bowl, combine cubed cornbread, water, and the liquid reserved from the Cornish hens.

Add meat from the Cornish hen backs and chopped onions.

Sprinkle in Rosamae Seasonings Dressing seasoning.

Mix until well combined.

Transfer to a foil-lined portion of the baking sheet and cover with aluminum foil, and seal the foil pack.
Final Bake
Place the Cornish hens, green bean foil pack, and cornbread dressing on the baking sheet.

Bake for an additional 30-40 minutes, depending on your oven.

Remove all components from the oven and serve immediately.
If you loved this recipe,
leave me a review below
. This helps future recipe makers and ensures continued high-quality recipes for years to come!
© 2023 I Heart Recipes