60 No Fail Tailgating Recipes From All Over The Web!
Nothing brings people together quite like sports and food. My husband I are huge football fans, and we love having get-togethers on game days. I love serving delicious wings, sliders, and other delectable rich and hearty finger foods! In this post I'm going to share some of the most amazing tailgating recipes from all over the web.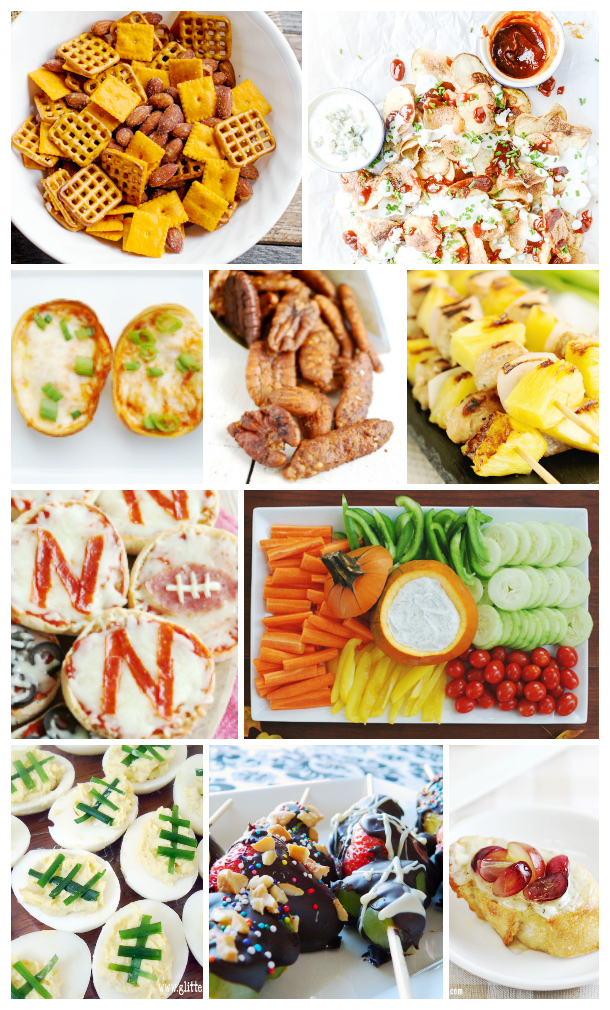 EASY TAILGATING RECIPES: MUST-TRY SNACKS
For these tailgating snacks, I've gathered a little of everything people love to mindless munch, sweet and salty flavor combinations, some spice and heat, fresh foods, and even something for those with a sweet tooth.
An Oregon Cottage – Sriracha Honey Nut Mix
Wholefully – Cheddar Smokehouse Snack Mix
How Sweet Eats – Homemade Potato Chips with Sriracha BBQ Sauce and Greek Yogurt Blue Cheese Dip
Glitter N Spice – Football Deviled Eggs
The Merry Thought – Autumn Veggie Platter
Julie's Eats and Treats – Pineapple and Chicken Kabobs
Tattooed Martha – Chocolate Covered Fruit Kebobs
Mom Endeavors – Mini Pizzas
Princess Pinky Girl – Mini Chicken Enchiladas Cups
Homecooking Memories – Grape Crostini with Blue Cheese Spread and Honey
I Heart Recipes – Italian Pinwheel Finger Sandwiches
I Heart Recipes – Red, White and Blue Rice Krispies Treats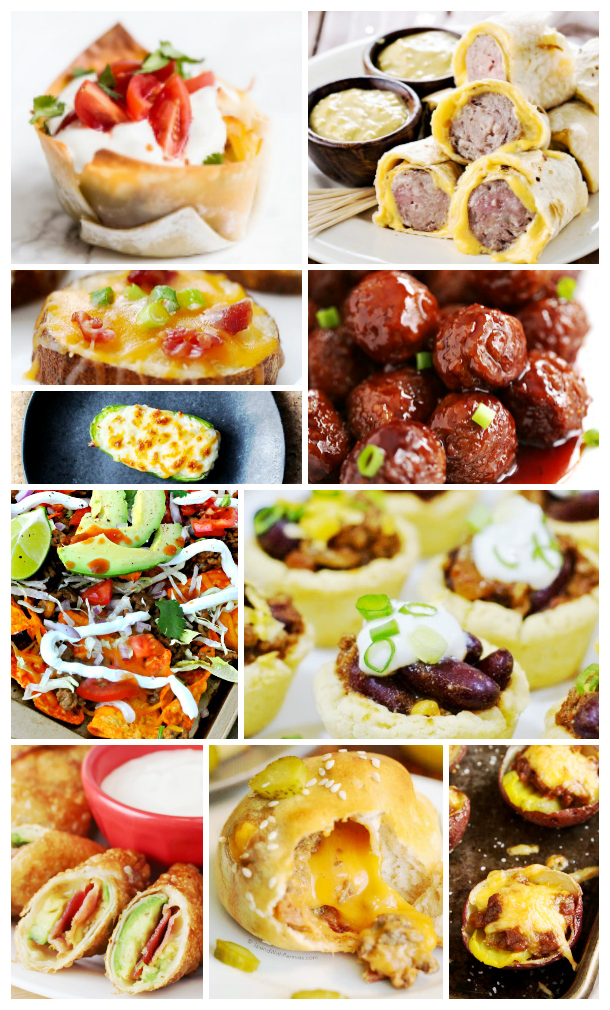 POPPABLE TAILGATING RECIPES: FINGER FOODS
Just enough to tease your guests' palates. Nachos, tacos, egg rolls, jazzed up jalapeno poppers – it's like the best 10 appetizers you could ever want on a menu. No one's going to believe you that there's grape jelly in the 3-Ingredient Meatballs, but they'll love them anyway. Make any of these tailgating finger foods, and you will surely win over everyone – no matter who they're rooting for.
Spend With Pennies – Bacon Cheeseburger Bombs
Yes to Yolks – Bacon and Apple Stuffed Jalapeno Poppers
Homecooking Memories – Avocao and Bacon Egg Rolls
This Kitchen is My Playground – Mini Cornbread Cups filled with Chili
I Heart Naptime – 3-Ingredient Meatballs
Homemade Hooplah – Tortilla Wrapped Bratwursts with Beer Mustard
First Home Love Life – Doritos Nachos
I Heart Naptime – Easy Potato Skins
A Farmgirl Dabbles – Sloppy Joe Baked Potato Skins with Smoked Cheddar
The Sweetest Occasion – Crunchy Veggie Taco Cups
I Heart Recipes – BBQ Meatloaf Meatballs
I Heart Recipes – Bacon Wrapped Jalapeno Poppers
I Heart Recipes – Green Bean Casserole Biscuit Cups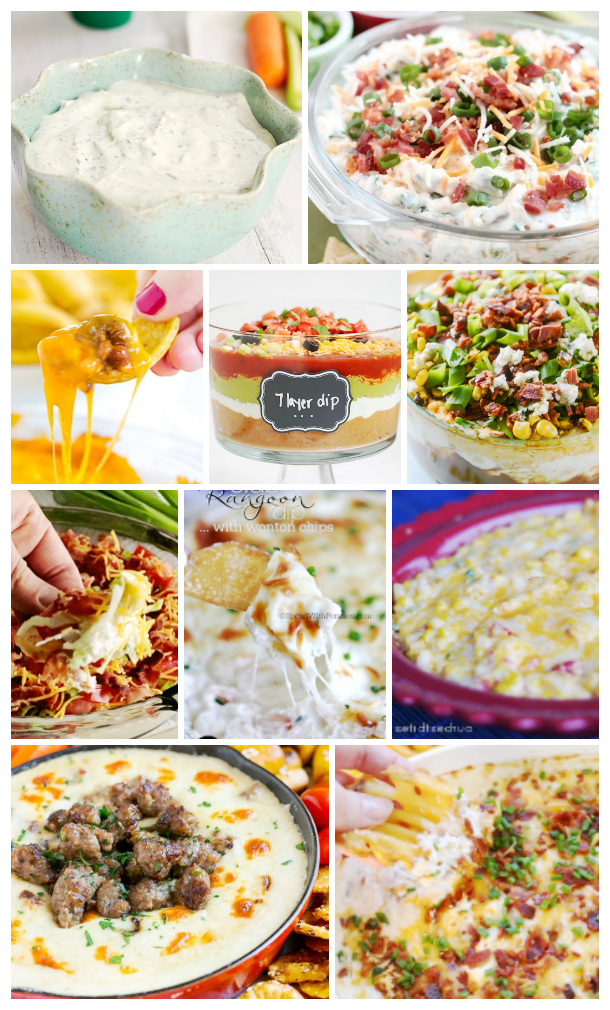 THE BEST TAILGATING DIPS
I love dips. These are my top 10 go-to dips. There's a fresh herbed veggie dip that goes perfectly with the veggie tray I linked to above.
Dinner at the Zoo – Beer Cheese Dip
Mom Endeavors – Hot Loaded Baked Potato Dip
Julie's Eats and Treats – Easy BLT Dip
I Heart Naptime – 7 Layer Dip
Brown-Eyed Baker – Cheesy Chili Dip
Dessert Now Dinner Later – Loaded Ranch Dip
Spend With Pennies – Crab Rangoon Dip with Wonton Chips
Our Best Bites – Hot Corn Dip
How Sweet Eats – Layered Buffalo Chicken Dip
Eat Drink Love – Herbed Veggie Dip
I Heart Recipes – Bacon Jalapeno Popper Dip
I Heart Recipes – Cheesy Spinach and Artichoke Dip
I Heart Recipes – Easy and Delicious Guacamole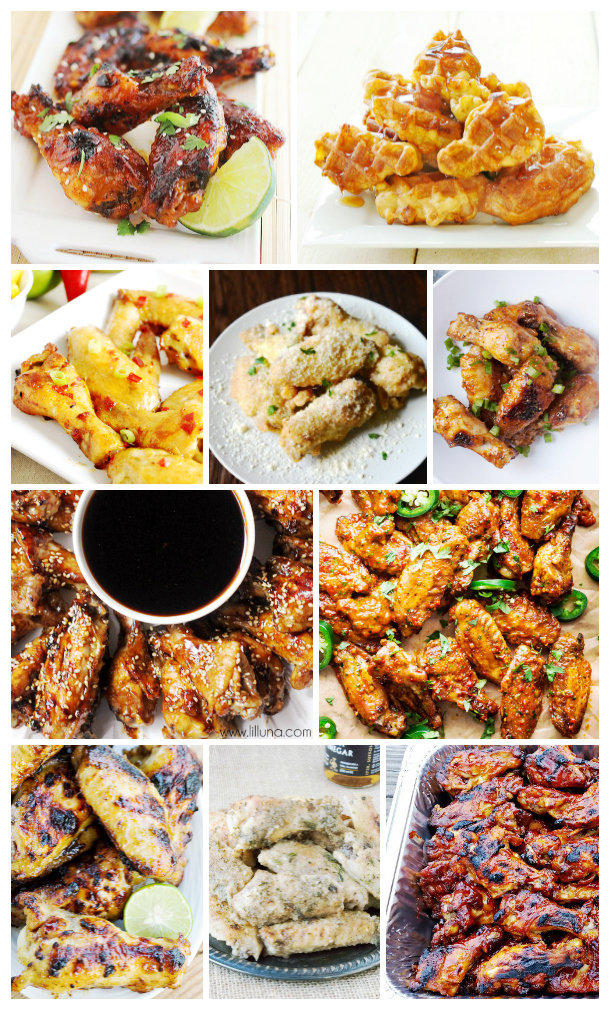 GAME DAY TAILGATING MUST-HAVE WINGS
With the chicken wings, I had to include the classics: BBQ, hot, and teriyaki. Even if those are the only flavors you make, your wings will still be a huge hit. But if you're looking for a wider flavor selection there are some below!
1 Fine Cookie – Chicken and Waffle Wings with Dr Pepper BBQ Sauce
Copy Kat – Copycat Wingstop Garlic Parmesan Wings
Sugar Free Mom – Oven Fried Salt and Vinegar Chicken Wings
Jo Cooks – Red Chimichurri Chicken Wings
Arts Crackers – Chili Mango Chicken Wings
This Silly Girl's Kitchen – Grilled Key Lime Chicken Wings
Recipe Girl – Baked Honey Mustard Wings
The Comfort of Cooking – Baked Honey Sriracha Chicken Wings
Lil Luna – Teriyaki Wings
Intelligent Domestications – Crockpot BBQ Chicken Wings
I Heart Recipes – Jerk Sriracha Pineapple Wings
I Heart Recipes – Old Fashioned Crispy Fried Chicken Wings
I Heart Recipes – Cilantro Lime Chicken Wings
I Heart Recipes – Basil Honey Mustard Wings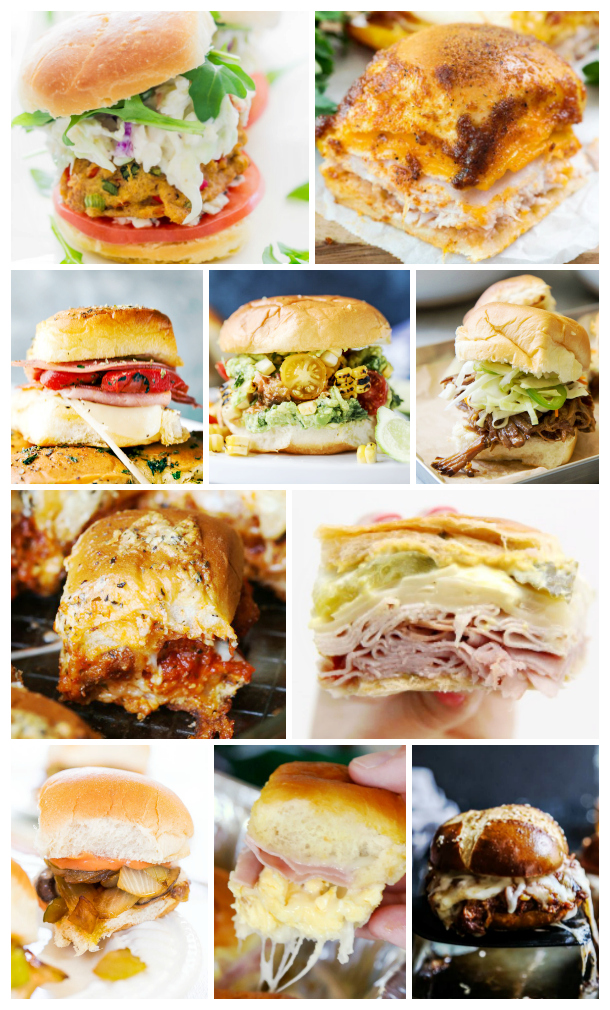 EASY TO MAKE SLIDERS FOR TAILGATING CROWDS
Sliders are always a guaranteed crowd pleaser. Anything that's small and can be eaten with just your hands gets points at any tailgating party. You can't go wrong with any of these slider recipes.
How Sweet Eats – Pulled Chicken Guacamole Sliders with Grilled Corn Pico
Crazy For Crust – BBQ Turkey Cheddar Sliders
The Little Epicurean – Shoyu Pulled Pork Sliders
Mom Endeavors – Gameday Breakfast Sliders
Jo Cooks – Crab Cake Sliders with Homemade Coleslaw
Smashed Peas and Carrots – Jalapeno Cuban Sliders
Averie Cooks – Caramelized Onion and Portobello Mushroom Sliders with Fry Sauce
Chelsea's Messy Apron – Hot Italian Sliders
Climbing Grier Mountain – Oven Baked Pulled Pork Sliders with Beer Cheese Sauce
Cookies and Cups – Chicken Parm Sliders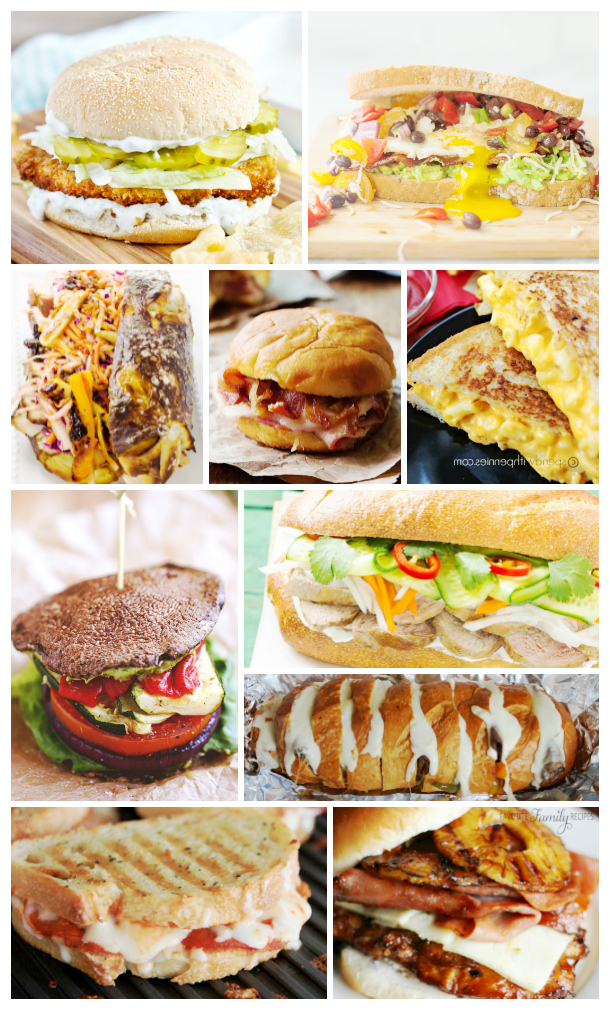 BELLY-FILLING TAILGATING SANDWICHES
Now while sliders are incredible little mini sandwiches, sometimes they just don't cut it. That's why you need to have yourself some real hearty sandwiches for your football fans. You'll find twists on comfort food such as the mac and cheese grilled cheese sandwich or the pepperoni pizza panini. No one's leaving this get together hungry. It's impossible to see these delicious dishes and resist them!
Twin Dragonfly Designs – Campfire Philly Cheesesteak Sandwiches
Spend with Pennies – Grilled Mac and Cheese Sandwiches
Fav Family Recipes – Big Kahuna Chicken Teriyaki Sandwiches
Blissful Basil – Roasted Vegetable Sandwiches with Avocado Basil Aioli
Yellow Bliss Road – Crispy Dill Chicken Sandwiches
Pinch of Yum – Hot Ham and Cheese Sandwiches with Bacon and Caramelized Onions
Our Best Bites – Grilled Pizza Sandwiches
Dinner at the Zoo – Easy Bahn Mi Sandwiches
Ready to Yumble – Pork Belly Po Boy on a Pretzel Roll Sandwiches
Wholefully – Huevos Rancheros Breakfast Sandwiches
Definitely try some of these recipes, and be sure to tell me some of your favorites! Don't forget to tag and follow me on Facebook, Instagram, and Pinterest, subscribe to I Heart Recipes on YouTube, and check out all my cookbooks! I just released a brand new cookbook, Super Soul Food with Cousin Rosie, with many recipes you can't find anywhere else.