Authentic Soul Food Style Baked Candied Yams!
It's been a long time coming, but the time is here- and I MUST share my recipe for some good old fashioned baked candied yams, soul food style! I refer to the baked candied yams as my soul food version, because these are the kind of candied yams that you would buy from an authentic soul food restaurant. These candied yams are so buttery, and tender. The practically melt in your mouth!
Although I uploaded a recipe for " The Best Candied Yams Ever" a few years ago, this recipe will give that recipe a run for it's money. Now don't get me wrong- both recipes are amazing. However, if you're looking for southern or soul food style candied yams, this is the recipe that you want. Also, these yams are actually easier to make because there are less cooking steps!
So now that I have your full attention, let me show and tell you how I make my Baked Candied Yams – Soul Food Style!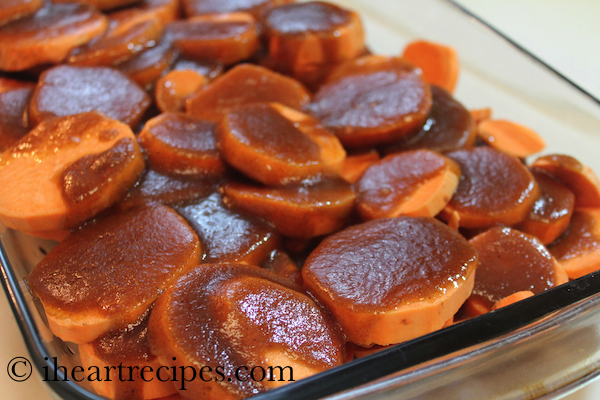 For my southern style candied yams, I use Garnet Yams ( which is actually a red sweet potato!). I love the orange flesh of garnet yams. They make beautiful candied yams, and they are also nice and sweet! I like buying medium sized yams because they are easier to deal with when it comes to peeling & cutting .
The candied mixture that I pour over my candied yams is a combination butter, sugar, and  yummy spices such as ground cinnamon, ground nutmeg, and dash of ground clove!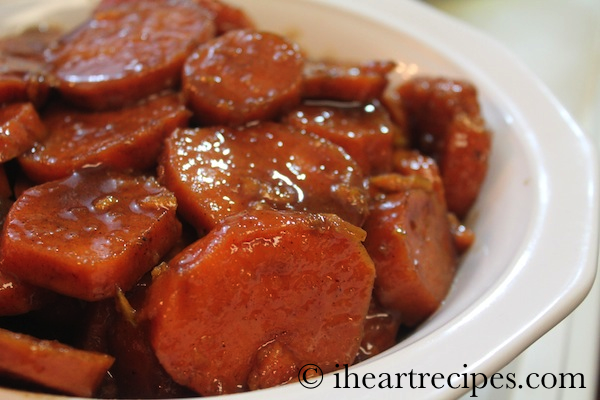 Making these southern baked candied yams is super easy. Simply wash the yams, peel & cut them, then pour the delicious & very fragrant candied mixture all over the yams, then bake them! There is no boiling, or any other step required for these yams! Simply bake them until they are nice and tender, and you are good to go!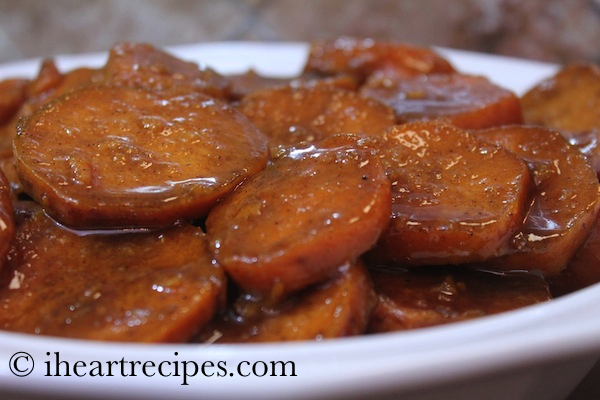 Before getting started, I will warn you that these yams will go fast! Everyone loves these southern style candied yams! No Joke! This recipe will probably feed about 8 people (depending on their appetites!) If you are feeding a large crowd of people, you may want to make several dishes of these yams! You CAN double and triple this recipe!
Watch the video tutorial
Baked Candied Yams - Soul Food Style
Candied yams are a huge part of southern cuisine. Check out how easy it is to make these soul food yams today!
Ingredients
5

medium sized yams

8

tbsp

salted butter

1

tsp

ground cinnamon

1/2

tsp

ground nutmeg

1/4

tsp

ground clove

1/4

tsp

ground ginger

1

cup

granulated sugar

1/4

cup

brown sugar

1

tbsp

pure vanilla extract

not imitation
Instructions
Preheat the oven to 350 F.

Wash the yams.

Peel, then chop the yams ( make sure that they are about 1/2 inch thick.)

Place the yams into a 9x13 bake dish.

Place the butter into a medium sized pot, then melt it over medium heat.

Once the butter is melted, sprinkle in the white & brown sugar, ground cinnamon,ground nutmeg, ground ginger, and ground clove.

Turn the stove off, mix the ingredients, then add in the vanilla extract.

Pour the candied mixture over the yams, and try to coat all the yams with the candied mixture.

Next, cover the bake dish with foil, then bake the yams in the oven for 30 minutes.

Remove the yams from the oven, and baste them with the candied mixture.

Cover the yams, and bake them for another 15-20 minutes.

Remove the yams from the oven, and let them sit for about 10 minutes before serving.

Enjoy!
Video