A Heavenly Recipe for Sweet Potato Cheesecake with Praline Topping!
Sweet Potato Cheesecake with a gingersnap cookie crust and drizzled with a rich Praline candied topping! Need I say anymore, hunny?! 😀
Last month when I asked my followers on Facebook what they'd liked me to make during the holidays (I think that was the question 😐 ), one of my sweeties made a very SPECIFIC request. She wanted me to make a Sweet Potato Cheesecake WITH a Gingersnap Crust! While I read her request, my husband was standing behind me, obviously reading as well because he immediately shouted out " BABY YOU HAVE TO MAKE THAT!!!! AND TELL WHOEVER REQUESTED IT THAT I APPRECIATE THEM!" LOL.. almost immediately I wrote Jackie back and told her that I would indeed answer that request! I mean how could I not? It sounded too darn good to not make, and let's not forget that my hubby was all in my ear about it! LOL!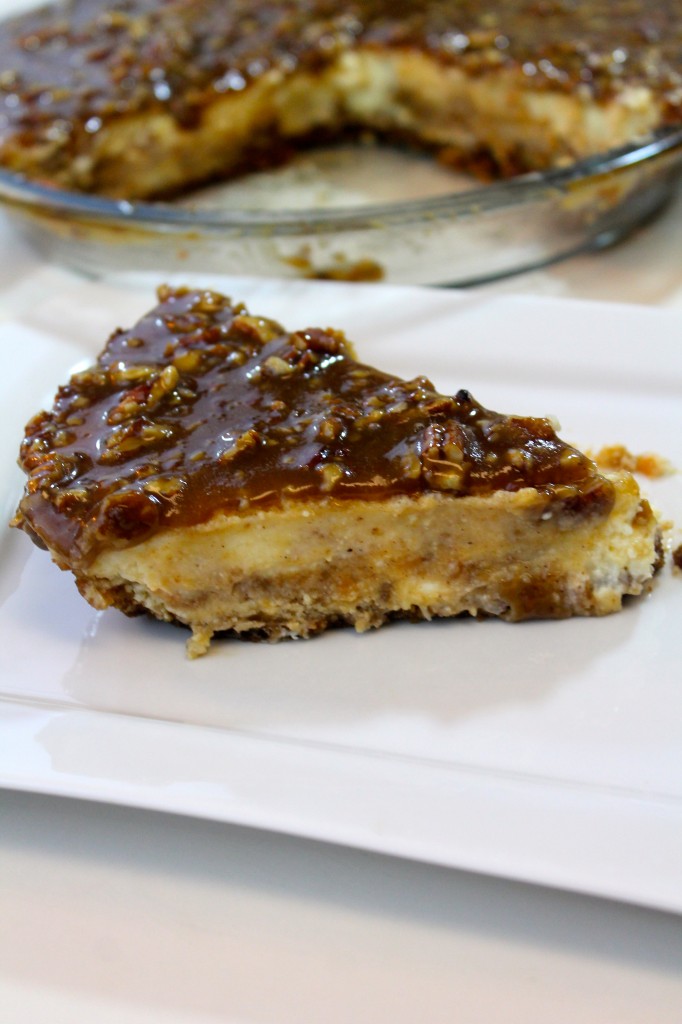 When it came to this cheesecake, I kept is really simple. I wanted to make sure that ya'll could make this without a headache, so instead of using a spring pan, I used a pie pan. It's much easier to remove the cheesecake in my opinion. Also, I realize that not a lot of people have spring pans.
So for the Sweet Potato part, you can use canned sweet potatoes (like I did…ain't no shame in my game baby!) OR you can boil or bake a fresh sweet potato. It really doesn't matter. Do whatever your preference is.
For my cheesecake, I add scoops of the sweet potatoes to the cheesecake, then lightly mixed it in. If you are not a fan of the two textures, you CAN definitely mix the sweet potatoes with the cheesecake filling!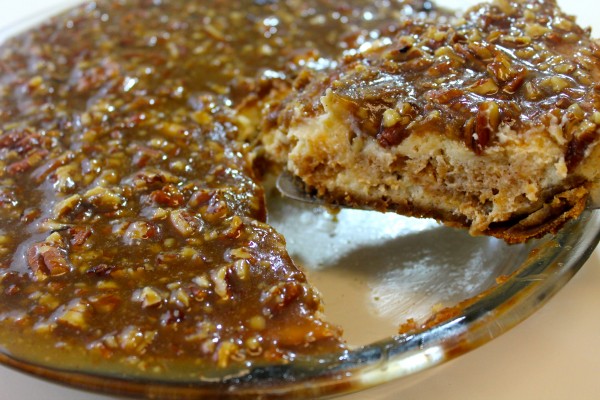 Sweet Potato Cheesecake with Praline Topping
Sweet potato pie, cheesecake, and a sweet praline topping – you can't get much more southern than that! This holiday treat is the ultimate southern dessert. It'll disappear at your holiday table.
Watch Video
Print Recipe
Pin Recipe
Ingredients
Instructions
In a medium-sized bowl, add the gingersnap crumbs, and butter.

Mix until well combined. Spray a pie pan with baking spray, then add in the gingersnap crumbs.

Press the crumbs into the pie pan, and form a crust.

Bake the crust on 350 F, for 5 minutes, then let cool.

Place the cream cheese into a large bowl, and begin to mix until the cream cheese is light and fluffy.

Pour in 3/4 granulated sugar, and mix until well combined.

Next, add in 3 eggs, mix, then add in 1 TBSP of vanilla extract, and mix until everything is well incorporated.

In a separate bowl, add in the mashed sweet potatoes, 3 tbsp melted butter, 1 egg, and mix. Next sprinkle in the brown sugar, cinnamon, nutmeg, and vanilla extract. Mix until smooth!

Pour the cheesecake filling into the pie pan, then add in scoops of the sweet potato mixture. Use a kitchen utensil to make swirls.

Bake the cheesecake on 350 F for 30-35 minutes.

Once the cheesecake is done, set it to the side, and let it cool.

Meanwhile place 4 tbsp of butter, 3/4 cup brown sugar, 1/2 tsp salt, and 1/4 cup heavy cream into a large saucepan.

Mix the ingredients, then place the pan over medium-high heat. Let the mixture bubble over the medium heat for about 4 minutes.

Toast the pecans in a small pan over medium heat for about 3 minutes.

Toss the pecan into the sugar and cream mixtures, and mix.

Remove the praline sauce from the heat, and add in the 1 tsp of vanilla extract. Mix well!

Pour the praline sauce all over the cheesecake, and let cool.

Once the topping is cool, cover the cheesecake, and refrigerate for a minimum of 4 hours.

Serve the cheesecake and enjoy!!!
Video
If you loved this recipe,
leave me a review below
. This helps future recipe makers and ensures continued high-quality recipes for years to come!
© 2023 I Heart Recipes
If you enjoyed this Sweet Potato Cheesecake recipe, check out these other sweet treats!
STRAWBERRIES & CREAM PIE JELLO SHOTS
Don't forget to tag and follow me on Facebook, Instagram, and Pinterest, subscribe to I Heart Recipes on YouTube, and check out all my cookbooks! I just released a brand new cookbook, Super Soul Food with Cousin Rosie, with many recipes you can't find anywhere else.