Pecan pie brownies combine the rich, fudgy texture of brownies with the sweet and crunchy topping of a classic pecan pie. It's a delightful fusion that offers a unique and indulgent dessert experience.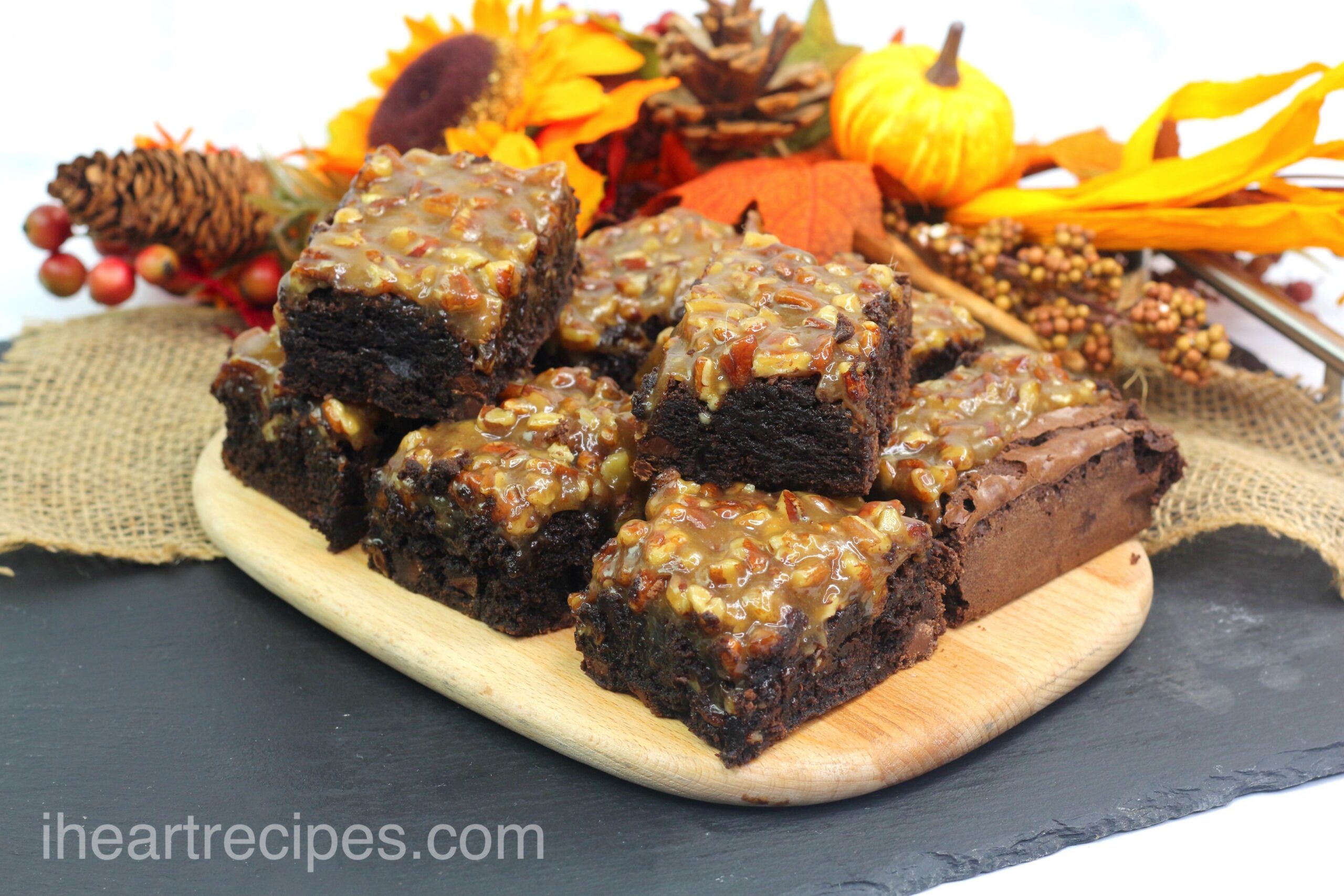 Pecan pie and brownies: two iconic desserts that have tantalized taste buds for generations. Each has its own rich history and distinctive flavor profile. But what if we dared to combine them? Enter the Pecan Pie Brownie, a heavenly fusion that promises a taste experience like no other. In this blog, I'll guide you through the delights of this delicious hybrid, followed by a recipe that allows you to whip up this treat in your very own kitchen.
The Love Affair with Pecan Pie and Brownies
Pecan pie, filled with nuts and a crispy crust, comes from the southern US. It shows how the South can turn simple things into tasty dishes. On the other hand, brownies, which are soft and chocolatey, have been loved by many families since the late 1800s. Their rich taste makes them hard to resist.
Each dessert, while exceptional in its own right, offers unique textures and flavors. The challenge, then, is to marry these two in a harmonious blend where one does not overpower the other. The solution? Pecan Pie Brownies!
The Perfect Pecan Pie Brownies
Now, before we dive into the recipe, it's essential to emphasize the balance. The rich, fudgy nature of the brownies provides the perfect counterbalance to the sweetness and crunch of the pecan pie topping. This is a dessert that requires careful calibration, ensuring that each bite offers the best of both worlds.
How To Make Pecan Pie Brownies
Homemade Brownie Base Ingredients
2 boxes of Betty Crocker Triple Chocolate Fudge brownie mix
1/4 cup of water
1 cup of canola oil
4 large eggs
Tools: 13″ x 9″ pan, parchment paper, large bowl, hand mixer, cookie sheet
Pecan Pie Topping Ingredients
1/4 cup sugar
1/4 cup brown sugar
2 tbsp cornstarch
3/4 cup light corn syrup
4 tbsp unsalted sweet cream butter, melted
1/2 tsp kosher salt
2 large eggs, lightly beaten
1 1/2 cup Chopped Pecans
1 tsp pure vanilla extract
Directions to Make Pecan Pie Brownies
Begin by preheating your oven to 325 degrees.
Prepare your 13″x9″ pan by lining it with parchment paper, ensuring a smooth baking process and easy brownie removal.
In a medium saucepan, combine all filling ingredients, excluding the pecans and vanilla. Stir continuously and bring the mixture to a boil.
Once boiling, remove from heat. Stir in the pecans and vanilla, ensuring an even distribution. Pour the mix into a bowl, let it cool on the counter for about 10 minutes, then refrigerate for 1 hour. This cooling process will help the topping set just right.
As your topping chills, focus on the brownie base. In a large bowl, using a hand mixer, blend the brownie ingredients until you achieve a consistent batter.
Pour your batter into the prepared pan, spreading it evenly.
Bake for 44-47 minutes, ensuring that the brownie is fully baked yet retains its moist, fudgy center.
Once baked, allow the brownie to cool until it's comfortable to touch. Transfer the brownie slab to a cookie sheet.
Remove your pecan pie topping from the fridge. Evenly spread it over the brownie base.
Cut the brownies into squares.
Serve and enjoy!
Storing Leftover Pecan Pie Brownies
If you're lucky enough to have leftovers, you'll want to store them in a way that maintains their freshness, texture, and flavor. Here's a simple guide on how to best store your leftover pecan pie brownies.
Cool Before Storing: Before storing your pecan pie brownies, make sure they've cooled down to room temperature. This helps in preventing condensation within the storage container, which can make them soggy.
Airtight Containers Are Key: Once cooled, transfer the brownies into an airtight container. This will protect them from drying out and help maintain their fudgy texture. If you don't have an airtight container, plastic wrap or aluminum foil can also work as a temporary solution.
Separate Layers with Parchment: If you're stacking brownies in a container, place a piece of parchment paper between layers. This prevents them from sticking together and helps retain the pecan pie topping's crunch.
Storing at Room Temperature: If you plan to eat the leftovers within 1-2 days, you can store the container at room temperature in a cool, dry place. This method helps maintain the brownies' soft texture.
Refrigeration for Longer Freshness: If you believe it might take up to a week before you finish the leftovers, store them in the refrigerator. This extends their freshness and prevents spoilage. When you're ready to eat, consider letting the brownies come to room temperature for about 20 minutes for optimal flavor and texture.
Freezing for Extended Storage: If you have a considerable amount left and wish to keep them for an extended period (up to 3 months), consider freezing. Wrap individual brownies in plastic wrap and then place them in an airtight container or resealable freezer bag. To enjoy, thaw overnight in the refrigerator or at room temperature for a few hours.
Reheating: If you prefer your pecan pie brownies warm, you can reheat them in the oven. Preheat to 350°F (175°C) and heat for about 10 minutes. Keep a close eye to prevent overbaking.
Check Before Consuming: Always check your brownies for any signs of spoilage, like an off-smell or mold, before consuming, especially if they've been stored for an extended period.
Storing pecan pie brownies correctly ensures that every bite is as delicious as the first, giving you the perfect blend of crunchy pecan and fudgy brownie goodness every time.
These Pecan Pie Brownies are more than just a dessert; it's an amazing experience. This fusion captures the essence of two cherished treats, offering a taste adventure that's hard to replicate. So, the next time you're torn between baking a pecan pie or brownies, remember: you don't have to choose – make Pecan Pie Brownies and enjoy the best of both worlds!
More Delicious Dessert Recipes
Save this recipe, and share it with your family and friends! Don't forget to follow along with everything Rosie and I Heart Recipes on social media—you can find me on Facebook, Instagram, and Pinterest!