Ooey-Gooey Fudge Brownies with Chocolate Chip Cookie Dough and Golden Oreos Baked Inside…Oh – AND sprinkled with chocolate chips…YASSSSSS!!!!
A Decadent Recipe for Oreo Chocolate Chip Brownies!
So if you know me, you know that I am a serious chocolate addict. I don't care what kind of chocolate either. Milk chocolate, white chocolate, dark chocolate…Well, not so much dark chocolate (it's bitter!), but you get the point…I love chocolate!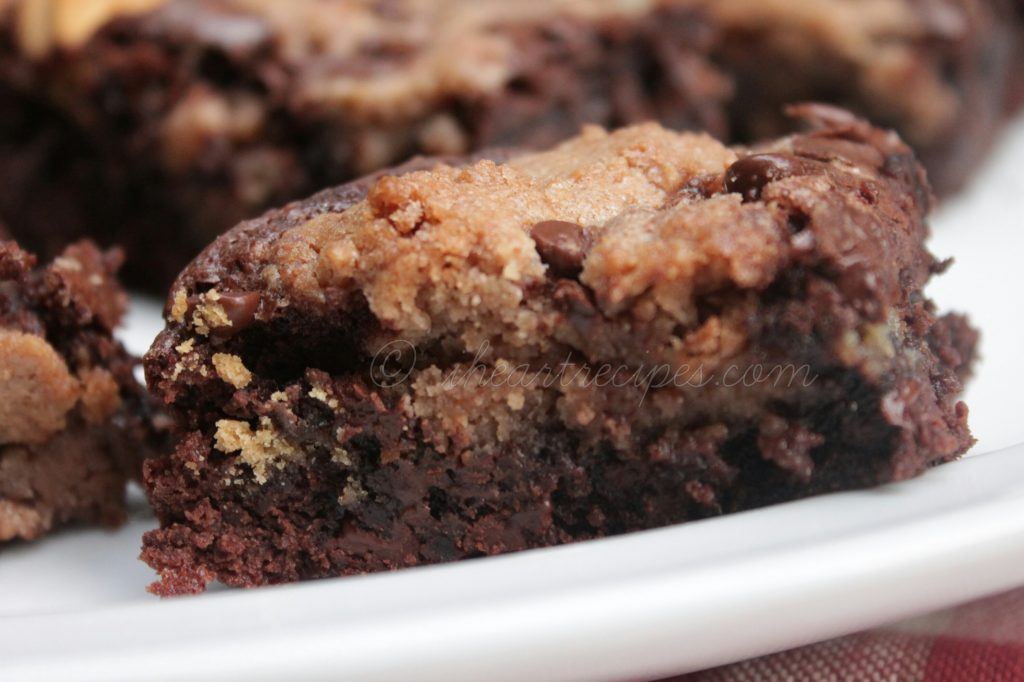 Well the other day, I wanted to make some super chocolatey ooey-gooey fudge brownies. I started off making regular brownies, but my greedy butt ended up loading the brownie batter to the max. With what? Honeyyyyy – I loaded my brownie batter with chocolate chip cookie dough, and…WAIT FOR IT…GOLDEN OREOS!!! Omg, like seriously – just looking at the batter got me all excited and made my mouth water.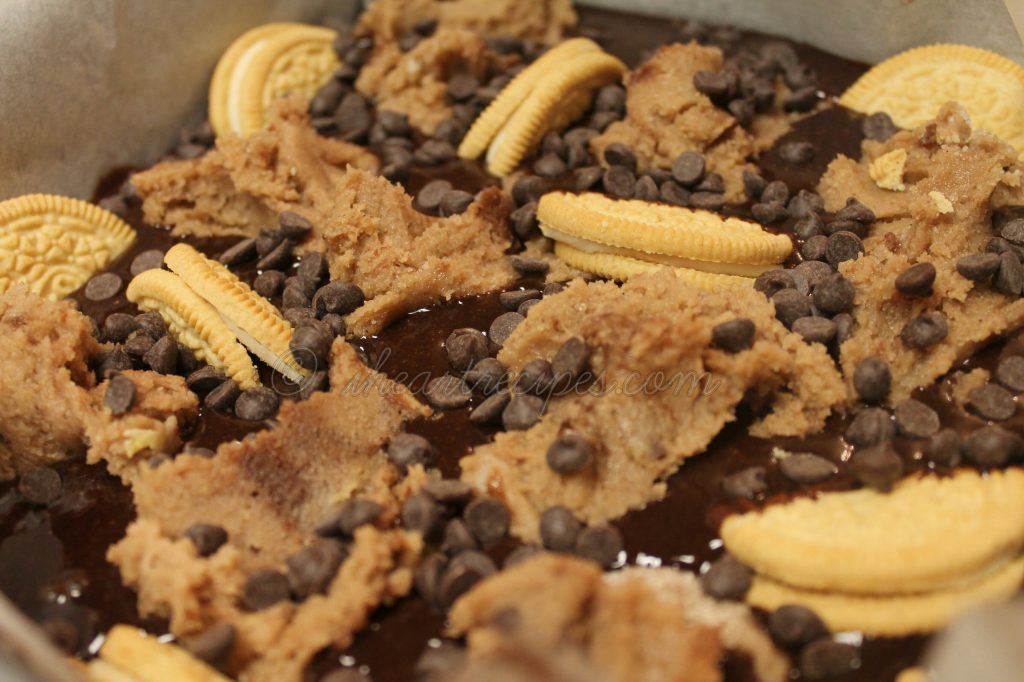 I had almost, just almost, stopped there – but I couldn't. I topped my brownie and chocolate chip cookie batter off with mini chocolate chips.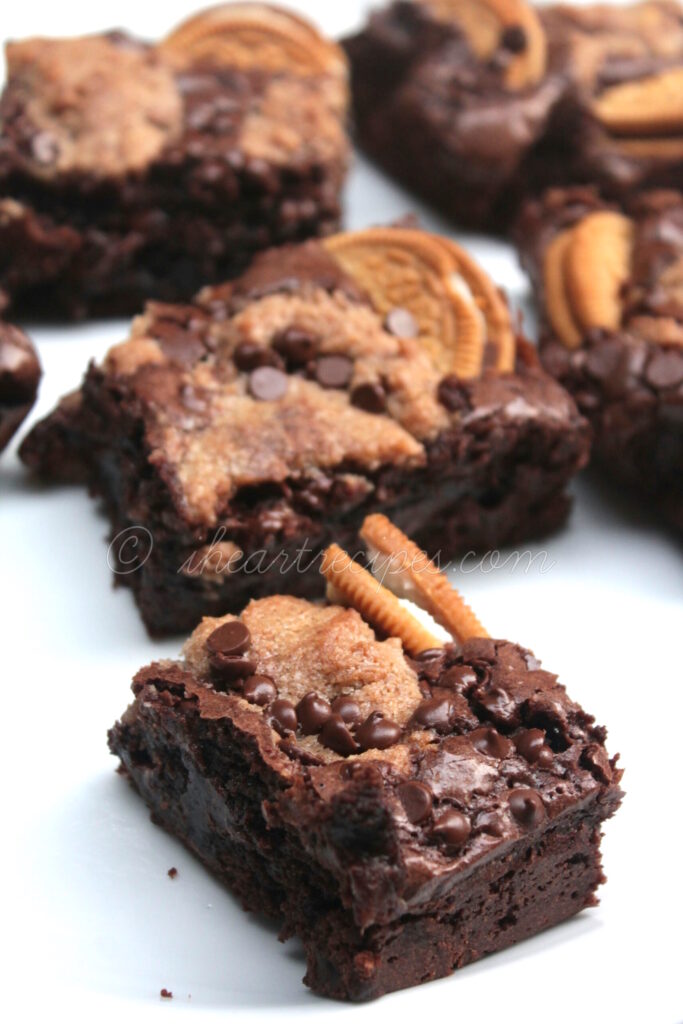 Do I really need to tell you that we finished the Oreo chocolate chip brownies in no time? Sure, we had a little sugar high, but dang it – we were happy! Since I've made these brownies a few weeks ago, I've been requested to make them more many times.
Let me tell you how I made them. They are SUPER easy and SUPER addictive!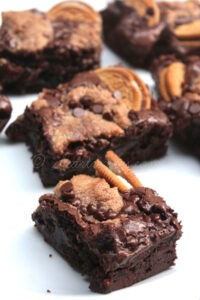 Oreo Chocolate Chip Brownies
These rich, gooey chocolate chip brownies are loaded with fudgy chocolate chips, cookie dough, and golden Oreos. They're a decadent dessert that's perfect for your sweet tooth!
Print Recipe
Pin Recipe
Ingredients
1

box Ghiradelli Triple Fudge Premium Brownie Mix

1/4

cup

water

1/4

cup

vegetable oil

1

box Marie Calendar Chocolate Chip Cookie Mix

3/4

stick butter

6

Golden Oreos

cut in halves

1/2

cup

mini chocolate chips
Instructions
Preheat the oven on 350 F.

Sift the brownie mix into a large bowl, then add in 1/4 cup water, 1/4 cup vegetable oil, and 1 large egg.

Mix the ingredients until smooth, then add in 1/4 cup of chocolate chips, and fold in.

Set the batter to the side.

Add the chocolate chip cookie mix into a large bowl, then add in 1 large egg, and 3/4 stick of butter.

Mix the ingredients until it forms into cookie dough.

lightly oil a 8×8 brownie pan.

Pour in the brownie batter, then spoon out the cookie dough into the brownie batter ( I hope that makes sense!)

Next insert the Oreos about half way.

Sprinkle the chocolate chips on top of the brownie/cookie batter.

Bake for 30-35 minutes.

Let the brownies cool completely, then cut into desired shapes & sizes.

Serve & enjoy!
If you loved this recipe,
leave me a review below
. This helps future recipe makers and ensures continued high-quality recipes for years to come!
© 2023 I Heart Recipes
Don't forget to tag and follow me on Facebook, Instagram, and Pinterest, subscribe to I Heart Recipes on YouTube, and check out all my cookbooks! I just released a brand new cookbook, Super Soul Food with Cousin Rosie, with many recipes you can't find anywhere else.
If you enjoyed these Oreo Chocolate Chip Brownies, check out my other sweet treats!
WHITE CHOCOLATE CRANBERRY CHEESECAKE