Homemade moist sweet potato muffins with the comforting spiciness of cinnamon and nutmeg—just like Grandma used to make!
Calling all muffin lovers, especially those asking me to post more easy muffin recipes! Today, I'm sharing one of my all-time favorite muffin recipes. I'll be showing you how to make moist homemade sweet potato muffins!
Now, y'all know I love sweet potato everything! I've made sweet potato fudge, a tasty sweet potato cobbler, and of course, the ultimate sweet potato pie. Sweet potatoes are holiday staples, but they're also readily available year-round—personally, I think we need to appreciate this delicious veggie more often!
Sweet potatoes are an excellent source of fiber, antioxidants, and carbs. They are naturally sweet and go great in savory dishes too. Whether roasting, mashing, dicing, or baking with sweet potatoes, they're a fantastically tasty ingredient!
Now, when it comes to my moist sweet potato muffins recipe, these babies are perfect for any time of year. Serve these delicious muffins for breakfast, a snack, or as a yummy side dish for dinner. Sweet potato muffins can be eaten plain or warm with butter and honey, and you are good to go! So, let's jump on into this sweet potato muffin recipe.
Simple Ingredients for Homemade Sweet Potato Muffins
This easy muffin recipe uses basic ingredients you likely already have on hand (other than the sweet potatoes). All the ingredients combined make a thick and creamy muffin batter. Once the muffins are done, they are incredibly moist with the perfect amount of sweetness.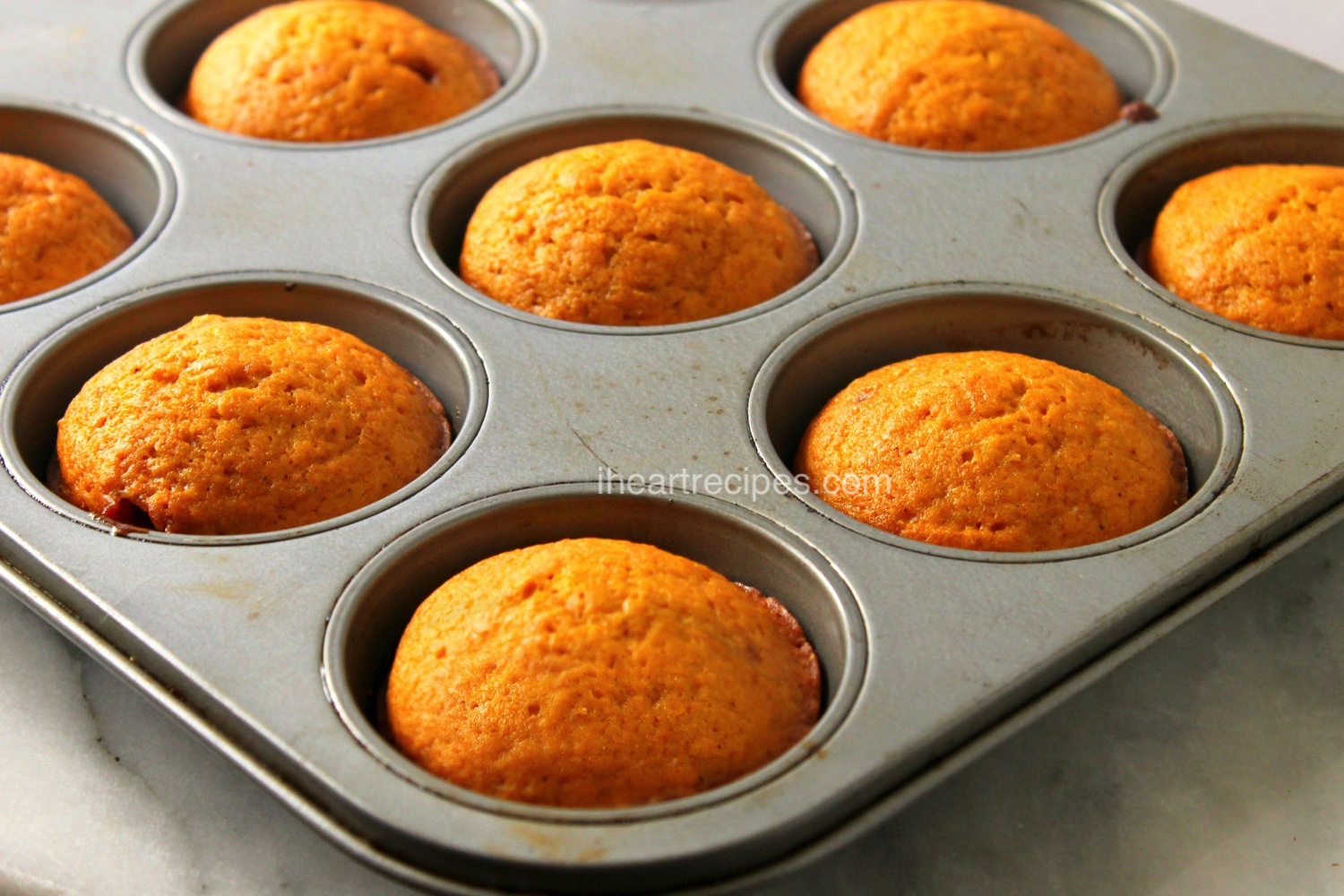 Most importantly, you need about two medium-sized sweet potatoes for this muffin recipe. If you use larger sweet potatoes, you might have to slightly adjust the measurements of the other ingredients to accommodate them (exact measurements are provided in the recipe card below!). Here's everything else you need to make moist homemade sweet potato muffins:
Dry Ingredients for Sweet Potato Muffins:
All-purpose flour (you could use almond flour if you prefer gluten-free)
Granulated white sugar and brown sugar
Ground cinnamon and nutmeg (you could also use pumpkin pie spice or my Rosamae Seasonings yams spice—both a perfect blend of spices for this recipe)
Baking soda, baking powder, and salt (Pro-tip: sweet potatoes are alkaline and could react with the aluminum in baking powder, giving your sweet potato muffins blue streaks. Avoid this by using aluminum-free baking powder!)
Wet Ingredients for Sweet Potato Muffins:
Two large eggs
Vegetable oil, or another neutral oil like canola or grapeseed
Heavy cream (helps to make the muffin batter extra creamy, resulting in perfectly moist muffins)
Vanilla extract (y'all know I don't approve of that imitation crap—pure vanilla only in this house!)
Equipment Needed to Make Sweet Potato Muffins:
Large mixing bowl for your wet and dry ingredients
Bake dish or cookie sheet to bake the sweet potatoes
Hand mixer to whip the sweet potatoes (you can do this by hand, but it takes a lotta upper-body work!)
Use an ice cream or muffin scoop to measure out the muffin batter
A non-stick muffin tin (you can also use paper muffin liners for extra non-stick assurance)
Sweet Potatoes vs. Yams: What's the Difference?
This is the ultimate question: what's the difference between a sweet potato and a yam? If you're at your everyday grocery store, staring at the produce, wondering what the heck to pick, here's the thing: there's no difference. In typical Western markets, sweet potatoes and yams are essentially the same.
The "yams" you see in your local grocery store are really just orange-fleshed sweet potatoes (and yes, there are different kinds of sweet potatoes). Real yams will be a bit harder to find—you might have to venture to an African specialty market to find honest-to-goodness yams. Yams are essential in West African food traditions and entirely different from your average sweet potato.
The short answer is this: if you're not making a traditional West African or Latin American-inspired dish, then sweet potatoes and yams are the same. I have both sweet potato and yam recipes on my blog, and I use orange-flesh sweet potatoes in both. Here's a helpful graphic on the visual differences between sweet potatoes and yams!
How to Make Moist Homemade Sweet Potato Muffins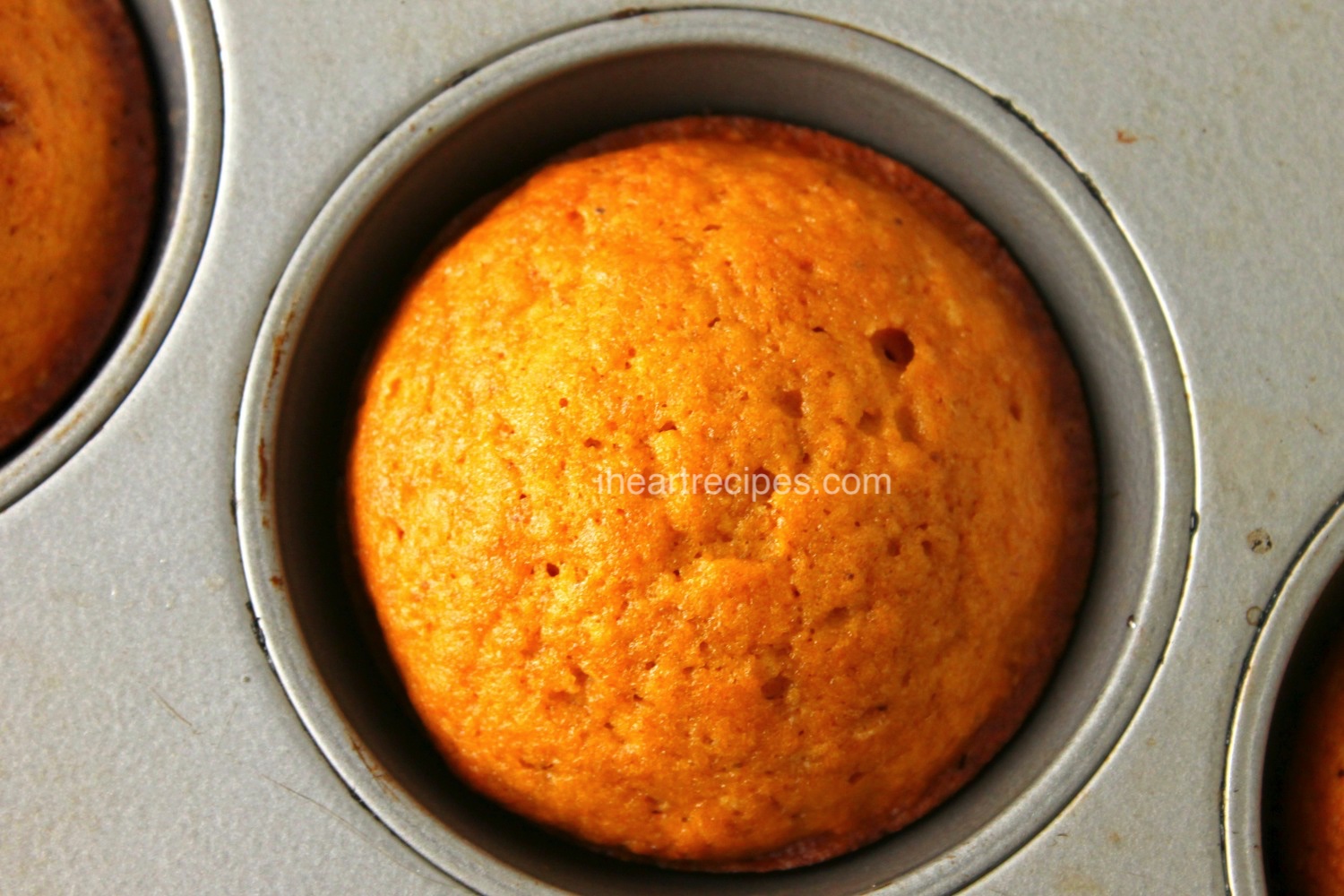 Now, I will say that while this sweet potato muffin recipe is pretty easy overall, it comes together in a few different parts. So, let's dive into how to make yummy, moist sweet potato muffins.
Step 1: Bake Your Sweet Potatoes
First things first, ya gotta bake those sweet potatoes! Preheat your oven to 375 degrees. Prep the sweet potatoes by washing them with cool water and scrubbing the flesh—this will eliminate any dirt and grim; y'all don't want to eat that! Cut them in half for a quick-baked sweet potato—this will lower your baking time a bit!
Put the sweet potatoes on a parchment-lined baking sheet or in a baking dish and bake for 35-45 minutes. Check them at around 35 minutes, and use a fork to test doneness. The orange flesh should be soft and creamy, easily giving way to the fork when you apply some pressure. Once they're done, let them cool to room temperature, then scoop out the insides into a bowl. We won't be using the skins in this recipe (but I think a sweet potato skins snack would be bomb.com!)
Step 2: Mix the Sweet Potato Muffin Batter
Next step, we're movin' on to the batter. Use a hand mixer to whip the sweet potatoes in a large mixing bowl until they're nice and creamy. You don't have to add anything else to them at this point.
Then you're going to mix the dry ingredients in a medium bowl: flour, sugars (white and brown), spices, salt, baking powder, and soda. Next, add the oil, eggs, cream, and vanilla to the large mixing bowl with your whipped sweet potatoes. Use your hand mixer or a spatula to thoroughly mix all the wet ingredients until well-combined.
Finally, add the dry ingredients to the wet ingredients and fold to combine. The batter is going to be THICCCK! This is perfectly fine—do not add more liquid to thin it out!
Step 3: Scoop and Bake!
Spray your muffin pan with a non-stick spray (you could also use paper liners). Then, take a muffin scoop or a 1/4th cup measuring cup and scoop the muffin batter into the muffin tin. Bake the sweet potato muffins for 20-22 minutes, or until a toothpick inserted in the center comes out clean. Allow them to cool or serve them nice and warm with some honey and butter.
These sweet potato muffins are perfectly moist with a fluffy texture and a naturally sweet flavor. They are SO FREAKIN' GOOD, y'all.
Tasty Mix-Ins and Variations for Sweet Potato Muffins
What can you add to sweet potato muffins to knock up to off-the-charts deliciousness? I've got a few ideas for you!
Chocolate chips—dark chocolate chunks or chips would be BOMB in these muffins.
Nuts like chopped pecan or walnuts.
A sweet drizzle like a classic confectioners sugar icing (powdered sugar, milk, and vanilla), or a caramelly praline topping from my sweet potato praline cheesecake recipe.
Crystalized pie sugar and cinnamon sprinkled on top of the muffins before baking for a sweet, crunchy topping.
A cinnamon streusel topping (see my dutch sweet potato pie recipe for the crumble topping).
Can I use sweet potato puree in my sweet potato muffins?
Yes, you can use a canned sweet potato puree as a shortcut in this recipe! While I think the natural sweetness from real sweet potatoes is the best, it's perfectly okay to use a puree if you're short on time. I would recommend 1.5-2 cups of sweet potato puree for this muffin recipe.
How can I make my muffins moister?
The number one way to keep these sweet potato muffins nice and moist is to mix the wet and dry ingredients separately! Mixing these ingredients separately will ensure you don't overmix the muffin batter. Adding a scoop of Greek yogurt or sour cream into the batter can provide extra moisture. Other tricks for super moist muffins include making sure your oven temperature is accurate and filling empty muffin cups with water to ensure even cooking.
How do you store sweet potato muffins?
If you manage to have leftover muffins after serving these delicious babies, then the best way to store them is in an airtight container. If you're keeping them at room temperature, include a paper towel on the bottom of your container to avoid a sticky mess. Sweet potato muffins will last for:
3-4 days at room temperature.
Up to 1 week in the refrigerator.
Up to 3 months in the freezer.
Homemade Sweet Potato Muffins Recipe Card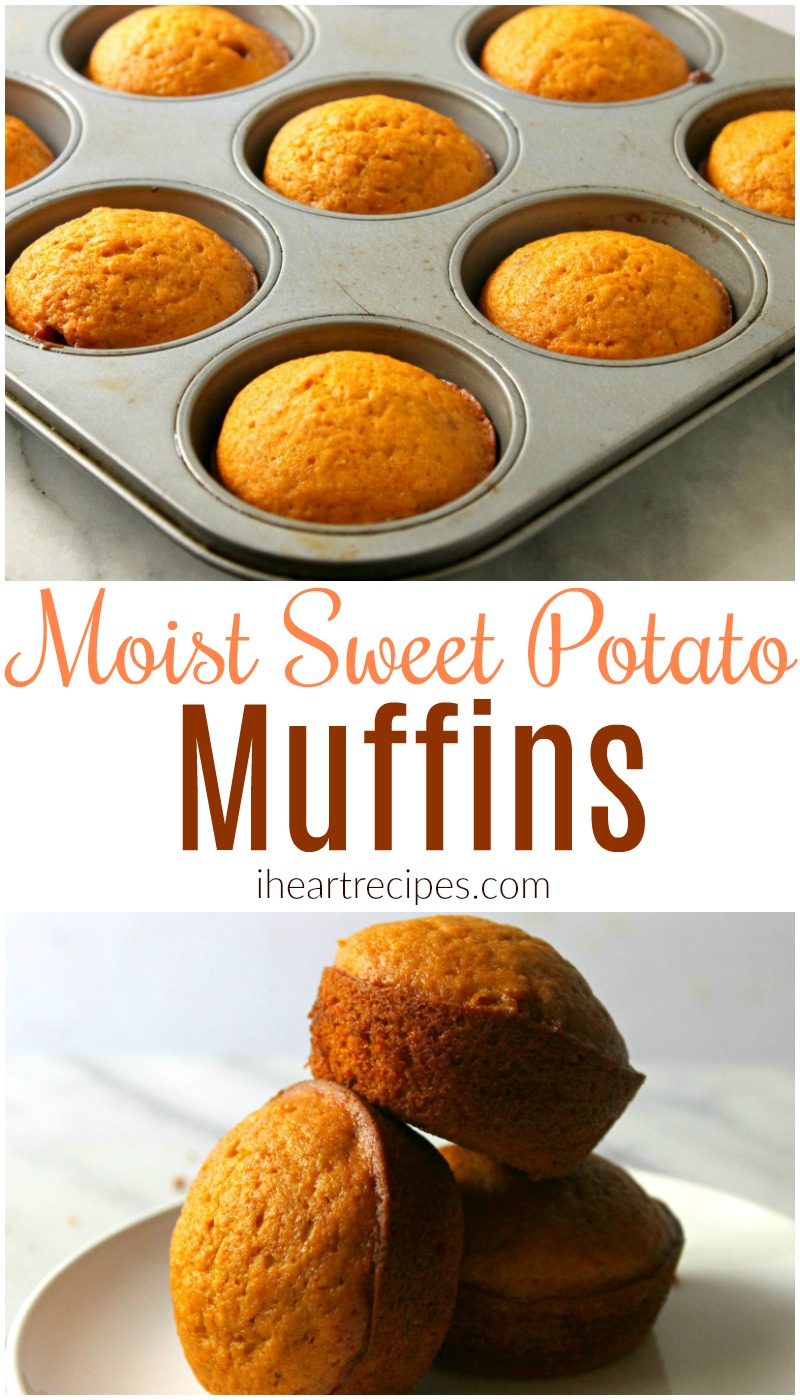 Alright Cousins, the time has come for me to let y'all lose in the kitchen! Below, you will find a detailed recipe card with the exact measurements and step-by-step directions for making these easy, delicious, moist sweet potato muffins!
If you try this recipe, let me know how it turned out in the comments! Sweet potato muffins are the perfect addition to your holiday meal spread, a casual family dinner, a breakfast get-together, and more. Don't forget to subscribe to I Heart Recipes on YouTube to see all of my recipe videos, cooking tips, and more! You can also follow me on Facebook, Instagram, and Pinterest to keep up with all things Rosie and I Heart Recipes.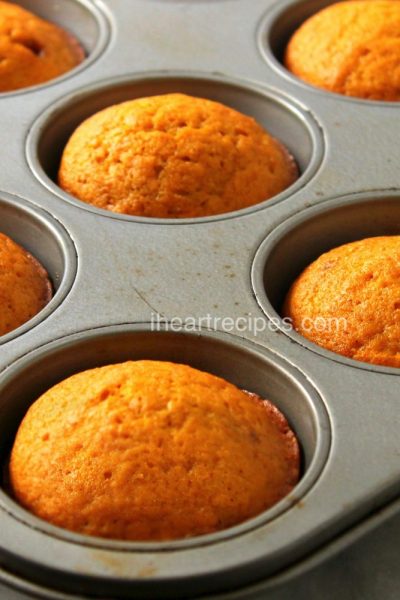 Sweet Potato Muffins
Hearty sweet potatoes, cinnamon, and nutmeg combine to make these sweet, perfectly poppable Sweet Potato Muffins. These are a must-have at your holiday table!
Print Recipe
Pin Recipe
Instructions
Bake the Sweet Potatoes:
Preheat the oven to 375 F.

Place the sweet potatoes on a baking dish, then place in the oven.

Bake the sweet potatoes until tender (about 35-45 minutes), then scrape out the meat of the potatoes.

Whip the potatoes until nice and creamy, then set to the side until it's cool.
Prepare Muffin Batter:
In a medium bowl, combine the flour, sugar, cinnamon, nutmeg, baking powder, baking soda, and salt. Whisk until everything is well combined.

In another bowl, combine the oil, whipped sweet potatoes, eggs, milk, and vanilla extract. Mix thoroughly.

Add the wet mixture to the dry ingredients and fold to combine. (Note: the muffin batter will be thick!)

Using a scoop or 1/4 measuring cup, spoon the batter into the muffin pan.
Bake the Muffins:
Bake for 20-22 minutes, or until a toothpick inserted into the center of a muffin comes out clean

Let cool before serving. Enjoy!
If you loved this recipe,
leave me a review below
. This helps future recipe makers and ensures continued high-quality recipes for years to come!
© 2023 I Heart Recipes