My old-fashioned blackberry cobbler recipe is the perfect dessert! Tart blackberries baked into a buttery cobbler crust. Top with a big scoop of vanilla ice cream for the ultimate treat!
Hey Cousins! Today, I'm sharing an easy homemade blackberry cobbler recipe! One of my favorite fruit cobblers would have to be this old-fashioned blackberry cobbler. It's tart and sweet, ooey and gooey, and perfect with some creamy vanilla bean ice cream. Does it get any better than that?! This recipe is the ideal dessert for a hot summer day, but even if it's not blackberry season, you can enjoy blackberry cobbler any time of year with this easy from-scratch recipe.
Unlike my peach cobbler recipe, I make this blackberry cobbler with a nice, fluffy, almost cake-like crust. Of course, you can make blackberry cobbler with a flakey pie crust if you're not a fan of the cake-like crust. But let me tell y'all… the buttery, fluffy cobbler is downright delicious!
Ingredients for Old-Fashioned Blackberry Cobbler
Y'all ready to learn how to make my homemade blackberry cobbler recipe? I use super simple ingredients, and it's completely from scratch. Be sure to check out the recipe card below to find full ingredient amounts and directions. Here's your shopping list for blackberry cobbler.
Blackberries: I use frozen, but you can absolutely use fresh blackberries in this recipe.
Lemon Juice: adds acidity to the blackberries.
Vanilla Extract: for sweetness.
All-Purpose Flour: I use flour as both the base of the cobbler crust and to thicken the fruit filling.
Sugar: to sweeten the cobbler crust and filling.
Baking Powder: helps the crust rise so it's perfectly fluffy.
Butter: melted butter is the secret to this incredibly delicious cake-like cobbler crust.
Milk: for the crust. I use 2% milk, but you can use your preferred kind—whole, skim, or even a milk alternative.
Can I make this old-fashioned cobbler recipe with another fruit?
Honey, if you don't like blackberries, then this recipe ain't for you! Of course, you can make a fruit cobbler with just about any fruit—blueberries, raspberries, strawberries, and peaches. This particular cobbler recipe works best with berries. If you like blackberries but want more variety, try a mixed berry cobbler with a combination of blackberries, raspberries, and blueberries.
What's the difference between a blackberry cobbler and a blackberry pie?
The biggest difference between cobblers, crisps, crumbles, and pies is the crust. Cobblers, like this recipe, usually have a buttery crust with the texture of cake or biscuits, and the fruit filling bakes into the crust. Crisps and crumbles have that iconic crumble topping, usually made with sugar, butter, and sometimes oats. Pies always have the flakey bottom and top crust, or my personal favorite, the lattice crust. No matter which classic dessert you choose, they're all delicious showstoppers!
How to Make an Old-Fashioned Blackberry Cobbler Recipe
This blackberry cobbler really is one of the easiest desserts. Even though it's 100% homemade, it's quick with only a few steps.
Make the fruit filling. Toss the fresh or frozen blackberries into a medium saucepan along with water, sugar, lemon juice, and vanilla extract. Bring it to a boil.
In a small bowl, make the thickening mixture with water and flour. Pour it into the blackberry mixture and stir; the filling will start thickening immediately. (Pro-Tip: you can also use cornstarch instead of flour to thicken the filling.)
Mix the flour, sugar, baking soda, and milk in a separate large bowl. Whisk the batter together until smooth.
Next, melt a stick of butter in a large baking dish (you can do this in the oven or use a separate bowl in the microwave). Once the butter is melted in the pan, pour the cobbler batter right into the baking dish in the center of the butter.
Next, pour the blackberry mixture into the center of the baking dish—don't mix the butter, batter, and filling!
Bake the cobbler in a 350-degree oven for 35-40 minutes until the cobbler crust is golden brown and the filling is bubbly. Let cool, serve with ice cream, and enjoy!
That's it! See how simple it is to make a homemade blackberry cobbler recipe?! The tart blackberries melt into the buttery, cake-like cobbler crust. This amazing dessert is one of my favorite things to make if I have extra juicy blackberries on hand (or in my freezer). If wild blackberries grow in your area, it would be even more delicious after a day of blackberry picking!
Old Fashioned Blackberry Cobbler Video Tutorial
Need a visual guide? Watch me make this delicious dessert below! If you're new to I Heart Recipes, be sure to subscribe to my YouTube channel, where you can find all of my recipe videos!
Southern Blackberry Cobbler Recipe Tips and Tricks
Use salted butter. The hint of salt balances out the sweetness and tartness of the blackberries.
This recipe will fit perfectly in a 9×9 baking dish. If you use a 9×13, the cobbler crust might spread a little too thin, so I recommend doubling the recipe if you want to use a larger dish.
If your blackberries are a little too tart for your liking, toss them in sugar before making the fruit filling to add some sweetness.
Try to avoid letting the blackberry filling touch the sides of the baking dish—pour it directly into the center of the batter. This way, the filling won't burn along the edges as it bakes.
Top with vanilla ice cream, homemade whipped cream, or a drizzle of fudge sauce for the perfect topping!
How do you keep a blackberry cobbler from being runny?
The secret to keeping a cobbler from being runny is making sure the blackberry mixture has the perfect texture before adding it to the cobbler batter. That is why I add a flour and water mixture to the filling when it's cooking. You can also use cornstarch slurry. The heat mixed with the cornstarch (or flour) immediately thickens the blackberry mixture to the perfect texture—still liquid and juicy but not too runny.
Can you overcook blackberry cobbler?
Yes, you can overcook and burn or ruin your blackberry cobbler recipe by baking it too long—so keep a close eye on that oven, y'all! When overcooked, the liquid in the cobbler filling will evaporate, leaving a dry cobbler with a burnt fruit filling. To avoid this, remove it from the oven when the fluffy cobbler crust is golden brown and the filling is thick and bubbly.
How do you store leftover blackberry cobbler? Can it be frozen?
You should cover leftovers tightly with plastic wrap or aluminum foil. You could also store them in an airtight container. The cobbler will keep in the fridge for 3-5 days. You can freeze this old-fashioned blackberry cobbler, but the texture of the fruit might change when thawed.
More Delicious Cobblers, Crumbles, and Pies to Try
Loved this Southern blackberry cobbler recipe? Be sure to share + save on Pinterest! You can follow along with everything Rosie and I Heart Recipes on social media—you can find me on Facebook, Instagram, and Pinterest, and you can pre-order my next upcoming cookbook, A Cousin Rosie Holiday now!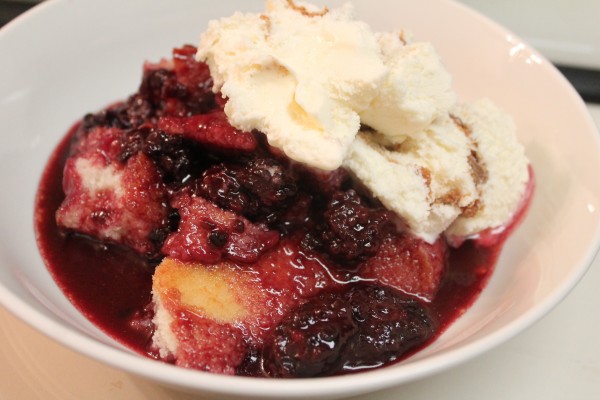 Old-Fashioned Blackberry Cobbler Recipe
This blackberry cobbler is made with a light, fluffy cake-like crust that absorbs and enhances the deliciously sweet blackberry flavors. Top with ice cream and enjoy!
Watch Video
Print Recipe
Pin Recipe
Instructions
Place blackberries, sugar, water, lemon juice, and vanilla extract in a pot. Place the pot on the stovetop and bring the mixture to a boil over medium-high heat, stirring to avoid burning.

2 lbs blackberries,

1 cup water,

1/4 cup fresh lemon juice,

1/2 cup granulated sugar,

2 tsp vanilla extract

In a small cup or bowl, combine 1/2 cup water and 2 tbsp of all-purpose flour. Mix, then pour into the blackberry mixture and stir until thickened. Immediately remove pot from heat once the mixture is thickened.

2 tbsp all-purpose flour,

1/2 cup water

In a separate bowl, add flour, granulated sugar, baking powder, and milk. Mix until the batter is smooth.

1 1/2 cup all-purpose flour,

3/4 cup granulated sugar,

1 tsp baking powder,

1 cup milk

Place a stick of salted butter in a baking dish, then place the baking dish in the oven preheated to 350 degrees. Let the butter melt down, then remove the baking dish from the oven.

Pour the cobbler crust batter into the center of the baking dish with the butter, but do not stir.

Next, spoon out or pour the blackberry mixture into the center of the dish. Again, do not stir the butter and batter with the blueberry filling.

Bake the cobbler on 350 F, for about 35 to 40 minutes.

Remove the cobbler from the oven and let cool.

Serve along our with ice cream or whipped cream.
Video
If you loved this recipe,
leave me a review below
. This helps future recipe makers and ensures continued high-quality recipes for years to come!
© 2023 I Heart Recipes