Old-fashioned peach pie made with canned peaches and topped with a lattice crust!
Hey y'all! I'm back with an amazing dessert recipe. If you've been hanging with me for a while, you know how much I love cobblers. I mean, I have at least three different peach cobbler recipes posted here on my blog. So it was just a matter of time before I shared my Grandma's Peach Pie recipe with you all! This old-fashioned peach pie recipe is super easy to make and is perfect for any occasion!
Who doesn't love a fresh-baked fruit pie for dessert? The smell of this peach pie baking will fill your home with joy and nostalgia. I make my Grandma's peach pie recipe with canned peaches. However, you can certainly use fresh or frozen peaches for this pie. I spice this pie to perfection with cinnamon, nutmeg, and a nice amount of vanilla extract. This is honestly the BEST peach pie recipe out there. Serve it up a scoop of vanilla ice cream, and you'll be in heaven!
Ready to learn how to make the best semi-homemade peach pie recipe? Let's jump on into it.
Ingredients for My Grandma's Canned Peach Pie Recipe
Let's talk ingredients for peach pie. I love this fruit pie recipe because it doesn't require you to bust out any professional baking skills. It's a delicious, SUPER easy semi-homemade pie recipe that just about anyone can make successfully. Here's what you need to bake up my canned peach pie:
Canned peaches: I prefer to use canned peaches for this peach pie. They are perfectly sweet already—I don't have to worry about overripe or underripe peaches. I am not married to a brand–I use Del Monte, Dole, store-brand, or whatever is on sale.
Pie crust: I used store-bought pie crust for my peach pie recipe, but if you want to make yours from scratch, go for it! (I even have a buttery homemade pie crust recipe for y'all.) You'll need a top crust and bottom crust, so make sure you grab enough!
Lemon juice: do NOT skip the lemon juice, Cousins! Lemon juice gives your peach pie a nice burst of citrusy tartness, which helps balance the sweetness of the canned peaches.
Sugar, flour, butter, and vanilla extract: These simple ingredients are essential for the perfect peach pie. I prefer unsalted butter, but if you only have salted butter on hand, it is okay to use that.
Spices: No peach pie is complete without the perfect blend of spices. I use ground cinnamon and nutmeg. Feel free to adjust the amount of spices you include for your tastes. You could add allspice, ginger, or even my Rosamae Seasonings peach cobbler seasoning.
One egg (for the egg wash): The egg wash is the final step before baking the peach pie, and it's an important one! The egg wash gives your pie crust that perfect shiny golden-brown color, which makes for a picture-perfect peach pie!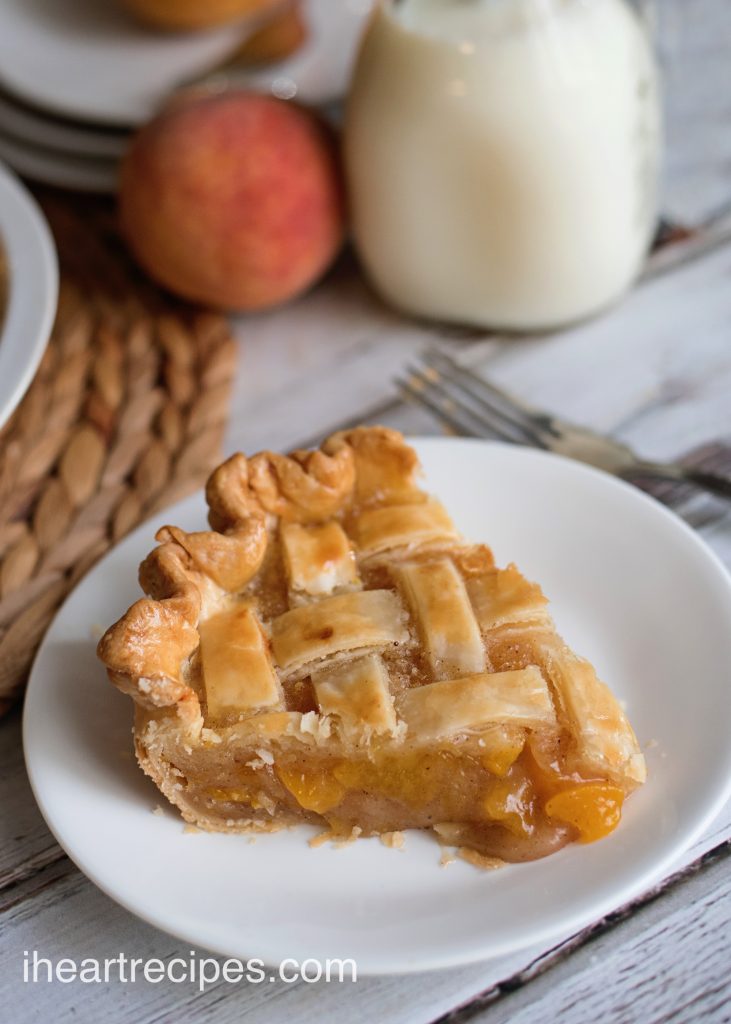 Equipment Needed to Make Canned Peach Pie:
Can opener for your canned peaches.
An 8- or 9-inch pie pan. I've used glass, ceramic, and even aluminum foil pie dishes from the dollar store. Whatever type of pie pan you have on hand will work!
Large bowl to mix the peach pie filling.
Kitchen utensils: a spatula or spoon, a brush for the egg wash, and a kitchen knife to cut the lattice top of the pie.
How to Make Peach Pie with Canned Peaches
Alright y'all, it's time to jump into how to make a semi-homemade peach pie with canned peaches. As I said before, if you want to use fresh peaches, by all means—you do you, boo boo! I love knowing I don't have to wait for peach season to make my Grandma's peach pie recipe. Pop on over to your local grocery store, pick up a few simple ingredients, and you're on your way to making the best peach pie ever. Trust me, Cousins. Here's how we do it!
First, Prepare the Peach Pie Filling
The first step is to make the delicious canned peach pie filling. Add the peaches, sugar, vanilla, lemon juice, cinnamon, and nutmeg in a large mixing bowl. Make sure you DRAIN THE CANNED PEACHES. This step is very important! Otherwise, you have a runny pie filling and a soggy bottom crust from all the excess liquid.
Next, you're going to sprinkle in the all-purpose flour and unsalted butter. To avoid clumps in your pie filling, I recommend sprinkling in the flour a little at a time or using a sifter. The butter should be at room temperature and cut into smaller pieces to incorporate into the peach pie filling. Once your pie filling is complete, set that bowl to the side—time to move on to the crust.
Next, Get the Pie Crusts Ready
This step couldn't be easier. If you're using a store-bought pie crust, all you need to do is place the bottom crust into the pie pan. Then, pour the peach mixture into the pie dish on top of the bottom crust. For the top pie crust, you can either leave it whole or make a lattice top.
How to Make a Lattice Pie Crust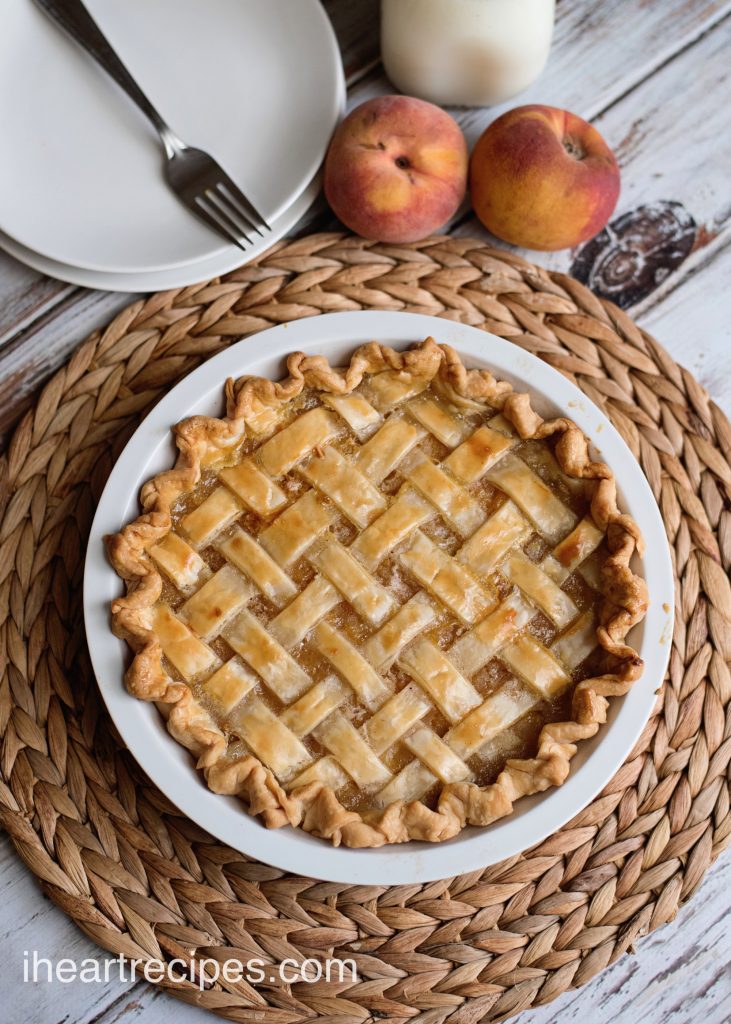 To make a lattice pie crust, cut your pie dough into strips, about one-half inch to one-inch wide. You will have some longer and some shorter strips. Try to get at least 12 strips from one crust.
Next, lay half of the strips across the pie in one direction. You'll want to use the longer strips for the center of the pie and the shorter pieces along the edges. Then you want to flip up every OTHER strip back all the way. Lay one unused pie crust strip across the pie perpendicular to the other strips. Fold them back over, then repeat the process with the other strips.
You're basically going to make an X with the strips across the pie. Once the lattice crust is complete, use a knife or scissors to cut off the excess pieces of dough around the edges of the pie.
Final Step: Egg Wash & Bake
The final step is to brush the top crust of the peach pie with your egg wash. Beat one egg (add a tablespoon of water or milk to thin it out if needed) and brush it over the top pie crust. Finally, bake your peach pie in a 350-degree oven for 50-55 minutes or until the pie crust is perfectly golden-brown and cooked through.
There you have it! A perfect semi-homemade peach pie with canned peaches! The peach pie filling is sweet with perfect peach flavor, hints of cinnamon and nutmeg, and a little bit of tartness. Allow the pie to cool completely before serving to ensure a perfectly set fruit filling.
FAQs & Tips for Making the BEST Canned Peach Pie Recipe
How many peaches do you need for peach pie?
For my canned peach pie recipe, I use a 32 oz. can of peaches in a 9-inch pie crust. If you're using fresh peaches, that's about 4-5 cups of fruit for a regular peach pie. The amount of fresh peaches you need depends on the type and size of the peaches you're using.
Can you make a peach pie with frozen peaches?
Yes, you can use frozen peaches in this peach pie recipe. However, let them thaw before making the pie filling, or your peach pie will have a lot of excess moisture, causing a soggy, runny pie.
Does peach pie need to be refrigerated?
Since this peach pie recipe is a fruit pie, it can safely sit out on the counter at room temperature and be good for up to 2 days. Cover your pie with aluminum foil, plastic wrap, or a pie pan lid to keep it fresh.
Can you freeze fresh peach pie?
Yes, you can freeze a fresh peach pie! Make sure to wrap it tightly with plastic wrap or another covering to keep it safe from freezer burn. It should last in the freezer for a few months. You could also prepare this peach pie recipe ahead of time and freeze it before baking.
Grandma's Peach Pie with Canned Peaches: Recipe Card & More Delicious Peach Recipes!
Okay, Cousins, now I want you to go ahead and make this easy peach pie and tell me how much y'all liked it! An old-fashioned peach pie recipe is perfect for summertime parties, holiday gatherings, celebrations, and more. Truly any occasion calls for a (semi) homemade fruit pie! If you loved this recipe, check out some of my other peach recipes, like my Peach Cobbler Bread Pudding, a flavorful Peach Blueberry Cobbler Crisp, or a refreshing Sweet Peach Iced Tea!
Don't forget to tag and follow me on Facebook, Instagram, and Pinterest, subscribe to I Heart Recipes on YouTube, and check out all my cookbooks! I just released a brand new cookbook, Super Soul Food with Cousin Rosie, with many recipes you can't find anywhere else.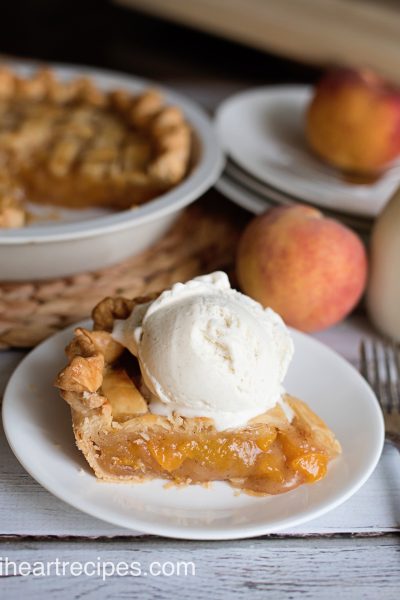 Grandma's Peach Pie
Learn how to make my Grandma's old-fashioned peach pie with canned peaches! This peach pie recipe is so easy to make and is perfect for any occasion.
Print Recipe
Pin Recipe
Instructions
Preheat the oven to 350 F.

Grab a 9-inch pie pan, and add in one of the store-bought pie crusts. Set to the side.

In a large mixing bowl, add the peaches, sugar, vanilla, lemon juice, cinnamon, and nutmeg. Stir until well combined.

Now sprinkle in the all-purpose flour and fold the ingredients until everything is well incorporated.

Toss in the butter and fold the ingredients. (The butter should be cut up into pieces to incorporate easily into the peach pie filling.)

Next, pour the peach mixture into the pie dish on top of the crust.

Top off with the remaining crust. You can leave the crust whole or do a lattice topping!

Brush the crust with the beaten egg.

Bake the pie in the oven for 50-55 minutes.

Serve with ice cream & enjoy!
If you loved this recipe,
leave me a review below
. This helps future recipe makers and ensures continued high-quality recipes for years to come!
© 2023 I Heart Recipes
My Grandma's Peach Pie Recipe is in Collaboration with Feed a Bee!
This post was brought to you on "bee-half" of Feed a Bee, an initiative of the Bayer Bee Care Program. I was compensated in exchange for creating this recipe.

Feed a Bee is a national effort to plant more flowers and forage for honeybees and other pollinators. A lot of people don't realize that bees need diverse food. They eat nectar and pollen from flowers. It's a challenge for bees to find enough food. However, you can help them by planting pollinator-attractant plants and gardens!
Let's celebrate pollinators for their role in bringing such amazing foods (such as peaches and many more!!) to our tables.
Visit FeedABee.com to learn more and use #FeedABee to spread awareness to help feed the pollinators that help feed us.