Old fashioned peach pie made with canned peaches, and topped with crust!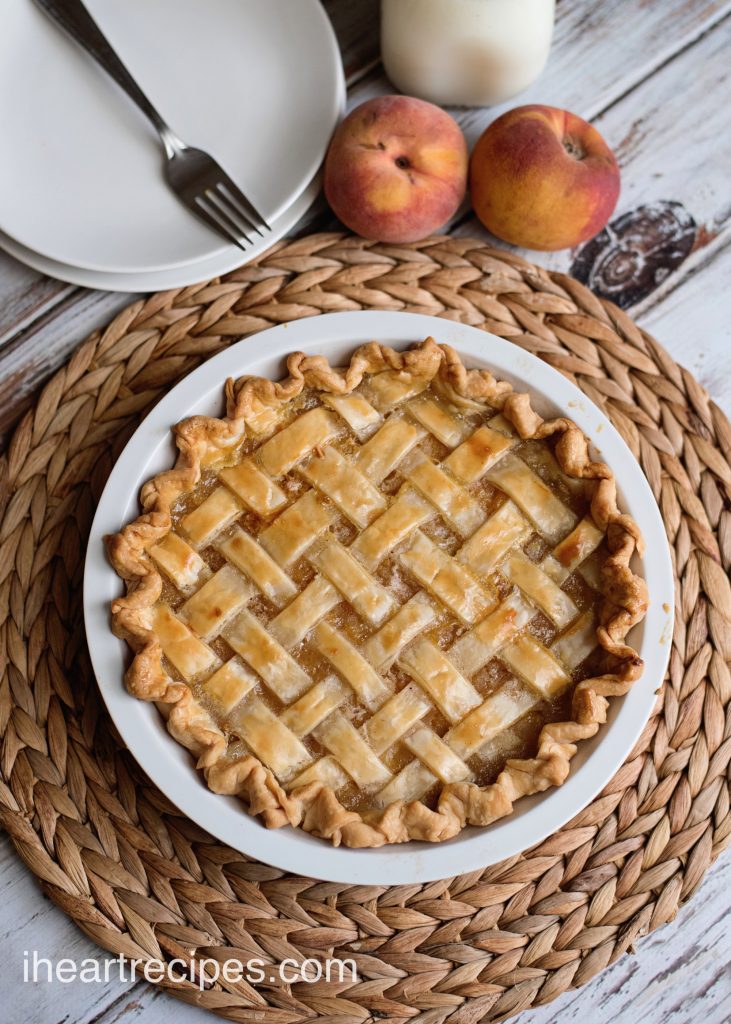 This post was brought to you on "bee-half" of Feed a Bee, an initiative of the Bayer Bee Care Program. I was compensated in exchange for creating this recipe.
Hey y'all! I'm back with an amazing dessert recipe. If you've been hanging with me for a while, you know how much I love cobblers. I mean, I have about three different peach cobbler recipes posted here on my blog. It was just a matter of time before I shared my Grandma's Peach Pie recipe with you all! This old fashioned peach pie recipe is super easy to make, and is perfect for any occasion!
Check out these delicious peach recipes before you go:
Peach Cobbler Bread Pudding
Peach Blueberry Cobbler Crisp
Sweet Peach Iced Tea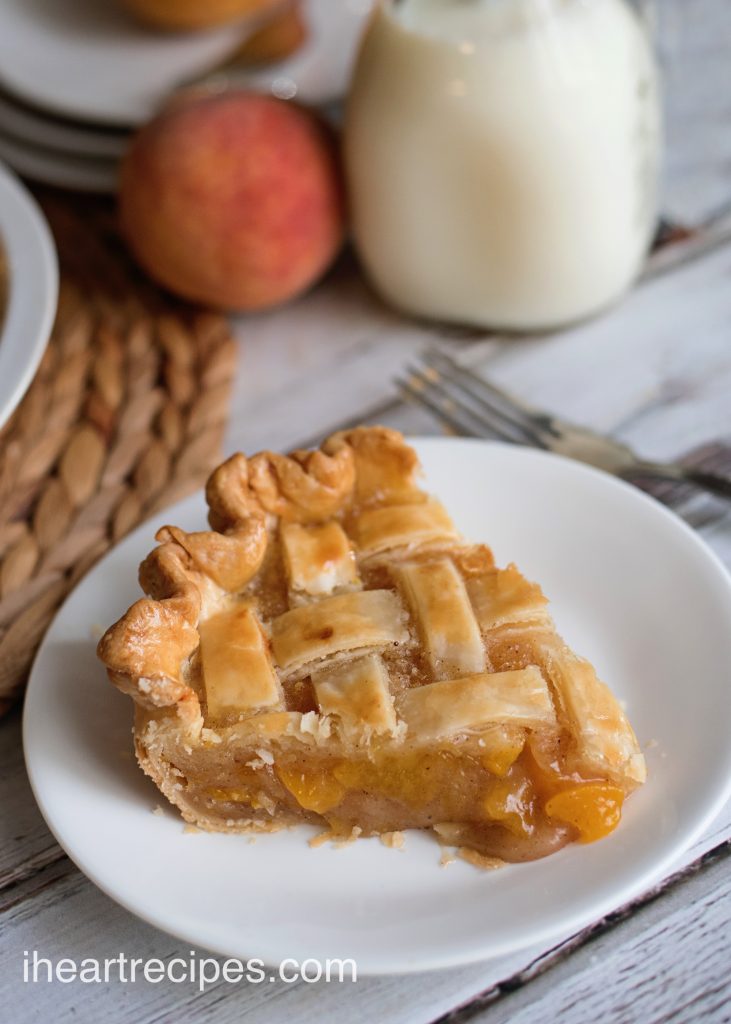 Semi-Homemade Peach Pie Recipe with Canned Peaches: Easy for Holiday Gatherings!
My Grandma's peach pie recipe is made with canned peaches. However, you can certainly use fresh or frozen peaches for this pie. I spice this  pie to perfection with cinnamon, nutmeg, and a nice amount of vanilla extract. This is honestly the BEST peach pie recipe out there. Serve it up a scoop of vanilla ice cream, and you'll be in heaven!

My Grandma's Peach Pie recipe is in Collaboration with Feed a Bee!
Feed a Bee is a national effort to plant more flowers and forage for honey bees and other pollinators. A lot of people don't realize that bees need diverse food. They eat nectar and pollen from flowers. It's a challenge for bees to find enough food.  However, you can help them by planting pollinator-attractant plants and gardens!
Let's celebrate pollinators for the role they play in bringing such amazing foods ( such as peaches and many more!!) to our tables.
Visit FeedABee.com to learn more and use #FeedABee to spread awareness to help feed the pollinators that help feed us.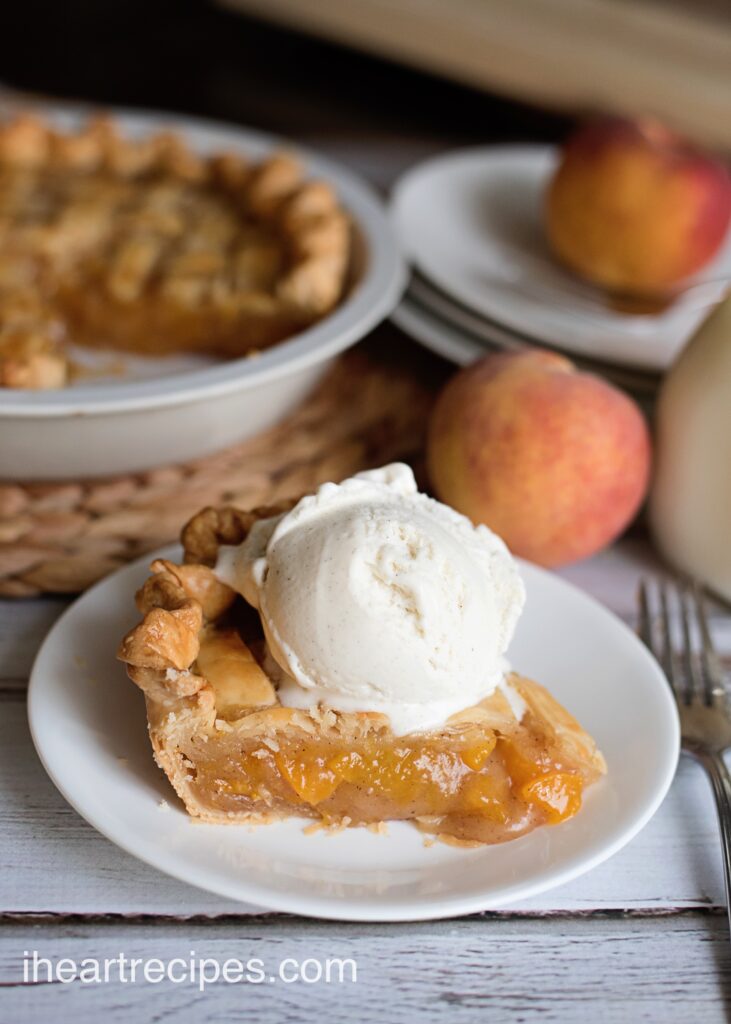 Be sure to print the recipe below, and subscribe to my mailing list and YouTube channel to never miss a recipe!
Grandma's Peach Pie
This old fashioned peach pie recipe is super easy to make, and is perfect for any occasion!
Ingredients
2

store bought pie dough

32

oz

canned peaches

drained

1

cup

granulated white sugar

1/2

tsp

ground cinnamon

1/4

tsp

ground nutmeg

1

tbsp

lemon juice

1

tbsp

vanilla extract

1/2

cup

all purpose flour

1 1/2

tsp

unsalted butter

1

egg

beaten
Instructions
Preheat the oven to 350 F.

Grab a 9 inch pie pan, and add in one of the store bought pie crust . Set to the side.

In a large mixing bowl add in the peaches, sugar, vanilla, lemon juice, cinnamon, and nutmeg. Stir until well combined.

Now sprinkle in the all purpose flour, and fold the ingredients until everything is well incorporated.

Toss in the butter, and fold the ingredients.

Next, pour the peach mixture into the pie dish on top of the crust.

Top off with the remaining crust. You can leave the crust whole or do a lattice topping!

Brush the crust with the beaten egg.

Bake the pie in the oven for 50-55 minutes.

Serve with ice cream & enjoy!