Got some leftover BBQ from those spring, and summer cookouts? Make this stunning leftover BBQ charcuterie board!
Hey cousins! It's that time of the year again. Everyone and their uncle is out grilling ribs, smoking brisket, and making the best-ever barbecue chicken. I don't know about y'all, but I never get tired of BBQ! I can eat cookout food every darn yet. I sometimes go overboard whenever I have a cookout, and I make too many items. This results in having lots of leftovers. Especially on Juneteenth, or the 4th of July. So what do I do with my leftovers from Indepence Day? I create a delicious Leftover BBQ Charcuterie Board! I simply gather up all of my leftover ribs, slices of briskets, and sides, and create the most amazing BBQ board. 
I actually got this idea from a good friend. She always makes delicious charcuterie boards, and she blew my mind with a BBQ board that she created for me. I guess you can say she inspired me, so I started to create my own. You can do the same thing! Believe it or not, you don't need a whole lot of ingredients, tools, etc. You simply just need your leftovers, and a few items to make a delicious leftover BBQ Charcuterie Board. Let me tell you what you need to get started.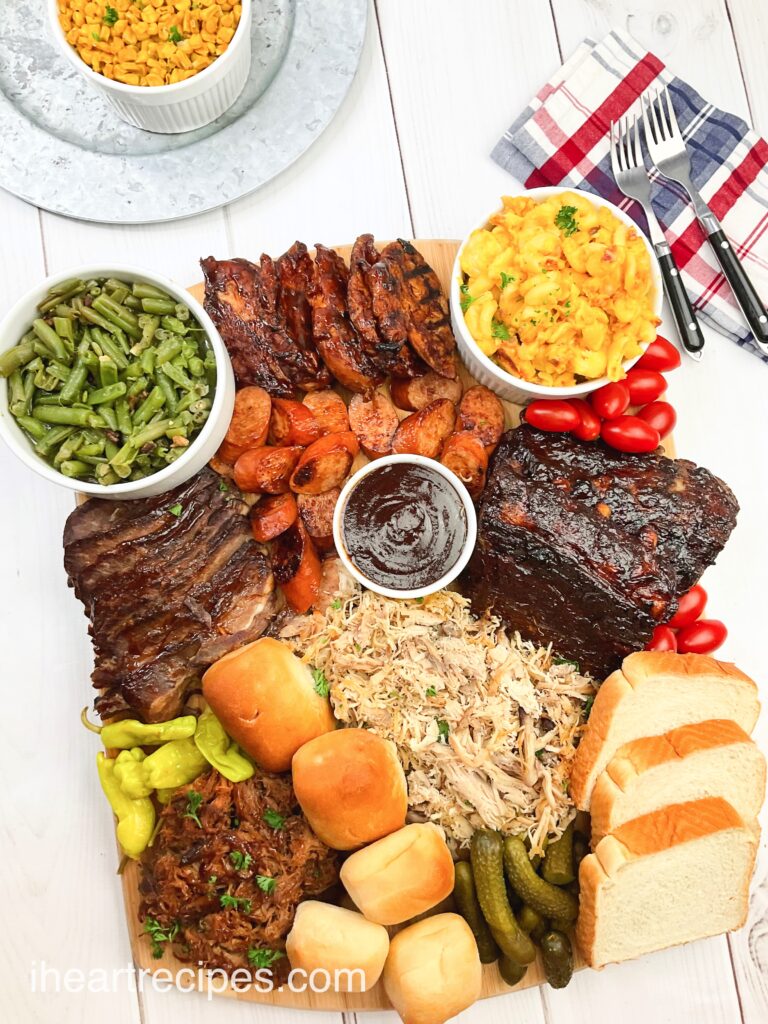 Ingredients Needed to Make a Leftover BBQ Charcuterie Board
BBQ Leftovers: you'll need your mains, sides, and condiments.
Board: You don't need to buy one of those fancy boards! Hunny, when I first started creating charcuterie boards I tried to be fancy,  and I quickly learned that those fancy boards were definitely not in my budget. I'm not saying that I couldn't afford them, but I refused to buy a tiny board for $200. I actually just use inexpensive chopping/ cutting boards! My favorite board to use is my LARGE Bamboo Cutting Board. It has a convenient handle, and it's approximately 19×13 inches.
Small and medium-sized bowls: You will need to have bowls in different sizes for items such as your side dishes, as well as for your condiments.
Napkins: Not for the actual board, but you'll definitely want to place some napkins on the side of the board.
BBQ Recipes + Sides for Your Leftovers Charcuterie Board
Best Condiments for a Leftover BBQ Charcuterie Board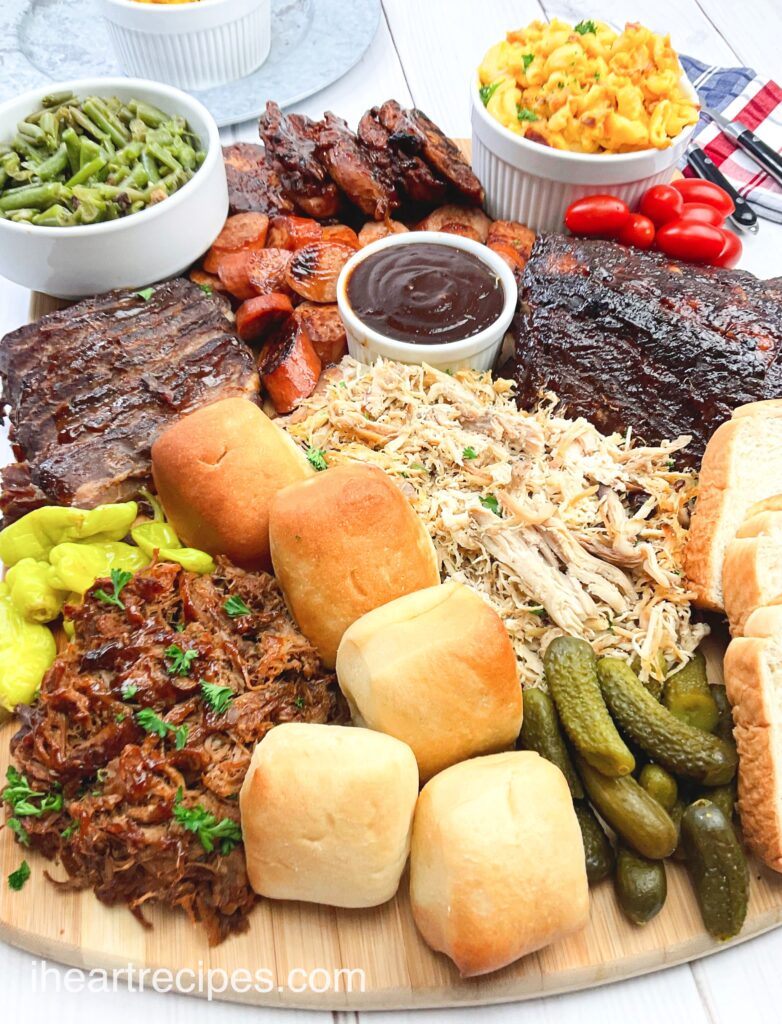 Bread: You can use sliced bread, dinner rolls, or cornbread!
BBQ sauces: try to have more than one BBQ sauce. I like a nice smokey sauce, but my husband likes honey barbecue. Therefore I make sure to have a few small bowls of different barbecue sauces.
Pickles: It's no secret that pickles pair well with BBQ. Add some pickle slices, wedges, or whole baby pickles to the board. They taste good and look great on the board.
Hot Sauce: My son is a huge fan of hot sauce, so I try to make sure to have his sauce on or near the board
Vegetables: It can't all be meat (or can it?), so try to add some of your favorite vegetables to the board. Some of my favorites to add to my BBQ charcuterie board are green beans, collard greens, corn, and grilled zucchini.
The possibilities are limitless! Next time you have some leftover BBQ, definitely try making a charcuterie board!
Leave me a comment below, and tell me what you think!