Easy baked stuffed cabbage rolls are filled with a flavorful mixture of ground turkey, peppers, and rice and topped with homemade tomato sauce. Simple, delicious, and comforting!
Hey Cousins! Today, I am sharing what some of y'all might consider a throwback recipe… baked stuffed cabbage rolls! When I first started my YouTube journey, I uploaded a recipe for stuffed cabbage rolls. I don't make the traditional Hungarian or Polish cabbage rolls; I keep it simple like usual. Well, that simple stuffed cabbage rolls recipe is pretty outdated now, so it's about time I share the updated version with y'all!
I still make my baked cabbage rolls with (mostly) the same ingredients. However, I prepare them a little differently. So, let's jump into how to make yummy stuffed cabbage rolls with tomato sauce!
What Are Traditional Stuffed Cabbage Rolls?
So, what are traditional cabbage rolls made with? Every family likely has a different recipe! There are many ways to make stuffed cabbage rolls, and the differences vary between cultures. Most recipes are made with a ground meat mixture—usually a mixture of ground beef and ground pork, rice, and aromatics like onions and garlic. Some are cooked in a tomato-based sauce; some are served with a sweeter sauce.
My recipe isn't traditional. It's simple and very flavorful but doesn't really follow any of the traditional cabbage roll recipes, which is totally okay! It's still absolutely delicious if I do say so myself. So let me tell you how I make my own stuffed cabbage rolls recipe.
Ingredients for Baked Cabbage Rolls with Sauce
Stuffed cabbage roll recipes usually call for the same general ingredients. Here's what I use to make my less-traditional stuffed cabbage rolls with tomato sauce.
Cabbage: you'll need one whole head of cabbage. What is the best type of cabbage for cabbage rolls? I use green cabbage. Savoy cabbage would also work in this recipe.
Ground turkey: I prefer using ground turkey because it's leaner, and I like the flavor.
Onions and peppers: I use both in my filling. I prefer sweet peppers like red or yellow bell pepper. I also use yellow onions, but you can use white if you prefer.
Rice: Either white rice or brown rice works for my recipe. We will cook the rice before adding it to our stuffed cabbage filling.
Seasonings: I use the basics for this stuffed cabbage recipe: salt-free seasoning and black pepper, but you can use what suits your tastes. Add seasoning salt, garlic powder, onion powder, cayenne, or paprika.
Tomato sauce: I use homemade vegetable marinara sauce for this recipe. If you're pressed for time, your favorite store-bought jarred marinara sauce works too!
What's the best tomato sauce for baked stuffed cabbage rolls?
The best sauce for stuffed cabbage rolls really comes down to your preference. Are you following a more traditional recipe? Those might call for a simple tomato sauce that mixes diced tomatoes or crushed tomatoes with tomato soup, tomato juice, or tomato paste.
If you're following my recipe, you'll need my homemade vegetable marinara sauce recipe. It's slow-cooked, packed with veggies, and freezer friendly, so you can make a huge batch once and have it ready to go any time you need it. If you don't want veggie marinara, don't worry—I've got options.
You can use any of my homemade marinara recipes as a topping for these stuffed cabbage rolls with tomato sauce:
I don't like ground turkey; what other meat can I use?
If you aren't a fan of ground turkey, that is perfectly fine. I have a similar stuffed cabbage rolls recipe made with ground beef (and that one does not have sauce if you prefer cabbage rolls without sauce). You could also use ground chicken or go the more traditional route with a ground meat combination of beef, pork, and sausage.
How to Make Stuffed Cabbage Rolls with Tomato Sauce
Ready to learn how I make these stuffed cabbage rolls? First, you gotta know they're easy but do have a lot of steps. Give yourself enough time to go through all the steps to get each piece of the recipe right. I will break each step down for you here so you know exactly how I make my baked stuffed cabbage rolls. As always, you can find all the ingredients and directions in the recipe card below!
Step 1: Prepare the Cabbage
Most cabbage roll recipes will have you boil the whole head of cabbage in a large pot of water before peeling the leaves. You most certainly can do that if that's what you know. However, I start by peeling the green cabbage before boiling it–this is just how I do it, and it works for me. Then, once I peel enough leaves for my rolls, I rinse them under cool water to clean them off.
Next, I put the washed leaves in a large pot with four cups of chicken broth. Boil the cabbage leaves over high heat until tender. Once they're done, remove the leaves and set them aside.
Now here's an important tip: I save about 1/4th of the head of cabbage—the very inner part of the cabbage where the leaves are too small to pull apart and use for rolls. So save that, and we will use it in the filling.
Step 2: Prepare the Cabbage Roll Filling
First, you want to prepare the rice. You can use white rice, brown rice, or even Minute rice if that's what you have on hand. I use my rice cooker to make about one and a half cups of cooked rice. Let that cook while you prep the veggies.
The next step is to chop up the vegetables for the filling. I use onions, bell pepper, and the rest of the head of green cabbage. Chop them all up into small pieces. In a large skillet over medium heat, add some vegetable oil (or olive oil) and sauté the onions, peppers, and cabbage until the mixture is nice and tender. Then add the cooked rice and mix it with the veggies until well combined, about 2-3 minutes. Take it off the heat and let it cool.
Next comes the meat! Combine the ground turkey, cooked vegetable mixture, and seasonings in a large bowl. Then, grab a spoon, a spatula, or your hands, and mix that cabbage roll stuffing up until everything is well combined.
Step 3: Stuff and Roll the Cabbage Rolls
Once the cabbage roll filling is complete, you're ready to make the cabbage rolls. Here's how to roll cabbage rolls:
Take one cabbage leaf and place a heaping spoonful of filling in the center of the leave.
Fold one end of the cabbage leaf over, fold in the edges, and then roll the leaf—kind of like how you would roll an eggroll or a burrito.
If the cabbage leaves aren't staying rolled, you can use toothpicks to secure them shut (make sure you remove the toothpicks before serving).
Step 4: Bake the Stuffed Cabbage Rolls with Sauce
We're ready to bake! Pour a little bit of the tomato sauce on the bottom of a baking dish (I use a glass 9 by 13 dish), just enough to cover the bottom. Then line your cabbage rolls up in the dish. Cover them with the remaining sauce, cover with aluminum foil, and bake at 350 degrees for 25-30 minutes.
How to Store Leftover Stuffed Cabbage Rolls
You can store leftovers in an airtight container in the fridge for 3-5 days. I love using a casserole dish with a lid for this reason! It's an easy way to store any leftovers. You can also make the cabbage rolls ahead of time. Prepare them right up through step three, then pack those little rolls away in freezer bags for up to three months. Freezing the rolls might alter the texture once they're thawed and baked, but they're still delicious!
What to Serve with Stuffed Cabbage Rolls with Tomato Sauce
Wondering what to serve with stuffed cabbage rolls? I gotchu, Cousins! Here are some yummy side dishes to go with my stuffed cabbage rolls with sauce:
I love the simplicity of this recipe! The flavorful filling, tender cabbage leaves, and tangy tomato sauce really make this meal the ultimate comfort food. Whether you follow this recipe or go more traditional, stuffed cabbage rolls with sauce is a hearty and delicious meal that doesn't make that much time at all!
Don't forget to check out the recipe card below for the exact measurements and instructions. You can also follow along with all things Rosie and I Heart Recipes by following me on Facebook, Instagram, and Pinterest, and check out all my cookbooks! I just released a brand new cookbook, Super Soul Food with Cousin Rosie, with many recipes you can't find anywhere else.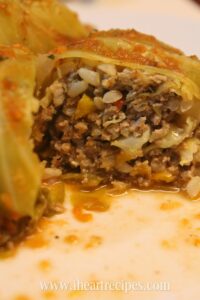 Baked Stuffed Cabbage Rolls with Tomato Sauce
This traditional recipe for stuffed cabbage rolls is packed with flavor! Simple ingredients and an easy recipe for a quick dinner the whole family will enjoy.
Print Recipe
Pin Recipe
Instructions
Prep the Cabbage:
Peel the cabbage leaves off, but leave 1/4 of the cabbage.

Rinse the cabbage leaves under cool water, then place them into a large pot.

Pour the chicken broth into the pot and boil the cabbage over high heat until tender.
Prep the Cabbage Roll Filling:
Cook your rice in a rice cooker or on the stovetop. Let it cool once it's finished cooking.

Chop the remaining cabbage and rinse it under cool water.

Chop the onions and sweet bell peppers into small pieces.

Drizzle 2 tbsp of vegetable oil into a large pan, then place the pan over medium heat.

Once the oil is hot, toss in the sweet peppers, onions, and chopped cabbage.

Cook until translucent, then add in the rice, cook for 2 more minutes, then turn off the heat, and let the mixture cool down.

Place the ground turkey into a large mixing bowl, then add in the veggies and rice. Mix until well combined.
Stuff and Roll the Cabbage Rolls:
Remove the tender cabbage leaves from the pot, then place the meat mixture in the middle of each cabbage leaf and roll.

Pour some of the vegetable marinara sauce into a 9×13 bake dish, then add in the cabbage rolls.

Pour the remaining marinara sauce over the cabbage rolls.
Bake the Cabbage Rolls:
Cover the baking dish with aluminum foil, then bake the rolls at 350 F for about 25-30 minutes.
If you loved this recipe,
leave me a review below
. This helps future recipe makers and ensures continued high-quality recipes for years to come!
© 2023 I Heart Recipes