Hey friends! I have been getting a ton of recipes for different pasta dishes lately. Although many of the recipe request are different, 80% of them have one thing in common- Meat Sauce! In this post I'm going to share my recipe for the most amazing meat sauce ever! You will be able to incorporate this sauce in many pasta dishes. Also, I'm going to show you how to make the pasta sauce ahead of time, and freeze it for later use – which is handy for those busy weeknights. Let's get started!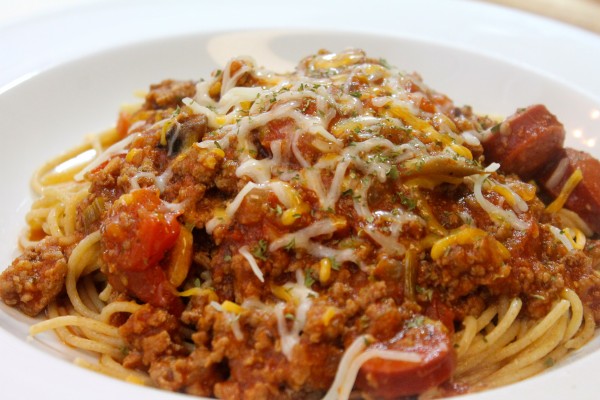 Many of you are probably sitting there wondering " why can't I just buy sauce from the store". Well, You can! However, if you take a little time out to make your own sauce, you can save money, calories, and reduce your sodium intake. Sure, there are plenty of delicious spaghetti/pasta sauces on the market these days. However, a lot of them are full of salt, corn syrup, and other things I can not pronounce.
Anyway- making your own sauce has a lot of benefits
Again, you can control the sodium: I actually use salt free seasoning in my meat sauce. You can use seasoning salt, or regular salt of you choose.
It's cheaper to make your own sauce: For the price of 2 or 3 jars of premade sauce, you can make 5-6 jars of your own.
You know exactly what's in your sauce!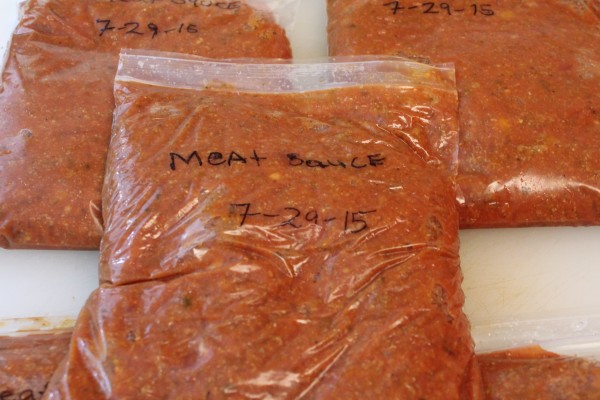 My meat sauce consist of ground beef, garlic, tomatoes, onions, and lots of other delicious ingredients. You can substitute the ground beef with ground turkey, or ground chicken.
When I make my meat sauce, I make A LOT- I actually make enough to fill five quart freezer bags. Why? Because I like to make my meat sauce a head of time, and freeze it! Yes, you heard me! I freeze my meat sauce. A lot of people actually don't think of doing this, and I'm not really sure why. Think of all the time you can save when you want to make a quick spaghetti meal. All you'd have to do is heat the sauce, and pour over pasta. How easy is that?!
Other than spaghetti you can use this pasta sauce for your
Baked Ziti
Lasagna
Cheeseburger Mac
Stuffed Shells
& more
Freezing Info
I store my meat sauce in quart size bags. I label my bags with what it is " Meat Sauce", and I write the date as well. The longest that I have stored my meat sauce was 3 months, and it tasted just as good as it had taste when I first made it!
The recipe below is enough to fill (5) quart bags. If you want a smaller portion, feel free to divide it however you choose.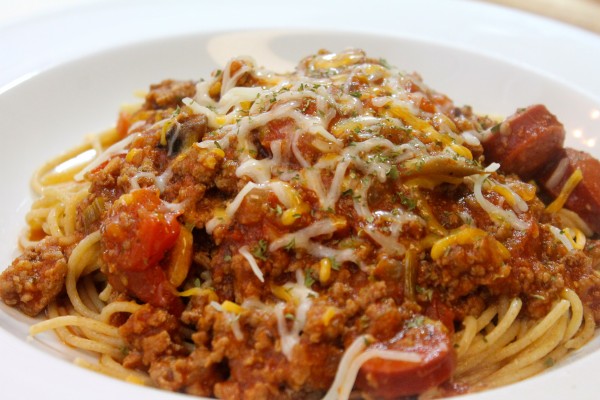 Homemade Meat Sauce Recipe
This homemade meat sauce is perfect for any of your favorite pasta dishes. Make ahead and freeze or make a fresh batch for a delicious dinner!
Watch Video
Print Recipe
Pin Recipe
Ingredients
3

lbs

ground beef

2

medium onions

minced

7-8

cloves

of garlic

minced

2 30 oz cans of tomato sauce

1 1/2

cup

water

3

large bell peppers

diced

3

tbsp

Italian seasoning

3

tbsp

salt free seasoning OR 1 1/2 tbsp salt

2

tsp

ground black pepper

I didn't use any in the video, because I used salt free seasoning that already has black pepper in it. If using salt, add pepper.

14

oz

can of diced tomatoes

1/4

cup

sugar (brings down the acidity levels of the tomato sauce and etc.)

1 1/2

cup

of grated parmesan cheese
Instructions
Brown the ground beef in a pot over medium heat. Drain the fat from the pot.

Add in the onions, garlic, peppers, and tomatoes. Stir.

Sprinkle in the Italian seasoning, and the salt-free seasoning OR salt & pepper.

Toss in the diced tomatoes, then add in the tomato sauce and water.

Sprinkle in the sugar, and stir all of the ingredients.

Add in the parmesan cheese, stir the ingredients, then reduce the heat to low.

Let the sauce simmer for 45 minutes.

Let the sauce cool down, then place the sauce into labeled bags.

Store the sauce in the freezer until you are ready to use it!
Video
If you loved this recipe,
leave me a review below
. This helps future recipe makers and ensures continued high-quality recipes for years to come!
© 2023 I Heart Recipes